Titanium Dioxide
Endorsed by a massive end-use spectrum, the potential of global pigments market is being increasingly recognized by international chemical industry players. The extensive requirement of corrosion inhibition and color imparting across a plethora of expanding domains such as construction, paints & coatings, printing inks have led to a spike in demand for high performance specialty pigments. In consequence, this has also prompted companies partaking in pigments market to continually bring about innovations that could potentially disrupt the business dynamics.
China Pigments Market Size, By Product, 2014 – 2025 (USD Million)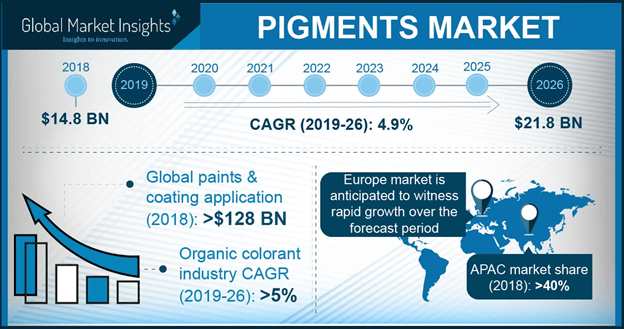 German chemical giant BASF has recently come up with its latest breakthrough product in pigments market. The globally acclaimed player has unveiled a revolutionary stir-in-pigment that claims to offer enhanced color depth, sparkle, and flop for automotive coatings applications. Christened as eXpand!™ Red (EH 3427), this groundbreaking pigment technology is reportedly the first pigment resulting from the strategic partnership between BASF and Landa Labs, which got through last year. Launched at the American Coatings Show this year, the full-fledged commercialization of the technology is certain to bring forth a disruption of sorts in the automotive coatings landscape. Not only this, the latest innovation is also claimed to have added a dynamism to the competitive terrain of the pigments market.
Speaking along similar lines, in a bid to sustain in the fiercely competitive scenario, some of the contenders of pigments industry share are also focusing on strengthening their distribution network for a better market hold. Terra Firma's recent expansive partnership with Ferro's Pigment Division is an exemplar precedent depicting the same. Reportedly, the U.S. based pigment supplier has chosen Terra Firma to represent its full product lines across Southeast, in effect from July this year. The private equity firm would be also distributing Ferro's recently acquired Cappelle line of technologies across the Southeastern and Northeastern belt of U.S, effective from August this year. Allegedly, the deal encompasses Ferro's full dry pigment range that include Nubiola, Ferro, and Cappelle. The deal, as per experts' opinion, would substantially enhance Ferro Pigment Division's stance in the global pigments market.
Get a Sample Copy of this Report:@  https://www.gminsights.com/request-sample/detail/742
Since half a decade or so, emerging countries of Asian belt like China, India have been observing a heavy onslaught of investments in construction and automobile domains, a factor that has had a rather appreciable influence on APAC pigments industry. Experts predict that the trend is likely to remain synonymous over the ensuing years, primarily on account of the rise in disposable incomes of the consumers and the increased investments in real-estate sector. The surge in demand for advanced pigments across Asia Pacific turf may be also credited to the robust growth in paints & coatings sector across nations like Japan, Malaysia, and Indonesia. All in all, it would be apt to state that Asia Pacific, backed by a lucrative end-use portfolio, has emerged to be an opportunistic investment spot for pigments industry giants.
Despite having a strong demand graph ahead, there are certain challenges restraining the pigments market growth – the major one being the product's fluctuating price trends. Since most of the raw materials used in pigment production are mainly petroleum derivatives or carbon based, inconsistency in oil & natural gas prices leaves a major impact on pigments industry dynamics. Another prominent growth restraining factor is the hazardous impact of some of the colorants like cadmium, lead sulfochromate, and molybdate sulphate on human health and environment. Amidst this backdrop, the impact of regulatory framework on pigments market landscape is a major trend to watch for, given the product's correlation with the health and environment. These dynamics are deemed to disrupt the product, competitive, and application landscape of pigments industry, which is anticipated to be along one of the most fragmented business spaces of recent times. In terms of renumeration, the global pigments market share is forecast to surpass USD 18 billion by 2025.
Author Name : Satarupa De
This entry was posted in Bulk & Specialty Chemicals and tagged Azo, Cadmium Pigments, Carbon Black, Chromium Oxide, Classic Organic, Complex Inorganic, Fluorescent, Global Pigments Market, High Performance Organic, Inorganic Pigments Market, Iron Oxide, Light Interference, Luminescent, Metallic, Organic Pigments Market, Phthalocyanine, Pigments Market, Pigments Market Report, Pigments Market Share, Pigments Market Size, Quinacridone, Specialty Pigments Market, thermochromic, Titanium Dioxide.