Titanium Sponge for Aerospace & Defense Market Size
Titanium sponge for aerospace & defense market share has been witnessing a sharp uptick in the recent years owing to an increased emphasis on enhancing the fuel efficiency and lower the weight of military and commercial aircrafts. At the same time, it has been observed that numerous companies have been focusing on building technologically advanced facilities to manufacture environment friendly titanium sponge which has consequentially benefited the overall business space. Citing an instance that affirms this declaration, a group of private firms operating in titanium sponge for aerospace & defense industry have recently unveiled the first production facility in Europe that recycles aeronautical-grade titanium.
U.S. Titanium Sponge for Aerospace & Defense Market, By, 2017 & 2024, (Metric Tons)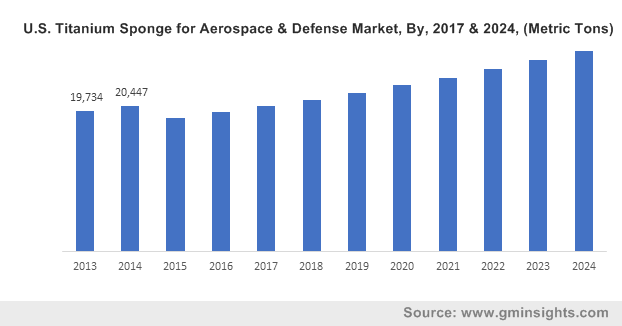 Elaborating further, the facility, named as EcoTitanium, would utilize four times less energy than the traditional supply chain and would ensure titanium-ingot production to be highly eco-friendly. Here, it would be prudent to mention that this instance complements the efforts being undertaken by various European nations to indigenously manufacture a substantial amount of titanium sponge as to reduce the net imports of this metal and lower the dependence on Russian and American suppliers. Furthermore, the facility is slated to ramp up it's manufacturing of titanium ingots to several thousand tons per annum in the times to come – a factor that would propel the growth prospects of titanium sponge for aerospace and defense market across Europe.
Apart from the emergence of eco-friendly titanium sponge, a new trend that is being observed across titanium sponge for aerospace & defense market is that of the manufacturing of titanium sponges by prominent space research institutions of a few nations for strategic purposes. For instance, in a bid to fulfill the ever-increasing titanium requirement for its space programs, the Indian Space and Research Organization's (ISRO) Vikram Sarabhai Space Centre, in 2015, completed the construction of a full-fledged titanium sponge manufacturing plant at Chavara in the state of Kerala.
Get a Sample Copy of this Report@ https://www.gminsights.com/request-sample/detail/2581
Reportedly, the latest facility is slated to manufacture around 500 metric tons of titanium sponge per annum. Reportedly, the foremost space agency requires a total of 200-300 metric tons of titanium sponge on an annual basis to seamlessly conduct its ambitious space programs. Interestingly, the latest plant is being termed as a significant achievement of the ISRO as it is the only integrated facility across the overall titanium sponge for aerospace & defense industry that carries out all activities right from mining of titanium to production of aerospace-grade titanium sponge at the same location.
The above instance further reinforces the prominence of titanium alloys that possess unique characteristics like excellent corrosion resistance and high strength to weight ratio. Apparently, these properties have made titanium alloys highly useful in liquid propellant tanks, interface rings for satellites, inter tank structures, and gas bottle/liners. Needless to mention, the aforementioned statements go on to explain the rising interest of space agencies across the globe to have in house titanium sponge manufacturing facilities that would quicken the pace of their space programs.
Concurrently, the escalating demand for high tensile strength and light weight metals that are being increasingly deployed in armor plating & missiles, helicopters, fire walls, landing gear, and naval ships would further accelerate the titanium sponge for aerospace & defense market share expansion. Moreover, the rising utilization of components made from these material alloys in engine mounts, turbines, seat rails, floor beam, fuselage frame, and doorframes would undoubtedly augment the commercialization potential of titanium sponge for aerospace & defense industry in the forthcoming years. In fact, according to a research report collated by Global Market Insights, Inc., the overall remuneration portfolio of this business sphere is estimated to surpass USD 1.9 billion by 2024.
Author Name : Saif Ali Bepari