Traditional
The commercialization of global network attached storage market has indeed taken up a remarkable pace in the recent years, courtesy – the increasing number of enterprises diving into big data analytics & data mining. The rapid adoption of NAS solutions in home and consumer applications to offer storage that can be accessed by multiple devices have provided significant impetus to the growth statistics of network attached storage industry share. With NAS gaining considerable traction across SMEs and other businesses incorporating cloud-based network, analysts speculate the network attached storage architectural layout to witness a revolution of sorts in the coming years. Not to mention, technology interventions are deemed to remain the focal point of this transition.
North America NAS Market Size, By Business Application, 2017 & 2024 (USD Million)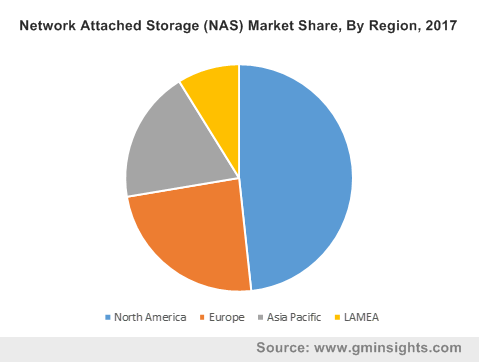 Toshiba, for instance, has recently launched its next-generation 3.5″ NAS N300 HDD and 2.5″ L200 HDD that can be now used in laptops as well. The technology, as claimed by Toshiba works perfectly with any network attached storage devices that are used for personal, home office or small businesses. The NAS device has been designed to support around eight drive bays in a multi-RAID NAS and features rotational vibration sensors that automatically detect & compensate for transient vibrations, thereby delivering prompt performance in multi-bay storage enclosures.
In yet another significant instance, the Taiwanese technology company Synology has recently announced the availability of its "18-series" NAS servers in India. Reportedly, the servers are designed to serve as personal cloud storage with features such as media streaming, data backup, file sharing, photo management, and more. The instance further emphasizes another vital strategy undertaken by NAS market players – exploiting the enormous potential in the untapped economies. The increasing technologically advanced and aware consumer base is one of the chief regions drawing the stakeholders' attention toward these emerging countries. Speaking along similar lines, the APAC region, as forecast by Global Market Insights, Inc. is slated to register the fastest growth rate over 2018-2024. The rapidly proliferating trends of digitization coupled with the rising demand for cost effective & scalable data storage solutions are overt to further sway the regional industry outlook.
Get a Sample Copy of this Report@ https://www.gminsights.com/request-sample/detail/2570
North America network attached storage market to lead the regional landscape
North America, being a major technological hub stands poised to hold significant share in the global NAS industry. The region moreover retains the presence of large scale enterprises that have adopted the cloud platforms and big data analytics – a factor further expected to garner high demand for NAS solutions in the coming years. The rapid adoption of consumer and home network attached storage systems in U.S. and Canada across various end-use sectors such as the BFSI and IT & Telecom market have significantly driven North America network attached storage industry share. The United States NAS industry share is forecast to record a y-o-y growth rate of 20% over 2018-2024.
Elaborating further on the geographical landscape, Europe is projected to procure second largest share in the NAS industry. The growth is mainly attributed to the rapid adoption of this technology by the SMEs in tandem with the massively growing data center developments in the region. Add to it, the continent, over the recent years, has been one of the top-notch spots for the industry players adopting regional expansion as their chief growth strategy.
All in all, endorsed with a rich competitive and application gamut comprising BFSI, IT & Telecom, healthcare, retail, consumer electronics, etc., the global network attached storage market is certain to become one of the most remunerative business spheres for potential stakeholders. In terms of commercialization, Global Market Insights, Inc., projects network attached storage industry size to surpass USD 20 billion by 2024.
Author Name : Ojaswita Kutepatil
Food pathogen testing market has now evolved into one of those fraternities that mandatorily demands an excessive requirement for sanitation at every stage of production, thereby necessitating the requirement for highly efficient pathogen removal processes. Pathogen testing tools are quite prominently used across the food product manufacturing sectors – right from the pre-process of raw material testing to the manufacturing of the end-product. The evolution of pathogen testing methods has delivered multiple benefits to the food vertical, which would undeniably impel food pathogen testing industry size. Given that the prevalence of health risks associated with contaminated products may impact negatively on the business, food manufacturers have been taking utmost precautions to deploy efficient pathogen testing methodologies during production, thereby carving out a positive growth path for food pathogen testing market in the years ahead. For the record, estimates claim food pathogen testing industry to have held a revenue of USD 3 billion in 2016.
U.S. Food Pathogen Testing Market, By Contaminant, 2013-2024, (Million tests)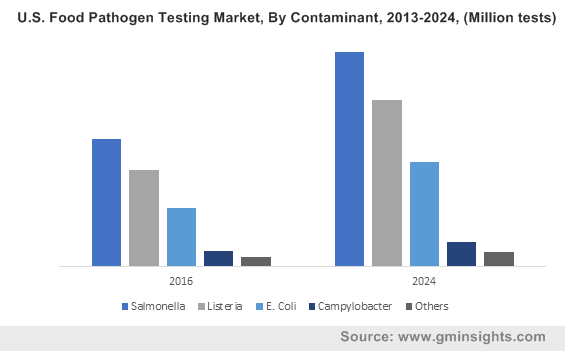 The emergence of new technologies in food pathogen testing market has pushed the conventional pathogen test methods to next level. Considering the benefits of technological interventions, these advanced methods are being instantly accepted across the food and beverages industry. In North America, for instance, F&B sector behemoths have been giving high preference to pathogen testing methods pertaining to the growing use of genetically modified organisms and high medical expenses. This may perhaps be one of the key factors augmenting North America food pathogen testing industry size, which, as per a report compiled by Global Market Insights, Inc., will collect a revenue of more than USD 2 billion by the end of 2024.
Apart from the recent advancements prevalent in food pathogen detection, it has been observed that there are myriad opportunities and challenges to enhance the already existing technology in this business. Many players in food pathogen testing market though, prefer looking out for newer techniques and biosensors for food pathogen detection. Client partnerships with pathogen testing service providers are commonplace in food pathogen testing industry, to avoid product contamination. For instance, SGS, a leading verification, inspection, certification, and testing company plans to provide its services to the pet-food manufacturers in United States and Canada with regards to Salmonella contamination, to prevent health risks in pets. For the record though, in 2016, food pathogen testing industry size from salmonella contamination was valued at USD 1.2 billion. This may be attributed to the increase in the number of food borne diseases, subject to the presence of Salmonella in food products.  Similar to SGS, many other prominent players in food pathogen testing market such as Bureau Veritas, SGS, Eurofins Scientific, RapidBio Systems, Inc.™, Intertek, Lloyd's Register Quality Assurance, Inc., Det Norske Veritas, Genon Laboratories Ltd., and Microbac Laboratories have been observed to undertake efforts with regards to innovating novel pathogen testing methods.
Get a Sample Copy of this Report@ https://www.gminsights.com/request-sample/detail/1417
Taking into account the risks associated with foodborne diseases, the regulatory bodies of various countries have been enforcing strict norms to mandate the deployment of pathogen testing methods. In the U.S., Food and Drug Administration has formed the Food Safety Modernization Act (FSMA) to enhance the food safety system for public health protection. With the FSMA, FDA has also been able to collaborate with other domestic as well as foreign government agencies to build integrated food safety systems, which will prompt other governmental bodies to adopt food pathogen testing techniques, inherently propelling food pathogen testing market.
The governmental bodies across the Asia Pacific are strongly focusing on extensive research and development activities, owing to the rapid growth of the chemical and food processing sectors in the region. In addition, food pathogen testing industry players, having established their bases in the APAC belt, have also been striving to expand their reach across the frontiers and strengthen their customer pool. Recently, for example, Thermo Fisher Scientific Inc. acquired a leading contract development and manufacturing company, Patheon N.V., which has helped the former expand its customer base across the biotechnology and pharmaceutical sectors. These growth strategies are evidence enough to prove food pathogen testing market is likely to carve out a lucrative growth path in the years ahead.
Author Name : Sunil Hebbalkar
Ezetap's recent acquisition of FortunePay is a vital indicator of the growth in (Point of Sale) POS Terminals market. Similar to the growth strategies adopted by most markets, mergers & acquisitions and novel product launches primarily form the strategy landscape of POS terminals industry as well. In June 2017, Bangalore based POS firm Ezetap had acquired FortunePay, an online payment & physical payment service provider to banks in India. This deal is anticipated to help Ezetap avail the latter's infrastructure and become a sole payment service provider for the traders in India. Earlier in June 2014, Ezetap had also collaborated with SBI (State Bank of India) to install 500,000 point of sale terminals across India over the coming five years. With more and more companies undertaking strategic tactics, POS terminals market is sure to carve out an appreciable growth map over 2018-2024.
UK POS terminals market, by application, 2017 & 2024 (USD Billion)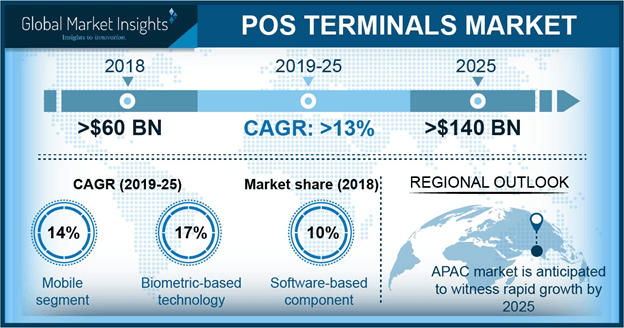 An outline of the POS terminals market trends in terms of contributions by the industry veterans:
In January 2017, Fujitsu, a Japanese multinational IT equipment & service firm, launched Fujitsu TP8TM, a family of retail POS terminals, which was developed to optimize and improve the online payment performance across supermarkets, department stores, drug stores, and mass merchant stores. The new product also enhances the shopping experience of the customers across retail stores through its exceptional modularity. These new product innovations are expected to result in the robust expansion of POS terminals market.
In February 2017, OMA Emirates Group, a UAE based payment service provider, purchased MobiSwipe, one of the leading mPOS service providers. The acquisition will help OMA to expand its service portfolio across APAC, Middle East, and East Europe. MobiSwipe permits traders to make use of smartphones and tablets as POS terminal devices to accept payments via debit or credit cards. In a vital breakthrough, MobiSwipe, now a part of the OMA Emirates Group, in April 2017, announced the setup of more than 50,000 mPOS terminals in India within nine months. This is an instance of how major firms have been taking key initiatives to promote cashless deals in the country and explore new business growth avenues across India (Point of Sale) POS terminals industry.
Get a Sample Copy of this Report@ https://www.gminsights.com/request-sample/detail/390
In May 2017, Mswipe, a startup firm in the  mPOS terminals industry,  formed a joint venture with PayU India, a digital payment service provider, to expand its online payment business through the purchase of the latter's offline merchant acquiring business. As per the reports from reliable sources, PayU had acquired more than 9000 offline traders across India, who, along with their point of sale business will be moved to Mswipe. Dealers transacting with Mswipe can now use PayU India's online payment options. According to expert opinions, the strategic alliance between the online payment service providers will benefit both in terms of revenue generation as well the consolidation of their positions in POS terminals market.
In July 2017, ScanSource Incorporation, a leading service provider of point-of-sale, barcode, networking, and data solutions, acquired POS Portal Incorporation, distributor & renter of POS devices, for USD 144.9 million to extend and improve its POS payment services across the globe. This is ScanSource's sixth acquisition since last three years, with its recent purchase being Intelisys, a technology service distributor and master agent of carrier, telecom, & cloud solutions, for USD 83.6 million in June 2017.
The same year also witnessed NEXTEP SYSTEMS, a provider of self-order POS services, form a strategic alliance with LevelUp, the largest mobile payment platform developed by Massachusetts-based startup firm SCVNGR. The alliance will enhance the service efficiency of both the firms by offering more effective and user-friendly online payment options. Speedy   self and mobile ordering operations, ensuring a seamless and personalized experience for the users are expected to spur the business expansion and ROI of both these firms, thereby providing a boost to POS terminals industry. Global Market Insights, Inc., claim POS terminals market share to surpass USD 125 billion by 2024.
POS terminals industry is an evolving business sector with big players investing heavily in R&D activities to develop new technologies and products for gaining competitive edge. It is more likely that rapid expansion of POS terminals market will encourage new service providers and manufacturers to enter the business further encouraging the existence of fierce competition in the industry.  VeriFone Systems Inc., Panasonic Corporation, Ingenico Group, PAX Technology Inc., and Toshiba Corporation are some of the major brands of POS terminals industry.
Author Name : Saipriya Iyer