Training and Consulting
The growth graph of radio access network market has been observing a consistent surge since recent times, given that this technology has been meeting the ever-increasing connectivity demand worldwide. As stakeholders vie to be strong proponents of radio access network industry share, focus on radio access component to enhance throughput, spectral efficiency, capacity, device density and power consumption has increased in recent years.Driven by robustly growing demand for fast and responsive connectivity, manufacturers are pushing their limits to acknowledge the International Mobile Telecommunication vision for 2020 (IMT-2020).
Soaring traction for 5G RAN has bolstered radio access network market trend as implementation of 5G RAN will potentially enable transparent connectivity for a new generation of information-driven industries and users. At the time when 5G networks are leveraging the delivery of exceptional services to the conventional mobile subscriber, several previously unconnected industries are incubating ideas which are likely to transform mobile telecommunication's role.
With 5G network taking the world by storm, next-generation RAN is set to be characterized by throughput focused, highly dense and software-driven nature. Research claims 5G radio access will implement techniques designed to enhance a signal's ability to reach local user device by keeping undue interference at bay.
Global Market Insights, Inc. predicts radio access network market size to exceed US$ 15 bn by 2025.
Surging internet penetration has led to data incentive applications, thereby allowing telecom operators to enhance their cellular coverage. Government authorities are taking initiatives to expand commercialization of 5G network. Notably in November 2018, US-based Federal Communications Commission (FCC) deployed a 1,550 MHz spectrum to be used by commercial wireless providers for the use of 5G network and regulated interstate communication services.
Get a Sample Copy of this Report:@ https://www.gminsights.com/request-sample/detail/4390
Favorable government approach has bolstered radio access network (RAN) market share. According to the Indian Brand Equity Foundation, the Government of India is gearing to invest around US$ 100 bn in a National Telecom Policy 2018 by the end of 2022.
Besides 5G offering sizeable network performance characteristic enhancement, it is likely to enable technologies such as artificial intelligence (AI), internet of things (IoT), and robotic process automation (RPA), namely. At the time when 5G value chain will be instrumental in offering differentiated services to niche market segments, stakeholders are eyeing to propel radio access network market outlook.
China and Japan are all set to underpin radio access network market trend as apparently, they have been the pioneers of 5G network. Nevertheless, unprecedented use of smartphone in India has had positive influence in radio access network market size expansion. As of third quarter of 2017, over 40 mn smartphones were sold in India alone. With soaring smartphone penetration and lower than ever data tariffs, it is safe to anticipate a robust growth rate for APAC radio access network market share during the assessment period 2019-2025.
Leading technology companies are teaming up with other technology companies to introduce innovative radio access solutions. In the first quarter of 2019, a Japanese telecom operator Rakuten joined hands with Intel to introduce a fully virtualized radio access network (RAN) solution. APAC radio access network (RAN) market is slated to expand at a CAGR of over 8% through 2025, according to Global Market Insights, Inc. research report.
Against the backdrop of expanding mobile penetration across developing regions, suburban and rural area segment is expected to witness a CAGR of over 6% during the assessment period. Palpable demand for RAN solutions in suburban and rural regions has augured well for the growth of radio access network market outlook.
Collaborations and partnerships among pertinent companies have risen significantly as they look to gain competitive edge in the industry. Nokia Networks collaborated with Orange to conduct live network trials to substantiate the veracity of upsides of C-RAN in Poland for 5G network in June 2018.
Some of the prominent companies active in radio access network market are Huawei Technologies Co., Ltd., Samsung Electronics Co., Ltd., Nokia Networks, Intel Corporation and HP Enterprises, among others.
Sunil Jha : Dhananjay Punekar
Owing to the increased focus on customer service and digitization of processes across numerous industry sectors, the contact center software market registered revenue worth USD 14 billion in 2017, driven by the demand for efficient customer handling solutions. Massive investments have been made by companies to upgrade contact centers to more productive and cost-effective software-based facilities for coordinating services among different channels. This has eventually allowed many emerging technology companies to tap into the services sector. Increasing adoption of online services by BFSI, telecom and hospitality consumers has transformed the contact center software industry with the need for ensuring quick and accurate responses.
Europe Contact Center Software Market Share, By Software, 2017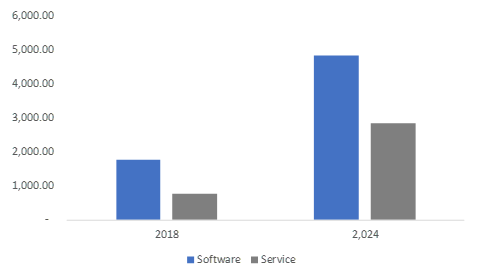 Rising consumer spending on electronics, clothing and other product categories has tremendously bolstered the retail segment worldwide, propelling the contact center software market revenue globally. Reports show that consumers rate customer service in retail sector higher than low prices and product quality, making it the most important part of the businesses retailers should be focusing on. Good customer service leads to more recommendation from consumers, which directly boosts product sales. Subsequently, retail is an ideal application base for the contact center software market, helping companies provide timely and dedicated service for taking care of any problems the customers communicate.
Major retail brands have employed contact centers to handle hundreds to thousands of queries, frequently asked questions and complaints they receive throughout their worldwide businesses. As these centers start to provide services like billing and telemarketing in addition to customer service, the contact center software industry will experience challenges from coping with enormous amounts for customer requests and data analysis. The advent of ecommerce retail has further given a remarkable boost to digital services, connecting more consumers with businesses and creating a demand for higher number of customer contact executives.
In 2017, the global ecommerce retail sales amounted to about USD 2.3 trillion, out of which world's top three e-retailers contributed nearly USD 100 billion. This includes Amazon.com, which operates 13 country-specific websites and services at least 16 countries in all, including the U.S., U.K., India, Germany, Spain, France, among others. The vast ecommerce operations of Amazon indicate the probability of customer service requests from millions of people from diverse cultures, as it sells thousands of products in each country every day. Various other local and international e-retail platforms face similar concerns, offering outstanding growth prospects for the contact center software market from hundreds of online businesses.
Get a Sample Copy of this Report:@ https://www.gminsights.com/request-sample/detail/2972
According to statistics, there were approx. 1.66 billion digital buyers around the world in 2016, representing the extensive customer service difficulties and opportunities e-retailers have to deal with. These businesses have to cater to several requests via tele calling, email, mobile text messages as well as social media, since it is impossible for all customers to communicate with them on the same platform. Receiving requests, identifying problem areas and providing solutions to consumers across these distinct channels has defined the contact center software industry's evolution over the years, further intensified by the growing utilization of online payment options.
Over the years, technological advances have enabled wider implementation of virtual assistants and interactive voice features by retailers, allowing software makers to provide innovative solutions. The contact center software market has further benefited from the growing awareness among retailers about the role of analytics and reporting in guaranteeing improved customer experience. Managing customer-employee interaction, behavior, customer requirements have critical impact on business revenues. Speaking further on the analytics and reporting component of the contact center software industry, retailers can reduce potential loss of sales and negative consumer responses by analyzing how they are being serviced.
As the time taken to handle a request, origin of the request, behavior on the call and other factors are recorded by the software, companies can use the information to train their staff better. The success or failure of email and telemarketing campaigns can also be analyzed to enhance or modify their processes, as consumer trend is key for retailers to achieve profits. Essentially the retail segment, with expanding popularity of ecommerce, is expected to contribute significant revenues towards the global contact center software market. Global Market Insights, Inc., forecasts the overall contact center software industry to surpass a valuation of USD 40 billion by 2024.
Author Name :Pankaj Singh