Training & Consulting
The exponential growth graph depicted by the global threat intelligence market in the recent years can undoubtedly be credited to the massive surge in the number of connected endpoints. Presently, there are more than 3 billion end-users across the world that are connected to the Internet, while connected-devices are anticipated to surpass the 50 billion mark by year 2020. Having understood the dependency of these endpoints on the Internet to be able to interact with each other, cybercriminals have been exploiting the reliance to obtain an unauthorized access to the connected endpoint devices to undertake numerous malicious activities.
U.S. Threat Intelligence Market Revenue, By Component, 2018 & 2025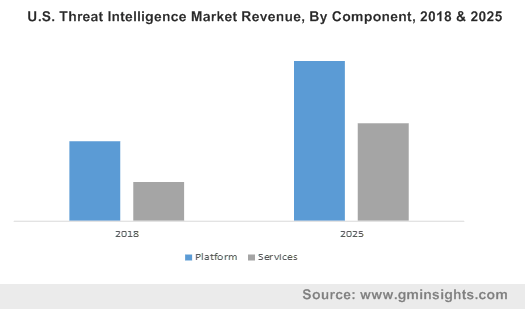 Threat intelligence market | Impact of rising mobile cyberattacks
The global threat intelligence market is expected to amass substantial returns from mobile-based solutions, due to the exponential rate at which cases of mobile cyberattacks & mobile frauds are growing. According to a 2018 report by ThreatMetrix, the first two quarters of 2018 witnessed the cases of mobile attacks across the globe reach the 150 million mark with attack rates growing 24% year-over-year. While the growing penetration of mobile devices has undoubtedly been a crucial factor in the rise of digital commerce, the trend has also proved to be extremely conducive for numerous malicious entities to carry out fraudulent activities.
Moreover, other growing trends such as Choose Your Own Device (CYOD) & Bring Your Own Device (BYOD) being adopted across a number of enterprises, while facilitating greater convenience, are creating more vulnerabilities in the organization networks. Fueled by these trends the global threat intelligence market share from mobile-based solutions will grow at a CAGR of more than 18% over 2019-2025.
Get a Sample Copy of this Report @ https://www.gminsights.com/request-sample/detail/3151
Threat intelligence market | Impact of the growing healthcare cyberattacks
As the global healthcare sector goes through a digital transformation, wherein it is adopting new technologies to enhance the level of patient care & medical treatments while continuing to facilitate patients with life-critical services, the vulnerabilities that are being created or exposed by this transformation phase are being treated as opportunities by criminal & malicious entities for their own personal gain. According to the Center for Internet Security, these threats range anywhere between malwares, that are designed to compromise the privacy of the patients & the integrity of the systems, to Distributed Denial of Service (DDoS) attacks, that are designed to hamper a facility's ability of providing proper patient care. While these issues plague other industrial & infrastructural sectors as well, the ramifications of a cyberattack on a healthcare facility go far beyond financial losses & privacy breaches.
According to the Southern Medical Association, as cyberattacks continue to proliferate, the global healthcare industry remains a primary target. In fact, 2017 witnessed the most successful data breaches in history, bringing legal consequences & detrimental financial losses to the victims and costing organizations more than $5 billion in accumulated financial losses & estimated total payouts. As healthcare organizations store a copious amount of information associated with their patients, cyberattacks, aiming to gain access to these data reserves, would be continuing to occur in the sector, generating significant opportunities for the threat intelligence market contenders. Indeed, the global threat intelligence market is projected to witness a CAGR of 13% over 2019-2025 from the healthcare industry.
Threat intelligence market | Impact of increasing cyberattacks on Government Institutions
As with other sectors, the world's government institutions are also making their transition to the digital world, leaving their conventional pen & paper practices behind for higher operating efficiencies. This trend has provided cyber-criminals an ideal opportunity, wherein they target specific government institutions for their own financial or idealistic gains. One recent instance of this is the cyberattack that targeted the local government of Atlanta, USA. According to the American Bar Association, the entire city of Atlanta was trapped in a hostage situation, wherein the city's digital infrastructure was taken over by a powerful ransomware.
The criminals disabled internet access, encrypted the files stored on the system and demanded an upfront Bitcoin payment in exchange for the decryption key that restored access to these files. According to federal authorities, the ransomware attack caused losses of more than $30 million and could cost taxpayers & the city more than $17 million to completely recover from the damages caused.
Attributing to these three determinants, it is unmistakably clear, that the global threat intelligence market would be witnessing tremendous growth in the years to come. In fact, according to a report by Global Market Insights, Inc., the overall threat intelligence market size is slated to surpass the $13 billion renumeration mark by 2025.
Author Name : Akshay Kedari
The SD-WAN market has lately been growing at a significant pace, characterized by the robust adoption of these solutions across a spate of industry verticals, given their ability to help organizations regarding their legacy infrastructure maintenance. The traditional infrastructure of WAN is known to rely extensively on costly hardware appliances for providing connectivity in remote locations. However, organizations have now been able to reduce those expenses by deploying SD-WAN solutions. Moreover, the solutions also assist enterprises in directly connecting remote users and devices to the cloud and ensuring secure connections.
North America SD-WAN Market Revenue, By Application, 2018 & 2025 (USD Million)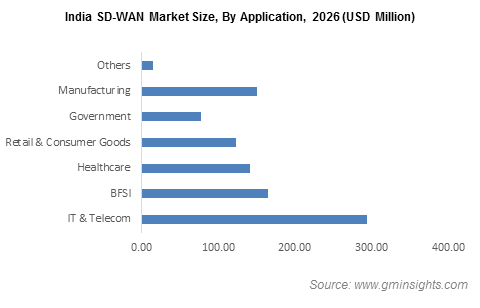 SD-WAN solutions also provide the companies with improved network visibility, and help in reducing network complexities of managing dynamic workloads. By utilizing SD-WAN solutions, organizations can benefit from cost reduction and secure connections, which in turn will propel the commercialization landscape of SD-WAN market in the years to come.
The penetration of smart IoT devices in varied industry verticals, including retail and consumer goods, telecom, manufacturing, and healthcare has substantially increased security risks and network complexities. SD-WAN solutions play a vital role in this context, given that they help improve network visibility for the management of connected devices for reducing security risks, and address the complexities of the IoT infrastructure. The prevailing AI-enabled SD-WAN solutions would also boost the demand for SD-WAN as machine learning algorithms are broadly utilized for WAN optimization. This would further enable network administrators to analyze WAN traffic and re-route the same, automatically, for the selected connection. The capability of SD-WAN has thus proved useful across a spate of verticals, expanding the application scope of the global SD-WAN industry, a gist of which is given below:
BFSI
In the recent times, some of the biggest banks across the global industrial cosmos have cropped up as leading financial organizations which provide a wide range of services to international markets, and control billions of dollars in assets and cash. Financial service firms have been relentlessly working to capture new market opportunities, implement innovative strategies, develop customized services, and identify new business niches.
Get a Sample Copy of this Report @ https://www.gminsights.com/request-sample/detail/2214
This sector, in the years to come, is anticipated  will become even more complex with further diversification, deregulation, consolidation and globalization of the financial industry. Irrefutably, this complexity in the BSFI industry can be effectively addressed only by deploying SD-WAN solutions, which will augment the SD-WAN market share from BFSI applications in the coming years. Of late, the modern banking industry is also remnant of extensive diversification, as is observed by the penetration of some select banks in the domains of core investments, security underwriting, insurance, and portfolio management. With banks and other financial institutions widening their service portfolios, working to evolve as vital entities in the global business landscape, SD-WAN industry size from BFSI applications is expected to surge massively, given the humongous demand for these solutions to reduce complexity and costs.
Manufacturing
The manufacturing sector is anticipated to emerge as one of the most profitable application avenues for the global SD-WAN market. Undeniably, this growth can be credited to the surging popularity of IoT platforms deployed in manufacturing industries. With more and more smart devices and sensors being incorporated in manufacturing facilities, companies are, quite overtly, demanding accurate solutions that are able to deliver exceptional network visibility for end-point management.
Driven by the fact that SD-WAN solutions help manufacturers prioritize network traffic and simplify network management, in a bid to make sure that crucial applications obtain access to the required connection, the manufacturing sector is touted to majorly contribute toward the expansion of SD-WAN industry. As the deployment of more and more communication technologies and IoT devices in the manufacturing industry increases, the demand for SD-WAN solutions will naturally depict an upsurge, propelling SD-WAN industry size from manufacturing applications. As a matter of fact, Global market Insights, Inc., claims that software-defined wide area network market share from manufacturing applications will depict the highest CAGR of more than 60% over 2019-2025.
Retail and Consumer Goods
Retail enterprises using SD-WAN are naturally equipped with the capability to supplement and expand their backbone connectivity, with more options available in a particular location, ranging from broadband to LTE. Along with making the process of adding bandwidth in a site easier, SD-WAN manages conditioning and prioritization of traffic, for improving application performance even further – a major parameter of concern in the retail industry that has been undergoing an extensive digital transformation of sorts.
In the 2017 Cloud and Network Benchmark of Nemertes Research, which involved 625 organizations, it was stated that over 50% of more successful retailers have started deploying SD-WAN, in contrast to the 10% among the less successful ones. As retailers intend to eliminate unnecessary capacity and functionality expenditure, they have been demanding WAN solutions that can accurately leverage NFV and SDN to run on generic hardware and deal with flexible deployment of capacity and functionality. This would substantially augment the requirement of SD-WAN solutions in the retail sector, that secures service continuity via myriad techniques – right from traffic replication spanning multiple paths to sub-second traffic cutover from a failing to a healthy link, thereby propelling SD-WAN marker share from the retail and consumer goods sector.
Endorsed by a mammoth application terrain, the global SD-WAN market is expected to traverse alongside a highly lucrative remuneration graph in the ensuing years. As per estimates, the valuation of the overall SD-WAN market would cross a colossal US$17 billion by 2025.
Author Name : Saurav Kumar
The rapidly growing adoption for high-precision, graphics-oriented applications in the automobile and healthcare sectors is certain to fuel GPU market growth in the forthcoming years. GPUs have become an essential part of today's mainstream computers and mobile devices and have been characterized by remarkable advancements with respect to performance and capabilities. The product successfully offers added support for analyzing complex datasets in a quick manner and is increasingly gaining traction in almost all consumer electronics straight from laptops, PCs and smartphones to car infotainment systems and latest digital systems.
Asia Pacific GPU Market Revenue, By Region, 2017 & 2024 (USD Million)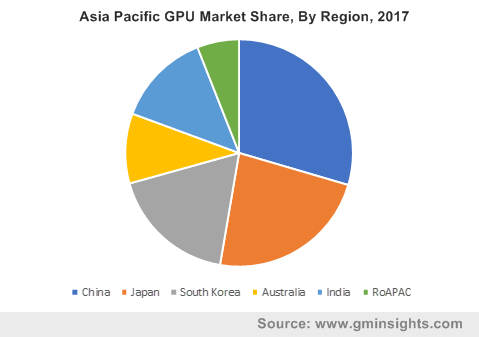 With the growing adoption of IoT devices that gather huge amounts of data which needs to be monitored and analyzed, the demand for high-end computing systems has effectively increased in the automotive sector. Reports suggest that the GPU market will amass quite some returns from the automotive sector owing to an increase in the use of GPUs to accelerate engineering and design applications. As the automotive industry is focusing on developing new vehicles with enhanced design & functionality, GPUs have found applications in CAD/CAM software. With the rising demand for these software increase, the GPU market is expected to witness an accelerated growth rate in the years to come.
Get a Sample Copy of this Report @ https://www.gminsights.com/request-sample/detail/3088
Another application vertical that will help propel GPU market is healthcare, owing to the demand for precision medicine and value-based healthcare. Real-time data has become more vital for healthcare organizations as clinicians seek more accurate information for diagnosing patients during their initial visit. Reports claim that healthcare providers and life science firms are among the 92% of the cross-industry organizations that plan to invest in near real-time big data analytics applications in the future. For instance, in April 2018, tech giant Google announced plans to reinvent the healthcare industry of U.S. with a focus on big data and AI. The company is reportedly using its know-how in AI to create a new system for the detection, diagnosis, and treatment of diverse diseases, that certainly will require GPUs for processing complex data, further augmenting the growth of the GPU industry.
Irrefutably, the gaming domain will be one of the most proliferating end-use sectors of the global GPU market. Mobile gaming is currently acknowledged as one of the fastest growing segments in the game industry – indeed, mobile users demand more immersive, connected gaming experience which provides high-resolution visual graphics and high-fidelity audio. Growing penetration of smartphones and tablets is also fueling the growth of the gaming industry. For instance, according to the ESAC Report 2018, in Canada around 80% users view video games as mainstream entertainment. Furthermore, reports from the Germany Trade & Invest cite that, in Germany, personal computers (PCs) stand as the most preferred gaming platforms with around 18.4M active users, followed by smartphones (17.2M), consoles (15.6M), and tablets (11.5 million).
The rapidly growing use of gaming devices and the paradigm shift towards online gaming are bound to upsurge the demand for high-end graphic processors to support gaming applications. As per estimates, the gaming sector is anticipated to hold a major share of 34% in the GPU market by 2024.
Some of the most preferred brands that have made a mark in the GPU industry include Nvidia, AMD, Intel, Microsoft, Google, IBM, PTC, Qualcomm, and S3 Graphics. GPU chip makers have been making heavy investments in addition to forging partnerships for developing new and better performing products. For instance, in January 2019, Nvidia announced its partnership with luxury carmaker Mercedes-Benz to develop a new automotive AI platform that could effectively offer control to the automaker's electronic gears equipped in its new car segments.
Author Name :Mateen Dalal
The rapidly growing demand for connected devices across the globe is one of the pivotal factors driving enterprise networking market, given that these devices help facilitate real-time communication. In an effort to cope with and overcome the rapidly rising bandwidth bottleneck & network traffic issues, organizations worldwide are embracing network management solutions that keep the traffic flowing while also ensuring network security. The exponential surge in the number of IoT-enabled devices has drastically increased security risks, on the grounds of which organizations are rolling out enterprise network security solutions to obtain visibility of endpoints and unsecured applications & devices.
Europe Enterprise Networking Market Size, By Product, 2017 & 2024 (USD Million)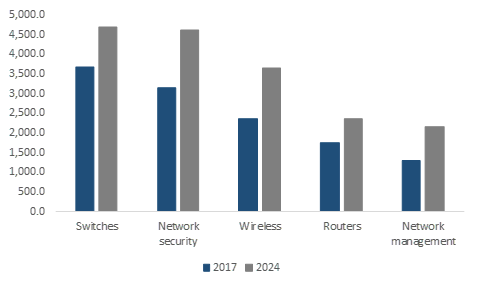 According to a 2018 Enterprise Networking Trends report by Cisco, the company in 2017 had redefined networking with the launch of the first intent-based networking system in the world. The company anticipates that going further, intent-based networking would be the future of networking and would also be responsible for fundamentally changing the way companies think about networks & empowering IT and help the firms with disruptions caused by IoT & cloud.
Enterprise networking market trends are also expected to witness a transformation on account of changing customer preferences toward converged network architecture as well as the network virtualization technology to strengthen the network functions. Shifting user inclination has further enabled organizations to enhance network efficiency at reduced operational costs, which would provide renewed growth prospects for enterprise networking market.
Get a Sample Copy of this Report:@ https://www.gminsights.com/request-sample/detail/2978
Unveiling Asia Pacific enterprise networking market trends:
APAC enterprise networking market is primarily driven by the large-scale adoption of cloud-based infrastructure in the region as the organizations are actively transferring their workloads onto the public cloud. According to a report by the not-for-profit organization, Cloud Security Alliance (CSA), in APAC, Japan, South Korea, Singapore & China are some of the primary nations that have witnessed the highest cloud adoption rate in 2017. The rising prominence of the cloud computing environment has further enabled network architectures that are disparate in nature to contribute to the increasing operational burden. These circumstances have led to a significant rise in demand for virtualization technology which makes the computing environment more agile, effectively addressing the growing network demands.
According to a research report by IT security company, Barracuda Networks, approximately a third of enterprises in the APAC region have already rolled out SD-WAN on a majority of their sites, while more than 55% organizations in the region are in the process of adopting SD-WAN. Propelled by the robust deployment of advanced networking solutions, APAC enterprise networking market is expected to depict the fastest growth rate of 8% over 2018-2024.
Analyzing enterprise networking market trends in terms of switch sales:
In an effort to keep up with the rising need for organizations to facilitate secure & real-time communications while effectively managing network traffic & bandwidth bottleneck issues, enterprises heavily rely upon high-speed ethernet switches. Switching is a crucial networking technology that is used across several organizations' premises to construct their local area networks (LANs) and also across vast distances to facilitate wide area networks (WANs) making switches one of the most widely used networking equipment across the world. According to a 2017 annual report by Cisco Systems, the company witnessed a 5% increase in revenue (approximately $452 million) from the sales of LAN fixed-configuration switches. The increase in the revenue was primarily due to the boost in sales of the company's Nexus & Catalyst series of switches.
According to a 2017 report by Forbes, in 2016 Cisco System's network switches division was responsible for approximately 40% of the product sales, representing more than 30% of the company's net revenue. Switches, having accounted for more than 25% of the enterprise networking market share in 2017, are expected to continue adding momentum to the industry growth, given the surging demand for high-speed data services that has fueled the adoption of network switching technology.
Attributing to the increasing network capacity needs across several global enterprises, the growth graph of enterprise networking market is projected to witness an exponential incline in the years ahead. According to Global Market Insights Inc., enterprise networking market size is expected to be pegged at a mammoth $90 billion by 2024.
Author Name : Akshay Kedari
The increasing importance imparted to network stability & wireless communication to speed up network capability has been stimulating private LTE market share. Nowadays, private LTE is used extensively for numerous beneficial purposes such as real-time monitoring, geo positioning activities, in the mobile devices, energy utilities, telecommunication applications, and automotive equipment. The rapid acceptance of long-term evolution (LTE) for high-speed wireless communication across numerous industrial sectors has been encouraging companies in private LTE market to adopt LTE network connectivity.
Europe Private LTE Market Revenue, By Infrastructure, 2017 & 2024 (USD Million)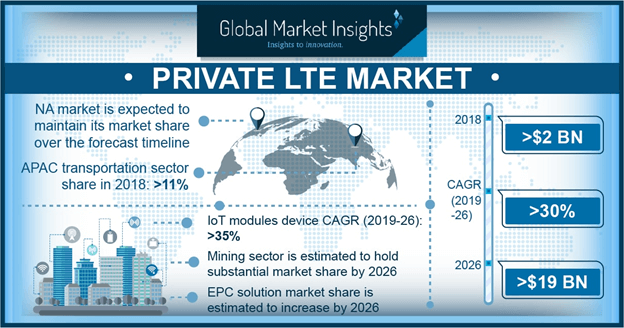 Over the last few years, most of the mobile network providers have shifted to LTE services from 2G and 3G coverage to improve existing communications. The surging digitalization and modernized mobile services have also substantially enhanced data services. Recently in India, the nation's largest telecom company, Airtel has decided to switch to LTE network services to boost data speed. This move will turn out to be rather beneficial for Airtel as it already has a widespread, far-reaching network coverage. The shifting focus of telecom service providers to LTE to phase out older networks is slated to fuel private LTE industry share.
Taking into account the network benefits of high-speed data services, most of the energy companies have been signing deals with wireless network providers that will have a positive influence on the product demand. For instance, a month before, the Brazilian power distributor, Elektro collaborated with Nokia for deploying a private LTE network in its City of Atibaia based electric grid. The deployment of LTE services is slated to help improve the efficiency and reliability of the electric grid that has been serving approximately more than 75,000 business and homes. Through this network, it is also possible to operate smart meters, grid equipment, substation and distributed energy generation sources.
Get a Sample Copy of this Report:@ https://www.gminsights.com/request-sample/detail/2757
Such strategic deals will help players in the private LTE market strengthen their customer base and diversify the traditional telecommunication practices. The surging adoption of digital technologies such as IoT and machine learning will thus further propel the use of private LTE service in the energy sector. For the record, as per estimates of Global Market Insights, Inc., private LTE market from energy applications is slated to depict a commendable CAGR over 2018-2024.
In order to achieve a dominant stance in the market, telecom firm Nokia has also lately been adopting myriad business tactics. Recently, it has collaborated with China Unicom to deploy a private LTE network at BMW Brilliance Automotive Ltd plant based in the Liaoning province. With the use of private LTE connectivity, BMW can carry out smart manufacturing activities and ensure communication for critical applications including video surveillance, object tracking, and analytics at the plant.
The integration of private LTE network in the enterprises to secure data and voice communication, wireless video communication, ensure indoor investigation, and inspect the production line maintenance is slated to fuel the product demand over the years ahead. Heavy investments to develop digitalized, modern factories with a secured and transparent work culture will further propel private LTE market share considerably.
The emergence of LTE connectivity has also turned out to be rather useful for maintaining peace across the globe. That is to say, the UN (United Nations) has been working continuously to resolve the several global issues for which it has been using LTE network for providing critical communication capabilities. Peacekeeping troops are able to effectively use this LTE network for secure, stable, and future-proof broadband services while operating through the tough geographic terrain. Currently, UN is working on fourteen peacekeeping operations across the globe and it is planning to establish high-speed LTE networks by 2019 to accelerate the communication throughout the missions.
Substantive use of LTE connectivity for ensuring digital and standardized work output in the industrial as well as the defense sectors is likely to propel the product demand over the years ahead. On-going changes in the telecommunication technologies to enhance the network connectivity will further stimulate the industry trends. As per estimates, with the surging acceptance for network connectivity across various application sectors, private LTE market is poised to surpass a revenue collection of USD 11 billion by the end of 2024.
Author Name : Sunil Hebbalkar
Powered by a strict regulatory frame of reference formulated to control vehicular emissions, on-board diagnostics (OBD) aftermarket has emerged as a highly lucrative business sphere over the last few years. Lately, many regulatory bodies have established emission control facility centers to resolve the issues related to the effective working of OBD.  In the U.S. specifically, the National Center for Automotive Science & Technology has established the National OBD Clearinghouse for facilitating the understanding of the on-board diagnostics technology, for which U.S. Environmental Protection Agency (EPA) has even provided a grant. In order to comply with the Clean Air Act, EPA has been encouraging people to conduct vehicle maintenance and inspection that will ultimately control the vehicle emission. As of now, a majority of vehicles are incorporated with the OBD technology for meeting the national air quality standards.
Europe On-board Diagnostics (OBD) Aftermarket Share, By Application, 2017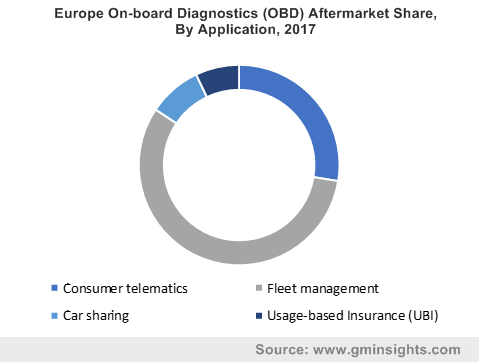 The OBD system is one of the integral parts of the electronic control unit (ECU) and is used for diagnosing and repairing vehicle subsystems and rectifying the malfunctions associated with the systems. The integrity of the emission control unit is maintained with the help of external tools that re-flash and re-configure the vehicle emission parameters. The increasing use of external vehicle diagnostic tools to maintain the shelf life of the vehicle is slated to propel on-board diagnostics (OBD) aftermarket considerably.
Taking into account the strict regulatory norms formulated to curb and monitor vehicle emissions, many diagnostic equipment providers are currently developing new OBD tool facility centers to check problems associated with the engine. For instance, in 2017, the leading suppliers of test equipment and diagnostic reporting for the automotive aftermarket, Innova Electronics Corp launched a modern on-board diagnostic tool line which is totally featured with its newly invented products that will be helpful for excellent diagnostic reporting.
Get a Sample Copy of this Report:@ https://www.gminsights.com/request-sample/detail/2839
The advent of a new range of technologies including cloud computing, Internet of Things (IoT), and smartphones have also had a remarkable influence on the on-board diagnostics aftermarket. In line with the recent product launches, many on-board diagnostics (OBD) aftermarket contenders have been developing new product portfolios comprising the modern technology aids. It has become very easy now for the vehicle owners to calibrate their vehicles' emission control unit. Recently, one of the leading players in on-board diagnostics aftermarket, Verizon has launched a next-generation aftermarket vehicle diagnostic service device that works just by plugging into vehicle's OBD computer port. As soon as it does, it connects to the OBD system of the vehicle and notifies the driver about any maintenance issue. In addition, Verizon has incorporated a smartphone software application as well as GPS technology that will help to resolve the mechanical issues in case of an emergency.
Though the government has mandated the deployment of vehicle health monitoring facilities, many vehicle owners are disabling and tampering on-board diagnostics and pollution control systems. They have also been tampering with laboratory test results and are bypassing emissions around monitoring devices. In U.S., the criminal office of the Environmental Protection Agency (EPA) and the Department of Justice (DOJ) in fact, had sued the employees of Rockwater Northeast LLC which provides operational services across oil and gas sector. The employees of this hydraulic fracturing firm had modified the OBD system and emission control unit of the company's heavy-duty diesel trucks. This strict stand taken by the regulatory bodies for the infringement of Clean Air act has depicted the significance regulations have on the North America on-board diagnostics aftermarket industry growth.
The significant benefits associated with the deployment of on-board diagnostics system to improve air quality through vehicle maintenance and inspection is slated to fuel the product demand across the globe. The installation of vehicle health inspection systems ultimately helps the owners to maintain the vehicle before it violates the air quality standard set by the government. In this regard, many vehicle owners have been implementing OBD systems to monitor and maintain their vehicles which will favorably stimulate on-board diagnostics aftermarket industry size over the years ahead. For the record, driven by a strict regulatory frame of reference, the overall on-board diagnostics (OBD) aftermarket will surpass revenue collection of USD 1.5 billion by the end of 2024.
Author Name : Sunil Hebbalkar
Bringing about a disruptive change in the way present-day digital networks are being built, operated, and managed, the network function virtualization (NFV) market has established itself as one of the most profitable niche verticals of the sustainable and smart industry. Owing to a substantial increase in the demand for robust data management systems across various business sectors, the deployment rate of NFV technology has witnessed a massive jump over the past few years. Especially, the rising number of collaborations between IT giants and renowned cloud service providers has consequentially boosted the growth prospects of NFV industry. For instance, the recently formed partnership between Indian IT major Tech Mahindra and cloud computing behemoth VMware is a testament to the growing prominence of NFV technology in connecting virtual machines and physical interfaces.
Europe Network Function Virtualization (NFV) Market Share, By Application, 2017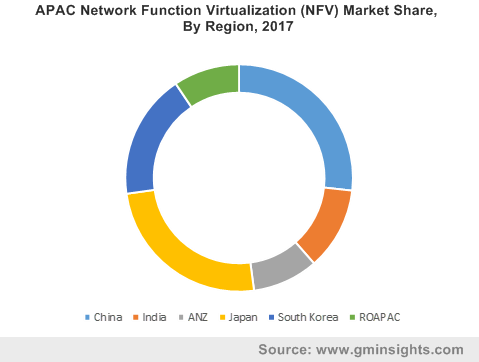 Elaborating further, both the firms are likely to integrate VMware's OpenStack ready NFV platform with digital transformation expertise of Tech Mahindra to assist global communication service providers in accessing new market opportunities, accelerating new service delivery, and enhancing the overall business economics. Moreover, the solutions provided by both the companies would be based on distributed micro data center architecture that will certainly lower the expenses related to network infrastructure. Apparently, the formation of such robust partnerships would optimistically impact the NFV market share in the years ahead.
Get a Sample Copy of this Report:@ https://www.gminsights.com/request-sample/detail/2768
At a time when the global IT and telecommunication sector has been recording unprecedented growth owing to a major shift toward automation, next-generation technology solutions such as NFV have garnered immense significance. With the help of a robust virtualized network architecture in conjunction with NFV technology, the telecommunications companies can now launch new services in a couple of months. Moreover, the deployment of NFV enables telecom network operators to significantly reduce power consumption through consolidating equipment, lower the maturation cycle, improve the flexibility of network service provisioning, and enhance operational efficiency. As a consequence of all these advantages, the IT and telecommunication sector has emerged as the major contributor toward NFV industry share expansion in the recent times. In fact, as per a research report compiled by Global Market Insights, Inc., the IT and telecommunication segment held over 32 percent of the revenue share of the overall NFV market in the year 2017.
In this regard, developing economies along the likes of India and China have emerged as the fastest growing terrains for the telecom industry in the last decade. This has, in turn, benefited the NFV market players operating in these nations as the deployment of NFV technology in the telecommunication sector has been on the rise. Testimony to the aforementioned statements is the recently organized SDN & NFV India Congress 2017 which aimed at deliberating on the opportunities and the evolving role of NFV technology on 5G networks in the context of India's telecom industry. Held for the first time in India, the Congress has been supported by tech giants such as IBM, Juniper Networks, Ericsson, Huawei, UT Starcom, ADVA Optical Networking, and Nokia. Needless to mention, the outcomes of such proactive initiatives would aid the IT and telecom sector to retain the top spot across the application spectrum of NFV industry in the upcoming years.
Meanwhile, it would be prudent to mention that the seamless deployment of NFV technology has been facing certain challenges which includes ensuring compatibility with legacy platforms, interoperability, performance trade-off, and simplicity which might prove to be roadblocks in rapid product penetration. However, the applications of NFV technology would undoubtedly drive various business verticals toward the next phase of network evolution and would prepare an ecosystem where the advantages of 5G connectivity would be leveraged in a highly efficient and agile manner. Driven by an escalating demand for server consolidation and data center virtualization, the remuneration portfolio of the global NFV market is projected to surpass USD 70 billion by 2024.
Author Name : Saif Ali Bepari
Endpoint security market, tagged as a revolutionary subset of the smart technology space, seems to have garnered the status of a niche vertical in the recent years. This growth can be precisely attributed to the fact that malware attacks have gained ferocity in stealing identities, draining bank accounts and generally bringing services to a standstill. In May 2017 for instance, a colossal cyberattack sealed down files and badly affected businesses, government bodies and the National Health Service of UK. Unfortunately, NHS back then, was still using an outdated version of the Windows operating system, the consequence of which led to MHS paying a heavy ransom in the form of bitcoins to retrieve the files.
Endpoint Security Market Size, By Application, 2016 & 2024 (USD Million)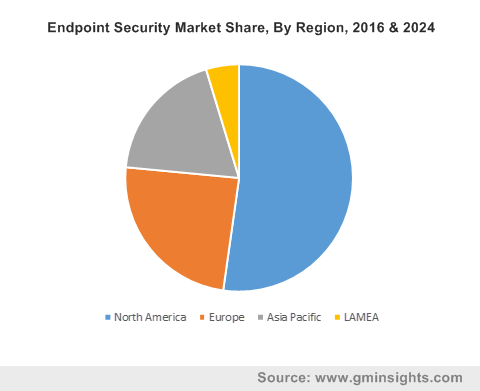 This revolutionary cyberattack which was later named WannaCry was an eye opener for the IT sector, which rapidly deduced that such attacks will only become more commonplace in the future if nothing definite and foolproof is done to thwart their onslaught. While numerous other incidences have served as focal drivers, this particular event was speculated to have a direct impact on endpoint security market trends.
Endpoint security market outlook from software component sales
Endpoint security systems essentially comprise centrally located software, that quite overtly categorizes software as a vital component of this business space. Driven by large-scale installations of antispyware, antivirus, firewall, login authentication and a host of intrusion prevention systems, endpoint security market has much to gain from the deployment of essential software. Indeed, estimates claim that software accounted for 80% of the overall endpoint security market share in 2016.
As budgets to improve client threat management witness an increase, endpoint security industry outlook from the software segment is likely to undergo an even more positive transformation. It is prudent to mention however, that the success and effectiveness of endpoint security depends on the proper implementation and updation of the endpoint protection that has to combat with constantly evolving threats. This has consequently added a considerable boost to the service-based endpoint security industry share as well, which is likely to witness favorable growth over 2017-2024.
Get a Sample Copy of this Report @ https://www.gminsights.com/request-sample/detail/1620
Public sector to adopt proactive approach to endpoint security
As the threat of malwares is becoming exponential and cyberattacks are increasingly demonstrating how crippling their effect can be, the public sector is changing its approach towards endpoint security. Sectors like BFSI and healthcare have emerged as pivotal growth avenues for endpoint security market, as they have begun to deploy the system in the dynamically changing customer and patient scenario. In fact, the financial institution demands the maintenance of strong web security. Consequently, the BFSI sector has turned to employ multilayered security to provide robust solutions against impending threats.
Endpoint security has become a major layer of security as it is software based and is targeted towards user devices like laptops, computers, smartphones and tablets. Therefore, the government has also enforced stringent norms to protect financial data, urging institutions to adopt such a host-based solution. This indeed led the BFSI sector to hold the largest share in endpoint security market in 2016 and lay the groundwork for further progress over 2017-2024.
The healthcare sector has also faced threats from cybercriminals who have put patients' lives on the line by hijacking data and installing malware. The deployment of patient friendly devices for healthcare has created a challenge that required the deployment of robust endpoint security to maintain a safe IT ecosystem. As on today, the healthcare sector has to provide a seamless means of communication and collaboration among stakeholders. Not to mention, the rate of information flow and access has also risen at a commendable pace, increasing the risk of malicious content finding its way into the system. The criticality of endpoint security has thus been recognized to keep patient and stakeholder information safe in the healthcare sector, making it a viable avenue for endpoint security industry.
The latest trends in cybercrime rely heavily on social engineering, using legitimate software as cyber weapon, ranging from spam to phishing. Leading endpoint security industry players like Symantec, Kaspersky, McAfee, Microsoft, Trend Micro, Comodo, Cisco, and Panda Security are therefore continually upgrading and expanding their scope through research and development programs to keep pace with the changing dynamics of cyber threats. For instance, Kaspersky Lab recently released its flagship product called Kaspersky Endpoint Security for Business, which included next generation threat detection, increased visibility and granular security controls like credential detection and vulnerability management. This provides an apt demonstration of the efforts being undertaken to innovate highly advanced and efficient products in this business space. As per estimates, endpoint security industry size has been forecast to be pegged at $7.5 billion by 2024.
Author Name : Paroma Bhattacharya