Transcatheter Heart Valve Replacement Market Analysis
The global transcatheter heart valve replacement market is slated to emerge as one of the most lucrative investment avenues in the ensuing years, primarily owing to the rising prevalence of valvular diseases and the growing number of patients opting for surgical and minimally invasive replacements. On these grounds, numerous medical device companies have been placing their bets on advanced transcatheter heart valve devices, that would help augment the expanse of this industry, especially in developed regions like North America and Europe.
U.S. transcatheter heart valve replacement market, by product, 2018 & 2025 (USD Million)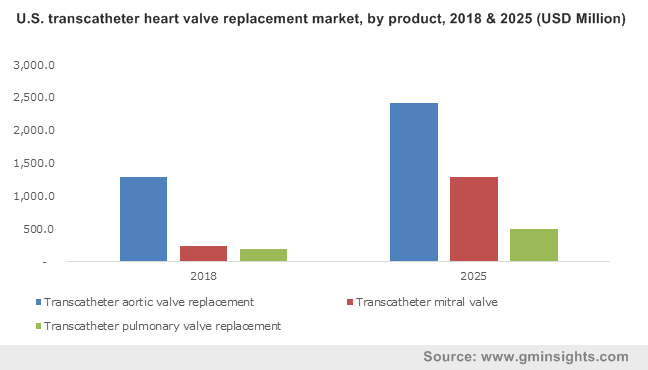 Citing an instance, Edwards Lifesciences recently invested $35 million for an exclusive right to buy Corvia Medical, a company that is committed to an important trial in the U.S for its InterAtrial Shunt Device. The device is also the first transcatheter designed to treat heart failure with the help of midrange or preserved ejection fraction. In a separate transaction, Edwards Lifesciences even acquired assets of Mitralign, a manufacturer of investigational transcatheter annuloplasty system for the treatment of functional mitral and tricuspid regurgitation. It is rather discernible that massive investments and acquisitions by industry leaders will be one of the significant factors driving the global transcatheter heart valve replacement market over 2019-2025.
The growing prevalence of pulmonary valve disease and cardiac diseases will further proliferate industry growth. With the emergence of an aging society, heart diseases have become one of the most prominent health problems worldwide. Heart disease incidences are estimated to rise continuously over the next few decades, as the geriatric population of people above 60-years of age are expected to double by 2025 and triple by 2050 globally. The proportion is more likely to affect the Asia-Pacific region, therefore most of the world's cardiovascular burden is predicted to occur in this area.
Get a Sample Copy of this Report @ https://www.gminsights.com/request-sample/detail/3170
The prevalence of cardiovascular diseases is considerably high in nations like India and China and has increased gradually over the past few years, however, it is appropriate to mention that the quality of treatment has also improved gradually. Ergo, the rising prevalence of cardiovascular diseases paired with improving disease treatment, including heart valve replacements would lead to APAC transcatheter heart valve replacement market depicting commendable gains in the years to come.
Speaking of improving disease treatment, the transapical approach is one of the leading surgical approaches that is lately being adopted on an expansive scale worldwide. Recently, for instance, Neovasc Inc., a leading developer of minimally invasive TMVR replacement technologies, announced that its transcatheter mitral valve replacement device Tiara was featured in an update presentation at the Cardiovascular Research Technologies meet in Washington DC. Tiara is implanted in the heart through a minimally invasive transapical approach without the need for open-heart surgery or using the cardiac bypass machine. Presently, the product is being evaluated in two ongoing clinical trials namely TIARA-I in the United States, Canada and Belgium and TIARA-II in Germany, the United Kingdom, and Italy.
According to the latest research by Global Market Insights, the transcatheter mitral valve replacement industry size from transapical approach is anticipated to grow at a CAGR of 14% over 2019-2025. This approach is renowned for valve-in-valve implantations in the in mitral bio prosthesis and the valve-in-ring implantation (deployed in annuloplasty rings, for patients afflicted with acute mitral regurgitation). Hence, an uptick in cases of the mitral valvular disease will generate substantial demand for transapical approaches, thereby augmenting the transcatheter heart valve replacement market in the ensuing years.
Furthermore, approval by federal executive departments to reduce the effects of heart failure will further boost market growth. For example, FDA recently approved a new indication for heart valve repair devices that are meant to reduce moderate-to-severe mitral regurgitation and leakage of blood into the heart's left atrium that can result in symptoms of heart failure such as fatigue, shortness in breath and swelling in the legs. The United States consists of almost 6.5 million adults suffering from heart failure, with a small percentage of these patients also affected by moderate-to-severe mitral regurgitation, increasing the risk of heart failure. Thus, the approval of heart repair devices by major government bodies will also significantly favor the expansion of transcatheter heart valve replacement market in the foreseeable years.
Given the changing trends in the healthcare fraternity, with respect to medical devices and treatment methodologies, the global transcatheter heart valve replacement market is anticipated to undergo a transformation of sorts in the coming years. Indeed, the overall transcatheter heart valve replacement industry size is expected surpass a valuation of $10.5 billion by the year 2025, according to Global Market Insights, Inc.
Author Name : Krithika Krishnan