Transport
The increasing importance imparted to network stability & wireless communication to speed up network capability has been stimulating private LTE market share. Nowadays, private LTE is used extensively for numerous beneficial purposes such as real-time monitoring, geo positioning activities, in the mobile devices, energy utilities, telecommunication applications, and automotive equipment. The rapid acceptance of long-term evolution (LTE) for high-speed wireless communication across numerous industrial sectors has been encouraging companies in private LTE market to adopt LTE network connectivity.
Europe Private LTE Market Revenue, By Infrastructure, 2017 & 2024 (USD Million)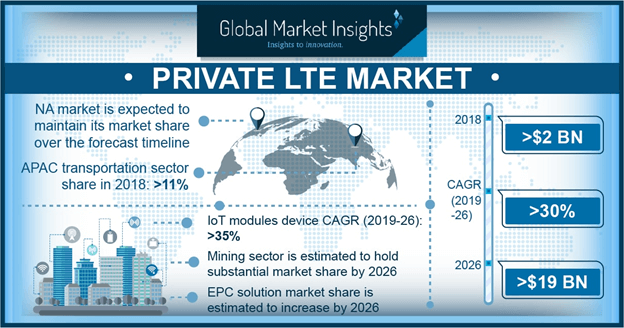 Over the last few years, most of the mobile network providers have shifted to LTE services from 2G and 3G coverage to improve existing communications. The surging digitalization and modernized mobile services have also substantially enhanced data services. Recently in India, the nation's largest telecom company, Airtel has decided to switch to LTE network services to boost data speed. This move will turn out to be rather beneficial for Airtel as it already has a widespread, far-reaching network coverage. The shifting focus of telecom service providers to LTE to phase out older networks is slated to fuel private LTE industry share.
Taking into account the network benefits of high-speed data services, most of the energy companies have been signing deals with wireless network providers that will have a positive influence on the product demand. For instance, a month before, the Brazilian power distributor, Elektro collaborated with Nokia for deploying a private LTE network in its City of Atibaia based electric grid. The deployment of LTE services is slated to help improve the efficiency and reliability of the electric grid that has been serving approximately more than 75,000 business and homes. Through this network, it is also possible to operate smart meters, grid equipment, substation and distributed energy generation sources.
Get a Sample Copy of this Report:@ https://www.gminsights.com/request-sample/detail/2757
Such strategic deals will help players in the private LTE market strengthen their customer base and diversify the traditional telecommunication practices. The surging adoption of digital technologies such as IoT and machine learning will thus further propel the use of private LTE service in the energy sector. For the record, as per estimates of Global Market Insights, Inc., private LTE market from energy applications is slated to depict a commendable CAGR over 2018-2024.
In order to achieve a dominant stance in the market, telecom firm Nokia has also lately been adopting myriad business tactics. Recently, it has collaborated with China Unicom to deploy a private LTE network at BMW Brilliance Automotive Ltd plant based in the Liaoning province. With the use of private LTE connectivity, BMW can carry out smart manufacturing activities and ensure communication for critical applications including video surveillance, object tracking, and analytics at the plant.
The integration of private LTE network in the enterprises to secure data and voice communication, wireless video communication, ensure indoor investigation, and inspect the production line maintenance is slated to fuel the product demand over the years ahead. Heavy investments to develop digitalized, modern factories with a secured and transparent work culture will further propel private LTE market share considerably.
The emergence of LTE connectivity has also turned out to be rather useful for maintaining peace across the globe. That is to say, the UN (United Nations) has been working continuously to resolve the several global issues for which it has been using LTE network for providing critical communication capabilities. Peacekeeping troops are able to effectively use this LTE network for secure, stable, and future-proof broadband services while operating through the tough geographic terrain. Currently, UN is working on fourteen peacekeeping operations across the globe and it is planning to establish high-speed LTE networks by 2019 to accelerate the communication throughout the missions.
Substantive use of LTE connectivity for ensuring digital and standardized work output in the industrial as well as the defense sectors is likely to propel the product demand over the years ahead. On-going changes in the telecommunication technologies to enhance the network connectivity will further stimulate the industry trends. As per estimates, with the surging acceptance for network connectivity across various application sectors, private LTE market is poised to surpass a revenue collection of USD 11 billion by the end of 2024.
Author Name : Sunil Hebbalkar
Increasing investments in infrastructural developments across the globe will boost civil engineering market significantly. With digitization conquering the global industrial landscape, the development of smart cities is on an incline, which will also provide a positive impetus to civil engineering market. The infrastructure of a country is largely responsible for its overall progress, subject to which the governments of various countries have been investing heavily in the construction sector and infrastructural development. The rapid industrialization, urbanization, rise in population, and the government norms regarding sustainable construction will be key factors propelling civil engineering market. According to Global Market Insights, "Civil Engineering market was worth USD 7990 billion in 2015 and is slated grow at an annual growth rate of more than 3.5% over the coming years of 2016 to 2025.
Europe Civil Engineering Market size, by application, 2013-2025 (USD Billion)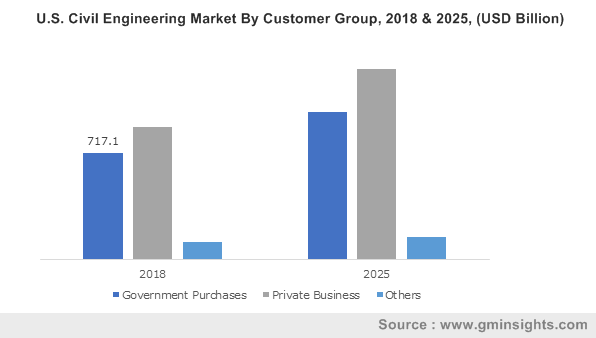 Prominent customer groups of civil engineering market include private businesses and government purchase. Civil engineering market from private business customer group is predicted to register an annual growth rate of 4.1% over the coming years of 2016 to 2025. Escalating investments in the housing sector to provide shelter to the ever-growing population base will favor the business growth. Supportive government policies regarding infrastructure development will also augment civil engineering market expansion.
Get a Sample Copy of this Report @ https://www.gminsights.com/request-sample/detail/804

Taking into account the application landscape, civil engineering market is mainly divided into industrial infrastructure, energy, transport, and residential buildings. Industrial infrastructure application segment will exhibit considerable growth rate over the coming timeframe. Surging investment by the government for the development of roads, bridges, and dams will influence the product demand noticeably. In addition, rising infrastructure development across various sectors such as automotive, nuclear, leisure & hospitality, and food & beverages will propel civil engineering industry share.
Transportation application landscape will grow at an annual growth rate of more than 2% over the coming eight years. Significant investment by the government in road transport facilities will generate flourishing growth prospects for the product. The residential sector is also another lucrative application segment that is expected to register fairly substantial gains over 2016-2025.
Government purchase customer group segment collected a revenue of more than USD 4080 billion in 2015 and will register significant CAGR over the coming timeframe, owing to the increasing number of civil facilities and the pressure to develop high quality infrastructure.
Considering the geographical trends, U.S. civil engineering market will collect a revenue of USD 1830 billion by 2025. The escalating investments in industrial infrastructure, commercial, and residential sectors across this region will augment the industry growth. Furthermore, the government has been implementing numerous legislations pertaining to energy conservation, which will also influence the industry share noticeably.
Russia civil engineering industry will register CAGR of more than 2.5% over the coming eight years. The presence of a huge industrial base of mining, metallurgical, and oil & gas sector will fuel the requirement of civil engineering on large scale.
China civil engineering market size, worth more than US 3400 billion revenue in 2015, will exhibit a noticeable growth rate over the years ahead. Strong initiation taken by the government to develop infrastructure in the various sectors such as road & transport, power plants, and commercial buildings will augment the industry outlook.
The noteworthy participants in this market are US Army Corps of Engineers, Foster Wheeler, Galfar Engineering & Contracting SAOG, HDR, Inc., URS Corporation, CH2M Hill, Jacobs Engineering Group, AECOM Technology, SNC-Lavalin, Fluor Corporation, and Kentz.
Author Name :Sunil Hebbalkar
Growing focus on infrastructure growth coupled with an increase in real-estate investments are predicted to boost the demand for aerial work platform trucks. Furthermore, the rising need for material handing in factories as well as in production activities is expected to boost the industry trends over the coming years. According to Global Market Insights Inc., "Aerial Work Platform (AWP) Truck Market share worth USD 2.4 billion in 2015, is estimated to reach USD 11 billion mark by 2024, growing at a CAGR of 18.5% over the period of 2016-2024." Modernization in electrically propelled elevating platforms to fulfill emission norms and address the ecological concerns is expected to benefit the market in future. AWP trucks are predicted to find their use in various industries owing to its safety features, maneuverability, and ease of handling features.
China Aerial Work Platform Truck Market size, by product, 2013-2024 (USD Million)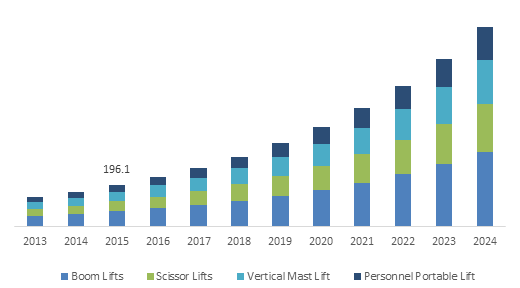 The rising installations of power cables and transformer & street light maintenance is predicted to boost the market trends over the coming years. Large scale use of AWP trucks in mining & construction activities due to the high risks involved in the work is predicted to benefit the market. The rapid growth of telecommunications industry due to the growing number of smartphone users will fuel AWP truck demand. These vehicles find their use in event management activities such as organization of corporate events, conventions, conferences, festivals, formal parties, and concerts.  They are also used in disaster management operations as well as defense activities.
Get a Sample Copy of this Report:@ https://www.gminsights.com/request-sample/detail/689
AWP truck applications in the construction industry is predicted to be worth USD 4 billion by 2024 owing to big construction projects along with heavy infrastructural growth. Logistics & Transportation industry is also predicted to witness high market penetration over the coming years, with vehicle applications worth USD 550 million in 2015.
Asia Pacific AWP truck market is forecast to record a CAGR of 18.7% over the period of 2016-2024 due to the growing number of mobile phone users coupled with the requirement of good telecommunication infrastructure.
North America AWP truck market size is anticipated to witness a substantial growth over the forecast timeline. U.S. market is predicted to contribute noticeably towards the regional growth due to high capital investments along with an increase in the renovation work activities in the country.
Driven by various applications in the construction, telecommunications, and transport & logistics industry, AWP truck is deployed in the form of vertical mast lifts, boom lifts, personal portable lifts, and scissor lifts.
Scissor lifts AWP truck market is predicted to grow at a CAGR of 18.3% over the period of 2016-2024 owing to its increasing demand in various applications requiring direct overhead access. Boom lifts AWP truck market contributed over 35% of the global industry share in 2015 and is expected to dominate the industry over the forecast period. Rising use of the vehicles to enable entry in blocked areas is projected to boost the industry demand.
Key industry players include Terex Corporation, Haulotte, Ruthmann, Aichi Corporation, Tadano Limited, CTE, Shen Yang North Traffic Heavy Industry, Hunan Runshare, Time Benelux, and Teupen.
Author Name : Dhananjay Punekar