Transportation
With global enterprises rapidly embracing cloud platforms as well as other networking technologies, cybersecurity market is anticipated to observe a massive upscale in revenue. As more and more organizations transition into the cloud and work to minimize security risks, making the enterprise network less vulnerable to a plethora of cyber-attacks, the average annual spending on cybersecurity is expected to rise significantly. In fact, back in 2017 the average spending on cybersecurity solutions by organizations went up as much as 23% accounting for more than $11.7 million. This increasing cyber security budget in several organizations globally is expected to be one of the most prominent growth inducing factors propelling cybersecurity market.
U.S. Cybersecurity Market Revenue, By Product, 2017 & 2024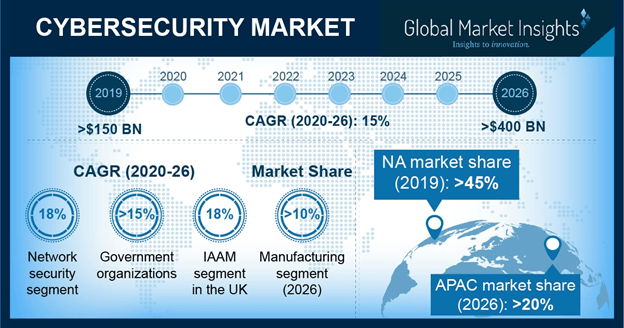 While the topic of cybersecurity once received perfunctory response from global governments, the scenario has undergone a drastic change today. A number of nations have increasingly begun looking for ways to protect their government agencies from malicious attacks by boosting their cybersecurity preparedness efforts. The potential of the threat is so much that in 2018, the World Economic Forum launched Global Centre for Cybersecurity to protect the world against hackers. These cyber security efforts were further magnified in late 2018 when more than 50 countries signing an international cyber security principles agreement that aims to put an end to malicious cyber-activities in peacetime – an act that is bound to significantly drive the growth prospects of cybersecurity industry.
Hefty adoption by large enterprises to fuel global cybersecurity market size
As businesses worldwide undergo a digital transformation, wherein they move the critical applications of their enterprise network onto the cloud, the issue of cybersecurity has garnered mainstream attention. The digital transition has undeniably allowed organizations to significantly improve their operating efficiencies, but has also made them vulnerable to a plethora of cyberthreats that could bring their operations to a grinding halt if they fail to manage the security risks properly. In fact, according to Telstra, over 59% organizations across Asia experience a business-interrupting cyberattack at least once a month due to inadequate cyber security measures.
Get a Sample Copy of this Report @ https://www.gminsights.com/request-sample/detail/3078
Driven by the threat potential of cyberattack more and more large enterprises are embracing cyber security solutions. Indeed, large enterprises accounted for over 60% of the global cybersecurity market share in 2017. It is also prudent to mention that 2017 was witness to one of the biggest cyberattacks ever, where the WannaCry ransomware, which affected over 400,000 machines across 150 nations, cost the world approximately $4 billion in losses. Large enterprises on an average lost over $10 million because of cyber security breaches.
Prompted by the WannaCry attack, that enabled the average cyber-attack cost to rise as much as 11%, enterprises were further encouraged to embrace more advanced security solutions. The cybersecurity market is also expected to attract sizable gains on account of the growing Bring Your Own Device (BYOD) trend, wherein businesses are allowing their employees to utilize their personal devices on the job.
How has the new U.S. national cyber strategy impacted the cybersecurity industry trends?
The United States of America has been facing consistent threats from an increasing number of highly-sophisticated malicious entities that are motivated by a whole host of different factors ranging from ideological & political interests to espionage & financial gains. The Armed Forces Communications and Electronics Association (AFCEA), in September of 2018 had pointed out that the U.S. government did not possess a comprehensive cyber security strategy leaving U.S. critical infrastructure and federal agencies extremely vulnerable to cyberattacks. In the days that followed, the Trump administration released the National Cyber Strategy, the nation's first, fully-articulated cyber strategy in over 15 years.
Propelled by the cyber strategy, in conjunction with the rising adoption of cybersecurity solutions by an extensive number of enterprises spanning the nation, the U.S. cybersecurity industry is anticipated to crop up as one of the most prominent regional markets over 2018-2024.
It is rather overt that the global cybersecurity market is well positioned to establish itself as a lucrative investment ground. As per Global market Insights, Inc., cybersecurity industry size, driven by the growing number of cyberthreats that are frequently cropping up, is anticipated to be pegged at $300 billion by 2024.
Author Name : Akshay Kedari
Growing emphasis on consumer satisfaction and safety has proliferated the testing, inspection, and certification (TIC) services market as governments worldwide have implemented stringent quality regulations on almost every industry vertical. Whether it is construction, automobile, energy, healthcare or other segments, continuous advancement in products and components have necessitated upgraded testing and certification requirements. Improvements in management, product quality, manufacturing processes, supply chains and service value have become imperative for the growth of any business, imposing a need for the TIC services market. Existence of recognized certifications such as ISO:9001 or ISO/TS 16949 make it easier for customers to search for companies that provide excellent product quality, better customer service and new, innovative solutions. The global TIC services market valuation in 2017 stood at over USD 150 billion, driven by the obligation of companies towards meeting specific product requirements and to comply with international quality standards.
U.S. Testing, Inspection, and Certification (TIC) Services Market Revenue, By Service, 2017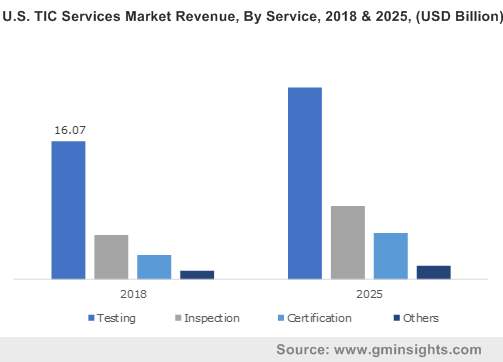 Besides helping to control the quality, effective testing and inspection processes aid in minimizing rejections, reduce manufacturing costs and identify reasons for a defective output. The transportation segment, in general, constitutes a major part of the global manufacturing industry where thousands of components or auto parts go through daily quality checks. As governments and international agencies are constantly raising the weight, material and other standards of automobile components to enhance the safety and efficiency of vehicles, the TIC services industry is subsequently gaining massive popularity. OEMs as well as small auto component vendors are striving to achieve high level of quality and get certified, to get documented and provide validity to their proficiencies and expertise. Frequent inspection and evaluation of manufacturing processes by in-house or third party services to maintain a grip on the quality level will continually boost the TIC services market.
Get a Sample Copy of this Report:@ https://www.gminsights.com/request-sample/detail/2318
As per estimates, the EU alone produced over 17 million passenger cars and 2.6 million commercial vehicles in 2017. With strict regulations in place to enhance the fuel efficiency of future vehicles and reduce carbon emissions, the TIC services market will experience tremendous growth from testing and inspection of advanced auto components and manufacturing processes. New processes need to be sufficiently tested before implementation and vigorously inspected for any faults or defects to ensure product uniformity. Globally, an emerging product line in the automotive sector is connected and self-driving cars, which presents a challenging task for the TIC services industry. Chipmakers and testing companies are helping to develop these products by adhering to ideal temperature, voltage, electromagnetic interference and several other standards put down for an efficient autonomous system. Automotive standards like ISO 26262 have been introduced related to the safety of electrical and electronic systems within vehicles, warranting adequate testing and inspection to be done on advanced automotive chips.
The TIC services industry is rapidly witnessing demand from the healthcare and life sciences segment, with test and inspection reports of pharmaceutical equipment being critical in assessing whether the international standards are met. TIC companies are trying their best to evolve with technological developments and remain up-to-date with new regulations pertaining to safety and quality. Products, apparatus and supply chains are subject to quality testing activities regularly, as pharmaceutical companies are responsible for providing vital therapeutic solutions. Even other parties involved in the supply chain must go through intense inspection by assigned representatives to be eligible to acquire critical certifications. Citing an instance that signifies the importance of the TIC services market, Swiss WorldCargo recently received IATA's Center for Independent Validators (CEIV) Pharma certification, which encompasses not only the airline but also the entire organization.
To elaborate, a CEIV Pharma certification indicates that the lifesaving pharmaceutical products are being handled in compliance with the best global standards of safety, security and efficiency by the certified party. With this certification, Swiss WorldCargo has attained a milestone which only a small number of airlines have been able to earn, recognizing them as globally consistent in exhibiting high quality standards while handling pharmaceutical products. Further, U.S. based Nu-Med Plus Inc. has established a quality management program and trained its employees regarding quality standards in an effort to gain ISO 13485 certification. The certification is essential for the company before it files for the approval of its new nitric oxide delivery devices with the FDA and demonstrates the significance of the TIC services market in forming the image of a top-quality healthcare product or service provider.
Overall, the TIC services industry will undergo remarkable transformation due to incessant developments in the life sciences field, resulting from the existence of rigorous certification eligibilities in healthcare and mandates that demand high quality control. Slated to record a 6% CAGR from 2018 to 2024, the TIC services market is highly dispersed with key players like Intertek, SGS SA, Bureau Veritas, DEKRA, TUV SUD, Apave and Eurofins being the major participants.
Author Name : Pankaj Singh
Internet of things has brought a revolution of sorts in the security & surveillance landscape globally. IP camera industry, in this context, stands as a major beneficiary of this change. As per reliable estimates, in the year 2016, the global shipments for IP cameras surpassed 15 million units. Add to it, reliable sources affirm that in the year 2014, IP camera shipments in smart home exceeded 1.3 million units – data strongly attesting the role of IOT and connected infrastructure in the lucrative growth chart of IP camera industry.
UK IP camera market, by public/government application, 2019 & 2025 (USD Million)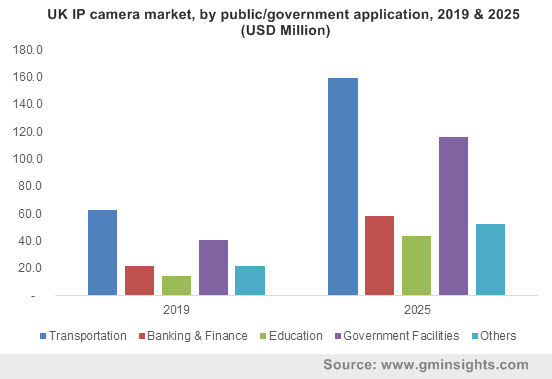 Reportedly, the smart home segment is anticipated to depict synonymous demand for networked cameras in the ensuing years with an estimated shipment of more than 20 million units by the end of 2019. Having said this, the growth prospects of IP camera market from residential applications is quite vividly huge. In fact, as per a report compiled by Global Market Insights, Inc. IP camera industry size from residential applications is estimated to register an appreciable CAGR over 2019-2025, driven by applications including the likes of home surveillance systems, access control, remote monitoring, intelligent building control, and HVAC management.
Elaborating further on the application portfolio of IP camera market, the domains spanning healthcare, retail, industrial, and real estate, transport, BFSI, and education have contributed immensely to the IP camera market proliferation. Backed by the falling price of these HD network cameras coupled the growing adoption of open standards, these high-resolution HD network cameras have phenomenally penetrated the commercial and governmental sectors.
In response to the opportunistic waves across principal application avenues, the competitive landscape of IP camera market is thriving with product innovations and developments, having pricing and technology upgradations as the center focus parameters. Not to mention, M&As and collaborative deals between security and technology players is emerging as a top-notch growth strategy, to sustain in this ferociously dynamic landscape.
Get a Sample Copy of this Report:@https://www.gminsights.com/request-sample/detail/2410
It is imperative to mention that Infrared cameras have stood as one of the major product segments of IP camera market and is expected to show significant growth trends in the forecast years. In fact, all the major product developments canopied under IP camera industry are hinged on technology interventions.
As per reliable estimates, the worldwide security technology and services market generated a revenue of more than USD 75 billion in 2016. Being on the forefront when it comes to technology appetite, the U.S. stood tall in the IP camera industry share battle in 2018, with North America accounting for 35% of the global IP camera market share.
Pelco, a subsidiary of Schneider Electric, is one such name which has created a buzz in the IP camera industry and has undeniably contributed immensely to the U.S. IP camera market landscape. The global surveillance solution leader recently announced its partnership with Ipsotek, UK headquartered video analytics leader, in a bid to bring strong solutions on board to combat security risks. For the record, Pelco plans to leverage Ipsotek's specialization in detecting behaviors in the real-time videos, thereby delivering alerts to operators and reducing false alarms.
In 2017, Pelco, with its collaboration with V5 Systems, expanded its Sarix Professional IP surveillance cameras reach to outdoor security markets, particularly in areas with no or low fixed power and communication facilities. The company is predominantly active in exploring the untapped opportunities in IP camera market space, on a global scale. The firm also made it to the headlines with its announcement of showcasing its innovative solutions at Intersec 2018. The solutions are deemed to address the Middle East and Africa regions particularly and will elaborate on Pelco's partnership with three reported industry magnates – Ipsotek, Gallagher Command Center, Ruckus Wireless.
Reportedly, Pelco, in January 2018 collaborated with Ruckus Wireless to integrate the latter's ICX switches and ZoneFlex access points (APs) with Pelco's IP Cameras and VMS in a bid to offer an upgraded version of IP video systems. Overtly, the firm will continue to be a major vendor for the U.S. and the global IP camera industry in the forecast years.
The regional battle in IP camera market is anticipated to take a turn in the ensuing years with Asia Pacific showing signs of being the next major investment hotbed for IP camera industry players. Smart city initiatives in the region is projected to be a major driver for the APAC IP camera market size, driven by huge demand for deployment of these networked cameras in the connected infrastructure.
From the recent product launches witnessed across this APAC, it is quite certain that the region is ready to give a major competition to the United States, with regard to the procurement of the revenue share. As per recent trends, India, China, Taiwan, South Korea, Australia are slated to be the chief revenue pockets likely to transform Asia Pacific IP camera market outlook.
In a recent turn of events encompassing IP camera market landscape, Digisol Systems, an India headquartered active networking market player announced the launch of its new Dome IP CCTV Camera dubbed as DG-SC6502SA. Reportedly, the camera is featured with a CMOS sensor and real time image processing hardware and is designed for office/home security and monitoring purposes.
Hanwha Group, one of the largest conglomerates in South Korea, under its subsidiary Hanwha Techwin America, the renowned supplier of analog and IP video surveillance solutions, recently declared the integration of VMS into the existing Hanwha IP Cameras. Reportedly, the WAVE VMS will enable the present Hanwha IP camera user base across a wide range of sectors like education and retail to utilize the utmost out of the advanced analytics features.
Gorilla Technology, the Taiwan based IoT and video intelligence provider recently announced its partnership with Airship, a renowned VMS service supplier, in a bid to create an integrated video intelligence management solution. The deal is anticipated to be an opportunistic one for the players operating in security industry verticals, particularly IP Camera, VMS, NVR, and SI. The deal, as speculated by the industry experts, is an apt blend of security and IoT merger.
With the increasing deployment of big data and IoT and the consequent large pool of data, the quest for deriving actionable insights is expected to proliferate massively. Undoubtedly with 'smart' trends penetrating both the government and private sectors, the advancements and security risks go hand in hand, in terms of growth. Amidst this scenario, analysts quote the IP camera market trends to be substantially profitable in the coming years, with a pool of demand from a varied range of sectors.
Backed by this drive toward real-time IP/network solutions, the global IP camera industry is slated to register a double-digit CAGR over 2019-2025. For the records, the market size will surpass USD 20 billion in 2025.
Author Name : Shikha Sinha
Increasing adoption of technology in the security vertical and the confluence of organizations to meet authentication standards has added a renewed dynamism to biometrics market. With the biometrics technology having marked its presence across the security landscape, it is now rapidly penetrating its way into consumer, government, and industrial systems. Based on the concept of statistical analysis of biological data, the biometrics technology is proclaimed to be less prone to cybercrimes and hacking. Recently, Mexico's National Banking and Security Commission has announced a new regulation in the country that would require all the banks to deploy fingerprint scanners for the clients by 2018. Another instance is of FacePhi Biometria, where the company is seen signing deals to bring its selfie-based authentication system especially in the financial sector. Similar moves are likely to materialize in the coming years, in turn, propelling biometrics industry size.
U.S. Biometrics Market Size, By Product, 2013 – 2024 (USD Billion)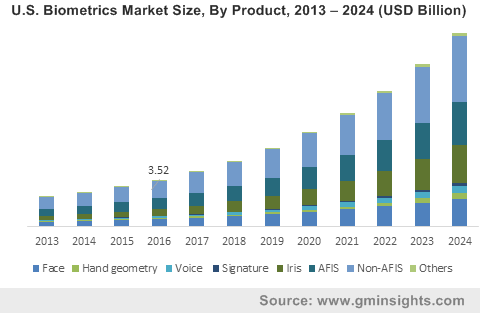 Global Market Insights, Inc., claims that biometrics market will exceed USD 50 billion by 2024, having been pegged at USD 12 billion in 2016. High acceptance of biometrics in various verticals such as mobile banking and other financial services has further favored the growth of biometrics market. As the cybercrimes and identification errors are captivating the industry verticals, there has been a significant upsurge in the adoption of biometrics to ensure data security and privacy. Lately, there has been a plethora of fraudulent cases and data breaches in the financial sector. JP Morgan Chase for instance was one of the major victim, where the hackers accessed the critical data of approximately 83 million customers. Such potential threats of data breach have led to greater demand for biometrics technologies in the banking & finance sectors. As per the report, biometrics industry share is set to gain lucrative avenues from banking and finance sector, projected to register a healthy growth rate of 22% from 2017-2024. Apart from this, biometrics industry is also likely to demonstrate noticeable growth in healthcare, transportation, consumer electronics, and defense services. In fact, the transportation application within biometrics market is estimated to be the highest revenue contributor in the coming seven years.
Get a Sample Copy of this Report@ https://www.gminsights.com/request-sample/detail/493
With the significant expansion of its vast application arena, it is quite evident that biometrics technology is gaining lot of popularity as it works on identification of individuals' biological information. This technology uses physiological and/or behavioral characteristics of people to authenticate their identity. As every individual is unique, this technology uses separate identifiers such as face recognition, fingerprint, palm veins, hand geometry, DNA, iris recognition, voice and retina. Many companies have adopted these techniques to improve the security features. For instance, Samsung and LG have incorporated iris scanners into their smartphones on a wider scale. The voice recognition technology is also seen gaining considerable traction in the mobile banking and commercial sector. The voice recognition segment of biometrics market is expected to register a CAGR of 22% over 2017-2024, claim estimates.
Over the coming years, biometrics industry is expected to witness several technological advancements that will make authentication more secure and convenient. Below mentioned are the three trends that will strongly influence the industry growth.
Smartphones
Mobile payment is touted as the future of financial transaction and is thus getting incorporated with biometrics to provide a strong security interface. Governments and businesses are vigorously looking for reliable authentication devices such as mobile biometrics to speed up human identification processing, in turn, providing a commendable impetus to biometrics market demand. Such technologies running on personal smartphones are sure to offer biometrics market the opportunity of clocking excellent growth rates in the ensuing years.
E-commerce
With the rapid growth of online shopping, online payment methods are slated to be subject to a lot of threats. The biometrics technology is expected to do wonders in this segment as accessing of user accounts through iris, facial recognition and fingerprints could go long way in ensuring a secure login than regular pins and credentials, validating the contribution of e-commerce in the growth of biometrics industry.
Internet of Things
One of the biggest biometrics market trends to watch for will be the adoption of this technology parallel to the massive expansion of IoT. IoT being the biggest emerging concept for both businesses and consumers undeniably requires a robust security spectrum to protect critical data. In response to this, in the coming years, the global biometrics market will witness a remarkable upsurge with the technology being integrated in a wide variety of IoT applications ranging from smart homes, banking, healthcare, and automotive.
With the advancements and evolution in the tech space, identity management and security are certain to be the top-notch priorities of the businesses. Taking into account this trend, it is unarguable that biometrics industry is set to witness a profound profitability quotient in the ensuing years.
Author Name :Ojaswita Kutepatil
The growing technological advancements in IoT coupled with the rising demand for smart connected devices will drive single board computer (SBC) market in the years to come. Basically a compressed, low-cost version of a typical computer, an SBC comprises similar components such as microprocessors, memory, input/output (I/O) and other features all embedded on a tiny circuit board.
China single board computer market size, by processor, 2018 & 2025 (USD Million)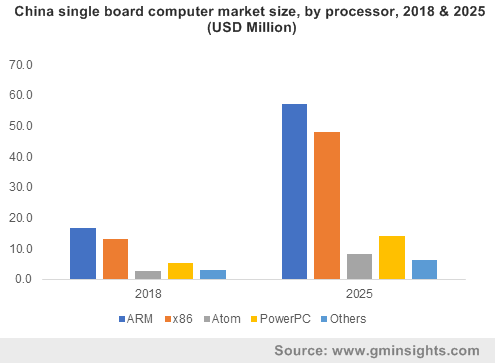 The product has become significantly important for developers seeking ways to design products with greater intelligence, performance and connectivity while reducing power consumption, costs and size. Indeed, the product continues to evolve in sophistication, while its range of possibilities expand. For instance, nowadays SBCs come with features like Bluetooth and Wi-Fi compatibility making them ideal in applications associated with IoT (Internet of Things).
The deployment of the Internet of Things (IoT) in almost all industrial applications will significantly boost the growth of the SBC market in the years to come. By using SBCs, manufacturers are now able to offer efficient IoT solutions to customers. The product has certainly propelled the growth of the IoT sector in the last few years, offering a much smoother commercialization. According to reports, business infrastructure and operations professionals are rapidly shifting towards IoT, while studies indicate that a major proportion of decision-makers are already using IoT-enabled applications from building connected products to transforming operational processes. With rising IoT adoption, IoT software providers like IBM, Cisco, Amazon, GE, and other giants are now developing solutions that simplify the design, creation, integration, and management of IoT infrastructure and enterprise data. This in consequence will majorly propel the product demand, eventually pushing SBC industry trends.
Technological advancements in embedded technology will boost the SBC market
Semiconductor processors, being the core of any SBC, are rapidly evolving to match the capability of modern day applications. To attract the vast tech-savvy customer base, engineers are constantly adopting advanced embedded technologies to gain a competitive edge. For instance, the neural processing unit (NPU) is anticipated to be the next focus for chipmakers as it helps speed up computer-vision applications, such as object and image recognition, and offers enterprises and manufacturers a more powerful platform for developing products used from smart building applications to driverless vehicles.
Get a Sample Copy of this Report @ https://www.gminsights.com/request-sample/detail/1570
Prominent companies are investing heavily in the development of these new technologies. The Chinese tech giant Huawei, in collaboration with Linaro, recently launched its new SBC called HiKey 970 AI computing platform which uses the world's first AI mobile processor, Huawei's Hisilicon Kirin 970 chipset along with a dedicated Neural Processing Unit (NPU). This is quite vividly, an instance that demonstrates how product innovation and investments in technological advancements will add momentum to the expansion of the SBC industry.
Powered by rapid technological developments, single board computers have paved their way into medical sector as well. Medical devices are increasingly being integrated with SBCs to perform and monitor a wide range of clinical processes. The product's reliability, power and versatility have made it ideal for developing customized medical electronic devices, medical monitoring systems, fault-tolerant wearable computers and more. Strategic partnerships between tech giants and medical healthcare firms will thus majorly augment the growth graph of SBC industry.
While SBC market has quite appreciable consolidated itself worldwide, the APAC is said to emerge as a prominent revenue pocket for this industry in the years to come. This may plausibly be the case on account of the expanding electronics industry in the region. With the presence of several consumer electronics and tech firms, the APAC SBC industry is anticipated to depict considerable growth over 2019-2025. Growing government support toward building in-house consumer electronics, such as smartphones, tablets and other gadgets in countries like India and China, will also boost the APAC single board market demand.
Being highly-scaled versions of traditional PCs and laptops, SBC are expected to continue finding long-term application in IoT-driven verticals and consumer electronics. Powered by rapid technological advancements in semiconductor processors and AI, single board computer market is forecast to chronicle itself in the billion-dollar business sphere by 2025.
Author Name :Paroma Bhattacharya