Type
Innovative products being introduced by major companies is favoring the growth prospects of automotive NFC market. Due to low energy requirements, NFC technology can be embedded in cars, which is transforming the automobiles from interiors to exteriors. Automakers are also installing electronic smart key systems in their cars to modernize their vehicles that will augment automotive NFC market share.
Brazil Automotive NFC Market Revenue, By Type, 2018 & 2025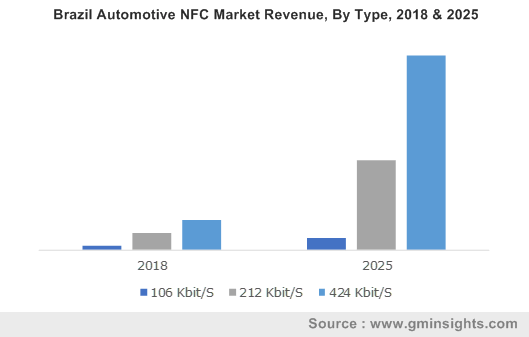 NFC technology in automotive sector offers intuitive interactions between humans and vehicles to fulfil the specific needs of drivers and enhancing driving experience. The major players in electronics and semiconductor sector are striving to come up with innovative ideas which can perform desirable tasks to satisfy certain demands of customers and increase remuneration of automotive NFC market.
Recently, one of the leading industry players, STMicroelectronics, made it to headlines as it presented automotive solutions for smart driving at the 11th edition of the Automotive World show in Tokyo, Japan. The company exhibited the leading-edge NFC technology in automobiles which can accelerate electrification and digitalization in autonomous driving, advanced driver assistance systems (ADAS), and power control for electric and hybrid electric vehicles. The solutions include Power Architecture®'s 32-bit microcontroller, SiC power MOSFET, acceleration sensors enabling road-noise cancellation, EEPROM and several others.
The companies like NXP and STMicroelectronics have developed pioneering technologies, which are gaining high traction among automakers manufacturing high-end vehicles. The luxury car manufacturers are focusing on deploying NFC technologies to enrich the driving experience of their customers. According to a report by Global Market Insights Inc., the high-end vehicles in the automotive NFC market will record a growth rate of over 31 percent over the timeframe of 2019-2025.
Get a Sample Copy of this Report:@ https://www.gminsights.com/request-sample/detail/398
With increasing modernization, the interiors of cars are also being installed with cutting-edge technologies. The interior application held more than 71 percent revenue share in the automotive NFC market in the year 2018. The strategies of some companies to progress in the technological domain is likely to contribute in augmenting the automotive NFC industry share in upcoming years.
For instance, NXP recently announced the acquisition of wireless connectivity portfolio of Marvell valued at $1.76 billion. The acquisition includes Marvell's Wi-Fi Connectivity Business Unit, Bluetooth technology portfolio and related assets to upgrade technologies in vehicle interior. The acquisition will allow the company to deliver complete, scalable processing and connectivity solutions to the customers across its focus end markets. Such acquisitions are expected to create new revenue opportunities for the market players and increase automotive NFC industry size.
The involvement of luxury car manufacturers like BMW in the development of high-end automotive technologies will contribute to optimistic automotive NFC industry outlook. The BMW AG has employed NFC technology in its latest BMW 8-series to upgrade the standards for automobile manufacturers. Its intelligent features like climate seats, convenient wireless phone charging tray, display key, fuel level indicator, service-related information, digital key etc. have set high benchmarks for its competitors.
The smart key function is widely being adopted among the automobile companies to enrich experience of customers. Another instance that can be cited here is that of Hyundai Motor Company which has introduced digital keys in its all-new 2020 Sonata to mark the North American debut of its most successful and longest standing model at the New York International Auto Show. The car has been introduced with a digital key application to promote advances in technology. It allows customers to control selected vehicle systems remotely.
The driver can also leave traditional keys at home as the app also allows secure sharing of keys with family and friends. The propagation of advanced technologies is on the rise and is boosting the growth of automotive NFC market size. Moreover, the latest debut of Hyundai in North America will propel the regional growth of automotive NFC market as well. It has been anticipated that the North America automotive NFC market will attain a CAGR of over 32 percent mainly due to the presence of strict regulatory policies regarding the ADAS system.
As can be observed from the aforementioned instances, automobile manufacturers are widely embracing trailblazing technologies to expand their market share. The strategies, like collaborations and acquisitions, are being planned and executed by the companies involved in automotive NFC industry to support the adoption of new technologies, essentially providing a favorable growth environment for automotive NFC industry.
Author Name : Anchal Solanki
Growing emphasis on consumer satisfaction and safety has proliferated the testing, inspection, and certification (TIC) services market as governments worldwide have implemented stringent quality regulations on almost every industry vertical. Whether it is construction, automobile, energy, healthcare or other segments, continuous advancement in products and components have necessitated upgraded testing and certification requirements. Improvements in management, product quality, manufacturing processes, supply chains and service value have become imperative for the growth of any business, imposing a need for the TIC services market. Existence of recognized certifications such as ISO:9001 or ISO/TS 16949 make it easier for customers to search for companies that provide excellent product quality, better customer service and new, innovative solutions. The global TIC services market valuation in 2017 stood at over USD 150 billion, driven by the obligation of companies towards meeting specific product requirements and to comply with international quality standards.
U.S. Testing, Inspection, and Certification (TIC) Services Market Revenue, By Service, 2017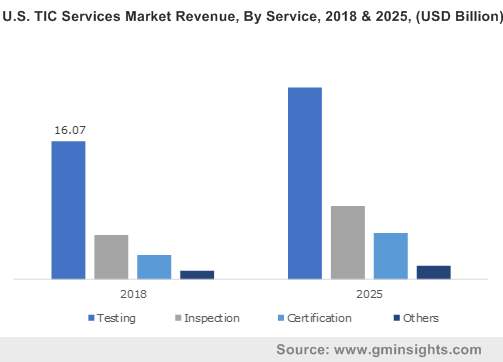 Besides helping to control the quality, effective testing and inspection processes aid in minimizing rejections, reduce manufacturing costs and identify reasons for a defective output. The transportation segment, in general, constitutes a major part of the global manufacturing industry where thousands of components or auto parts go through daily quality checks. As governments and international agencies are constantly raising the weight, material and other standards of automobile components to enhance the safety and efficiency of vehicles, the TIC services industry is subsequently gaining massive popularity. OEMs as well as small auto component vendors are striving to achieve high level of quality and get certified, to get documented and provide validity to their proficiencies and expertise. Frequent inspection and evaluation of manufacturing processes by in-house or third party services to maintain a grip on the quality level will continually boost the TIC services market.
Get a Sample Copy of this Report:@ https://www.gminsights.com/request-sample/detail/2318
As per estimates, the EU alone produced over 17 million passenger cars and 2.6 million commercial vehicles in 2017. With strict regulations in place to enhance the fuel efficiency of future vehicles and reduce carbon emissions, the TIC services market will experience tremendous growth from testing and inspection of advanced auto components and manufacturing processes. New processes need to be sufficiently tested before implementation and vigorously inspected for any faults or defects to ensure product uniformity. Globally, an emerging product line in the automotive sector is connected and self-driving cars, which presents a challenging task for the TIC services industry. Chipmakers and testing companies are helping to develop these products by adhering to ideal temperature, voltage, electromagnetic interference and several other standards put down for an efficient autonomous system. Automotive standards like ISO 26262 have been introduced related to the safety of electrical and electronic systems within vehicles, warranting adequate testing and inspection to be done on advanced automotive chips.
The TIC services industry is rapidly witnessing demand from the healthcare and life sciences segment, with test and inspection reports of pharmaceutical equipment being critical in assessing whether the international standards are met. TIC companies are trying their best to evolve with technological developments and remain up-to-date with new regulations pertaining to safety and quality. Products, apparatus and supply chains are subject to quality testing activities regularly, as pharmaceutical companies are responsible for providing vital therapeutic solutions. Even other parties involved in the supply chain must go through intense inspection by assigned representatives to be eligible to acquire critical certifications. Citing an instance that signifies the importance of the TIC services market, Swiss WorldCargo recently received IATA's Center for Independent Validators (CEIV) Pharma certification, which encompasses not only the airline but also the entire organization.
To elaborate, a CEIV Pharma certification indicates that the lifesaving pharmaceutical products are being handled in compliance with the best global standards of safety, security and efficiency by the certified party. With this certification, Swiss WorldCargo has attained a milestone which only a small number of airlines have been able to earn, recognizing them as globally consistent in exhibiting high quality standards while handling pharmaceutical products. Further, U.S. based Nu-Med Plus Inc. has established a quality management program and trained its employees regarding quality standards in an effort to gain ISO 13485 certification. The certification is essential for the company before it files for the approval of its new nitric oxide delivery devices with the FDA and demonstrates the significance of the TIC services market in forming the image of a top-quality healthcare product or service provider.
Overall, the TIC services industry will undergo remarkable transformation due to incessant developments in the life sciences field, resulting from the existence of rigorous certification eligibilities in healthcare and mandates that demand high quality control. Slated to record a 6% CAGR from 2018 to 2024, the TIC services market is highly dispersed with key players like Intertek, SGS SA, Bureau Veritas, DEKRA, TUV SUD, Apave and Eurofins being the major participants.
Author Name : Pankaj Singh