U.S. Conductive polymers market
Rise in the demand for electronic equipment will drive conductive polymers market share with the need for suitable coating and safe packaging materials that can address electrostatic damages. An electronic device emits electromagnetic frequencies that disturb the frequencies of other devices which can affect their performance and cause damages, resulting in lowering of their lifespan.
U.S. Conductive Polymers Industry Size, By Application, 2014 – 2025 (USD Billion)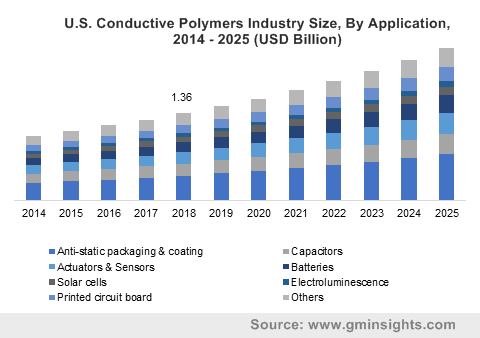 Electroactive polymers are used as anti-static packaging material in order to protect devices against such disturbances. Continuously rising sales of consumer electronics and small electronic components will boost the demand for anti-static packaging.
Increasing consumption of conductive polymers can be attributed to cost effective and easily processable nature that will help thrust their application scope. These types of polymers have attracted significant interest for their environmental stabilities, electrical properties and several practical applications.
New innovations will lift the utilization of polymers considerably, for instance, a team at the University of California that is looking to use polymer films to reduce the defects in light observing perovskite cells, promising a lucrative avenue to foster conductive polymers industry share from the solar cells segment.
Growing prevalence of various health conditions that require surgical treatment have paved the way for conductive polymers to be used in the medical device sector. The materials have major applications in the field of neuroprosthetic devices, cardiovascular devices and bioactuators. They have garnered a lot of attention as appropriate matrices of biomolecules that can be used to enhance speed, sensitivity and stability of several biomedical devices. Their ability to induce several cellular mechanisms as well as lower costs will certainly help expand global conductive polymers market size in the coming years.
Get a Sample Copy of this Report:@ https://www.gminsights.com/request-sample/detail/4205
Metal electrode materials that are used in implantable devices have been known for bad recording performance and long-term stimulation, requiring modifications and coating with conductive polymers that will improve the tissue-electrode interface and increase the lifespan of the implants. This will increase the demand for those implants and in turn augment conductive polymers industry trends over the forecast lifespan.
Unprecedented consumption of electronic devices around the world will contribute to conductive polymers industry expansion significantly over the projected period. Computer screens and TVs use conductive polymers that help produce flexible and flat plastic screens for through polyphenylene vinylene which emits light when put between charged electrodes, enabling flat-panel display designs to be created. Demand for high quality screens will notably bolster the development of suitable polymers to meet a growing consumer base.
The Purdue University has developed a glass-like polymer that conducts electricity for flexible and transparent electronics. The polymer film can apparently be produced on a large scale, both sustainably and inexpensively. Purdue University is also involved in the development of new polymer film that creates tailor-made sensors which would help monitor heart rates, glucose levels or other biomedical metrics.
Major investments for the research and development of conductive polymers and exploring their applications have considerably advanced the field of polymers. This has resulted in the innovation of modified versions of these polymers. For instance, over the duration of last few years, researchers delved into other fields while looking into creating new conductive polymers through machine learning. Researchers have apparently discovered a new type of polymer that provides high thermal conductivity and can easily benefit 5G mobile communication technologies.
The rapid development of automotive industry is expected to grow further owing to the increase in the production of automobiles around the world that are equipped with technologies like self-driving systems and artificial intelligence. These will gradually drive the demand for actuators and sensors that use conductive polymer-type materials.
Rising demand for advanced automobiles in the developing nations will augment the consumption of sensors, reinforcing conductive polymers market outlook. Additionally, there are increasing opportunities from solar applications wherein the product is used to deposit materials to enhance the conduction of electricity.
North America is slated to account for a significant chuck of conducting polymer market share by the year 2025. Consistent R&D efforts, innovations, miniaturization of electronic parts and equipment manufacturing will help fuel demand in this region. The booming electronics and semiconductor manufacturing sector will present a large customer base for conductive polymer suppliers like Lubrizol Corporation, RTP Company, 3M Company.
Author Name : Riya Yadav