UAV
The growing focus on precision guidance, navigation and control in the aviation industry has led to the growth of the global AHRS market in recent years. A sensor-based device used to determine the orientation of a vehicle or the object it is integrated to, AHRS usage is critical mainly for aircraft that fly during darkness or under conditions of reduced visibility. The product is light weight, small sized and is equipped with self-correcting capability which has led to its prolonged application in business jets, turboprops, and piston-powered aircraft as well as in unmanned aerial vehicles (UAVs), human body motion tracking and more.
U.S. Attitude and Heading Reference System Market, By Type, 2018 & 2025, (USD Thousand)

In any navigation system, the product can continuously make small corrections by using periods of stable flight and reference attitude, thus improving features like autopilot and diminishing prolonged sessions of turbulence. Its commendable characteristics have overtly led to a robust upsurge in the product adoption in recent years, propelling AHRS industry trends.
The development of advanced technologies like micro-electromechanical systems (MEMS) is certain to boost the product penetration as well. AHRS is designed to replace traditional mechanical gyroscopic instruments and nowadays come with MEMS gyroscopes, magnetometers and accelerometers. Some AHRS also use GPS receivers to improve long-term gyroscopes stability thus offering OEMs high performance and lightweight portfolios. Additionally, the rising demand for such technologies in the UAV sector for commercial and military activities like surveillance, reconnaissance and target attacks has also stimulated the growth of the attitude and heading reference system industry.
Get a Sample Copy of this Report @ https://www.gminsights.com/request-sample/detail/3083
Rising popularity of UAVs to push AHRS market trends
Of late, military organizations are employing UAVs for mobile missions, especially in spying, monitoring and inspection scenarios. These autonomous vehicles demand precise stability and navigation for determining attitude angles in diverse environments. Although these angles can be measured using a conventional INS (inertial navigation system) system, modern AHRS MEMS technologies are offering low-cost, lightweight solutions to UAV developers, which are more appropriate in reducing embedded systems space and weight.
With real-time monitoring and provision for security and surveillance facilities, the AHRS market will certainly receive momentum from the escalating deployment of UAVs in the years ahead.
Another platform-based segment that is likely to gain traction in the AHRS industry is GPS. Indeed, GPS-based AHRS market is likely to accrue quite some profit in the years to come, given the product's superior performance in navigation and positioning operations. Low cost, compact GPS AHRS systems are currently being used to track human body movements in indoor environments by estimation of the 3D orientation.
In addition to human tracking capability, GPS-centric systems provide efficient position estimates and compute longitudinal acceleration to help remove drift errors present in conventional AHRS. The benefits offered by the systems will enhance their penetration in the years ahead, subsequently impelling GPS-based AHRS market share over 2019-2025.
North America is anticipated to emerge as a pivotal revenue pocket for the global AHRS market, primarily on account of the rising demand for military UAVs. Increasing demand for business aircraft and surging air passenger traffic will further enhance the regional industry growth over 2019-2025.
According to the U.S. Federal Aviation Administration's (FAA) forecast report, the U.S. carrier sectors profitability is anticipated to remain steady or increase due to improving economy in the coming years. Furthermore, the industry will command profitability by means of increasing demand for air travel and airfares due to rising disposable income. The presence of pivotal aircraft OEMs such as Lockheed Martin, Boeing and Northrop Grumman that have been focusing on the launch of advanced systems will also further propel the North America attitude and heading reference system market share.
The attitude and heading reference system, a sensor-based device that provides attitude information for aircraft, is cautiously designed to replace traditional mechanical gyroscope attitude systems and can effectively offer applications with enhanced correction capabilities. Technological advancements for improving accuracy and efficiency coupled with enhanced performance standards are likely to impel the industry trends in the years ahead. As per Global Market Insights, Inc., AHRS market size will surpass $455 million by 2025.
Author Name : Mateen Dalal
Owing to the rapid adoption of advanced technologies by diverse industrial sectors, the simultaneous localization and mapping (SLAM) technology market has been witnessing gradual increase in demand over the last decade. Unprecedented growth in digital and remote communication technology has accelerated the development of robots and UAVs, which are ideal for installing sensors and mapping systems. The eagerness of core industries to utilize modern technology for replacing human workforce in hazardous or time consuming tasks has further pushed the SLAM technology market penetration. Constant innovations in robotics are providing more opportunities to integrate new systems that help in achieving cost-efficiency across distinct processes, boosting demand for the global SLAM technology market, which registered a valuation of over USD 56 million in 2017.
Singapore SLAM Market Share, By Application, 2017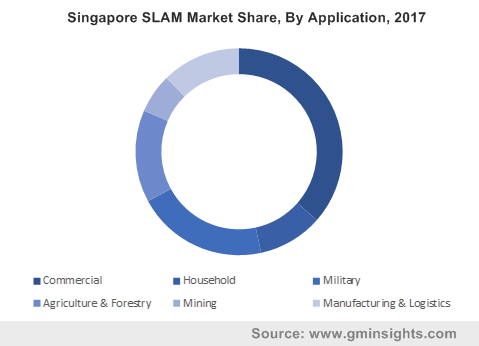 Growing automotive and manufacturing segments have not only deployed collaborative robots that assist in assembling products but also autonomous robots that roam factory floors and have to face a number of human and stationary obstacles during operations. The need for accurately handling objects and moving across the floor has brought the SLAM technology industry into limelight. Various tech firms have cropped up throughout the world, developing more precise mapping solutions to complement existing and new localization systems. These can be incorporated within robots for purposes like surveying and moving objects from one place to another on congested surroundings. Increasingly declining costs of manufacturing robots will certainly boost their presence in several industry verticals, presenting tremendous growth opportunities for the SLAM technology market.
The International Data Corporation had projected that by 2021, the spending on robotics worldwide would reach USD 230.7 billion, driven by increased utilization in areas such as manufacturing and resource industries, besides healthcare, education and retail. The resource industry, consisting of mining, oil & gas and agriculture has the potential to become a key target segment for the SLAM technology market. Mining, in particular, offers immense prospects for the use of new technologies as it is a business filled with dangerous exposure for humans, and requires a lot of capital to carry out mining operations. Inaccuracy of underground maps pose serious threats to the safety of miners and robotic exploration is seemingly a more feasible option in regard to this.
Get a Sample Copy of this Report:@ https://www.gminsights.com/request-sample/detail/2928
In the imminent future, integrating simultaneous localization and mapping technology with autonomous mobile robots would be an effective way to build accurate 3D maps of underground mines, helping to plan the overall operations. Aside from mining robots that would replace humans in hazardous environments, companies are also building robots that would work alongside people to assist them in analyzing quality of ore samples, carrying loads and other necessary devices. The SLAM technology industry will consequently experience a prolific growth rate over the next few years, with solutions being developed to automate mining activities. Key factors for the industry propagation would definitely be elimination of safety hazards, reduction in overall costs and time saving.
Benefitting from higher commodity prices, the top 40 mining companies globally had recorded earnings of nearly USD 496 billion in 2016, demonstrating the massive scale of mining activities and the potential to improve bottom lines. As old mines get exhausted, these companies are expected to start exploring new mines to keep the mineral supply flowing, indicating the possibility of significant expansion for the SLAM technology market. For instance, the Victoria Gold's Eagle mine, under development in Canada, would become the biggest mine in the territory of Yukon with production anticipated to at 12.5 million tons per year across a 10-year life span. Further, the USD 2.9 billion South Flank iron ore mine in Australia being constructed by BHP is slated to commence production in 2021 and supply ore until at least 2046.
With many such mines being explored to fulfil the global requirement of essential minerals like copper, gold, silver, coal and uranium, the SLAM technology market could establish a strong hold due to the need for safe mapping of underground mines as well as open quarries. Increasing production of consumer electronics has elevated the demand for minerals like silver, strengthening the global mining industry. The SLAM technology market is expected to grow at a CAGR of 71% over 2018-2024, influenced by the rising need for mitigating safety risks and improving bottom lines.
Author Name : Pankaj Singh
As automation pervades lucrative verticals, the agriculture domain, not to be obliterated, has also joined the list. Autonomous farm equipment market, in this regard, may be considered as one of the many pivotal sub-spheres of the tech-based agriculture sector, that has been gaining mass momentum in recent times. With the influx of highly advanced tech discoveries and the shifting trends toward the deployment of robotics owing to labor shortage, the utilization of self-operating agro-based components is on a rise, thereby impelling autonomous farm equipment market share.
U.S. Autonomous Farm Equipment Market, By Product, 2016 & 2024, (Units)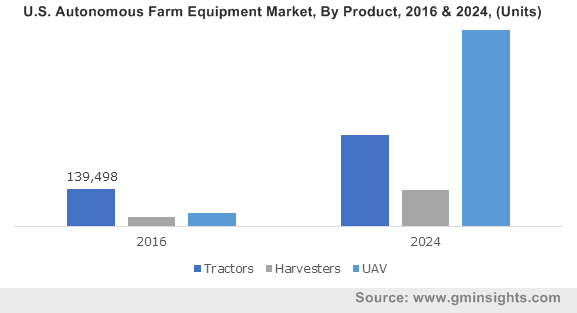 One of the most noteworthy trends of autonomous farm equipment industry in recent times is the rapid entry of start-ups in this business vertical, posing quite an interesting competitive scenario for prominent players. With the profound growth in the arena of robotics, entrants in autonomous farm equipment market have been attempting to actively tap every lucrative opportunity to come up with unique product ranges. For instance, a robotic engineer from Harper Adams University, England recently came up with an idea that it may be possible to produce crops without having to actually climb onto a tractor. In this case, through high-end technology, a SimTech drill had been attached to the tractor, that undertook the seeding operations, while an automated Sampo Rosenlew 130 harvested the crop. In the years to come, it has been forecast that farmers may cease performing actual farming tasks, delegating them to automated devices, while they keep themselves free for other tasks. In the event that automated tractors such as the aforementioned prove successful in tests conducted on 100-hectare fields, the concept is likely to brew a revolution in autonomous farm equipment market.
An outline of India autonomous farm equipment industry
Having documented a long-standing history of being an agro-based economy, India is touted to emerge as one of the pivotal regional autonomous farm equipment markets. Even as on 2017, more than 50% of the of the Indian populace is inherently dependent on agriculture and related activities for sustenance. However, more than 80% of Indian farmers own farmland lesser than two hectares, and have a rather small, bifurcated sense of ownership in India's huge agriculture sector. Amidst this massive fragmentation, it goes without saying that the country's farming activities stay put, owing to the lack of high yielding fertilizers and seeds and the inadequacy of modern production and processing methodologies. This in consequence, has led to India evolving as a rather lucrative ground for the development of autonomous farm equipment market.
Get a Sample Copy of this Report:@ https://www.gminsights.com/request-sample/detail/2230
India is thus undergoing a paradigm shift, what has been dubbed as 'Farming 3.0' – the third farming revolution. In accordance, the nation seems to be actively drifting toward innovative farming, which would prove to be rather advantageous for the growth of autonomous farm equipment industry in India. The nation has been, since the last few years, welcoming investors and start-ups to establish their base in India and diligently pursue advanced technology to come up with a range of highly innovative products such as partially and fully automated tractors and harvesters. Another popular technology that is being harnessed of late is that of UAVs (unmanned aerial vehicles) or drones. Owing to their superlative benefits ranging from undertaking geological surveys for evaluating fields and reducing response time to improve crop health and water efficiency in the fields, these beauties are being deployed in agriculture on a larger scale than anticipated, which has provided quite a profitable boost to the overall autonomous farm equipment market. This is quite evident from the robust growth of the agricultural drones industry as well – the business size reportedly stood at USD 300 million in 2016. UAVs are also being utilized in India, though the concept is yet to gain mass prominence. However, analysts seem to be positive regarding the popularity of agricultural drones in the nation, the massive deployment of which would eventually stimulate India autonomous farm equipment market share.
With automated devices garnering momentum in India, it has also been projected that the region would be a major revenue contributor toward APAC autonomous farm equipment industry. Given that the continent in itself is a hub of major agro-based emerging economies, it remains quite unarguable that Asia Pacific would be one of the key regional autonomous farm equipment markets in the years to come. Led by India, Japan, China, Australia, and South Korea, APAC autonomous farm equipment industry share has been projected to register a CAGR of 25% over 2017-2024.
While the notion of self-operating equipment seems quite attractive in theory, there remains no shred of doubt that practically implementing the concept on a large scale is enormously expensive. Product development and implementation costs thus, in particular, are likely to emerge as key restraints for autonomous equipment market in the future. In consequence, companies have been attempting to devise newer strategies to brainstorm cost-effective solutions in order to increase product penetration, which would eventually have an impact on the revenue graph of autonomous farm equipment industry. The successful application of GPS systems in agriculture and the deployment of IoT in the farming sector notwithstanding, autonomous farm equipment market trends are expected to escalate in the forthcoming years. As per estimates, autonomous farm equipment industry size is expected to exceed 3 million units by 2024, in terms of volume.
Author Name : Saipriya Iyer
The spectacular rise of mobile robotics software market has of late become a buzzing subject, with the extensive proliferation of automation in e-commerce and logistics application. The procedures with regard to logistics operation and inventory control have undergone a massive transformation over the recent years with mobile robotics standing as a major trend shaping the business landscape. The latest buzz grabbing all the light is the introduction of a fully automated mobile robot named The Swift brought forth by IAM Robotics, one of the leading giants in mobile robotics software market.  As claimed by the manufacturers, this robot offers a complete solution to all kind of warehouse logistic operations owing to its strong portfolio that include IAM flash, SwiftLink fleet management software, and a 3D item scanner. If experts are to be believed, this product is profoundly a breakthrough in the entire mobile robotics software industry space, given the fact that it can be integrated seamlessly into any warehouse operations without any changes in infrastructure.
U.S. Mobile Robotics Software Market Size, By Product, 2013 – 2024 (USD Million)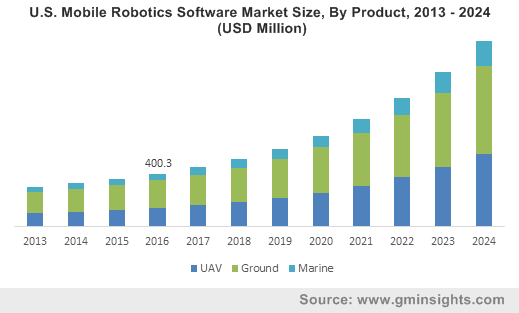 The escalating demand for efficient and swift delivery in e-commerce and online retail space has prompted robust advancements in autonomous drones and vehicles. In fact, Global Market Insights, Inc., forecasts that unmanned aerial vehicles market will witness a lucrative growth of 19% CAGR over 2016-2023. It is therefore, no surprise, that the growth of unmanned aerial vehicles market will leave a direct impact on mobile robotics software market share in the coming years.  In this regard, it is prudent to note that e-commerce giants like Amazon's and Walmart's effort for bringing floating warehouses into their business have certainly pushed the overall mobile robotics software market outlook, given the fact that these floating warehouses is claimed to operate both by human intervention and autonomously. In addition to this, the American government support with regards to UAV implementation for civilian purposes has further propelled the regional mobile robotics software industry size.
Get a Sample Copy of this Report@ https://www.gminsights.com/request-sample/detail/2030
Speaking along similar lines, with U.S. at the foray, North America mobile robotics software market is forecast to represent a significant portion of the overall industry, having contributed a lucrative revenue of USD 430 million in 2016. U.S. being one the strongest technology affluent nations, is anticipated to integrate robots in domestic arena even over the coming years, which by extension will impel the regional mobile robotics software market size. As per estimates, North America, down the line of seven years will prove to be a strong participant in global mobile robotics software industry, with an estimated market coverage of 36% of the overall revenue by 2024.
The competitive profiling of mobile robotics software market is rather consolidated with leading giants covering almost 50% of the overall business space. Some of the prominent names include Omron Adept Technologies, Inc., Brain Corp., Universal Robots, and iRobot Corporation. These participants are readily adopting mergers & acquisitions as a major growth strategy to sustain the competition. One such recent instance is the collaboration of Fetch robotics and renowned Robotics technology integrator & distributor, ONExia. With this alliance, both the giants collectively are reported to bring software hardware solutions and logistics expertise in Mid Atlantic belt. Sum and substance, growing investments in mobile warehouse robotics by renowned biggies is certain to provide a significant impetus to mobile robotics software industry size in the coming years, which is projected to exceed a valuation of USD 3.5 billion by 2024.
Author Name : Satarupa De