Ultra High Definition Panel Market
The consumer electronics sector is soaring with the growing popularity of UHD TVs. The UHD/4K panel market has already generated a heavy momentum in this space with the development of next generation TVs. Ultra HDTV has gradually emerged from a techie's dream to consumer reality in the recent past. This UHD technology is unlocking transformative, awe-inspiring, and enhanced viewing experience with a minimum resolution of 3840 x 2160 pixels. 4K resolution provides around 8 million pixels and is called so as a result of the images being about 4,000 pixels wide.
The increasing number of platforms offering higher resolution of HD content will further expand UHD panel industry growth.  Moreover, government initiatives to minimize custom duties particularly in India and China and the dropping prices of 4K panels will stimulate UHD market over the coming years. UHD/4K Panel Industry is estimated to grow at a rate of 11% over the period of 2016-2024.
North America UHD/4K panel market size by application, 2013-2024 (USD Million)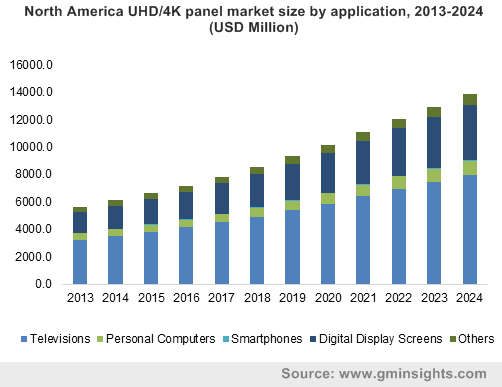 In 2015, the television application accounted for over 55% of revenue share and is set to register a CAGR of 11% over the period of 2016-2024. Demand for better customer viewing due to improved picture quality will propel 4k panel industry growth.
Retail is another booming sector which has been penetrated by the UHD technology. This is undoubtedly helping retailers to display their products with minute details and supreme clarity. A memorable shopping experience with UHD displays owing to its superior quality is attracting larger consumer base, thus driving ultra-high definition panel market. Digital display screens market worth USD 4 billion in 2015 is set to witness a significant growth curve, owing to rising demand from the advertising and publishing sectors. The growth of digital signage market due to rising commercial application in advertising is also worth noticing.
Get a Sample Copy of this Report @ https://www.gminsights.com/request-sample/detail/724
Devices equipped with UHD panel are highly energy efficient and durable. LG, Toshiba, Sony Electronics, Panasonic, Philips, Sharp, BOE Technology Group, Hisense Group, and Samsung Electronics are the major players accumulating maximum share of ultra-high definition panel industry. These players are highly emphasizing on product development and customer service to keep up with growing competition for providing better image quality. The demand for 60-inch and above screen size is projected to record a substantial growth in UHD/4k panel market.
For achieving better displays of mobile and tablet screens, LED technology is used which accounted for more than 45% in 2015 and is estimated to grow at an annual rate of 8.8% over the period of 2016-2024. LCD segment is another booming technology, projected to record USD 18 billion by 2024, owing to its lower power consumption feature. LCD uses the light modulating properties of liquid crystals which is gaining high preference in global UHD panel industry.
In terms of regional split, Asia Pacific ultra-high definition panel market share catered for over 20% of the overall industry in 2015 and is set to hit a CAGR of 11.6% over 2016-2024.  North America 4K panel market, led by the U.S., is estimated to generate a revenue share of over USD 19 billion by 2024. The regional growth is subject to huge tech-savvy consumer base and intensive adoption of HD technologies.
Early deployment of this technology is likely to show tremendous growth prospects for future trends in 4K panel industry. Heavy investments in research and development will send strong undercurrents for the future of consumer electronics. Developments in this area are really going to be interesting to watch over, in the next couple of years.
Author Name : Ojaswita Kutepatil