Ultrasonic
The increasing deployment of heating and cooling systems across various commercial, industrial, and household buildings have been fueling heat meters market. The surging concerns among the policymakers and regional governments about energy efficiency has also been having a positive influence on the product demand pertaining to its capability to measure energy consumption within cooling and heating systems. In the cold climatic regions, governments are encouraging people to deploy district heating systems to maintain warmth in the winters. The growing importance of sustainability and energy efficiency across the globe will thus propel heat meters industry share.
Sweden Heat Meters Market Size, By Application, 2017 & 2024 (USD Million)

On the grounds of garnering heat and electricity savings, most of the countries have been installing heat meters in industrial, commercial, and residential buildings. The large-scale deployment of energy consumption measuring equipment has generated lucrative opportunities for the giants in heat meters market. In addition, many financial organizations also have been supporting regulators to install heat meters by providing favorable funding. For instance, in 2017, the Europe Bank for Reconstruction and Development (EBRD) has sanctioned USD 27 million loan to deploy heat meters across the residential sector. Over the last few years, EBRD has been supporting many nations which are looking forward to harnessing sustainability and energy efficiency.
Another region where heat meters market has been gaining traction is Kazakhstan, wherein the fluctuating climatic condition has been impelling the product requirement. Apparently, in the summer season, the heat in Kazakhstan can increase beyond 30 degree Celsius and in the freezing winter, the temperature reaches to -40 degree Celsius. Amidst these extreme climatic conditions, energy efficiency is playing a vital role in the region, leading to the deployment of heating and cooling systems. The deployment of heat meters to save electricity and heat will also help district cooling/heating system firms to control the system losses, optimize the energy supply, and reduce the energy wastage. In 2017, the Kazakhstan government fit heat meters in about 45% of households and was planning to cover more than 80% volume of household buildings within three years.
Get a Sample Copy of this Report:@ https://www.gminsights.com/request-sample/detail/2597
In another instance, the Swiss government and the International Finance Corporation (IFC) have also lent support to Ukraine to create more energy efficient homes. In this regard, Ukraine's State Agency for Energy Efficiency has designed a program dubbed as Warm Loans to improve the heating system of homes. In most of the apartments across Ukraine, district heating systems have already been deployed, but due to more heat loss, energy bills were perpetually high. Reportedly, households in Ukraine account for more than 50% of its overall natural gas production. The remarkably growing awareness among the Ukrainian people about the rising domestic heating bills is thus estimated to fuel heat meters market size.
The transforming technology trends across the globe have also had a significant influence on heat meters market share over the last few years. The development of smart meters is one of the next-generation product inventions that helps customers track daily energy use very easily. Considering the benefits of modern technologies to improve the energy efficiency, leading giants in the heat meters market have been adopting various new technology advancements such as IoT (Internet of Things) and AI (artificial intelligence). For instance, a team from the Danish smart metering company, Kamstrup, and Finnish electricity firm, Herrfors Nät-Verkko have recently planned to use NB-IoT technology in smart metering. With the help of this technology, the Finnish company can monitor more than 6,000 heat and electricity meters that will result in 10% cost savings.
The development of innovative and cost-effective solutions will favorably promote the heat meters industry trends over the years ahead. The supportive stand taken by the regional governments and energy-related organizations to encourage the installation of heat meters will further enhance the industry growth. In line with the increasing deployment of heating and cooling systems mainly across cold climatic regions, heat meters market will generate a revenue of more than USD 1 billion by the end of 2024.
Author Name :Sunil Hebbalkar
In an era defined by the increasing adoption of robotics, robot sensor market has quite overtly consolidated its stance in the overall electronics space. Robotic automation is now being deployed across a slew of applications, from industrial and domestic to commercial and logistic applications, for achieving several operational and workplace benefits. Apart from being used for obtaining long-term performance benefits at the workplace combined with efficiency, robots are also being deployed on account of their lesser susceptibility to fatigue. The increasing implementation of robots to minimize workplace risks and reduce fatigue is certain to boost robot sensor industry.
China robot sensor market size, by application, 2017 & 2024 (USD Million)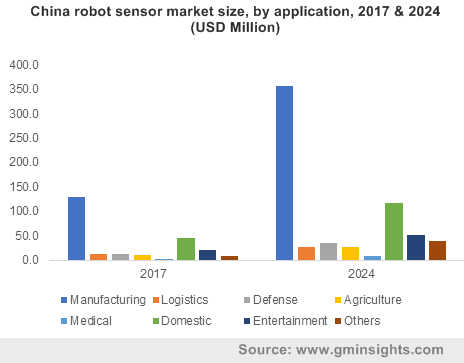 Powered by the current trends of digitalization and innovation, robot sensor market giants have been working toward developing advanced robotic sensing systems. The initiatives taken by the researchers and product developers to increase the effectiveness of conventional sensing systems implemented in the robots will revolutionize the overall robot sensor industry. For instance, recently, a few researchers from the Chongqing university based in China developed a self-powered triboelectric auditory sensor which can be used to manufacture electronic auditory system-assisted external hearing aids that can be installed in intelligent robotics applications. The advent of next-generation auditory systems will thus prove to be ideal for enhancing communication between human beings and robots that would be useful for improving industrial outcomes.
Elaborating on the human-machine interaction, it would be prudent to mention that the shifting focus of the automakers toward the development of autonomous vehicles would prove to a breakthrough that would help augment the commercialization graph of robot sensor industry. Though the current ADAS system does not support high-level automation, the continuous involvement of automakers toward launching fully automated vehicles is likely to generate lucrative opportunities for robot sensor market contenders. In addition to this, for improving workplace productivity, many automakers and industrial product manufacturers have been giving preference for robotic automation. The increasing acceptance rate of robotic automation across the automotive sector will thus massively propel robot sensor industry share over the years ahead.
Get a Sample Copy of this Report:@ https://www.gminsights.com/request-sample/detail/2802
Recently, one of the sensor manufacturing start-ups, Baraja launched a spectrum-scan Lidar which can be used to increase the reliability and flexibility of robot cars. The newly developed scanner provides full control to the car's computer to make the changes in driving, depending upon different road conditions. Another advantage of installing effective sensors in vehicles is the protection they provide against several potential damages.
The extensive requirement of sensors for regulating various industrial and automotive applications including robotics, camera recorders, telematics, ADAS, cluster, IoT, ECUs, HUD, and infotainment systems has created revenue generating opportunities for the players in robot sensors market. Focusing on the increasing demand for robotic automation, renowned robot developers have been joining hands with leading product distributors for extending their regional reach. The surging demand for robots across myriad verticals will also have a positive influence on the development of sensors.
Validating the aforementioned fact, a few days before, Techman Robot signed a deal with OMRON to form a business alliance for distributing its collaborative robots across the globe. In addition, the duo will also collaborate to develop next-generation collaborative robots that could enhance the working harmony between human and machines. In China, one of product manufacturing firms located in Dongguan city replaced 90% of its human workforce with automated machines which helped them to increase the plant productivity by 250% and reduce the chances of defective part production by 80%. Such productive statistics have been possible solely because of effective robotic sensors systems.
The staggering demand from the industrial, manufacturing, and other commercial sectors to ensure efficient outcomes will have a favorable impact on robot sensors industry trends. The increasing availability of next-generation and AI-assisted robotic systems will also propel the product demand over the years ahead. Driven by the ever-rising acceptance of robotic automation across the globe, robot sensor market will surpass a revenue collection of USD 4.5 billion by the end of 2024.
Author Name : Sunil Hebbalkar
The robust demand for safer vehicles on account of increasing road accidents have led to a massive spurt in advanced driver assistance system (ADAS) market size in recent years. Having recognized the extensive benefits of ADAS systems, numerous automakers have been working toward deploying this feature in their latest automobile brands. This paradigm shift toward implementing safety systems in vehicles on account of the increasing number of road accidents is certain to stimulate ADAS market trends.
U.S. Advanced Driver Assistance System (ADAS) Market, By Vehicle, 2018 & 2025, (USD Million)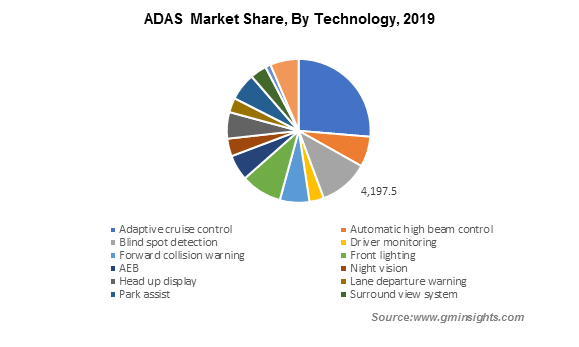 In the face of potentially hazardous driving scenarios, autonomous systems have been taking increasing precedence in recent times. Consequently, major players in advanced driver assistance system industry are focusing on the development of advanced automated ADAS systems. In order to retain a control over driving, these systems are embedded with features like emergency braking, lane keeping, automatic parking, and adaptive cruise control.
The incorporation of additional features such as machine learning and ADAS vision have even enabled vehicles to adapt themselves to adverse climatic conditions. Numerous ADAS market firms have been striving to launch diverse live-saving technologies, which have been instrumental in augmenting the industry trends.
Although ADAS is one of the benchmark features introduced in automotive industry, it has been found that the system is massively prone to cyber-attacks. Therefore, numerous ADAS market giants have been continuously working on LIDAR and Radar sensors to control cybersecurity threats. Tech companies are playing their part in eliminating security issues as well and have been found developing advanced solutions to improve security measures in ADAS systems.
Get a Sample Copy of this Report:@ https://www.gminsights.com/request-sample/detail/2461
In this regard, recently, Groupe PSA collaborated with Harman International to design a cyber security strategy for protecting connected and next-generation autonomous vehicles. The collaboration is a vivid indicator of the fact that the growing concerns regarding cyberattacks and protection capabilities of ADAS integrated vehicles will play a pivotal role in augmenting advanced driver assistance system market outlook.
The Indian OEM Tata Motors has scarcely extended its partnership with the pioneering technology provider, Wabco, having already deployed the latter's ADAS facility in its vehicles. Tata has also conveniently implemented a collision mitigation system (CMS) and a lane departure warning system (LDWS) for its Signa and Prima trucks. The move apparently, is targeted toward the minimization of road accidents and the provision of occupant safety. Having already been a strong player in the India automotive industry, Tata, through this partnership, will further strengthen its position in the regional ADAS market as well.
In 2018, one of the prominent China-based heavy-duty truck manufacturers, Sinotruk Limited, extended its cooperation agreement with WABCO Holdings Inc., that supplies advanced technology for enhancing efficiency, connectivity, and safety of commercial vehicles. The deal is anticipated to substantially improve WABCO's capability in innovative technologies such as ADAS, AMT, EBS, and ECAS. Incidentally, this agreement has so far, spanned almost three decades, and stands as a classic evidence to the fact that long-term business deals across the automotive sector are certain to propel advanced driver assistance system market size over the forecast period.
The robust developments across the automotive cosmos in the economies of India and China vividly portray that APAC will tur out to be a prominent revenue contributor for ADAS market. The rising sales pf passenger vehicles in the continent combined with the increasing demand for road safety and emission control will augment APAC ADAS market trends over the forecast duration.
The rapidly shifting trends toward the adoption of technologically advanced vehicles are thus likely to fuel ADAS industry share in the ensuing years. As the demand for such vehicles continues to increase along with changing consumer preferences, companies in ADAS market will be looking forward to launching advanced safety solutions. In accordance with the same, strategic collaborations, joint ventures, and R&D program are expected to become highly commonplace in ADAS industry soon enough. Driven by a supportive regulatory spectrum and the robust requirement of technically developed automotive parts, advanced driver assistance system market size is forecast to exceed USD 67 billion by 2024.
Author Name : Sunil Hebbalkar