Upper Limb Prosthetics Market
Upper limb prosthetics market size has experienced an exponential growth over the last couple of decades owing to rising cases of road accidents. According to the World Health Organization (WHO), nearly 20-50 million people suffer from non-fatal injuries due to road accidents, which in many cases leads to disability.
Global Upper Limb Prosthetics market, 2018 & 2025 (USD Million & Thousand Units)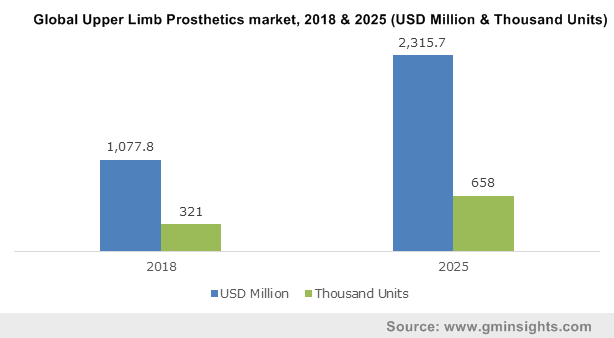 Violence has become a global public health problem and violence in certain situations lead to amputations, giving rise to the need for prosthetics. Reportedly, the estimated count of new amputations range between 10,00,000 and 15,00,000 per year, globally. Advancement in technology and medical science can facilitate remarkable prosthetic attachments for patients. Steadily growing frequency of amputations is steering global upper limb prosthetics market forecast.
Research and investments in the medical device sector is leading to increased innovations in prosthetics arms. Apparently, scientists at the University of Utah have developed technologies than can provide certain degree of sensation for people with amputations. This takes place through surgical implantation of several electrodes directly next to the nerve fibers and when the interface is turned on, the patients can not only feel something but also distinguish between touching something hard or soft. Similar developments in the healthcare sector is positively influencing upper limb prosthetics industry outlook.
Get a Sample Copy of this Report:@ https://www.gminsights.com/request-sample/detail/4235
Various devices comprising the segment of upper limb prosthetic components include terminal devices, prosthetic wrists, prosthetic shoulders, prosthetic elbows and prosthetic sockets. Listed below are some factors expected to impact the demand for upper prosthetic limbs over the coming years:
Increased adoption of terminal devices
Terminal devices under upper limb prosthetics are witnessing steady adoption rate owing to their low maintenance. These devices can be active, where they open and close for hold items, or be passive, being used for cosmetic purposes. Cable operated terminal devices, hooks and myoelectric operated hands are few key types of terminal devices.
Terminal devices are considered to be extremely cost effective, low maintenance and additionally can be customized as per the needs of the patients. This makes them highly popular as the functionality of the device can be adjusted depending on the requirement of the patients. Undoubtedly, augmented deployment of terminal devices to meet distinct needs of consumers will provide an increased impetus to upper limb prosthetics industry size.
Growth of prosthetic clinics
Providing direct and easy access to medical care for amputations is a vital factor driving establishment of prosthetic clinics worldwide. Amputees are able to benefit from specialized treatments, physiotherapies and affordable prosthetic limbs through clinics designed to meet their every need.
Owing to features that offer enhanced safety and precision with respect to prosthetic implants, upper limbs prostate market size has expanded significantly through the robust growth of prosthetic clinics which offer comprehensive support in order to optimize the heath of the patients. Since these clinics focus only on facilitating prosthetic services, they are extremely experienced and offer complete start- to – end diagnosis under one roof.
Typically, a prosthetic clinic will provide aid with body-powered protheses, activity specific prostheses, myoelectric arms, as well as partial hand and finger prostheses. More importantly, gradual inclusion of coverage for some amount if prosthetic costs into medical insurance products will fuel the industry trends.
Increased demand in the U.S.
U.S. upper limb prosthetics market share is expected to register a steady growth rate over the coming years due to rising awareness among citizens regarding prosthetics, adoption of highly advanced medical technology and availability of skilled professionals. Constant R&D activities in the healthcare industry will benefit the overall upper limb prosthetics landscape in the country. U.S. witnesses a strong healthcare spending record, which had reportedly reached USD 3.5 trillion in the year 2017.
Patients are being made aware about innovations in prosthetics frequently and are also informed about ways in which they can regain the functioning of a lost limb prosthetically. The month of April 2019 was observed as a Limb Loss Awareness month with the aim to educate, share and celebrate living with limb difference and loss. Initiatives like these add vitality to the prosthetic techniques and will offer lucrative business opportunities for North America upper limb prosthetics industry players.
3D printing transforms prosthetic manufacturing
Increasing innovations in the medical field are translating into development of precise healthcare solutions that benefit both patients and doctors by improving outcomes and lowering costs. 3D printing provides faster execution of prototyping ideas, higher cost savings and inventive problem solving. 3D printers can seemingly recreate artificial body parts and the technology is widely being explored to build prosthetic hands, arms, legs and feet.
The e-NABLE is an online community that focuses on mechanical prostheses like wrist-actuated and elbow actuated designs which are easy to print and can be assembled by anyone. Additionally, there are certain open source communities specifically focusing on 3D printed myoelectric hands and arms, while being involved in prototyping models that can be mass-produced.
Introduction of 3D printing in the healthcare sector will undoubtedly prove to be highly beneficial for patients, facilitating intricate care along with providing customization of prosthetics in terms of color, design, form and sizes. 3D printing is also a more economical option, magnifying its impact across global upper limb prosthetics market share.
Author Name : Shreshtha Dhatrak