Utility Terrain Vehicles Market in MEA
Rising technological advancements and launch of robust, high-performance vehicle segments are anticipated to boost the MEA utility terrain vehicle market size. UTVs are powerful off-road vehicles that are designed to perform more challenging task and carry heavier loads compares to ATVs. They come with safety features like roll cages, seat beats and windshields that helps protect passengers from roll overs or potential accidents.
Saudi Arabia Utility Terrain Vehicles Market, By Application, 2018 & 2025, (USD Million)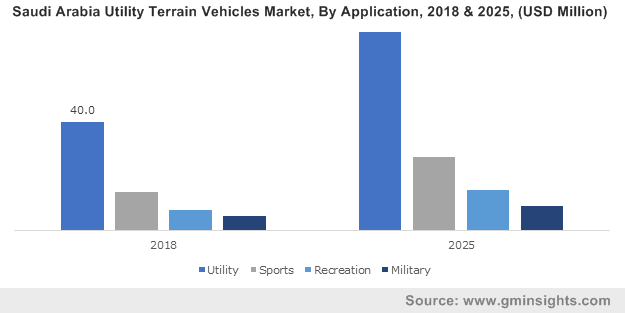 These features become extremely important in applications like wildlife management, material handling, hunting, racing and more. The vehicle also comes with adequate storage space, offering users extra space to place items like tools, fuel cans, etc.
Rising spending in off-road trailing activities will drive the MEA UTV market share. Moreover, launch of high-performance UTVs will supplement industry growth. For instance, in 2019, Honda extended its Talon portfolio of side-by side, high-performance UTVs with two new four-seater segments.
South Africa utility terrain vehicle market will witness steady growth owing to multiple applications of UTV in forestry, landscaping and agriculture activities. Indeed, the agriculture sector of Africa is showing commendable progression owing to increased productivity and rural incomes. The growth can undeniably be attributed to adoption of improved agricultural technologies and use of vehicles like UTV.
Get a Sample Copy of this Report:@ https://www.gminsights.com/request-sample/detail/3415
The UTV's smaller sizes and versatility allow farmers to easily travel across large farmlands and undertake a wide variety of tasks. Notably, a UTV assists in carrying out task like quickly and easily transporting supplies across farm, plowing and harrowing fields, mowing grass, building fences, spreading seeds, managing cattle, carrying firewood and more.
With new UTV models being made specifically for farm operations, the South Africa UTV market would witness significant growth over the coming years. Prominent companies have been launching new UTVs in the region, replete with enhanced features like upgraded suspension and higher towing capacity. The region also boasts of the presence of quad biking facilities such as Induna Adventures, Soweto Outdoor Adventures, Clarens Xtreme, Kagga Kamma, and Segwati Quad Trails, that will positively boost the regional utility terrain vehicles industry share.
The MEA utility terrain vehicle market will garner commendable gains from military applications. UTVs are modular design vehicles that effectively meet the demands of military and international special forces. These lightweight tactical vehicles come in two or four seat variants which are fast and favor agility and durability.
Rapid deployment of innovative military UTVs that offer improved transportability and multi mission capabilities will augment industry size. Moreover, increasing military spending will offer new growth opportunities, enhancing MEA UTV business outlook.
For instance, Polaris has unveiled its MRZR® D4 ultra-light tactical off-road vehicle which delivers mobility, mission versatility, air-transportability, and durability along with 4 seat arrangements to transport personnel and mission-critical gear over extreme terrain more quickly and effectively.
Saudi Arabia market holds a significant share in the MEA utility terrain vehicles industry owing to rising application in recreational activities and racing events in the region. Several UTV championships are organized in Saudi Arabia under the General Entertainment Authority (GEA) which has attracted sports enthusiasts across the globe.
Saudi Arabia recently announced plans to host Rally Dakar, one of the world's biggest and most challenging rally race, in January 2020 targeted for 4 different categories including UTV, cars, trucks and bikes. Increasing government funding and supportive initiatives targeted towards enhancement of recreational infrastructure will also support the UTV market share over the forecast timeframe.
UTV is a motorized vehicle designed to carry out a specific task in off road conditions with more efficacy than a normal passenger vehicle. Growing consumer spending and launch of improved vehicle portfolios will drive industry growth. Reports from Global Market Insights, Inc., estimates MEA utility terrain vehicles market to exceed USD 465 million by 2025.
Author Name : Mateen Dalal