Utility Vehicles
Regarded as a business vertical that has remained quite unnoticed and away from the mainstream popularity, automotive camera market has been gradually making its presence felt in the humongous global transportation industry. The roll-out of the auto sector's first thermal camera-equipped commercial test vehicle by FLIR Systems, Inc., proves that automotive camera industry is evolving to cater the auto enthusiasts and professionals in this age of self-driving cars and is further expanding its sphere of influence across various business verticals.
Germany automotive camera market, by type, 2018 & 2025 (USD Million)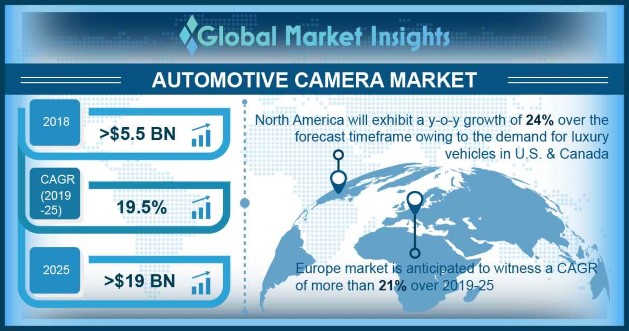 The co-relation between the regulatory guidelines and automotive camera market share
Most vehicle safety features made mandatory by policymakers, such as airbags and seat-belts, ensure protection of those travelling in the vehicle. As a result of such policies, numerous verticals such as automotive airbags market, which is slated to surpass a remuneration scale of USD 85 billion by 2025, have been proliferating at an unprecedented pace.
However, in a move that could change the mindset of the automakers and other prominent stakeholders, the US Department of Transportation's National Highway Traffic Safety Administration (NHTSA) has recently made it compulsory across the nation to install a rear camera in all new vehicles weighing under 10,000 pounds from May 2018.
The significance of this decision can be gauged from the fact that around 210 fatalities and 15,000 injuries are caused by a vehicle crashing into the other due to lack of visibility. Among these fatalities, adults aged 70 and more account for over 26 percent and children under five account for 31 percent. In this regard, reducing the risk of such accidents has long been recognized and the efficacy of rear-view cameras comes handy in ensuring the same. Numerous automakers have already made such technology standard equipment on many car models, essentially expanding the automotive camera market size.
Get a Sample Copy of this Report:@ https://www.gminsights.com/request-sample/detail/3340
Growing awareness and the need to educate vehicle drivers regarding usage of automotive cameras is fueling automotive cameras industry share
Even though the world is witnessing an unprecedented emergence of automation technologies and ADAS systems in passenger vehicles, the appropriate usage of automotive camera remains a cause of concern. It has to be noted that nine out of ten serious road accidents occur due to human behavior and these ADAS systems like automotive cameras possess the potential to save thousands of lives. Therefore, just sticking a camera in a car is of no use if people are not educated on the effective ways to use the information that is displayed on their screens and avoid crashes.
In this context, the auto regulators across developed and emerging nations are not only formulating rules for mandatory installation of rear automotive cameras but are also making efforts to educate people on the correct usage of these devices. Initiatives such as Global National Car Assessment Program in the U.S. and the programs unveiled by National Highway Traffic Safety Administration are of extreme importance in propagating the guidelines pertaining to passenger and pedestrian safety.
Speaking of the developing nations, India has taken centerstage in terms of rolling out improved version of the proposed road safety policy which includes awareness and education as some of the key features. Apparently, even automotive stalwarts are realizing that educating people is the right strategy choice and investing in one-off events is not. The prevalence of these trends across developed and emerging nations is undoubtedly helping to increase automotive camera industry size.
Challenges that may restrict automotive camera market share
The advent of trifocal cameras has enhanced the overall quality of automotive cameras. Moreover, these cameras are integrated with advanced LiDAR sensors which adds to the cost of the overall vision systems. Consequentially, it has been observed that price-conscious customers are reluctant to install automotive cameras in economic and low-cost vehicles, dampening the growth prospects of automotive camera industry.
However, with the launch of improved and technically-superior automotive cameras by startups, the prominent market players are making an effort to reduce the costs of popular automotive cameras. This trend might prove to be instrumental in revitalizing the automotive camera market size.
In the forthcoming years, automotive camera market is likely to be defined by numerous other challenges, though it is expected that core companies will, in all probability, figure out ways to deal with the constraints. As per an automotive camera industry analysis, the market size is forecast to surpass a remuneration figure of USD 19 billion by 2025.
Author Name :Saif Ali Bepari
Airless tires market has indeed gained a commendable acclaim over the recent years, especially amidst the backdrop where disruptive tech driven trends are aptly reshaping the mobility sector.  Given that forces like diverse mobility, connectivity, autonomous driving, and electrification are already on the horizon, it is expected that airless tires industry would soon conveniently establish itself as the next lucrative investment avenue. This is apparently vivid from the estimates that claim the global airless tires market to have garnered a revenue of USD 120 million in 2016. The growth is chiefly driven by the increasing demand for these next generation tires in heavy off-load vehicles, widely used across the military sector. In fact, military vehicles procured a prominent chunk of the airless tires industry landscape in 2016 and is anticipated to record a CAGR of 9% over 2017-2024.
U.S. Airless Tires Market, By Product, 2016 & 2024, (Units)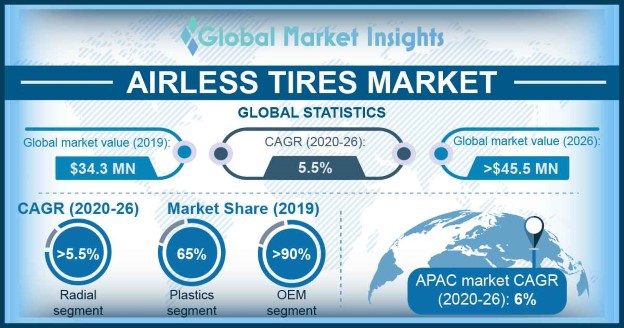 The concept of 3D printing is deemed to bring a disruption of sorts in the airless tires industry. Having recognized the immense potential of this technology, market players have been increasingly experimenting with 3D printing to unlock its credibility to the fullest. Quoting a recent case, Michelin, one of the leading airless tires market firms has recently made its way to the front page with the launch of its airless 3D printed tire. This breakthrough model is reportedly based on alveolar structure, similar to that of air sacs found on human lungs. That is to say that the interior of the tires are structurally solid while the outer layer is flexible, which prevent blowouts. What adds an extra feather to its hat is the product's environmental viability – it is printed from biodegradable, organic, and recyclable materials.
Elaborating further on the competitive landscape, product innovations and development are the two prominent parameters underlining the sustainability quotient for the market players. Below are two of the latest developments in the product landscape of airless tires market.
Get a Sample Copy of this Report@ https://www.gminsights.com/request-sample/detail/1390
Goodyear Tire & Rubber Company, one of predominant players in airless tires market, has recently released an airless or non-pneumatic turf tire solution for commercial mower applications. Reported to be exclusively available on Bad Boy Mowers' Outlaw XP model, this groundbreaking airless tire technology is particularly designed to eliminate air pressure checks, and flat tires. The move is claimed to be a revolution with regard to the launch of non-pneumatic technologies in the automotive sector and is deemed to remarkably strengthen Goodyear's position in the competitive landscape of airless tires industry.
World's first 3D printed airless bicycle tires have been recently tested on the streets of Berlin- the latest scoop that is grabbing the headlines in airless tires market. Reportedly, BigRep, the Berlin based tech giant has tested this new Pro Flex filament tire, which is claimed to be superior than other 3D printing filaments in terms of its unique flexibility, high resistance, and unmatched durability. With airless tires becoming a renowned trend in the transportation space, the move is certain to provide a remarkable competitive edge to BigRep.
It is vividly coherent that technological upgradations in product design and deployment are the top-notch parameters underlining the strategic landscape of this fraternity. The business space is set to garner an appreciable popularity across APAC belt, especially by the extensive growth of military and commercial vehicle sectors in China and India. APAC airless tires market is slated to hold more than 30% of the global landscape by 2024. All in all, with automotive OEMs increasingly exploiting the potential of these cutting-edge tires for overall weight reduction and performance enhancement of the vehicles, airless tires industry is likely to witness a slew of opportunities over the ensuing years. The global revenue share is projected to surpass USD 200 million by 2024.
Author Name : Satarupa De
The automotive electronics control unit (ECU) market has witnessed incredible growth over the last two decades, owing to unparalleled expansion of the global automobile production sector and the influx of technology within vehicles. Continuously evolving knowledge and skills have enabled the integration of advanced electronic elements within automobiles such as fuel injection control and exclusive infotainment systems. Increase in spending power of the general population has encouraged automakers to pioneer connected systems and cutting-edge features, propelling the automotive ECU industry development. As ECUs are programmed to monitor and regulate safety features and vehicle performance, a shifting preference towards safer, more efficient cars will greatly strengthen the automotive ECU market, which boasted of a revenue of more than USD 65 billion in 2017.
China Automotive ECU Market size, by application, 2012-2023 (USD Billion)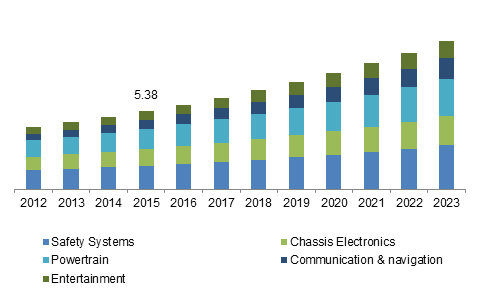 The International Organization of Motor Vehicle Manufacturers had revealed that a total of 97,302,534 cars and commercial vehicles had been manufactured across the globe in 2017. Practically, the number of ECUs in a car could be anywhere between 70 to more than 150, depending on the type of vehicles, indicating the massive demand that exists for the automotive ECU industry. The large number of ECUs have permitted enhanced safety features and external connectivity solutions to be installed in high-end as well as low-cost vehicles. Commercial vehicles have especially benefitted from the ECU's ability to regulate the fuel injection system, as increased fuel efficiency plays a vital role in achieving economical goods transportation.
Notable advancements in ECUs have stimulated auto manufacturers to find ways for reducing emissions through efficient control systems, ushering in a transformation of the automotive ECU industry and leading to the growth of smart technologies. The advent of electric vehicles has furthered the development of ECUs required for complex monitoring and operating of a vehicle. Considered to be a rapidly expanding source of remuneration for the automotive ECU market, the battery electric vehicles (BEVs or just EVs) are gaining increased momentum with each passing year. Worldwide environmental concerns have been the primary driver for the EV industry, coercing nations to invest heavily into boosting the adoption of EVs.
Get a Sample Copy of this Report @ https://www.gminsights.com/request-sample/detail/109
According to the U.S. government, a huge amount of greenhouse gas emissions in the country originates from the transportation sector and in 2016, almost 23% of it was contributed by medium and heavy duty commercial vehicles. As such, not only electric passenger and luxury cars but electric commercial vehicles have also started to attract demand from fleets and major corporations to cut down on their carbon footprint. Tesla, an innovator in the EV industry, has developed all electric Semis for the commercial sector, offering significant power and range to help customers maintain their bottom line while being environment-friendly. Representing a lucrative application scope for the automotive ECU market, the Tesla heavy duty tractor trailers can handle a weight of up to 80,000 pounds at full speed while giving a range of 300 to 500 miles.
Tesla has projected that by 2022, it would have received orders for about 100,000 Semis, with companies like UPS, Pepsi, Walmart, DHL and many others having already placed orders for the electric trucks. As other automobile manufacturers join the race for electric heavy duty vehicles, the automotive ECU market will experience considerable upsurge in investments to speed up productions. The International Energy Agency reported that in 2017 itself, the number of electric vehicles on roads had reached 3.1 million. In Europe, there was a 40% rise in the electric car sales in the first half of 2018, signifying that the EV industry is a budding customer base for the automotive ECU market, with growing inclination towards incorporating commercial EVs within fleets.
Although electric trucks have been used on the streets for many years now, the increased affordability of the technology has allowed vehicle makers to design and introduce new products. For instance, Piaggio Commercial Vehicles' electric power range has been providing customers with clean medium-duty commercial vehicles having, comfortable power delivery system and appreciable range, for over 20 years. The automotive ECU industry is thriving due to the efforts of companies who want to bring forward the transition towards a greener transport industry, like Daimler, who is developing 25 ton truck, and Proterra, which has designed an electric public transportation bus.
Poised to surpass USD 95 billion in earnings by 2024, the automotive ECU market is dominated by key industry participants like Bosch Group, Delphi Technologies, Hyundai MOBIS, Mitsubishi Electric Corp, Continental AG, besides others. Rising awareness about ADAS and other safety systems to prevent road accidents along with continuous research into designing powerful, more efficient ECUs will give significant propulsion to the automotive ECU industry over the coming years.
Author Name :Pankaj Singh