UTV Market Statistics
Rising technological advancements and launch of robust, high-performance vehicle segments are anticipated to boost the MEA utility terrain vehicle market size. UTVs are powerful off-road vehicles that are designed to perform more challenging task and carry heavier loads compares to ATVs. They come with safety features like roll cages, seat beats and windshields that helps protect passengers from roll overs or potential accidents.
Saudi Arabia Utility Terrain Vehicles Market, By Application, 2018 & 2025, (USD Million)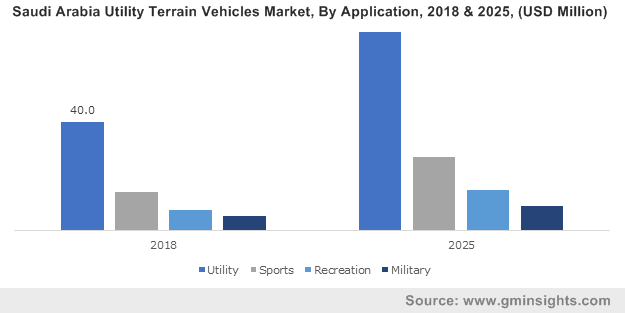 These features become extremely important in applications like wildlife management, material handling, hunting, racing and more. The vehicle also comes with adequate storage space, offering users extra space to place items like tools, fuel cans, etc.
Rising spending in off-road trailing activities will drive the MEA UTV market share. Moreover, launch of high-performance UTVs will supplement industry growth. For instance, in 2019, Honda extended its Talon portfolio of side-by side, high-performance UTVs with two new four-seater segments.
South Africa utility terrain vehicle market will witness steady growth owing to multiple applications of UTV in forestry, landscaping and agriculture activities. Indeed, the agriculture sector of Africa is showing commendable progression owing to increased productivity and rural incomes. The growth can undeniably be attributed to adoption of improved agricultural technologies and use of vehicles like UTV.
Get a Sample Copy of this Report:@ https://www.gminsights.com/request-sample/detail/3415
The UTV's smaller sizes and versatility allow farmers to easily travel across large farmlands and undertake a wide variety of tasks. Notably, a UTV assists in carrying out task like quickly and easily transporting supplies across farm, plowing and harrowing fields, mowing grass, building fences, spreading seeds, managing cattle, carrying firewood and more.
With new UTV models being made specifically for farm operations, the South Africa UTV market would witness significant growth over the coming years. Prominent companies have been launching new UTVs in the region, replete with enhanced features like upgraded suspension and higher towing capacity. The region also boasts of the presence of quad biking facilities such as Induna Adventures, Soweto Outdoor Adventures, Clarens Xtreme, Kagga Kamma, and Segwati Quad Trails, that will positively boost the regional utility terrain vehicles industry share.
The MEA utility terrain vehicle market will garner commendable gains from military applications. UTVs are modular design vehicles that effectively meet the demands of military and international special forces. These lightweight tactical vehicles come in two or four seat variants which are fast and favor agility and durability.
Rapid deployment of innovative military UTVs that offer improved transportability and multi mission capabilities will augment industry size. Moreover, increasing military spending will offer new growth opportunities, enhancing MEA UTV business outlook.
For instance, Polaris has unveiled its MRZR® D4 ultra-light tactical off-road vehicle which delivers mobility, mission versatility, air-transportability, and durability along with 4 seat arrangements to transport personnel and mission-critical gear over extreme terrain more quickly and effectively.
Saudi Arabia market holds a significant share in the MEA utility terrain vehicles industry owing to rising application in recreational activities and racing events in the region. Several UTV championships are organized in Saudi Arabia under the General Entertainment Authority (GEA) which has attracted sports enthusiasts across the globe.
Saudi Arabia recently announced plans to host Rally Dakar, one of the world's biggest and most challenging rally race, in January 2020 targeted for 4 different categories including UTV, cars, trucks and bikes. Increasing government funding and supportive initiatives targeted towards enhancement of recreational infrastructure will also support the UTV market share over the forecast timeframe.
UTV is a motorized vehicle designed to carry out a specific task in off road conditions with more efficacy than a normal passenger vehicle. Growing consumer spending and launch of improved vehicle portfolios will drive industry growth. Reports from Global Market Insights, Inc., estimates MEA utility terrain vehicles market to exceed USD 465 million by 2025.
Author Name : Mateen Dalal
The exponential growth map of the global UTV market can be aptly credited to the rising preference for a UTV in numerous in utility activities. In an effort to diversify their product offering, major UTV manufacturers are lately focusing on developing vehicles that can address different requirements from a varied array of application segments, including agriculture, construction & forestry, which serve to further propel the UTV market growth over the forthcoming years. Moreover, to keep these vehicles relevant for a particular application, industry players are also introducing new accessories, machines & attachments, which makes these already popular vehicles a must-have tool, thereby ensuring sustained growth for the UTV market.
U.S. Utility Terrain Vehicles (UTV) Market, By Application, 2018 & 2025, (USD Million)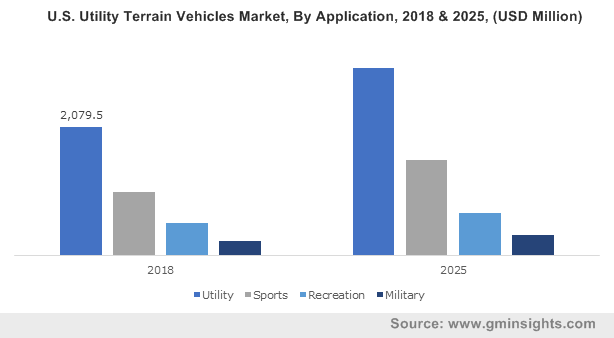 It is prudent to mention that the industry is also receiving momentum from the improving global economic conditions leading to increasing disposal incomes, that has resulted in the popularity of UTVs growing exponentially for recreational activities, such as fishing, hunting & off-roading.
Global UTV market | Impact of USA's expanding outdoor recreation market
The United States' outdoor recreation market is known to be one of the nation's largest economic sectors. The sector represents a sizable economic growth avenue that supports thousands of communities in America by facilitating millions of job opportunities for workers. The industry is largely supported by the nation's bountiful waters, inspiring landscapes and iconic natural beauty. Thus, investments in this sector on public waters & lands are capable of earning compounding returns, promoting healthier economies, communities & people. According to the Outdoor Industry Association, the U.S. outdoor recreation industry annually generates over $887 billion in consumer spending that supports more than 7.6 million jobs and rakes in over $124.5 billion in federal, state & local taxes, making it one of the nation's most lucrative investment ground.
It goes without saying that the UTV market accounts for a sizable chunk of this thriving industry. Unlike other off-road vehicles recreational UTVs are a unique blend of comfort & power, wherein the vehicle operator can perform any of the off-road activities with considerably more comfort. Moreover, UTVs also boast of larger cabin spaces that allow for greater number of passengers and also come with superior safety features such as roll-cages & bucket seats, giving these vehicles an edge over other off-roaders & further supporting market growth by eliminating the customer hesitancy factor in terms of vehicle safety.
Get a Sample Copy of this Report@ https://www.gminsights.com/request-sample/detail/3142
Global UTV market | Impact of increasing UTV adoption in agricultural activities
Traditionally ATVs were used to carry out a majority of agricultural activities, ranging from hauling fertilizer, wire & lumber, however, these practices were quite inefficient in terms of getting work done & lessening physical effort as the vehicle's small size limited its load bearing & hauling capacity and the lack of power steering made the task very strenuous for the vehicle operator, defeating the purpose of using the vehicle in the first place. These limitations have started to drive individual farmers & other agricultural corporations away from ATVs, and most of them now prefer to invest in well-equipped UTVs, further propelling UTV adoption across the utility landscape in recent years.
Apart from offering these benefits, the UTVs also comfortably sit between a basic quadbikes (ATV) and a fully-fledged tractors or pickup trucks, thus, providing the UTV market with ample growth opportunities from agriculture, without having to compete with others for the position. Moreover, unlike their bigger as well as smaller counterparts, the UTVs, owing to the diverse array of accessories & additional attachments available in the market, can perform different activities ranging from transporting supplies and mowing grass to managing livestock and plowing the fields, ensuring their dominance across the field of agriculture. Thus, powered by their deployment in agriculture and landscaping activities, UTV industry size from the utility sector is slated to depict a CAGR of 6% over 2019-2025.
As is evident from the aforementioned trends, the global UTV market has clearly positioned itself in an extremely lucrative spot and is bound to exhibit sustained growth in the ensuing years. The growth prediction is further supported by a research report from Global Market Insights, Inc., which estimates that the global UTV market size would be surpassing the $9 billion renumeration mark by 2025.
Author Name : Akshay Kedari