V2P
Growing number of technological developments in the field of communication has fueled cellular vehicle-to-everything (C-V2X) market expansion worldwide, with considerable investments in advanced hardware and software components. A surge in disposable incomes and easy availability of automobile finance have driven the sales of mid to high-end luxury vehicles and allowed manufacturers to build in innovative features like telematics, cellular vehicle tracking, automatic parking and driver assistance systems. Consistent growth in transportation and logistics services have warranted the demand for latest fleet management systems, advancing the scope of global C-V2X industry.
Europe Cellular Vehicle-to-Everything (C-V2X) Market Share, By Region, 2018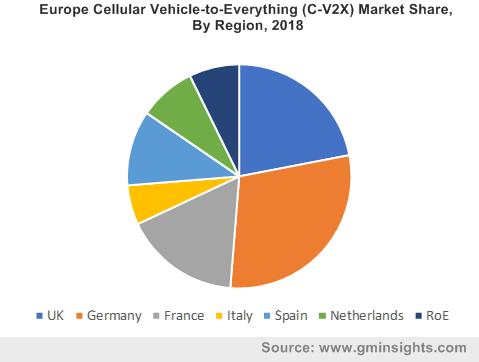 Enabling reliable and efficient connections between vehicles could implement co-operative driving to avoid traffic bottlenecks, accidents and allow smooth control of convoys. Vehicle to vehicle technology has reached a stage where a single platform can link multiple resources and help provide data for vehicle diagnostics and usage-based insurance, while powering advanced infotainment systems. Cellular vehicle tracking has become a norm amongst many large fleets, whether it is passenger transport or commercial goods movement.
Globally, 4G or LTE infrastructure has expanded tremendously and using the existing cellular infrastructure will lower the amount of new roadside components to be added. Deploying the established LTE networks will allow for cost-effective, dependable and easy communication at high speeds will significantly boost global C-V2X market share. It will also enhance line-of-sight of systems, facilitating communication over longer distances and improving the performance of GPS. With 5G networks on the way, upgrading existing LTE components would further propel adoption of vehicle to vehicle (V2V) or vehicle to network (V2N) communications.
Advanced driver assistance systems are being considered as an inevitable inclusion in future vehicles, with number of road accidents on the rise despite improvements in infrastructure and road safety awareness programs. C-V2X industry is poised to witness substantial revenues from collision avoidance application, to develop better V2V and vehicle to person (V2P) solutions. Reportedly, every year car accidents amount to nearly US$242 billion in economic costs across the U.S. Reducing the number of vehicle crashes is a priority among automakers and effective V2V solutions could help mitigate collision risks for drivers.
One of the world's leading auto manufacturers, Ford had indicated the lucrative future prospects existing for C-V2X industry last year when it began testing V2V communication system in the U.K. The aim of the experiments were to observe co-ordination between movement of cars for passing through intersections without having to stop, eliminating the need for traffic lights.  Although the vehicle had a human driver, the company is eyeing deployment of the system in self-driving cars as well.
Get a Sample Copy of this Report:@ https://www.gminsights.com/request-sample/detail/3383
The advent of hybrid and electric vehicles has produced immense growth opportunities for C-V2X industry, since these vehicles are dependent on the latest hardware components and communication technologies. Incorporating the most advanced chips and equipment, electric cars could easily communicate with each other for alerting about probable distress situations or roadside hazards. According to the International Energy Agency, a projected 125 million electric cars could be on the roads by 2030, signifying the vast potential of C-V2X market.
An important application area for V2V technologies are autofocus vehicles, which are fundamentally run by highly reliable, fast communication systems that have low latency. Several chip makers and auto manufacturers are attempting to enhance collision avoidance capabilities of driverless cars to ensure a safe product and to meet stringent regulatory requirements.
With the presence of many leading automotive companies and partnerships with global technology firms, Asia-Pacific C-V2X market can be expected to reign in enormous revenues over the coming years. In December 2018, a consortium comprised of automaker Nissan and companies like Qualcomm, Continental and Ericsson completed the first C-V2X testing in Japan using 5.8 GHz frequency for direct communication. Tests were conducted under various conditions and demonstrated the potential of not only V2V, but V2N and V2P communications.
Owing to remarkable achievements in deploying communication network equipment and integrating crucial V2V systems within vehicles, C-V2X market is slated to register a double digit growth from 2019 to 2025. Key players outlining the competitive dynamics of the industry include Autotalks, Bosch, Continental, Nokia, Qualcomm, Intel and Savari.
Author Name : Pankaj Singh