Vehicle Type
Innovative products being introduced by major companies is favoring the growth prospects of automotive NFC market. Due to low energy requirements, NFC technology can be embedded in cars, which is transforming the automobiles from interiors to exteriors. Automakers are also installing electronic smart key systems in their cars to modernize their vehicles that will augment automotive NFC market share.
Brazil Automotive NFC Market Revenue, By Type, 2018 & 2025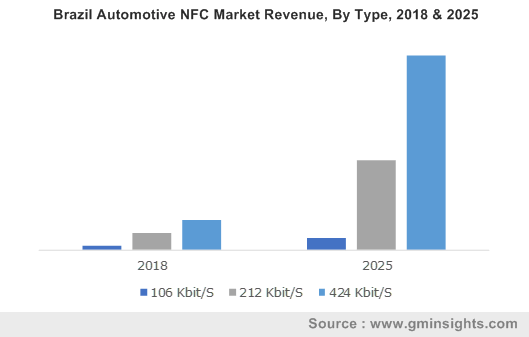 NFC technology in automotive sector offers intuitive interactions between humans and vehicles to fulfil the specific needs of drivers and enhancing driving experience. The major players in electronics and semiconductor sector are striving to come up with innovative ideas which can perform desirable tasks to satisfy certain demands of customers and increase remuneration of automotive NFC market.
Recently, one of the leading industry players, STMicroelectronics, made it to headlines as it presented automotive solutions for smart driving at the 11th edition of the Automotive World show in Tokyo, Japan. The company exhibited the leading-edge NFC technology in automobiles which can accelerate electrification and digitalization in autonomous driving, advanced driver assistance systems (ADAS), and power control for electric and hybrid electric vehicles. The solutions include Power Architecture®'s 32-bit microcontroller, SiC power MOSFET, acceleration sensors enabling road-noise cancellation, EEPROM and several others.
The companies like NXP and STMicroelectronics have developed pioneering technologies, which are gaining high traction among automakers manufacturing high-end vehicles. The luxury car manufacturers are focusing on deploying NFC technologies to enrich the driving experience of their customers. According to a report by Global Market Insights Inc., the high-end vehicles in the automotive NFC market will record a growth rate of over 31 percent over the timeframe of 2019-2025.
Get a Sample Copy of this Report:@ https://www.gminsights.com/request-sample/detail/398
With increasing modernization, the interiors of cars are also being installed with cutting-edge technologies. The interior application held more than 71 percent revenue share in the automotive NFC market in the year 2018. The strategies of some companies to progress in the technological domain is likely to contribute in augmenting the automotive NFC industry share in upcoming years.
For instance, NXP recently announced the acquisition of wireless connectivity portfolio of Marvell valued at $1.76 billion. The acquisition includes Marvell's Wi-Fi Connectivity Business Unit, Bluetooth technology portfolio and related assets to upgrade technologies in vehicle interior. The acquisition will allow the company to deliver complete, scalable processing and connectivity solutions to the customers across its focus end markets. Such acquisitions are expected to create new revenue opportunities for the market players and increase automotive NFC industry size.
The involvement of luxury car manufacturers like BMW in the development of high-end automotive technologies will contribute to optimistic automotive NFC industry outlook. The BMW AG has employed NFC technology in its latest BMW 8-series to upgrade the standards for automobile manufacturers. Its intelligent features like climate seats, convenient wireless phone charging tray, display key, fuel level indicator, service-related information, digital key etc. have set high benchmarks for its competitors.
The smart key function is widely being adopted among the automobile companies to enrich experience of customers. Another instance that can be cited here is that of Hyundai Motor Company which has introduced digital keys in its all-new 2020 Sonata to mark the North American debut of its most successful and longest standing model at the New York International Auto Show. The car has been introduced with a digital key application to promote advances in technology. It allows customers to control selected vehicle systems remotely.
The driver can also leave traditional keys at home as the app also allows secure sharing of keys with family and friends. The propagation of advanced technologies is on the rise and is boosting the growth of automotive NFC market size. Moreover, the latest debut of Hyundai in North America will propel the regional growth of automotive NFC market as well. It has been anticipated that the North America automotive NFC market will attain a CAGR of over 32 percent mainly due to the presence of strict regulatory policies regarding the ADAS system.
As can be observed from the aforementioned instances, automobile manufacturers are widely embracing trailblazing technologies to expand their market share. The strategies, like collaborations and acquisitions, are being planned and executed by the companies involved in automotive NFC industry to support the adoption of new technologies, essentially providing a favorable growth environment for automotive NFC industry.
Author Name : Anchal Solanki
The appreciable growth of mobility on demand market is projected to be one of the most significant trends that the globe would witness in the next decade. The ongoing exponential popularity of ride hailing, car sharing and last-mile delivery services is just the beginning of a global shift away from personal vehicle ownership to a shared, on-demand model. Research shows that car sharing is capable of reducing car ownership with an estimation of 1 shared vehicle replacing 15 owned vehicles. The increasing cost of vehicle ownership, limitations on infrastructure expansion, increasing commute times, and the demand to curb GHG emissions have brought about a change in the millennial generation's relationship with automobiles, which is likely to significantly impact mobility on demand market trends.
UK car rental market size, by application, 2017 & 2024 (USD Million)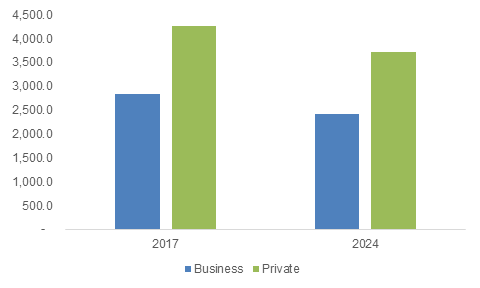 In the last century, private automobiles brought about a paradigm shift in urban mobility. But the dependency on oil, production of greenhouse gases, congestion and ever-increasing demands on urban land for parking spaces have created a combination of problems that has now led to an inclination toward on demand mobility. Statistics show that more than half the oil in the U.S. is consumed by urban vehicles that produce 20% of the total CO2 emissions. Additionally, the construction of new roads has not kept up with increasing transportation demand, complicating the situation further and causing soaring problem with congestion.
In 2011, studies exhibited that the urban American travel time has been increased by 5.5 million hours, a figure that is projected to increase by 50% by 2020. Parking compounds the congestion problem in an urban setting where land is already in short supply. Rapid increase in urban population, which is estimated to reach 5 billion by 2030 and rising trend of car ownership in developing countries will worsen the problems on a global scale. Inevitably, powered by the aforementioned factors, private automobiles have come to be widely recognized as unsustainable solution for the future of personal urban mobility, leading to the expansion of mobility on demand industry.
It is expected that globally, shared platforms will account for the most miles driven in urban settings by 2024. Given that car ownership is significantly high in Europe and North America, these regions might not register a game changing effect as far as the regional landscape of the mobility on demand market growth is concerned. However, in countries like India and China, where the government is battling to control conditions like traffic congestion and air pollution, mobility on demand market will gain commendable traction. Both the aforementioned nations for instance, have a low car ownership percentage, however, both are harbingers of emerging economies where the middle class is rapidly growing and is the recipient of increasing disposable incomes. With the hundreds of millions of newly affluent Chinese and Indians requiring more on-demand mobility, Asia Pacific mobility on demand market will witness robust growth in the ensuing years. Indeed, APAC mobility on demand industry size is expected to be pegged at $2 billion by 2024.
Get a Sample Copy of this Report@ https://www.gminsights.com/request-sample/detail/1229
Mobility on demand industry has seemingly brought about an upsurge in the development of autonomous vehicles. For instance, Uber is investing heavily in bringing driverless cars to the roads as estimates show that 60% to 80% of the revenues remain with the car owner. By eliminating the need of a driver, ride hailing services like Uber are persevering to keep most of the revenue with the service provider. The profit perspective is highly motivating the development of driverless and autonomous cars, that are in turn expected to profoundly change mobility on demand market trends within the next 5 to 15 years.
However, it is to be noted that autonomous vehicles may not entirely solve the problems of congestion in an urban setting, as a large number of vehicles will still be retained on the streets. Urban vehicles are often overengineered and underutilized, as an automobile is designed to attain speeds of 100 miles per hour but typically travels at 15 to 25 miles per hour. Statistics also point out that private automobiles are parked 90% of the time. In future, on demand mobility market is expected to march beyond the bounds of ride hailing and car sharing and present itself in the form of small electric cars which can be taken off a rack of such vehicles with the swipe of a user's card and can be dropped off in one such stack once the user has reached the destination. A development of this degree is certain to have a path-breaking impact on mobility on demand industry outlook.
The success of ride hailing services such as Lyft, Uber, and Ola has come to be highly dependent on new mobility on-demand market players, as they strive to build trust with key stakeholders such as regulators, consumers, insurers and investors. Using technologies to monitor and improve road safety is a vital part of this trust-building process that is certain to speed up the future of mobility on demand market. As public and regulatory confidence come to prevail, mobility on demand industry will witness commendable growth, with a CAGR estimation of 10% over 2018-2024.
Author Name : Sunil Hebbalkar