Video-based Analytics
Geospatial imagery analytics market trends will witness increasing traction, owing to rapidly advancing technologies that have allowed companies to adopt spatial tracking and imaging tools including remote sensors and wireless devices. The technology offers different ways in which maps could be produced and used by several public and private enterprises as well as communities. Researchers and GIS professionals using cloud computing to access any resourceful information related to geospatial data will expand the scope of geospatial imagery analytics industry.
APAC Geospatial Imagery Analytics Market Size, By Region, 2018 & 2025 (USD Million)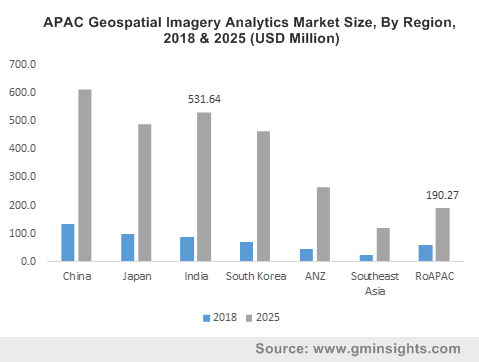 Governments seem have their own geospatial requirements – government agencies face critical challenges like providing information during emergencies or undertake initiatives towards building a smart community. Procuring geospatial data through different image capturing sources provides them access to detailed information to take decisions, such as those related to agricultural lands, which cover the complete jurisdiction and are updated regularly. These agencies have increasingly been adopting the services of satellite imaging firms, contributing significantly towards geospatial imagery analytics industry share.
There has been a surging demand for geospatial tools based on the cloud, to keep an organization's infrastructure regularly updated and making it easier to map the records and manage them, at lower costs. In fact, the cloud-based deployment model in geospatial imagery analytics market will witness a decent growth rate of more than 25% between 2019-2025. Companies are now offering cloud GIS services through pay-per-use pricing models to enable more agencies gain access to geospatial data. This will eventually help consumers who do not have skills and resources required to achieve GIS implementations.
Get a Sample Copy of this Report:@ https://www.gminsights.com/request-sample/detail/2841
The Geospatial Intelligence Center (GIC) in U.S. introduced a new tool in July 2019 for GSI users, called Virtual Inspection Studio (VIS), that enables users to enhance remote property assessment by using ultra-high resolution in aerial imagery. It can give assess to a 360 degree property view and accurate measurement of area and distance calculations. The United States Automobile Association (USAA) has demonstrated their use of VIS in quickly assessing damage and helping to settle claims. Similar use cases will boost the application of imaging solutions and reinforce geospatial imagery analytics industry outlook.
The defense and intelligence community utilizes geospatial imagery that is heavily dependent on image processing software, providing the benefits of multispectral imaging features. Hawkeye, a commercial satellite constellation operator, recently launched RFGeo that uses satellite generated data to introduce new geospatial analysis of data which the satellite delivers, in a standard format for a common tracking software. The company has also reached military market and has demonstrated the remarkable potential for geospatial imagery analytics industry in partnership with the intelligence community.
The construction, marine, defense and agriculture sectors use several aerial imaging platforms like surveillance cameras and drones in order to gather land related information that GIS professionals can use to solidify their decision making process. Government initiatives in Asia Pacific countries to develop the space industry will help enhance navigations systems to capture geospatial images which can be used to support numerous industrial applications. Reportedly, Asia Pacific geospatial imagery analytics market is anticipated to witness a more than 25% CAGR over the forecast timespan.
The Union Mine Ministry in India is exploring the use of drones that could work for mine related functions like surveillance, operation of mines, reclamation of land after mining and managing waste dumps. Large public sector units have been involved in the exploitation of these drones like National Mineral Development Corporation, Hindustan Copper Limited as well government organizations like Geological Survey of India and Indian Bureau of Mines. Substantial research and investment activities promoted by public enterprises will help drive APAC geospatial imagery analytics industry size.
Several companies are involved in the development and advancement of geospatial products that are experiencing high demand, with the fast-paced advancement of smart technologies, including Bentley Systems, AeroVironment Inc., Harris Corporation, PrecisionHawk, Inc. and Satellite Imaging Corporation. Strategic partnerships with other companies, governments and intelligence agencies will help bolster geospatial imagery analytics market size, which is estimated to surpass annual revenues of USD 8 billion by 2025.
Author Name : Riya Yadav