Vitamin E
Pertaining to the surging importance of soybean pertaining to its many medicinal benefits, soy chemicals market has emerged as one of the most profitable spheres of the healthcare cosmos. Experts assert that the consumption of soy can lead to a reduction in cardiovascular diseases, breast cancer, as well as cosmetic and dermatological problems. In addition, soy injections help patients with diabetes mellitus to improve metabolism. Considering the nutritional benefits of soy, most of the nutritionists have been encouraging the consumption of soy and its food derivatives that has resulted in the demand upsurge for soy-based drugs and food products on a large scale. On these grounds, several medical companies have been developing soybean oil-based medicines, providing a push to soy chemicals market trends.
U.S. Soy Polyols Market Size, By Application, 2017 & 2024, (Kilo Tons)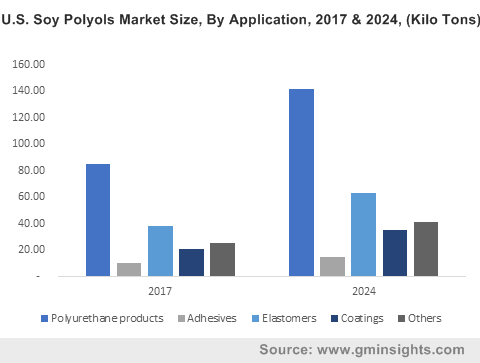 Nowadays, several restaurants and food companies have been making tall claims about having incorporated heart-healthy oils in their products such as dressings, bottled oils, baked goods, snacks, and dips to attract more consumers who have been trying to reduce the inclusion of saturated fat in their diet. The U.S. is one of the largest producers of soybean, accounting for more than 30 percent of worldwide production.  In America, soybean is one of the most used ingredients owing to its health potential. In this regard, the U.S. Food and Drug Administration (FDA) has been providing suitable support to pharmacies and biomedical companies that have been involved in the development of soybean oil-based medicines for reducing the risks associated with coronary heart disease and cancer.
Get a Sample Copy of this Report:@ https://www.gminsights.com/request-sample/detail/2973
Recently, the agribusiness and food ingredient company, Bunge North America received an approval from the U.S. FDA for its claim related to the consumption of soybean oil and its connection to coronary heart diseases. With its versatile portfolio, Bunge is continuously striving to disseminate the importance of soybean oil and its health benefits. Moreover, facilitated with in-depth scientific and clinical research, Bunge is looking forward to strengthening its business with strategic acquisitions and joint ventures. The growing North America soy chemicals industry is slated to generate such attractive business opportunities for players such as Bunge over the years ahead. Indeed, driven primarily by Canada, U.S., and Mexico, North America soy chemicals market, claim estimates, will register a CAGR of more than 5% over 2018-2024.
In order to target the leading consumers of soybean and its food products, globally renowned companies have been establishing suitable partnerships to commercialize their activities by reducing import costs. Validating the aforementioned fact, on February 2018, Cargill and Archer Daniels Midland company formed a JV to supply soybean meal and oil across Egypt. This JV has also acquired the crush plant of the Egypt based oil company located in Borg Al-Arab. In addition, Cargill also has been investing to expand its daily crush capacity from 3000 metric tons to 6000 metric tons with which it will decrease the soybean meal imports in Egypt. This strategy will help Cargill to expand its business across Egypt and North Africa to enhance its customer base by supplying affordable, safe, and healthy food. With the adoption of such business tactics, the players in the soy chemicals market are aiming to utilize their existing facilities and infrastructure in order to meet the growing regional product demand.
The increasing popularity of soybean oil and its byproducts among the manufacturers of consumer and industrial products over petroleum and other hazardous ingredients is slated to stimulate the industry trends over the years ahead. In addition to medicinal usage, the deployment of soybean products for manufacturing coatings, plastics, solvents, adhesives, rubber, and lubricants will also have a positive influence on business growth. Driven by the rising number of facility expansions, soy chemicals market size is anticipated to be pegged at USD 44.5 billion by the end of 2024.
Author Name : Sunil Hebbalkar
Shifting consumer focus toward health and wellness benefits from vitamins consumption will surge the global vitamin E market. Increasing consciousness of adopting healthy food habits coupled with rise in spending capacity will significantly stimulate the vitamin E industry. According to Global Market Insights, Inc., "Vitamin E market size is estimated to grow at a CAGR of 3.5% over the period of 2016-2024." Vitamin E has many benefits to the human health, including regulation of blood pressure, reproduction system, and in prevention of health problems. The trend of maintaining a healthy lifestyle which includes dietary supplements along with regular diets is equally popular across the developed as well as the developing economies. In addition to this, rising disposable incomes in these regions will boom the vitamin E industry in the coming years.
UK Vitamin E Market size, by application, 2013-2024 (USD Million)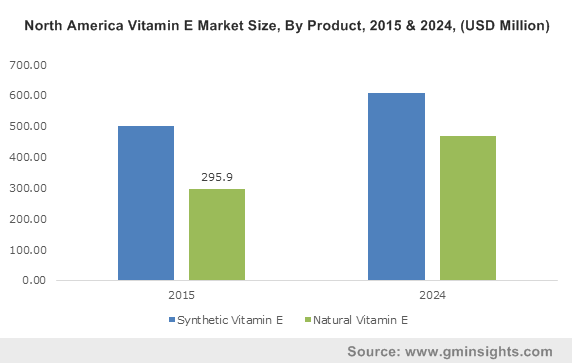 Furthermore, growing geriatric population base in U.S., Europe, and Japan has multiplied the use of medications for the cure of disorders coupled with precautionary supplements which will help to stay healthy and fit. This scenario has stimulated the need for mandatory intake of vitamin E from supplementary sources fueling the vitamin E market size.
Get a Sample Copy of this Report:@ https://www.gminsights.com/request-sample/detail/335
Based on products, vitamin E market is segmented into synthetic vitamin E and natural vitamin E. Natural vitamin E is further categorized into Tocopherol and Tocotrienols by products. Tocopherol is naturally found in fish, vegetable oils, nuts, and leafy vegetables. Tocopherols is projected to surpass USD 300 million by 2024, owing to rise in per capita income and consumers' willingness to spend more on nutrition and dietary supplements. Europe and U.S. are the largest contributors to the overall consumption, as the majority of the population is inclined towards maintaining healthy lifestyles in turn boosting the vitamin E industry.
U.S. vitamin E market is set to witness escalating gains, owing to healthy food consumption and high disposable income. Moreover, healthcare regulations are also contributing in driving the regional growth. U.S. vitamin E market generated revenue over USD 50 million in 2015 and is estimated to grow considerably in the coming seven years.
Europe vitamin E market is projected to expand significantly due to increase in consumption of dietary supplements. Moreover, rising demand for high protein diets, particularly in Russia and Germany has slated the Europe animal feed market size. Rising prescriptions and recommended health supplements from the health professionals will further complement the regional industry growth.
Cosmetics applications in the vitamin E market is witnessing high growth rate increasing at 7% over the period of 2016-2024. The willingness to pay more for the products which prevents skin ageing and assures various other skin benefits with UV protection & moisture content for healthy and youthful skin will generate huge scope for vitamin E industry share in the coming seven years. Its usage in sunscreen and other cosmetics products where vitamin E helps in reducing inflammation on the skin will escalate the industry growth over the coming timeframe.
Dietary supplements application is another lucrative segment assuring heavy gains in the vitamin E industry. Rising demand for nutritional edibles in the form of powders, liquids, tablets, pills, and capsules particularly in the western countries will spur the vitamin E market growth. Dietary supplements vitamin E demand is expected to register a CAGR of 4% over the period of 2016-2024. Reduction of migraine headaches, strengthening of the immune system, controlling blood pressure levels, and protection from flu and cold are the major benefits obtained from the consumption of these dietary supplements.
Another profitable segment in the vitamin E industry is the animal nutrition market, which was worth USD 1 billion in 2015. Growing meat export from Asia Pacific countries will generate animal nutrition demand. Rising prevalence of livestock diseases has enabled the usage of better animal nutrition in turn driving the vitamin E market. Moreover, rising cattle breeding in China, India, Russia, and Brazil will generate heavy demand for Animal feed additives market. Synthetic vitamin E is a major product used in animal feed industry.
Asia Pacific dominated the global meat production, which was projected to be over 130 million tons. China vitamin E animal nutrition market worth USD 70 million in 2015, is anticipated to surge noticeably over the coming seven years.
Presently the vitamin E industry is highly competitive with emerging markets from India and China. Moreover, many other industry participants are focusing on investigating substitute sources to improve the characteristic of vitamin E.  The vitamin E market share is consolidated with top five industry participants catering to 50% of the global demand in 2015. The major market players include COFCO Tech Bioengineering DSM, BASF, American River Nutrition, Cargill, and ADM.
Author Name : Ojaswita Kutepatil