Web-Based
With the increased emphasis on customer satisfaction and operational efficiency, dental practice management software (DPMS) market stands as one of the most pivotal verticals of the healthcare industry. The business crossed a billion-dollar benchmark in 2017, with a large-scale adoption of the revolutionary tool by individual professionals as well as multi-purpose clinics. The fraternity is extensively characterized by swift innovations in technology focused on balancing the customer service aspect of dental practices and developing optimum treatment mix have.
Booking appointments and scheduling, cancellation, reminders, billing and insurance management are some fundamental patient-centric elements of DPMS, with added features like easy access to patient records and dental images that make client servicing simpler for dentists. Further, the worldwide trend towards digitization and availability of cost-effective cloud based solutions have propelled dental practice management software market share worldwide.
U.S. Dental Practice Management Software Market, By Component, 2018 & 2025 (USD Million)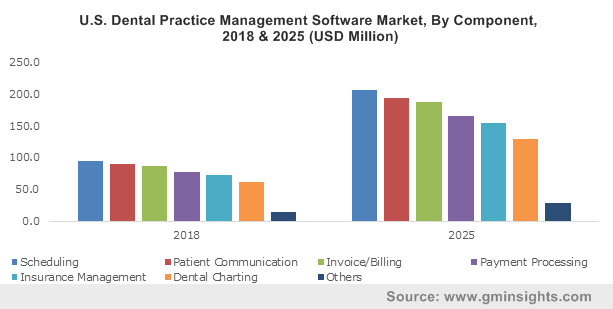 Evolving lifestyles around the world have affected the general health of people and escalated the dental problems across varied demographics. Subsequently, the growing awareness regarding oral hygiene has boosted the dental industry and immensely enhanced dental practice management software market share. A striking factor influencing the industry is the rising geriatric population which is experiencing oral disorders like gum disease, cavities, tooth decay and tooth loss more frequently.
Statistics released by the World Health Organization indicate that the global population of people with aged 60 and above will virtually double from 900 million in 2015 to nearly 2 billion in 2050. As older people are more susceptible to dental problems, the projected increase of elderly population indicates a lucrative future for the dental practice management software industry.
The development of DPMS industry is continuously being supported by huge venture capital investments and technology-friendly initiatives by governments. Recently, a prominent dental practice management platform, iDentalSoft received considerable investment through a new round of funding led by FCA Venture Partners. iDentalSoft, formed in California, is a secure cloud-based DPMS platform that assists in improving clinical efficiency, streamline workflow and optimize production. It allows fast access to patient schedules, details, treatment plans, x-rays, billing and credit card payments among other tools, displaying the tremendous utility of DPMS in reducing the administrative workload of dentists.
Get a Sample Copy of this Report:@ https://www.gminsights.com/request-sample/detail/463
Investment activities of such nature have enabled the influx of innovations in the industry fueled by the government mandates, like the Health Information Technology for Economic and Clinical Health Act (HITECH Act) introduced by the U.S. The act encourages expansion of healthcare IT infrastructure and has subsequently helped augment the dental practice management software market share in the U.S.
Being one of the most technologically advanced countries, the U.S. has been a vital base for startup companies that want to design DPMS products. Owing to the cutting-edge healthcare services provided in the country and increasing geriatric populace with dental ailments, the U.S. dominated the dental practice management software market with a share of 39%. As the software adoption rates continue to soar and the healthcare IT industry expands, U.S. dental practice management software market will showcase its dominance over 2019-2025.
Speaking of enhanced DPMS, it is necessary to consider its assistance in bearing the security aspect of a dental practice, as numerous government health agencies have specific legislations for data protection. For instance, Ontario's Personal Health Information Protection Act requires data storage facilities to be locked with limited and authorized access using ID cards. As such, the latest services in the dental practice management software industry are generally cloud-based, where a physical server is not required to be present at the practice. A cloud server enables automatic data backup and protection, and its lifetime cost is considerably lower than a complete desktop system that requires timely maintenance with essential features to be added separately.
With the mounting pressure on businesses all over to adopt secure modes of information storage due to risk of data corruption and loss, integration of cloud services in DPMS reduces the legal obligations of dental practices and the high cost that comes with it. Not to mention the incredible upsurge in the use of smartphones has permitted patients a faster and easy mode to select their choice of clinic and browse treatments, book appointments and even review the practice post-treatment. The affluence of customers on the reputation of dental practices and the speed at which they expect the services has magnified the industry's competitiveness, bolstering the cloud-based dental practice management software market share.
All in all, the rapid progression in cloud technology, convenience of smart devices in the hands of patients and the shifting customer preference towards better service quality has endlessly changed the dentistry landscape. Key market contributors like Patterson Dental, Henry Schein, Carestream Dental, Bestosys, Open Dental Supply amongst others have established their presence with prolific DPMS products. Constant evolution of software capabilities combined with the awareness pertaining to their benefits in patient-care and servicing are expected to catapult the dental practice management software market share in the years to come.
Author Name : Pankaj Singh