Windows
In recent times, automobiles have emerged from a mode of transport to being a status symbol, on the grounds of which automotive decorative exterior trim market has been witnessing tremendous expansion on a global scale. Right from the color of the car to its bumper type, everything about the automobile not only creates a distinct impression about the vehicle but also determines its present and future value. With shifting consumer preferences, there has been a massive rise in the sales of luxury cars, which has emerged as one of pivotal driving forces of automotive decorative exterior trim industry size. Furthermore, the easy availability of products and rising awareness about the role that trimming plays in protecting a vehicle's exterior have also emerged as key factors pushing automotive decorative exterior trim market.
U.S. Automotive Decorative Exterior Trim Market, By Vehicle, 2016 & 2024, (Kilo Tons)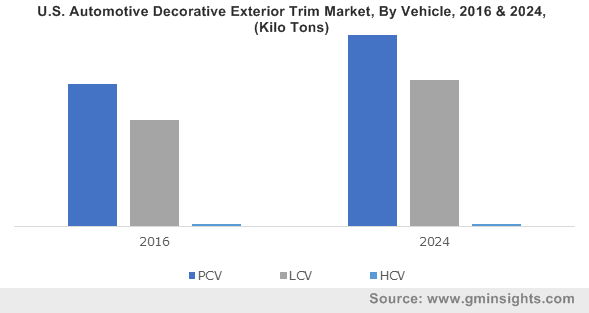 A significant amount of research and development is undertaken while designing a vehicle's interior and exterior, bearing in mind the interest of the consumer. Considerable efforts are undertaken to determine not only what the consumer wants currently, but also what he/she might want in the coming years, since an outdated design can majorly depreciate a vehicle's market value. In this regard, vehicle accessory manufacturers have been robustly driving automotive decorative exterior trim market trends, since they now have the luxury to choose from a variety of materials and styles to manufacture the exterior of the automobile. Consequently, customers are inclined towards adding more personality to their vehicle with decorative exterior trim like pinstripes, bumpers and protective add-ons. Automobile owners have a wider variety to choose from even in the aftermarket, which would no doubt, have a commendable impact on the sales graph of automotive decorative exterior trim market.
Get a Sample Copy of this Report:@  https://www.gminsights.com/request-sample/detail/2298
Vehicle colors have been gaining widespread attention from the consumer pool, since it is the most eye-catching feature of cars. On these grounds, vehicle owners often look to add an extra touch of sophistication or sportiness to their vehicle with an attractive color. Of late, with consumers favoring pearlized paint trims that make the vehicle appear divergently colored as per the different angles of light, automotive decorative exterior trim market players seem to have obtained novel opportunities for improvising on product design and development. Apart from pearlized paint, protective addons are also being deployed, thereby impelling automotive decorative exterior trim industry. Protective rub strips are the most common protective addons that are often used on a vehicle right from the front wheel to the back wheel, given that they serve as a primary protection against careless scratches.
Chrome trimmings are also being popularized in automotive decorative exterior trim market, since the distinct shine of chrome can add a lot of class to a vehicle. Chrome trimming can be easily installed and is compatible with all types of vehicles. Further on, plastic bumpers are also a popular decorative exterior trim, however, since the plain black plastic bumpers often have a less than sophisticated look, consumers are increasingly inclining on adding chrome finish to plastic bumpers.
The rise in the demand for decorative exterior trim has provided a rather lucrative opportunity for automotive decorative exterior trim market players in terms of product differentiation and production. In this regard, it is prudent to mention that OEMS are expected to generate 70% of the automotive decorative exterior trim market revenue in the forecast period. Exterior trim designed and installed by OEMs offer insurance and warranty and are made of comparatively higher quality materials than the exterior trims available in the aftermarket. However, automotive decorative exterior trim industry size from aftermarket sales are also expected to surge over 2017-2024, driven by the cost-effective nature of these trims and their easy availability.
The competitive landscape of automotive decorative exterior trim industry is inclusive of reputed biggies such as Magna International, Altuglass International, Takata, CIE Automotive, MVC, Trinseo, Dura Automotive systems and others, continually vying with each other to capture maximum industry share. With intensified innovations in design and manufacturing techniques and cumulative consumer demand, automotive decorative exterior trim market size is expected to surpass USD 27 billion in terms of revenue, with a target estimation of exceeding 500 kilo tons in terms of volume, by 2024.
Author Name : Paroma Bhattacharya
Ezetap's recent acquisition of FortunePay is a vital indicator of the growth in (Point of Sale) POS Terminals market. Similar to the growth strategies adopted by most markets, mergers & acquisitions and novel product launches primarily form the strategy landscape of POS terminals industry as well. In June 2017, Bangalore based POS firm Ezetap had acquired FortunePay, an online payment & physical payment service provider to banks in India. This deal is anticipated to help Ezetap avail the latter's infrastructure and become a sole payment service provider for the traders in India. Earlier in June 2014, Ezetap had also collaborated with SBI (State Bank of India) to install 500,000 point of sale terminals across India over the coming five years. With more and more companies undertaking strategic tactics, POS terminals market is sure to carve out an appreciable growth map over 2018-2024.
UK POS terminals market, by application, 2017 & 2024 (USD Billion)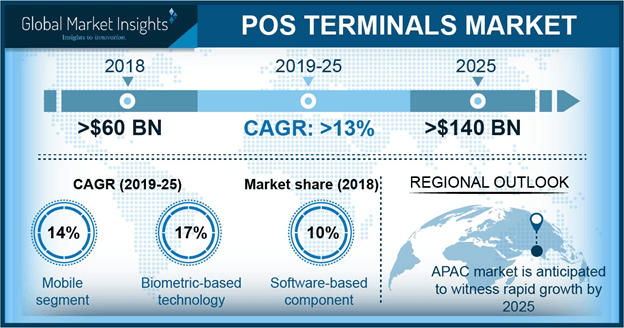 An outline of the POS terminals market trends in terms of contributions by the industry veterans:
In January 2017, Fujitsu, a Japanese multinational IT equipment & service firm, launched Fujitsu TP8TM, a family of retail POS terminals, which was developed to optimize and improve the online payment performance across supermarkets, department stores, drug stores, and mass merchant stores. The new product also enhances the shopping experience of the customers across retail stores through its exceptional modularity. These new product innovations are expected to result in the robust expansion of POS terminals market.
In February 2017, OMA Emirates Group, a UAE based payment service provider, purchased MobiSwipe, one of the leading mPOS service providers. The acquisition will help OMA to expand its service portfolio across APAC, Middle East, and East Europe. MobiSwipe permits traders to make use of smartphones and tablets as POS terminal devices to accept payments via debit or credit cards. In a vital breakthrough, MobiSwipe, now a part of the OMA Emirates Group, in April 2017, announced the setup of more than 50,000 mPOS terminals in India within nine months. This is an instance of how major firms have been taking key initiatives to promote cashless deals in the country and explore new business growth avenues across India (Point of Sale) POS terminals industry.
Get a Sample Copy of this Report@ https://www.gminsights.com/request-sample/detail/390
In May 2017, Mswipe, a startup firm in the  mPOS terminals industry,  formed a joint venture with PayU India, a digital payment service provider, to expand its online payment business through the purchase of the latter's offline merchant acquiring business. As per the reports from reliable sources, PayU had acquired more than 9000 offline traders across India, who, along with their point of sale business will be moved to Mswipe. Dealers transacting with Mswipe can now use PayU India's online payment options. According to expert opinions, the strategic alliance between the online payment service providers will benefit both in terms of revenue generation as well the consolidation of their positions in POS terminals market.
In July 2017, ScanSource Incorporation, a leading service provider of point-of-sale, barcode, networking, and data solutions, acquired POS Portal Incorporation, distributor & renter of POS devices, for USD 144.9 million to extend and improve its POS payment services across the globe. This is ScanSource's sixth acquisition since last three years, with its recent purchase being Intelisys, a technology service distributor and master agent of carrier, telecom, & cloud solutions, for USD 83.6 million in June 2017.
The same year also witnessed NEXTEP SYSTEMS, a provider of self-order POS services, form a strategic alliance with LevelUp, the largest mobile payment platform developed by Massachusetts-based startup firm SCVNGR. The alliance will enhance the service efficiency of both the firms by offering more effective and user-friendly online payment options. Speedy   self and mobile ordering operations, ensuring a seamless and personalized experience for the users are expected to spur the business expansion and ROI of both these firms, thereby providing a boost to POS terminals industry. Global Market Insights, Inc., claim POS terminals market share to surpass USD 125 billion by 2024.
POS terminals industry is an evolving business sector with big players investing heavily in R&D activities to develop new technologies and products for gaining competitive edge. It is more likely that rapid expansion of POS terminals market will encourage new service providers and manufacturers to enter the business further encouraging the existence of fierce competition in the industry.  VeriFone Systems Inc., Panasonic Corporation, Ingenico Group, PAX Technology Inc., and Toshiba Corporation are some of the major brands of POS terminals industry.
Author Name : Saipriya Iyer