Wine
Endorsing itself as an intrinsic realm in winemaking process, tartaric acid market stands to gain much over the ensuing years, on virtue of its credential to maintain chemical stability of the wine. This organic acid, in fundamental terms, has been commercialized since ages, however in recent times the business space has garnered an appreciable popularity. As per experts' opinion, a large credit of this goes to the massive wine consumption across the globe lately. Statistics claim, in 2016, wine consumption worldwide was approximately around 242 million hectoliters, an increment of almost 16 million hectoliters from what it recorded in 2000. In the same year, global tartaric acid market garnered a revenue of USD 450 million-estimates validating the perpetual impact of one on the other.
U.S. Tartaric Acid Market Size, by Type, 2013 – 2024 (USD Million)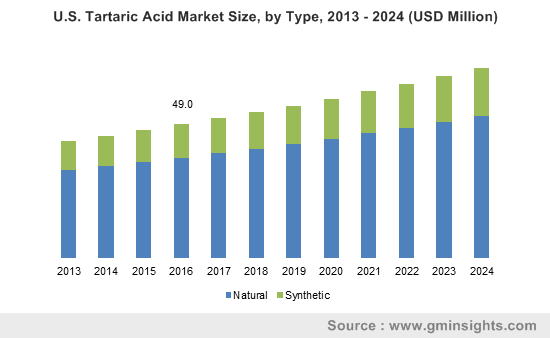 The reason behind U.S. to become the hotbed for tartaric acid market investors is quite obvious – the region's expanding wine sector. According to a latest report by Wines & Vines, nearly 9,091 wineries were operational in the country in 2017.  The country also pegged the title of fourth largest wine production nation across the world with a production volume of almost 23.9 million hectoliters in 2016. These estimates vividly exhibit the growth scope of regional tartaric acid market from wine applications. In this regard, natural wine has created much of a buzz among the wine lovers on grounds of its health viability.
Get a Sample Copy of this Report:@https://www.gminsights.com/request-sample/detail/1673
As per estimates, overall wine applications witnessed a proportion of authority in global tartaric acid industry share in 2016 and is likely to continue its dominance over 2017-2024. Having said that, it is prudent to mention that potential contenders are leaving no stone unturned to explore the possibilities of this acid on other application verticals as well. In this regard, an anticipated trend of utilizing tartaric acid as an anodizing agent for corrosion protection, has generated quite a momentum in tartaric acid market. Citing a relevant instance, Airbus leading aircraft manufacturer has developed a chrome-free Tartaric Sulphuric Acid Anodizing (TSA) as an alternative to traditional chromic acid anodizing that are used in corrosion resistant process. Reportedly, on ground of its environmental viability, TSA has also received a green signal from REACH.
The utilization of tartaric acid anodizing process, as per experts' opinion, undoubtedly falls among one of the few disruptive trends that tartaric acid industry has lately witnessed. This is validated by the increasing number of initiatives that are being undertaken along the similar lines. For instance, Aequs and Magellan Aerospace, two of the most renowned aircraft giants, few years back, signed an agreement, in a bid to expand a special TSA unit in India. Dubbed as Aerospace Processing India, this joint venture plant mainly carries out cadmium plating and TSA anodizing process for OEMs in aerospace sector. This project is also considered as a symptomatic evidence depicting the extent by which tartaric acid market penetrated the aerospace sector.
It is imperative to mention that natural tartaric acid is comparatively costlier than its synthetic counterparts. This is deemed to be one of the fundamental factors acting as a stumbling block in tartaric acid industry's linear growth path. Add to it, with restrictive consumption of synthetic tartaric acid due to stringent regulatory framework, across a plethora of verticals including the likes of pharmaceutical, food & beverage, and wine production, the profit margin further squeezes. However, increasing consumer inclination toward heathy foods and growing commercialization of beverages having fruit flavors, is likely to widen the application opportunities of the business space over the coming years.
Author Name : Satarupa De