Wood
Seismic reinforcement materials market is poised to witness momentous growth over the ensuing years, primarily owing to the demand for seismic proof structures in earthquake-prone areas across the world. The product demand from a slew of end-users including residential, commercial, industrial, and infrastructural sectors will also support market growth. For the uninitiated, seismic reinforcement or seismic retrofitting is the process of making a structure more resistant to the severe consequences of an earthquake.
U.S. Seismic Reinforcement Materials Market By End-use Sector, 2014 – 2025 (USD Billion)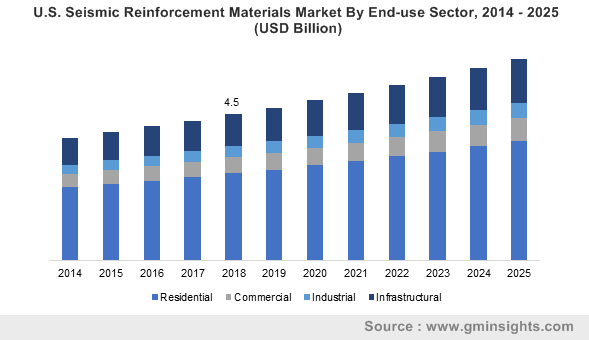 Increasing preference for earthquake resistant buildings will be a major driving force augmenting the product demand. Strong earthquakes are extremely dangerous and result in millions of casualties each year. Most earthquake deaths are results of structural failures. Seismic retrofitting of existing structures in earthquake-prone regions to make them more resistant to ground motion and soil failure will bolster global seismic reinforcement materials market in the coming years.
Earthquake is a natural phenomenon, but the amount of damage it causes can be a huge threat to a country's economy. Especially for the industrial sector, natural disasters like earthquakes can destroy tangible assets like buildings and equipment along with human capital, bringing down production capacity. The vulnerability of industrial buildings due to their high exposure, needs to be protected through proper seismic retrofitting modifications. Owing to these factors commercial seismic reinforcement materials segment is likely to exhibit growth in the succeeding years.
The imposition of building codes is an effective way to ensure that people like engineers, contractors, and builders are inclined towards the construction of earthquake resistant structures. For instance, FEMA's National Earthquake Hazards Reduction Program (NEHRP) recommends a set of seismic provisions for new and existing structures to reduce the fatalities and property losses caused by earthquakes. Such trends will further boost material demand, thereby augmenting seismic reinforcement materials market.
Get a Sample Copy of this Report @ https://www.gminsights.com/request-sample/detail/3356
The infrastructure development sector garnered immense proceeds in the past and is projected to retain its status in the industry over 2019-2025. This development can be attributed to the extensive use of seismic reinforcement materials in infrastructure projects such as bridges, flyovers, tunnels, etc. Increasing investment in infrastructural development projects will drive product demand. As per credible estimates, Asian Infrastructure Investment Bank (AIIB) has made plans to finance infrastructure projects worth $10 to $12 billion. Such investments could fuel the seismic reinforcement materials industry from the infrastructure development sector.
The bridges and flyover segment is slated to garner considerable growth over the coming years. Seismic retrofitting in bridges and flyovers helps reduce the intensity of the disaster, in addition to aiding rescue and relief operations. Rising urban congestion in emerging economies has accelerated the pace of development of bridges and flyovers, thereby elevating segmental growth for seismic reinforcement materials market.
North America seismic reinforcement materials market is anticipated to accrue appreciable gains in the global market in the coming years. In countries like the U.S, thousands of shocks of varying intensity occur every year and most of the coastal states are prone to earthquakes. Government grants like the Brace + Bolt program which provides homeowners grants up to $3,000 for seismic retrofits, will also boost product demand. The country houses one of the world's largest construction industry, and increasing trend of building more earthquake resistant structures would upscale seismic reinforcement materials market share in the future.
An upturn in infrastructural activities in the Asia Pacific market will also drive the demand for seismic retrofitting. Rapid urbanization across countries like India, China, and other Asia Pacific nations will proliferate the need for major bridges, flyovers, airports, and other giant structures. The increasing deployment of advanced materials and construction equipment including seismic retrofitting materials in order to deal with regional geological vulnerabilities will boost market size in the Asia Pacific.
Seismic retrofitting of vulnerable structures is more than necessary; such modifications not only prevent property damage but protect the lives and assets of building occupants. Adherence to seismic retrofitting measures by various commercial and residential buildings, paired with favorable government regulations will continue to support product demand over the ensuing years.
According to a research report by Global Market Insights, Inc., the seismic reinforcement materials market is anticipated to be worth more than $40 billion by 2025.
Author Name : Krithika Krishnan
Wood, paper & paperboard recycling market has gained quite some popularity of late, driven by the increasing awareness among the regulatory bodies about the environmental and sustainability benefits of waste material disposal. As recycling leads to the conservation natural resources, energy savings, and minimization of landfills, most of the countries and industry behemoths have started focusing on the deployment of policies in favor of recycling of wood and paperboards.For the record, recycling process of one ton of paper and paperboard could save 17 trees, approximately 7,000 gallons of water, about 3 cubic yards of space for landfill, and nearly 4,000 kilowatts of energy. The implementation of regulatory norms across myriad geographies regarding paper and wood recycling will thus have a positive influence on wood, paper and paperboard recycling industry outlook.
U.S. Paper & Paperboard Recycling Market Size, By Grade, 2014 – 2025 (USD Million)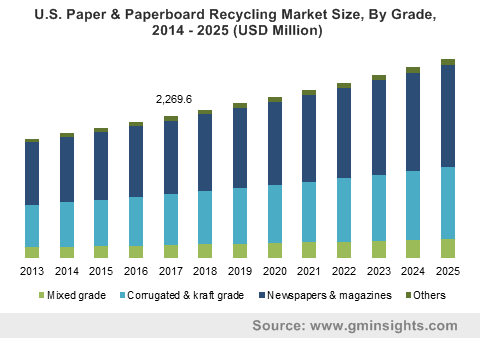 It is to be noted that the contribution of regulatory organizations toward environmental safety and protection has indeed been immense, the direct impact of which has been registered across wood, paper & paperboard recycling industry. The paragraphs below outline some of these initiatives that have influenced this business sphere in more ways than one.
Since 2000, the European Union (EU) has been trying to increase the wood and paperboard recycling rate across Europe, however, the organization encountered fruitful outcomes only in 2014, when he continent successfully crossed a 71% recycling rate with changing consumption patterns. In fact, the organizations like ERPA and CEPI had prepared list of grades of paper and paperboards that could be used as raw material for producing diverse kinds of paper. In addition, they also have been promoting giants in wood, paper and paperboard recycling industry to deploy next-generation recycling technologies for minimizing greenhouse gas emission. Further, it had been observed that they had also organized programs to create awareness among regional industry contributors and the masses about the economic and environmental benefits associated with the recycling of paper.
Get a Sample Copy of this Report @ https://www.gminsights.com/request-sample/detail/2766
In accordance with the established regulatory norms, most of the industries across Europe have started to put in efforts into improving the sustainability properties of their paper-based products. The research community has contributed its bit, constantly conducting R&D activities and helping toward setting up modern recyclable paper testing facilities to aid industry giants implement recycling programs effectively. Validating the aforementioned fact, the International Association of the Deinking Industry (INGEDE) had organized a research program a few years earlier at the Germany-based Darmstadt Technical University for developing a technology to carry out quality inspection of paper before recycling. The program mainly focused on the development of technology which could help industries recognize the print products that are difficult to deink before officially being dispatched for the recycling process. Such eco paper loop methodologies have significantly helped players in paper and paperboard recycling industry to enhance quality of recycled paper and undoubtedly the economy of the country.
The United States Environmental Protection Agency has reportedly mandated the use of recycled paper much prior to the initiatives taken by EU. Post the implementation of regulatory norms related to recycled paper, in 2015, nearly 45.3 million tons of used paper and paperboard were recycled across U.S. at a rate of 68.6%. The U.S. has thus been a major revenue pocket for North America wood, paper and paperboard recycling industry which generated a revenue of USD 3 billion in 2017. In addition, the surging prevalence of modern recycling technology trends across U.S. will have positive influence on North America wood, paper and paperboard recycling market outlook.
Meanwhile, the efforts put into effect by the industry giants, regulatory bodies, and regional governments have proved to be rather lucrative for the overall wood, paper, & paperboard recycling market. Many of the European and North American countries have successfully implemented recycling technologies to enhance the economic growth as well as environmental scenario across the region. In the years to come, the dedication of end-users and governments toward enhancing the sustainability and recyclability of wood and paper products is poised to push wood, paper and paperboard recycling market share. For the record, by the end of 2025, wood, paper and paperboard recycling industry will surpass revenue collection of USD 29 billion.
Author Name : Sunil Hebbalkar
The profitability quotient of Indian doors market is certain to escalate in the coming years, augmented by the thriving construction sector across the country. Driven by a plethora of factors such as growing Indian population demanding comfortable lifestyles, increasing public and private spending on refurbishment & construction activities, and encouraging governmental initiations toward infrastructural development, Indian doors industry size is expected to widen its horizon in the forthcoming years. In fact, estimates claim, private equity sector investment in real estate in India was over USD 6 billion in 2016.  As per a recent report put forth by IBEF (India Brand Equity Foundation), Indian real estate market is slated to record a massive valuation of USD 180 billion by 2020, another testament deemed to stimulate Indian doors industry trends in the coming years.
Maharashtra Doors Market Size, By Product, 2016 & 2024 (Thousand Units)

Over the past few years, there has been a significant transformation in consumers' buying preferences with regards to artistic and aesthetics quotient, a factor that has brought innumerable innovations in door quality and texture. In this regard, it is prudent to mention that uPVC doors are creating a storm in the Indian doors industry, subject to their unique advantages such as better insulation, energy efficiency, thermal insulation, diversified color options, and minimum maintenance requirement. In fact, uPVC Indian doors market is expected to witness a y-o-y growth of 8% over 2017-2024. In addition to this, leading giants of Indian doors market are also investing in enhancing their product portfolio that not only claims technological incorporations but also are environmentally viable.
Get a Sample Copy of this Report @ https://www.gminsights.com/request-sample/detail/2071
KONE is considered as one of the forerunners in bringing eco-friendly to the Indian doors industry. The company offers a full range of industrial doors, loading bays, barriers, shutters for commercial and residential housing complexes. Reliable operation, durability, safety, and most importantly environmental competencies are some of the fortes that make KONE a renowned player in the Indian doors market. Some of the other renowned players in this space include Fenesta Building Systems, DORMA, Century, D. S. India, Duroplast Extrusions, Geeta Aluminum Company, Beautex, Kalco Alu-systems, Mahavir Aluminum, Sapa Building System, Reynaers Aluminum and Welltech Systems.
Speaking of geographical aspects, West Bengal, Delhi, and Maharashtra are some of the states where the industry observes quite profound growth. In fact, estimates claim that Maharashtra alone accounted for 12% of the overall Indian doors market share, having held a revenue of USD 180 million in the year 2016.  Strong pipeline of construction projects across residential, commercial, as well as industrial sectors has propelled the product demand in Maharashtra.  A crucial determinant that needs to be mentioned here- the state is the second most populous region of the country, a factor that has enabled it to be strong contributor toward the overall Indian doors industry share.  Another statistic that can be placed as a testament regarding the increasing refurbishment and maintenance activities in Maharashtra- as per the National population and housing survey of 2011, out of 3.36 crore registered houses in India, 2.98 crore were in Maharashtra. Taking into account these aforementioned aspects, Maharashtra is expected to continue to stand as a strong contender in the Indian doors market.
With the escalating construction space along and supportive government initiations toward manufacturing eco-friendly, fire resistant, weather proof doors for commercial and residential sectors, it is certain that Indian doors industry is all set to carve a lucrative path in the years ahead.  Experts believes that in the coming period, the business space will witness an influx of even more sustainable energy efficient doors. Having held a valuation of USD 1.2 billion in 2016, Global Market Insights Inc., forecasts Indian doors market size to exceed USD 2,800 million by 2024.
Author Name : Satarupa De