World Data Center UPS Market
With a plethora of tech innovations to boast of, data center UPS market has been traversing along a profitable growth path in recent years. The competitive spectrum of data center UPS industry is inclusive of some of the most renowned names, such as Schneider Electric, Mitsubishi Electric, ABB Ltd., Fuji Electric, Eaton Corporation, Delta Electronics Inc, General Electric, Ametek Inc., Vertiv and Toshiba Corporation among others. Most companies among these have been attempting to bring about a change of dynamics in data center UPS market, by means of novel product launches depending on consumer demand. For instance, Vertiv has recently launched Liebert EXS, a UPS with the lowest footprint in its class. The product apparently is a monolithic, transformer-less UPS in a small form-factor that houses up to four battery strings. According to Vertiv, the device can reduce the space required for power backup by up to 50%, when compared to products from its competitors. Undeniably, the product is expected to stir up a storm in data center UPS market, which as per analysts, amassed a revenue of USD 3 billion in 2016.
U.S. data center UPS market, by product, 2016 & 2024 ($Mn)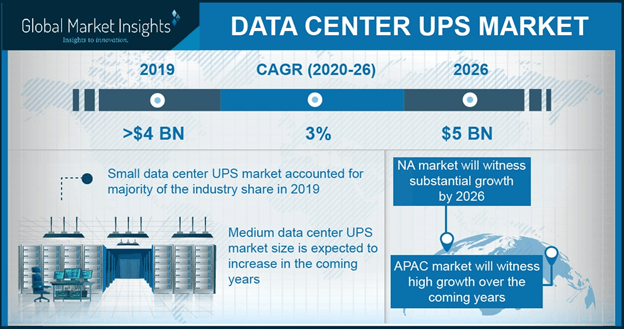 The deployment of data centers has been growing with the robust expansion of the tech space and the subsequent rise in data usage. The exponential adoption of technologies such as cloud computing, Internet of Things (IoT) and machine learning as well as the upsurge in the usage of online services such as Amazon Prime and Netflix has generated the demand for continual speed, reliability and security. In consequence, this has led to data center UPS market witnessing a significant boost. In fact, as per statistics, data center UPS industry size is estimated to grow at a CAGR of more than 3% over 2017-2024.
Get a Sample Copy of this Report:@ https://www.gminsights.com/request-sample/detail/116
While the deployment of data centers spans myriad sectors, the healthcare, BFSI and manufacturing domains are claimed to be the chief end-users of data center UPS industry. These industries, especially the banking sector it has been observed, has been particularly deploying the online UPS solution for increased performance. This goes to prove that one of the most crucial components of this business vertical, the online data center UPS, has gained mass precedence in recent years. A pivotal reason for the same is that these systems are unbelievably useful in critical business applications such as telecom and IT, which demand high voltage, frequency regulation, and power conditioning. Furthermore, this solution is highly preferable due to its advantage of converting the incoming power two times over, eliminating disturbances and providing clean and regulated voltage, which has had a massive impact on the commercialization scale of online data center UPS industry share.
North America, the hub for tech advancements, accounted for close to 30% of the overall data center UPS market share in 2016, driven by rapid expansion of the manufacturing, IT & telecom, entertainment, and healthcare sectors. Furthermore, data center UPS market companies have been striving to come up with innovations on the home ground so as to increase the momentum of the regional industry. For instance, Fuji Electric Corp Of America has recently come up with their latest UPS system – the UPS7300WX-T3U, which is apparently a transformer-less UPS that can withstand an explicit load and environmental condition of the data center. The system utilizes Fuji Electric's patented RB -IGBT Technology to deliver up to 97.5% efficiency, and is likely to heavily impact the product landscape of North America data center UPS industry.
Major companies across data center UPS market have been adopting tried-and-tested growth strategies based on the grounds of quality, technology, price, distribution, service and brand. As the tech cosmos depicts massive growth prospects in the years ahead, it is expected that data center UPS market trends would undergo a considerable change of sorts, which would substantially impact the revenue graph of this business vertical. As per Global Market Insights, Inc., data center UPS industry size is expected to cross a valuation of USD 4.5 billion by 2024.
Author Name : Paroma Bhattacharya
It is projected that the market size of data center UPS market will go beyond USD 6.5 billion till 2022 and will rise with a CAGR of 7.4% between the years 2015 to 2022 as predicted by Global Market Insights.  Growth of new data centers with the reformation of earlier ones is expected to give a considerable boost to the market. Increase in outages and voltage instability will accelerate the demand of capable UPS systems in most of the data centers. Cloud is the hottest technology which renders maximum power in minimum space.
View a summary of the "Data Center UPS Market Size, Industry Analysis Report" @ https://www.gminsights.com/industry-analysis/data-center-UPS-market
Data Center UPS market trend is expected to get an upsurge with this technology. Big data center industries were anticipated to go beyond USD 500 million in the year 2014 and are estimated to touch USD 1 billion till 2022 with a CAGR of 8.5%. Medium centers will rise distinctly because of high demand in diverse fields like universities, cable handling junctions, medical field, government and commercial firms. Small data center market contributed 57% of the overall share in the year 2014 and is likely to rise with a compound annual growth rate of 7%. With great demand in factory floors, medical imaging, industrial sectors, server rooms, the market is expected to boom between the years 2015 to 2022.
North America which is a leading user of UPS was appreciated with USD 1.3 billion and is likely to cross USD 2.1 billion till 2022 with a CAGR of 6.9%. Asia Pacific market is estimated to go beyond USD 1.7 billion till 2022 and is likely to rise with a CAGR more than 8.6% between the years 2015 to 2022. Europe market noticed more than USD 990 million in the year 2014 and is anticipated to cross USD 1.68 billion in the coming years. Speeding up the demand from financial sectors, healthcare industries, insurance services and computing infrastructure is projected to fuel up UPS market share.
Get a Free Sample Copy of this Report @ https://www.gminsights.com/request-sample/detail/116
Saturation in semiconductor industry is projected to obstruct the demand in the coming six years. Many global U.S. manufacturers are estimated to raise their voice for the slowdown of industries. Countries like China and Taiwan, which are considered as electronics center, will be impacted more thus, disturbing the overall demand in industries.
Major industries which have captured prominent shares of Data Center UPS market include Emerson Network Power, Controlled Power Company, Belkin International, Gamatronic Electronic Industries, Schneider Electric, Toshiba and others.