Xanthan Gum Market Size By Application
Rising demand for food & beverages across the globe due to growing population along with improved consumer lifestyle in BRICS countries is expected to favorably affect xanthan gum market size over the coming years. Food & beverages sector contributed a revenue of USD 8.50 trillion in 2004, which exceeded USD 15 trillion in 2015. The product is extensively used in this sector due to its ability to enhance moisture retaining capacity and improve shelf life of baked items. According to Global Market Insights, Inc., "Xanthan Gum Industry size is anticipated to reach USD 1.2 billion by 2023." Xanthan Gum finds wide applications in cosmetic products such as lotions, denture cleaners, and shampoos due to its thickening & stabilizing property. Furthermore, FDA and USDA approval for the use of xanthan gum in bakery foods and medicines will provide huge growth opportunities for the industry over the coming years.  European commission has also approved the use of xanthan gum as an emulsifier, gelling agent, thickener, and stabilizer in food & beverages sector.
Europe Xanthan Gum Market size, by application, 2012-2023 (Kilo Tons)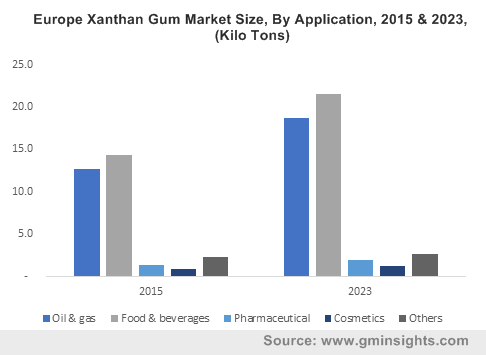 Oil & gas firms are actively involved in setting up enhanced oil recovery processes to increase the production of crude oil & natural gas from potentially exhausting reserves and this can boost the industry growth over the coming years. Crude oil output across the globe was 3950 kilotons in 2007 and reached 4130 million tons in 2015. Growing spending on production, exploration, and development of crude oil & gas in upstream segment have played a vital role in enhancing the crude oil production across the globe. Global upstream expenditure was worth USD 410 billion in 2009, and exceeded USD 660 billion in 2015. Furthermore, strategic initiatives such as new exploration licensing policy announced by the Indian government to encourage exploration and production activities in oil & gas sector, is projected to drive the industry trends over the coming years.
Get a Sample Copy of this Report:@ https://www.gminsights.com/request-sample/detail/512
Xanthan gum finds its applications in cosmetics, oil & gas, and pharmaceutical sector. Xanthan gum market revenue in oil & gas sector worth USD 300 million in 2015, is expected to grow at a rate of 6.2% over 2016-2023. The growth can be credited to its wide application in horizontal drilling as well as demand for better control of drilling solids. Xanthan gum market share in pharmaceutical sector is predicted to exceed USD 55 million by 2023, with expected gains of 5.2% over 2016-2023. The growth can be credited to its use as diluents & disintegrants in tablets as well as protective colloids in suspensions.
North America xanthan gum market size worth USD 220 million in 2015, is predicted to register a CAGR of 5.3% over 2016-2023. Heavy expenditure on medicines along with expansion of pharmaceutical sector is expected to drive the product demand in the region. U.S. is expected to contribute significantly towards the regional growth over the coming years. Europe xanthan gum market is expected to surpass USD 235 million by 2023 owing to growing demand for personal care products along with rising R&D investments on pharmaceutical sector. Germany, UK, Italy, and France are projected to be the major revenue pockets of the region over the coming years.
Asia Pacific xanthan market is anticipated to exceed USD 490 million by 2023. Expanding cosmetics and pharmaceutical sectors in the region due to growing product demand as well as low production cost is predicted to boost the regional growth. China and India are anticipated to be the major revenue contributors of the region over the coming years. Middle East & Africa market is expected to grow significantly over the coming years owing to increase in healthcare spending along with favorable government policies. Saudi Arabia is projected to contribute substantially towards the regional share.
Market players will try to increase their ROI through merger & acquisitions and R&D investments. Key industry players include DuPont, Archer Daniels Midland, Fufeng Group Company Limited, Cargill, CP Kelco, Sancho & Lee, Jungbunzlauer, Qingdao Unichem, Deosen Biochemical Limited, Solvay S.A., and Pfizer Pharmaceutical Company.
Author Name : Dhananjay Punekar
This entry was posted in Bulk & Specialty Chemicals and tagged Application Potential, Competitive Market Share & Forecast, Industry Analysis Report, Price Trends, Regional Outlook, Xanthan Gum Market Size By Application.