Zinc Process
Boasting of a widespread application spectrum encompassing mineral flotation, wood pulp bleaching, and textile sectors, sodium hydrosulfite market already held a billion-dollar business space in yesteryear. Rooted from sodium dithionite, sodium hydrosulfite is basically used as a bleaching and reducing agent in various dyeing applications that are increasingly in demand across a myriad range of emerging markets, textile sector is one of the many. For instance, in textile, these chemical compounds observe high demand in vat dyeing application and in bleaching cotton, wood, nylon etc. It is therefore of no surprise, that the robust growth of textile industry is directly proportional to the sodium hydrosulfite market growth. global textile industry size in 2016 was almost around 90 million tons in terms of demand, which, as per market forecast, is likely to reach around 130 million tons by the end of 2024. This speculation is quite a testimony to sodium hydrosulfite market growth in the coming years.
U.S. sodium hydrosulfite market size, by application, 2013 – 2024 (USD Million)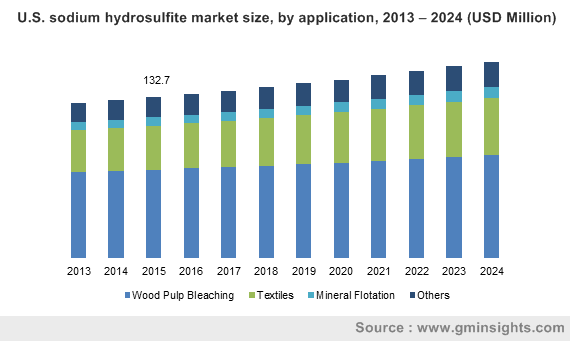 With textile sector leading the application landscape, Sodium Hydrosulfite Market is slated to exceed a revenue of USD 1.4 billion by the end of 2024, with 4% CAGR over 2017-2024. As per estimates, textile application will witness a revenue contribution of USD 700 million by 2024, with a y-o-y growth of 4% over the forecast span. Other than textiles, the steady product demand in the metakaolin and kaolin synthesis will also act in favor of the market growth. Worldwide, global sodium hydrosulfite industry is rather concentrated with leading four players holding a chunk of the business space. These players have been increasingly focusing on research activities to come up with some innovative products, thereby attracting a wider consumer base. Some of them are also concentrating on strategic collaborations to expand their global presence to establish a strong foothold in sodium hydrosulfite industry space.
Get a Sample Copy of this Report@ https://www.gminsights.com/request-sample/detail/1803
Overall, global sodium hydrosulfite market is forecast to carve a sizable growth in emerging economies especially across APAC belt. North America and Europe sodium hydrosulfite market, on the other hand, is likely to witness rather a moderate growth over the coming seven years.  The increasing importance of paperless economy in these two regions is negatively impacting the sodium, hydrosulfite business space. In 2016, the overall paper board production capacity in North America was 79.6 million tons, which the market expert forecast to scale down to 70 million ton by 2024. Western Europe is also foreseen to follow the similar trend to fall down to 80 million tons by the end of 2024, from 88.2 million tons in 2016. Considering the aforementioned issues that may hamper the regional market growth, North America and Europe sodium hydrosulfite market is slated to witness 2% and 1.5% CAGR respectively over 2017-2024.
Forecast to be the most profitable region for the market investors, APAC accounted for almost 45% of the overall sodium hydrosulfite market share in 2016. The expanding paper & pulp and textile industries in this region is the prime factor that is driving the regional market outlook. This is quite evident from the impending demand for paper products in the regional packaging market, which has experienced a significant impetus post e-commerce entry in the retail space. In fact, as per estimates, the demand for paper products in the APAC countries is forecast to exceed 350 million tons in terms of volume by 2024, subsequently upscaling sodium hydrosulfite industry share as well. China, Pakistan, Bangladesh, and Vietnam are some of the prominent nations which are expected to contribute significantly toward the regional market share in the coming years. Other factors that are catapulting the business growth are the cost-effective workforce, availability of raw materials, and favorable government support. Global Market Insights, Inc., predicts APAC to be at the forefront of the global sodium hydrosulfite industry landscape by 2024, with a market coverage of almost 70% of the total volume.
Prominent industry players include AZ Chemicals, Guangdong ZhongCheng Chemicals, BASF SE, and Jinhe Group.
Author Name : Satarupa De