Zinc
The global metal foam market size is poised to increase commendably over the coming years owing to increasing investments in infrastructural development along with uses across applications like automotive, aerospace, healthcare, energy, and more. These materials provide superior benefits as opposed to other materials, thereby offering promising growth prospects to key manufacturers operating in this industry. The extensive use of metal foam in building structures and wall coverings due to its fire-resistant properties and superior thermal insulation will boost its demand in construction and infrastructural applications.
U.S. Metal Foam Market Size, By End-Use Sector, 2014 – 2025 (USD Million)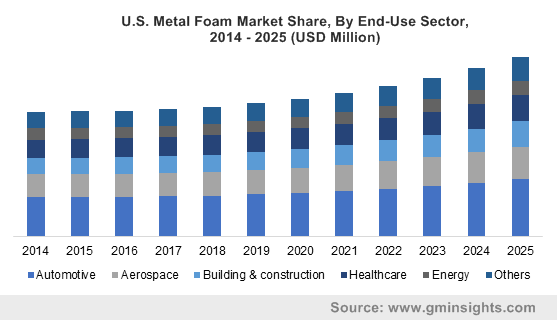 Development in construction activities, particularly in emerging markets, is a major driver for increasing metal foam industry share across the world. Increase in per capita income and enhanced living standards across developing economies will proliferate the demand for commercial and residential structures across developing nations. According to the Ministry of Statistics and Programme Implementation (MoSPI), India's per-capita income is anticipated to have surged by 10% to INR10,534 a month during financial year ended March 2019. Growth in personal income will result in a higher demand for housing, thereby augmenting the metal foam industry size in the forecast years.
As emerging economies continue to grow, infrastructure development has emerged as a pivotal factor for the expansion of transportation, production, and communication industry. India's budget for 2019 intends to amplify the country's connectivity infrastructure by creating a network of highway grids. Moreover, the nation has also planned to invest INR50 lakh crore for developing its railway infrastructure. Infrastructural development across emerging economies will favor metal foam market outlook.
Get a Sample Copy of this Report:@ https://www.gminsights.com/request-sample/detail/3723
The metallic foams are used in the automotive sector to increase sound damping, boost energy absorption, and reduce overall vehicle weight. Hence, burgeoning automotive production will also lead to an increase in demand for metal foam products. Data by the Federal Reserve claims that industrial production surged by 0.4% in May 2019 due to an increase in passenger cars and pickup trucks production. Such developments in the automotive industry also signify a positive sign for global metal foam industry.
Increasing adoption of electric vehicles is anticipated to be a lucrative opportunity for metal foam manufacturers across the world. In order to enhance vehicle performance, lightweight auto parts are crucial in electric vehicles. SmartBatt project by the European Commission is aiming to create battery packs by using a core of aluminum hybrid foam. Successful implementation of such innovations could further spur metal foam demand in the automotive sector.
Moreover, technological advancements in metal foam products will also aid industry growth over the ensuing years. For instance, Saarland University scientists recently developed a range of lightweight and strong metallic foams capable of impact protection and shock wave absorption. These metal foams can be customized for a wide range of applications, which makes them a prominent contributor for global metal foam market share in the near future.
In terms of geographical trends, Asia Pacific is likely to observe considerable growth owing to increase in automotive construction activities across China and South Korea. Moreover, Asia Pacific is also witnessing a massive need for housing and infrastructural projects, which will further proliferate product demand in the region's construction sector.
Europe is also likely to emerge as a strong regional contender owing to development in its automotive industry. Due to increasing concerns surrounding vehicular emissions,  adoption of electric cars is picking pace, which is bound to create huge impetus for the region's EV industry, thereby augmenting Europe metal foam market outlook over the coming years.
Other end-user applications for the metal foam market include healthcare and aviation sector. For example, NASA is exploring the possibilities of noise reduction in aircraft using metallic foams. On account of such possibilities, metal foams are poised to witness steady growth in the subsequent years. According to a research report by Global Market Insights, Inc., metal foam market is estimated to be worth more than $100 million by 2025.
Author Name : Krithika Krishnan
This entry was posted in Polymers and Advanced Materials and tagged Aluminum, APAC Metal Foam Market, Copper, Europe Metal Foam Market, Metal Foam Industry, Metal Foam industry analysis, Metal Foam Market, Metal Foam Market 2019, Metal Foam Market 2025, Metal Foam Market forecast, Metal Foam Market growth, Metal Foam Market pdf, Metal Foam Market report, Metal Foam Market research, Metal Foam Market share, Metal Foam Market size, Metal Foam Market statistics, Metal Foam Market trends, North America Metal Foam Market, Titanium, U.S. Metal Foam Market, Zinc.
The rising momentum of the automotive and construction sectors has been pivotal to the growth of the
metallic pigments market
that has registered increased demand lately due to the rising interest in enhanced aesthetics. Metallic pigments are becoming popular due to the enhanced visual effect that they offer in plastics, paints, coatings and inks. With a substantially improving macro-economic environment in Europe and North America as well as greater purchasing power of consumers in Asia-Pacific, metallic pigments market outlook has been witnessing increasing demand across the globe.
U.S. Metallic Pigments Market Size, By Product, 2017 & 2024, (Kilo Tons)

It is rather overt that metallic pigments industry is certain to accrue mass traction from the automotive sector. As per estimates, global passenger car sales amounted to approximately more than 78 million vehicles in 2017. In terms of production and sales, China and the United Sates are touted to be the leaders in the global automotive market as is evident from the estimate that U.S. customers purchased around 6.9 million passenger cars in 2016 and produced approximately 4 million cars the same year. With major regional automotive markets such as the U.S. and China expanding by the day, the demand for metallic pigments to be used in automobile production and finish is only expected to soar. Furthermore, with established auto manufacturers quickly increasing investments in luxury and customized cars, metallic pigments industry is predicted to procure hefty proceeds from the automotive sector.
It is to prudent to note however, that metallic pigments are relatively high maintenance but have better resale value while being less susceptible to small damages that can cause more value depreciation. On these grounds, metallic pigments market size has been projected to gain quite some traction through increased automotive sales.
Get a Sample Copy of this Report:@ https://www.gminsights.com/request-sample/detail/2808
The automotive industry has often been a trend setter when it has come to colors and finishes. Rising number of surveys indicate that consumer demand for gold, silver and bronze finish is now on a rise. A marked rise in demand has been noted for silver pigments which is increasingly being used as a coating color for teletronics such as TV sets, stereos, computers and laptops. According to a global color popularity survey conducted by DuPont, silver was found to be the most popular color for vehicles in North America, Europe and Asia. Whether silver is just a trend or has become a part of the basic color palette is still a debated question but from the demand of silver metallic pigments experts have opined that silver has obtained itself the position of being the conservative color of the millennium.
Many paint companies are capitalizing on rising consumer interest and have been adding metallic finishes in their collections. For instance, the UK based company ICI offers a Dulux Discovery range which comprises shades such as eastern gold, copper pot and brushed steel. According to a report published by the company the metallics have exceeded Dulux's predictions by almost 200%, clearly indicating the future growth prospects for the metallic pigments industry.
With the phenomenal growth of the metallic pigments market, pigment suppliers have been shaping new technologies to suit the industry needs for coatings and paint formulators. Such products, which can create mirror and chrome like finishes are rapidly gaining momentum in the industry. Parameters like increased competition and demand for enhanced performance are also urging metallic pigments market players to increase investment in research and development programs.
Prominent pigment manufacturers are striving to bring about innovation in their product range by committing towards value addition in the basic metallic pigment properties instead of producing just a one-dimensional metallic pigment. Aided by the efforts of eminent product developers and the expansion across end-use sectors such as automotive and construction, metallic pigments market is predicted to register commendable growth over 2018-2024.
Author Name : Paroma Bhattacharya
This entry was posted in Bulk & Specialty Chemicals and tagged Aluminum, Copper, Cosmetics, Global Metallic Pigments Market, Metallic Pigment Market, Metallic Pigments Market, Metallic Pigments Market Forecast, Metallic Pigments Market Report, Metallic Pigments Market Size, Nickel, Paints & Coatings, Plastics, Printing Inks, Stainless Steel, Textile, Zinc.