Zonal Isolation Market – Global Zonal Isolation Industry Size
The graph of Zonal Isolation Market is expected to display a high surge over the next few years, pushed by growing number of drilling operations carried out across the offshore and onshore destinations. Technological innovations have helped the industry players explore new oil & gas wells and this has significantly contributed towards the industry growth. Increase in number of shale gas exploration along with heavy crude oil demand due to high energy requirements, will propel zonal isolation industry growth in the near future. As per Global Market Insights, Inc., "Zonal Isolation market size is forecast to touch USD 31.18 billion by 2024."
Moreover, rise in the number of drilling rigs across the globe is projected to increase the demand for exploration and production of oil & gas wells, thereby driving the industry trends over the coming timeframe. For instance, world drilling rig count improved by 74 units in July 2016 in comparison to June 2016. In fact, the U.S. rig count had numbered to 449 rigs from 32 rigs while Canada contributed nearly 31 units to 94 rigs. Developed countries like the U.S. and Canada are investing heavily in oil & gas exploration projects which is expected to drive the zonal isolation industry growth over the next few years.
U.S. Zonal Isolation Market Size, By Application, 2013-2024 (USD Million)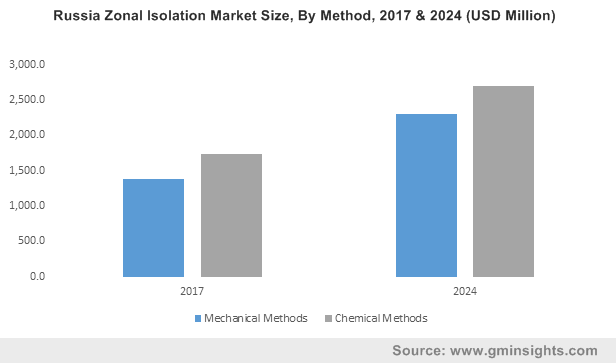 Offshore sector is a major application area, projected to offer high growth opportunities for zonal isolation industry over the coming seven years. As per the research, offshore application is expected to grow at a CAGR of 7% over the coming timeframe, driven by huge investments in the exploration and production activities carried out offshore. Moreover, zonal isolation market share in onshore sector, will experience a high growth, due to the enormous rise in onshore drilling activities.
Get a Sample Copy of this Report:@ https://www.gminsights.com/request-sample/detail/766
Below are the regional trends influencing zonal isolation industry over 2016-2024
Rise in number of shale gas exploration activities along with high requirements for oil & gas is expected to spur Europe zonal isolation market growth over the coming years. UK and Norway are expected to be the major regional revenue contributors.
Middle East & Africa zonal isolation market is projected to witness significant gains of 6.53% over 2016-2024, driven by rise in regional drilling rig count. Iran and Saudi Arabia are projected to be the major regional revenue pockets.
North America zonal isolation industry will attain maximum growth over the coming seven years, driven by rise in the number of drilling offshore activities along with the discovery of unexplored oil & gas basins/reserves. U.S. is expected to contribute substantially towards the regional share.
Zonal isolation industry will obtain optimum growth across the nations such as China, Canada, UAE, Mexico, Russia, and Brazil, driven by the increase in oil & gas exploration and production activities.
Market players will try to enhance their ROI through technological innovations, R&D investments, and strategic alliances. Key industry players include TAM International, Expro International Group Holdings Limited, Schlumberger Limited, Tendeka, FMC Technologies, Baker Hughes, Weatherford International, Halliburton Company, Superior Energy Services, C&J Energy Services Incorporation, and Oilsery.
Author Name : Dhananjay Punekar