Owing to a broad application scope and rising commercial significance, the global polyethylene naphthalate (PEN) market has gathered remarkable momentum across numerous industrial verticals. A wide range of characteristics offered by the resin have elevated its preference over other conventional polymer alternatives for crucial applications in the packaging, electronics and automotive segments. Continuous increase in the consumption of food and beverage products has gradually augmented the growth of the polyethylene naphthalate market, as the resin is suitable for use in bottling and packaging materials due to superior barrier properties. With the realization among manufacturers and consumers regarding the need for reusable bottles, high performance films and other materials to offer superior quality products, the PEN industry could experience considerable development over the coming years.
U.S. Polyethylene Naphthalate Market Size, By Application, 2017 & 2024, (Kilo Tons)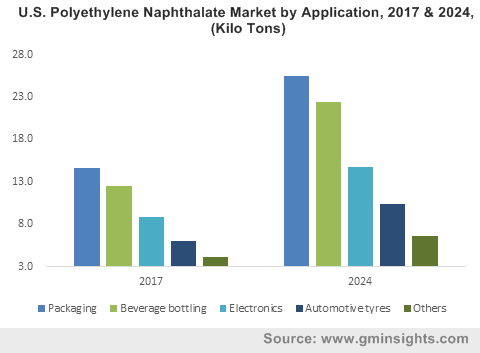 Advantages of PEN over PET to drive the polyethylene naphthalate market growth
Polyethylene terephthalate (PET) has been used to produce various components and bottled products for a long time, but PEN has been found to exhibit better performance when deployed for similar applications. Experts have confirmed that PEN has lower oxygen permeability, better tensile strength, enhanced hydrolytic stability, as well as reduced shrinkage and elongation than PET. Subsequently, increased use of PEN in food-contact materials can be expected to ensure the safety and duration of food and beverage products, propelling the PEN industry revenues. Further, with regards to uses in electronics and flexible printed circuits (FPCs), PEN films are better than PET in terms of mechanical properties, chemical resistance and glass transition temperature. The consistent technological developments will sustain the production of innumerable electronics products, indicating a lucrative growth avenue for the PEN market, as FPC makers move away from PET.
Expansion opportunities in North America for the polyethylene naphthalate market
The food and beverage consumption habits in North America have seemed to be the same for decades, but still considered to be changing to keep pace with a shift in lifestyle and work culture. Expounding on the statement, countries like U.S. and Canada have been major consumers of packaged food and drinks, although the type and quantity of products being consumed have changed over a period of time. The region has always witnessed an upward trend in this regard and in 2017, the total value of packaged food products in the U.S. had reached over USD 375 billion. As the consumption of processed food will rise year on year, the North America PEN market will certainly gain significant proceeds in the near future.
Get a Sample Copy of this Report @ https://www.gminsights.com/request-sample/detail/3068
Speaking further, there are several major brewing and juice companies present in the North America beverage industry, along with hundreds of small players. For years now experts have advocated the increased usage of plastic bottles to hold beer instead of glass, while fruit juices have long been available in PET bottles. However, better performance and enhanced safety provided by PEN bottles will help them replace their PET counterparts on the shelves of supermarkets and in restaurants across Canada, Mexico and U.S. It was reported that almost 83% of all beer in the U.S. was produced domestically in 2017, demonstrating the immense potential for the PET industry from bottling applications. Statistics also show that in Canada, around 22.7 million hectoliters of beer is consumed annually, representing the tremendous demand for beverages in the region.
Interestingly, the PEN market is also being supported by food and safety regulators for the material's proven benefits in food and beverage applications. According to U.S. FDA's policies regarding the use of recycled plastic in food packaging, evaluation of tertiary recycling processes have been marked as unnecessary to determine that post-consumer produced PEN is suitable for food-contact applications. The agency has seemingly deemed PEN as having suitable purity for food packaging, giving additional impetus to the regional PEN industry.
All in all, the increased consumption of packaged food and beverage products in North America, along with the growing demand for PEN films and materials will enormously boost the regional PEN market expansion. The adoption of the resin by FPC manufacturers for supplementing the augmented production of portable electronic devices will in turn stimulate the development of products having improved stability and performance.
Author Name : Pankaj Singh