Electronics and Media
In the recent times, the global data center power market space has been witnessing an unprecedented pace of growth courtesy- the surge in the number of data centers all over the world. The amount of data that is being generated and estimated to be generated in the immediate future can be rightly termed as gargantuan. This has, in turn, assisted the prominent data center operators to expand their services and augment their remuneration portfolio in a drastic way. While it is quite undeniable that the leading end-user of data center power industry has been the private sector, however, given the rising significance of e-governance across the globe, a plethora of government agencies have been compelled to get on the bandwagon of rapid digitization. Apparently, various government bodies, it has been observed, have been making extensive efforts to consolidate their respective data centers network, a trend which would eventually quicken the pace of data center power market size expansion over the estimated timeframe.
Europe data center power market, by solution, 2016 & 2024 (USD Million)

While elaborating further upon the growth prospects of the data center power industry, it would be prudent to cite an exceptional instance that would reinforce the efficacy of the aforementioned declarations. As has been reported, Eaton Corporation, one of the foremost data center power market giant has been recently awarded a USD 10.7 million contract to enhance and upgrade the existing data center of Defense Information Systems Agency (DISA) in Ohio, U.S. The Ireland headquartered firm would deploy its expertise to expand the dual power network of the data center in a bid to fortify the center's crucial uninterruptible power supply(UPS) systems, something which would augment the efforts of DISA to increase its mission loads and cater seamlessly to its consumers. For the record, DISA is a United States Department of Defense combat support bureau which is responsible to provide communications and information technology support to national leaders such as President, Secretary of Defense, and other major leaders of the country. Needless to say, the latest contract is being dubbed by U.S. data center power industry giants as significant, given the fact that the federal government has been vigorously pursuing its targets prescribed in Data Center Optimization Initiative (DCOI), a data center consolidation programme mandated under the Federal IT Acquisition Reform Act (FITARA). As the industry players anticipate contributing toward the nation's quest to cement its position in the global data centers infrastructure, it goes without saying that the U.S. data center power market size is set to expand at an exponential rate over the ensuing years.
Get a Sample Copy of this Report:@  https://www.gminsights.com/request-sample/detail/1759
The burgeoning demand for cloud storage has led to a surge in the number of data centers across the globe, which has consequentially led to data center power market witness a significant boost. As per some reliable estimates, the U.S. alone has over 3 million installed data centers, with close to 10 percent of the total electricity of the nation being utilized by these data centers. Concurrently, to put the current scenario into perspective, as per some authentic sources, the data centers apportioned a staggering five percent of the overall electricity generated all around the globe. Apparently, the aforementioned statistics further affirm the need to increase efficiency and reduce the power losses as an increasing number of data center operators have been facing enormous challenges on those fronts. Leading data center power industry giants appear keen on developing innovative solutions that would not only enhance the overall efficiency of data centers but would lower the operating costs as well, thereby propelling the growth prospects of data center power market over the forthcoming years.
With the tech cosmos depicting massive growth potential in the years ahead, it is anticipated that data center power industry trends would undergo remarkable alterations, which would favorably influence the revenue graph of this business space. According to a comprehensive report collated by Global Market Insights, Inc., data center power market size is forecast to surpass a valuation of USD 27 billion by 2024.
Author Name : Saif Ali Bepari
Streaming devices market is set to display phenomenal progress in the ensuing years, on the grounds that an increasing number of consumers are moving away from traditional TV and inclining toward over-the-top (OTT) pay-per-use services such as Netflix, Amazon Prime and Hulu, that have vast, easily-accessible video libraries eliminating the requirement of video download and data storage. The media and entertainment industry, in recent times, has witnessed this major shift in preference, given the convenience that these devices provide and the changing inclination of the current internet-savvy generation of consumers. In consequence, streaming devices like Roku, Google Chromecast. Amazon Fire TV and Apple TV are becoming wildly popular, providing a major boost to the streaming devices industry.
Japan streaming devices market size, by resolution type, 2016 & 2024 (Thousand Units)

It would be prudent to mention that streaming devices market is driven not only by the type and quality of content that different devices offer but also the price of the streaming device itself. Streaming devices that are priced between USD 30 TO USD 100 are predicted to be the chief drivers for the streaming devices industry in the forecast period. A major example of this phenomena is the Roku streaming device. Roku has been increasingly capturing a major chunk of U.S. streaming devices market share despite the lack of its own TV platform. Instead, Roku has been successful in striking third party deals and has been able to lead the streaming devices market with a consumer base that is larger than Google Chromecast and Apple TV. Apple has a connected TV device that is more technologically advanced than Roku, however, it has been observed that consumers looking forward to buying a basic streaming device will opt for Roku instead of Apple. Also, people in emerging economies such as India and China prefer low priced devices over high-priced ones – another factor that validates why USD 30 – 100 based streaming devices market has been doing better in terms of revenue generation.
Get a Sample Copy of this Report:@  https://www.gminsights.com/request-sample/detail/2272
As far as quality of content is concerned, it is quite overt that viewers demand high quality content from streaming devices, owing to which 4K compliant devices that provide better image clarity and sharpness will witness higher demand in the forecast period. Prices of 4K compatible devices have also been substantially reduced in the past few years. As more consumers are deemed eligible to afford 4K technology systems, 4K compliant devices will contribute significantly toward the growth of the streaming devices industry. However, 1080p, full HD systems also provide impressive picture clarity, and being less expensive than the 4K versions, are able to capture a wider section of the streaming devices market at present. For instance, though Apple has launched a technologically modified device that supports 4K and HDR videos, Roku is still making more sales from its basic streaming device.
The buzzing trend of customers shifting base from cable TV to digital platforms and increased access to fast broadband has been fueling streaming devices industry. The rising prominence of this vertical can be undeniably attributed to the rising popularity of OTT streaming systems like Netflix, Hulu, Amazon Prime, etc., across numerous economies. China and India, for instance, owing to the economic boom and the rise of the educated middle class with greater disposable incomes, willing to spend on OTT streaming systems, will undeniably propel Asia Pacific streaming devices industry. As per estimates, APAC streaming devices market size is projected to witness a 25% CAGR over 2017-2024.
Just as the advancement of the streaming devices market has threatened traditional cable TV, ironically, the advent of smart TV has also threatened the streaming devices industry. However, the higher content access coupled with the low cost of the devices will contribute toward stimulating streaming devices market. Having recorded a shipment valuation of 60 million units, streaming devices industry is expected to continue depicting a positive growth path over 2017-2024.
Author Name : Paroma Bhattacharya
The rising demand for automation has set the pace for the growth of humanoid robot market in recent times. Pertaining to the extensive requirement of computerized machines for a variety of end-use sectors, humanoid robots are being developed on a large scale to perform tasks that may perhaps be nearly impossible for humans to perform even under ordinary circumstances. Manufacturing companies have been deploying robotic arms for decades, however, in recent times, tech advancements have enabled preprogrammed robots to depict more than mere hand movements, giving rise to the widespread evolution of humanoid robot industry. Humanoid robots not only resemble the human body in structure and appearance, but they are also designed to carry out human tasks with futuristic precision combined with human intelligence, which has indeed been the driving force for humanoid robot market growth.
China Humanoid Robot Market Size, By Product, 2016 & 2024 (USD Million)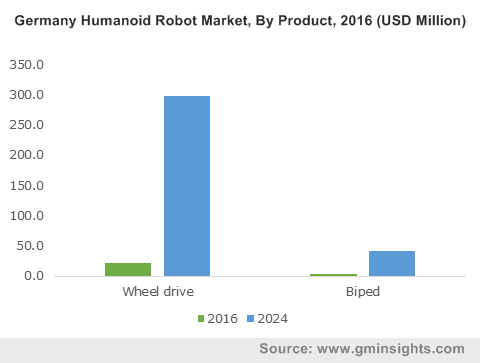 It is imperative to mention that robotic process automation has been around for decades, but these robots mainly dominated the factory floor and did not remotely resemble the intricacies of human maneuver, that has now been fulfilled with the introduction of humanoid robots. Renowned tech firms, it is observed, have also been working in the direction of efficient bot manufacturing for numerous tasks, which would eventually drive humanoid robot industry trends. A renowned start-up, Moley Robotics for instance, has created an automated robot chef that has just two arms but can cook any recipe to perfection. The cooking automaton can apparently learn and cook a recipe to the letter and even follow instructions given by chefs. Leading companies such as Samsung and Foxconn have also been replacing employees with robots for improved performance, which would undeniably have an impact on humanoid robot market size.
An outline of the latest contributions made by leading behemoths in humanoid robot market:
One of the most prominent players of humanoid robot market, Boston Dynamics, has come up with a humanoid biped robot Atlas that can walk and run like a human and can also rescue humans from disaster zones without requiring any additional rescue tools.
NASA has also developed a biped robot, Valkyrie, with a softer exterior. Valkyrie had been developed with an intention to be deployed for future NASA missions as a pre-cursor bot, undertaking essential tasks related to the mission before humans arrive. Unlike wheeled robots, these bipeds can handle stairs as well.
It is prudent to mention that wheel drive humanoid robot market has been on quite a roll in recent times. These bots are primarily used by online food delivery companies. A fleet of 10 wheeled robots manufactured by Starship Technologies, equipped with radar, cameras, sensors and GPS, have been deployed for food delivery around London. The fleet has already made 1000 deliveries around the capital city. The bots are so designed that if anyone would attempt a robbery from the machines, an alert is sent to the control center with a photograph of the thief. This exemplifies the extent of tech advancements in bot technology, which is certain to augment humanoid robot market share.
Get a Sample Copy of this Report:@ https://www.gminsights.com/request-sample/detail/2200
Humanoid robots, apart from the manufacturing sector, find crucial applications across the medical and military & defense sectors. The bots are being used to test weapons and weaponized drones are also being deployed in active war zones. They are also used to deactivate a bomb or search for hazardous objects in suspicious baggage in airports without potentially risking human lives, which would certainly impel humanoid robot industry size from military applications. According to a reliable estimate, 25% of the U.S. combat soldiers will be replaced by robots by the year 2030 to save human lives in combat and the ongoing war against terrorism. Besides, these robots are also being adopted by the Ministry of External Affairs as the government is deploying more robots for surveillance of busy areas.
Healthcare has emerged as a key arena for the expansion of humanoid robot market, as the field seen a surge of use in these machines in the form of surgical robots. Ultra-precise robot surgeons are being used for complicated surgeries like knee replacements or simple surgeries like removal of uterine fibroids with minimal blood loss and quick recovery time. Da Vinci for instance, is one of the many humanoid robot industry firms developing surgical robots that have already conducted more than two million procedures worldwide. Surgical robots however, are not here to replace human surgeons, as critical operations require the presence of a skilled medical expert. However, they would function as assistive robots, and considering the expansion in the field of healthcare, it is certain that humanoid robot market share from healthcare would soar great heights in the years ahead.
Asia Pacific is forecast to be one of the leading avenues for the growth of humanoid robot industry. Many Chinese manufacturing companies are replacing humans with robots for processes involving repetitive movements. Multilingual androids, for example, are being used to greet customers in the Bank of Tokyo-Mitsubishi, while at the Hen-na hotel in Nagasaki, robots are used to check in guests. A humanoid robot called Ri-Man has been developed in Japan to help the elderly as well – Ri-Man apparently can lift the disabled people out of wheelchairs and into beds and help in household work. China and Japan thus, have emerged as the leaders when it comes to deploying humanoids to help the elderly population, thus stimulating APAC humanoid robot market outlook.
As per estimates, humanoid robot industry size is expected to surpass USD 5 billion by 2024. The business space however, is posed with a challenge to turn research notions into a physical product that can be mass produced for profit. It is forecast that businesses in the future would increasingly be deploying humanoid technology to enhance customer experience and increase productivity, which would impel humanoid robot market trends. The entry of new industry players and the prevalence of numerous R&D activities would also boost humanoid robot market. It may cost much less to install a $35000 robotic arm to bag French fries at McDonald's than to pay an inefficient employee $15 an hour to do the same job, however, to have a personalized humanoid assistant at home is still a matter of (not too distant) fiction. Efforts are being undertaken to reduce the high cost of production and limited mobility so that these robots can be conveniently adopted by major end-use verticals, which would augment the revenue graph of humanoid robot market in the years to come.
Author Name : Paroma Bhattacharya
With a plethora of tech innovations to boast of, data center UPS market has been traversing along a profitable growth path in recent years. The competitive spectrum of data center UPS industry is inclusive of some of the most renowned names, such as Schneider Electric, Mitsubishi Electric, ABB Ltd., Fuji Electric, Eaton Corporation, Delta Electronics Inc, General Electric, Ametek Inc., Vertiv and Toshiba Corporation among others. Most companies among these have been attempting to bring about a change of dynamics in data center UPS market, by means of novel product launches depending on consumer demand. For instance, Vertiv has recently launched Liebert EXS, a UPS with the lowest footprint in its class. The product apparently is a monolithic, transformer-less UPS in a small form-factor that houses up to four battery strings. According to Vertiv, the device can reduce the space required for power backup by up to 50%, when compared to products from its competitors. Undeniably, the product is expected to stir up a storm in data center UPS market, which as per analysts, amassed a revenue of USD 3 billion in 2016.
U.S. data center UPS market, by product, 2016 & 2024 ($Mn)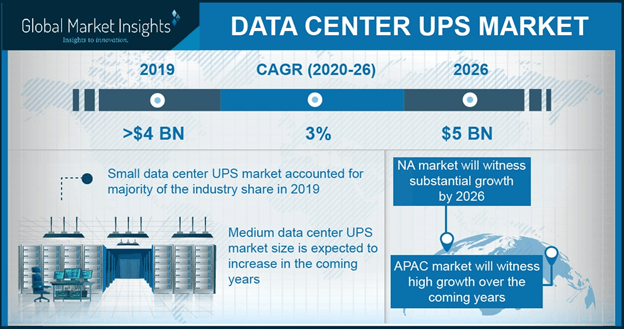 The deployment of data centers has been growing with the robust expansion of the tech space and the subsequent rise in data usage. The exponential adoption of technologies such as cloud computing, Internet of Things (IoT) and machine learning as well as the upsurge in the usage of online services such as Amazon Prime and Netflix has generated the demand for continual speed, reliability and security. In consequence, this has led to data center UPS market witnessing a significant boost. In fact, as per statistics, data center UPS industry size is estimated to grow at a CAGR of more than 3% over 2017-2024.
Get a Sample Copy of this Report:@ https://www.gminsights.com/request-sample/detail/116
While the deployment of data centers spans myriad sectors, the healthcare, BFSI and manufacturing domains are claimed to be the chief end-users of data center UPS industry. These industries, especially the banking sector it has been observed, has been particularly deploying the online UPS solution for increased performance. This goes to prove that one of the most crucial components of this business vertical, the online data center UPS, has gained mass precedence in recent years. A pivotal reason for the same is that these systems are unbelievably useful in critical business applications such as telecom and IT, which demand high voltage, frequency regulation, and power conditioning. Furthermore, this solution is highly preferable due to its advantage of converting the incoming power two times over, eliminating disturbances and providing clean and regulated voltage, which has had a massive impact on the commercialization scale of online data center UPS industry share.
North America, the hub for tech advancements, accounted for close to 30% of the overall data center UPS market share in 2016, driven by rapid expansion of the manufacturing, IT & telecom, entertainment, and healthcare sectors. Furthermore, data center UPS market companies have been striving to come up with innovations on the home ground so as to increase the momentum of the regional industry. For instance, Fuji Electric Corp Of America has recently come up with their latest UPS system – the UPS7300WX-T3U, which is apparently a transformer-less UPS that can withstand an explicit load and environmental condition of the data center. The system utilizes Fuji Electric's patented RB -IGBT Technology to deliver up to 97.5% efficiency, and is likely to heavily impact the product landscape of North America data center UPS industry.
Major companies across data center UPS market have been adopting tried-and-tested growth strategies based on the grounds of quality, technology, price, distribution, service and brand. As the tech cosmos depicts massive growth prospects in the years ahead, it is expected that data center UPS market trends would undergo a considerable change of sorts, which would substantially impact the revenue graph of this business vertical. As per Global Market Insights, Inc., data center UPS industry size is expected to cross a valuation of USD 4.5 billion by 2024.
Author Name : Paroma Bhattacharya
Owing to the broad expanse of application arenas, power electronics market, one of the most pivotal verticals of the electronics and media sphere has been estimated to garner substantial returns in the ensuing seven years. The extensive popularity of this business space can be attributed to its massive deployment across the automotive, industrial, consumer electronics, defense, aerospace, renewable energy systems, and ICT sectors. Furthermore, the competitive spectrum of power electronics market has been witnessing the unveiling of exceptional and innovative products equipped with emerging technologies, specifically developed for particular end-use disciplines. The upcoming market players have been vying with the existing leading firms to build a robust presence in the industry. For instance, Navitas Semiconductor Inc., an emerging power electronics industry player based in the U.S., has recently launched the world's first commercial Gallium Nitride (GaN) Power Integrated Circuit which enables highly energy-efficient and low-cost power converters. Such dynamic product innovations are set to significantly alter the growth landscape of power electronics industry in the forthcoming years.
U.S. power electronics market size, by product, 2016 & 2024 ($Mn)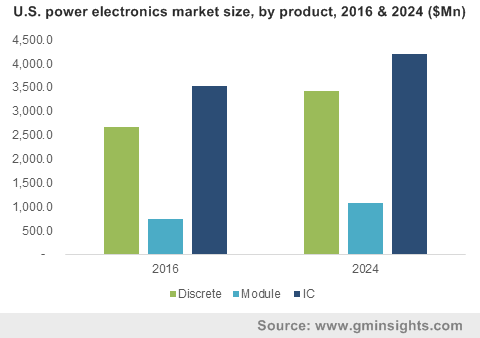 For the record, Gallium Nitride power ICs are considered as an emerging technology that has propelled the power electronics industry to enter a new era of imaginative topologies, new controllers, materials, devices, and magnetics. They have been increasingly replacing the conventional silicon devices who are comparatively slower and inefficient, consequentially, further stimulating the growth of power electronics market size which was pegged at USD 34 billion in 2016.
Concurrently, the ever-growing governmental thrust across various nations to adopt renewable power sources in residential and industrial sectors to reduce air pollution, lower particulate matter, slash CO2 emissions and suppress the fossil fuel depletion, has had a favorable impact on power electronics market growth. To cite an instance, the Indian government under its Jawaharlal Nehru National Solar Mission has resolved to attain an ambitious solar power capacity of 100 GW through rooftop and large-scale grid-connected solar power projects by 2022. Undoubtedly, these humongous projects would require AC/DC converters and switching systems to work seamlessly, which would, in turn, boost the expansion of power electronics market size.
Get a Sample Copy of this Report:@ https://www.gminsights.com/request-sample/detail/2143
Meanwhile, the escalating costs for setting up new production plants and the rising complexity of manufacturing procedures have restricted the advancement of upcoming players in the power electronics industry. Add to it, the power electronics industry is likely to face quite a few more challenges as the prominent market players have been plagued with space and security concerns which would impede the growth prospects of the industry in the immediate future.
It would be prudent to mention that the major industry players have been joining forces with other firms, universities, and research institutes to erect smart grids that would hopefully provide solutions to the aforementioned challenges. One of the foremost firm partaking in power electronics market, Enercon Canada Inc. for instance, has recently announced its collaboration with Hydro-Quebec research institute (IREQ) to interpret the impacts on grids of new electronic wind-turbine control systems. The partnership aims at blending ENERCON's mastery of energy converters with IREQ's extensive experience in simulating wide-scale wind power grid integration.
The Asia Pacific region is anticipated to be one of the most lucrative territory for power electronics market, given the wide-ranging deployment of the products across a multitude of business verticals. The economic boom in the region has resulted in increased disposable income in the middle-class households which has enabled them to purchase a greater amount of luxury electronic goods and systems. To add to it, the power losses and consistent current fluctuations, especially in manufacturing and industrial sectors of the region, have necessitated the deployment of power electronics systems such as UPS, inverters, and power regulators.
Given the wide-ranging adoption of emerging power electronics technologies on the global scale, it would be prudent to note that these systems shall acquire a prominent role in the growth of diverse industries such as heavy machinery, alternative energy, construction, oil and mining, and household equipment. According to a research report compiled by Global Market Insights, Inc., worldwide power electronics market size is slated to exceed USD 45 Billion by 2024.
Author Name : Saif Ali Bepari
The overwhelming expansion of the electronic security market across the globe has been unprecedented. The indispensability of deploying electronic security systems in commercial and residential areas has become increasingly pronounced in the recent past owing to the increased number of terror incidents, break-ins, property thefts, mishaps in public transportation setups, smuggling of contraband, growing social unrest, and industrial disasters among others. The electronic security market stands to reap substantial benefits in the upcoming times as the advancement in technology, expanding geographical reach, emergence of new business models, earnest government interventions, smart city phenomenon, and accelerated growth of real estate sector among other driving factors, will accentuate the market-specific consumption and will, in turn, steer the electronic security market to achieve greater heights of revenue growth.
China electronic security market size, by technology, 2016 & 2024 (USD Million)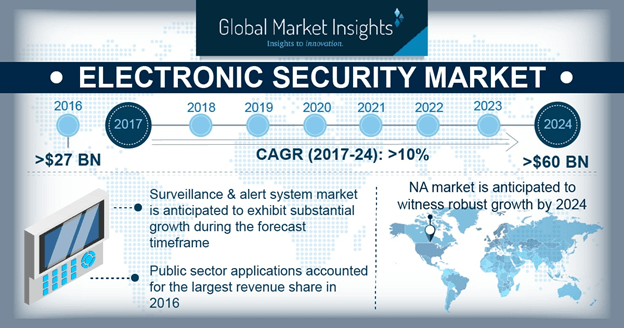 The increasing complexity and sophistication of security threats to public, private and governmental spaces have forced the electronic security providers to come up with innovative, viable and sustainable solutions. For instance, new electronic security industry players like Zicom are making a bold effort to become industry leaders by launching excellent products that minimize the input and maintenance costs of the security infrastructure deployed to secure financial assets of its customers. The growing governmental legislations across the world shall gradually make the safety and security solutions mandatory across all sectors. For instance, a few states in India have made it a compulsion for all the private establishments to install CCTV surveillance on their premises. These initiatives with regards to securing the infrastructure by both the private and competitive entities are overt to enhance the profitability quotient of electronic security industry. According to Global Market Insight Inc., the global electronic security market size was estimated to be approximately $27 billion in 2016.
According to a few trusted reports, the total cost of reported stolen property in the U.S. constituted to $12.42 billion in 2016. The two decades of 1995-2015 witnessed close to 2,500 incidents of theft of radioactive materials and trafficking, according to a report by The International Atomic Energy Agency (IAEA). The electronic security market has been gearing up to tackle the growing concerns of security and safety across all domains. The upcoming electronic security firms seem to be aware of the need to become proactive rather than being reactive to the perceived threats and probable incidents leading to loss of human life and weakening of financial assets. A prominent example that can be noted here is of e-surveillance technology. The cost of maintaining an ATM e-surveillance for a bank in India amounts to Rs. 40,000. Reportedly, the e-surveillance technology used by Zicom reduced the bank's safety and security cost by 90%.
Get a Sample Copy of this Report:@ https://www.gminsights.com/request-sample/detail/2132
The electronic security market portfolio includes access and control systems, intrusion and detection systems, surveillance and alert systems, anti-terrorist and inspection equipment, mass notifications systems and anti-theft systems. In addition to innovation, the latest trend of integrating advanced sensors, wearable devices, smart cards with existing systems and integration of hardware and software with the Internet of Things has demonstrated to assist the electronic security market to make strong headway in the near future.
The electronic security industry has been highly competitive with reputed firms such as IBM Corporation, Bosch Security Systems, Thales Group, Siemens AG, Lockheed Martin Corporation, Axis Communications, Auto Clear LLC, Hitachi Ltd, G4S PLC, OSI Systems, Inc., to name a few. The upcoming electronic security providers like Zicom and Gemalto, which collaborate with banks and governments across various regions of the world are forming a strong framework to disrupt the electronic security market in a positive way. The mergers and acquisitions, technological advancement, alliances and growing collaboration of private sector with the governmental agencies will fuel the sustained growth of the electronic security industry.
Speaking of the regional growth distribution of electronic security market, the North America electronic security market is set to expand at a commendable pace owing to its security infrastructure, awareness related to safety and the growing spending by the governments of U.S and Canada. The Asia Pacific region will continue to grow as the economic surge, uptick in industrialization and increasing awareness contribute to the soaring electronic security industry demand.
A detailed report published by Global Market Insights, Inc., estimates the growth of electronic security market at over 10% CAGR over the timeframe of 2017-2024.
Author Name : Saif Ali Bepari