Electronics and Media
The rapid transformation in consumer buying habits and surge in disposable income will drive personal care appliances market size in the forecast years. In recent times, rise in online shopping and social media trends have changed the way consumers discover and buy personal care products. Rise in the usage of the Internet and massive growth rate of smartphones have led to an increase in the number of distribution channels for manufacturers, which in turn, is augmenting personal care appliances industry outlook.
India personal care appliances market, by product, 2018 & 2025 (USD Million)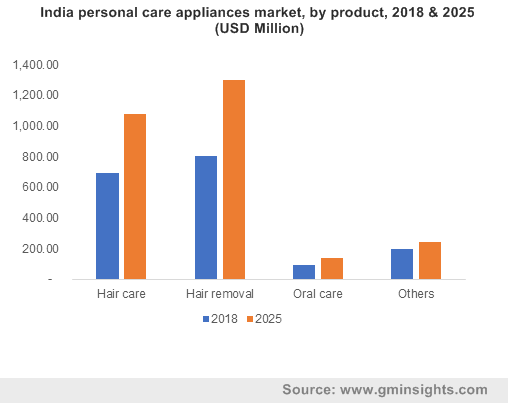 The major beauty brands nowadays are massively investing in high-tech overhauls – right from product development to innovative marketing and merchandising for providing great customer experience.  Leading manufacturers are leveraging the expertise of technologies such as augmented reality and the cloud which has led to the evolution of technology-backed cosmetics brands.
Get a Sample Copy of this Report:@ https://www.gminsights.com/request-sample/detail/4159
In recent years, personal care and pharmaceutical companies have also majorly focused on bringing forth pivotal tech-based innovations in male personal care products such as electronic trimmers, shavers, and many other electric male grooming products. In essence, manufacturers are targeting the male populace as a pivotal consumer base which has been helping personal care appliances market forge new growth avenues.
Customers are lately shifting their preferences toward personalized beauty products on a more frequent basis which will further stimulate personal care appliances industry size over the ensuing years. Players in personal care appliances market are making concerted efforts towards developing, upgrading, and refining their product portfolio in order to launch innovative styling products that are battery-powered and can be used in the portable or plugged in modes.
Recently in July 2019, Dyson, a British technology company that engages in the development of vacuum cleaners has now moved towards beauty products. The company has launched Dyson Supersonic Hair Dryer and Dyson Airwrap Styler and seeking to develop more innovative brands to capture modern day shoppers.
The global personal care appliances market thus, in the years to come, will be characterized by strategic collaborations, mergers and acquisitions that would improve the profitability of the companies and expand their customer base.
The advent of social media has had a major impact on personal care appliances market trends. Leading personal care appliance manufacturers are increasingly shifting to promoting their products on social media platforms like Facebook and Instagram, given their expansive consumer reach. Quite often, influencers are found collaborating with leading appliance makers in order to expand the product popularity across a wider consumer base.
In terms of geographical landscape, in 2018, Asia Pacific personal care electrical appliances market had registered around USD 7 billion and is registering substantial growth owing to the increasing popularity of efficient grooming and hair care products. Emerging economies like India, China are becoming the major revenue grounds for international cosmetic companies due to implementation of powerful technologies like AI and chatbots that not only transform the process of consumer engagement but also aid in analyzing the consumers' skin type and their preferences. These innovative developments will considerably contribute to augmenting personal care appliances market trends and are expected to favor regional growth.
The latest trend emerging in the personal care appliances industry is of imminent players keenly engaging in novel developments, customized products, and creating more options in beauty and grooming products. The technical advancements in hair care and hair removal products are providing long-term results to consumers, thereby, augmenting the demand for these appliances.
Some of the key players in personal care appliances industry include Panasonic Corporation, Procter & Gamble Company, Dyson, Koninklijke Philips N.V., Conair Corporation, Havells India Limited, and Spectrum Brands. Reports from Global Market Insights, Inc., state that personal care appliances market size would surpass USD 30 billion by 2025.
Author Name : Deeksha Pant
Fueled by rapid technological advancements in embedded systems and growing demand for compact, power-efficient products, system on module market outlook has effectively transformed in recent years. Essentially, the product is a fully featured single board computer comprising a single microprocessor, RAM, input-output controller and many other components, and is designed specifically for integration into embedded applications.
Germany system on module market size, by application, 2018 & 2025 (USD Million)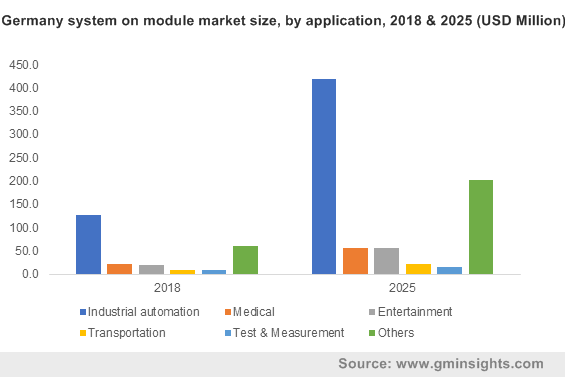 With multiple embedded wireless solutions like 802.11a/b/g/n/ac and Bluetooth, the product can offer cellular connectivity and mobility as well as offer device security for connected IoT applications. With such profound features, manufacturers are increasingly opting for system on modules (SoM) to significantly reduce development efforts and time to market (TTM) by eliminating the challenges associated with designing boards with complex microprocessor, further offering a more reliable and cost-effective embedded platform for building end-products.
Designed by British semiconductor giant ARM Holdings, ARM is one of the major processor architectures used for SoM modules. In an era of proliferating IoT and industrial automation sectors, the processor holds a significant market share and is projected to exhibit high growth rates in the coming years. It offers a wide range of features like low cost compared to other processors in the market, higher battery life, faster operational speed, and compatibility for numerous end-user application.
Get a Sample Copy of this Report:@ https://www.gminsights.com/request-sample/detail/3224
Moreover, rapid technological advancements and growing demands have led manufacturers to develop newer versions of SoM offerings. For instance, in 2018, chip designer Arm unveiled its new Cortex-A76 CPU, claiming it would deliver 35% better performance than its predecessor. Advances such as this will enable development of more power-efficient end-user products, supplementing SoM market size.
Portable medical devices are increasingly gaining traction by improving health care for millions of patients worldwide. With products like blood glucose monitors, heart rate monitors, pain-blocking implants, ingestible gastrointestinal (GI) tract monitors and several other devices, the technology has effectively enhanced patient's quality of living in recent years. Notably, these clinical aids are integrated with miniature SoMs that enable high-level integration of analog components, offering more enhanced capability in smaller spaces.
By using portable medical equipment, patients with chronic diseases can easily and quickly monitor their own vitals and look for abnormalities that can eventually help them call for medical services as well as further help doctors better diagnose their condition and take necessary steps.
In addition to such profound benefits, device manufacturers are also developing more compact, battery-powered products like smart patches, health monitors, and even inhalers that use machine learning technology to effectively allow clinical diagnosis, delivery or monitoring conditions remotely. For instance, Respiro smart inhaler, an Arm-based clinical device, can effectively track and record parameters like inhalation technique & frequency, inhalation flow rate, volume, flow acceleration and inspiration time, allowing doctors to gain a deeper understanding of patient's varied conditions.
Considering the SoMs play a vital role in making these devices functional, a trend of proliferation of such devices will lead to increased system on module industry revenue.
The Europe system on module market trends are garnering traction due to soaring demand for powerful & efficient embedded systems in industrial automation. According to the International Federation of Robotics (IFR) reports, Germany is one of the most automated countries in Europe and ranks third worldwide with 309 units. Further, in 2016, the country's operational stock and annual supply of industrial robots had a share of 41% and 36% respectively. Moreover, between 2018 and 2020, the annual supply in Germany is anticipated to grow by at least 5% on average per year due to the increasing demand for robots in the region's general industry and in its thriving automotive sector.
Escalating demand for automated technologies in operations like assembly, manufacturing, logistics and supply chain support has led to the widespread integration of embedded computing solutions. Additionally, the rising demand for energy-efficient, smart electronic products for automation applications has led to rapid consumption of embedded systems, in turn driving the SoM market trends.
Author Name : Mateen Dalal
The global PoE solutions market share is on the rise, a trend that is expected to continue over 2019-2025. PoE solutions industry outlook will be augmented by widespread adoption of VoIP solutions, IP cameras, smart office buildings, access control systems etc. PoE solutions are estimated to make huge strides in various sectors owing to the new wave of technology and digital advancements that are transforming security operations.
APAC Power over Ethernet (PoE) Solutions Market Share, By Region, 2018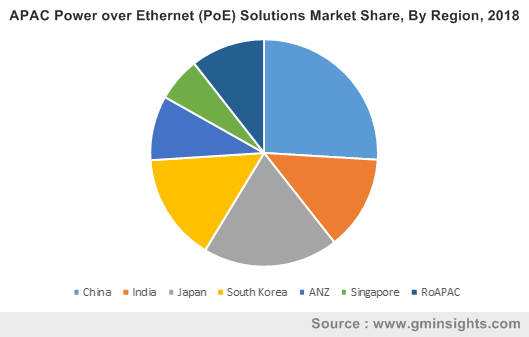 The healthcare ecosystem is increasingly coming to include smart technologies that will significantly contribute to Power over Ethernet solutions market growth in the forecast years. For instance, use of IP cameras in the hospitals and healthcare facilities is anticipated to become ubiquitous in the times to come. Hospitals have started deploying IP cameras to monitor when a patient sits up in bed, gets out of bed, or is tossing and turning in a restless effort to get to sleep. These cameras have enhanced patient care to a greater extent. Use of IP cameras has been growing in hospitals to observe high risk patients efficiently. Adoption of IP cameras will in turn augment PoE solutions market outlook in the coming years.
Another utilitarian device which will supplement growth of PoE solutions industry is increasing use of VoIP phones. By deploying VoIP phones, enterprises have been incessantly improving communication and collaborations among employees and remote users to increase business productivity. Leveraging the benefits of converged voice and data services, companies have enhanced their performance and communication. The convergence of unified communication services and enterprise VoIP to enable video-conferencing, live-chat, and other calling capabilities is expected to fuel VoIP market size and invariably expand PoE solutions industry trends.
Get a Sample Copy of this Report:@ https://www.gminsights.com/request-sample/detail/3346
Several technology companies have been toiling to develop PoE solutions and devices to support innovation. For instance, IP-COM has reportedly rolled out the G3210P, an 8-Port gigabit PoE switch with 2-Port SFP. The G3210P has been designed independently to satisfy the need of building a high-performance Gigabit Ethernet network. It can source electricity to high-power PDs and also can transmit data and supply electricity at the same time to IP Phone or IP Camera, AP via Cat.5e twisted-pair cables. Companies launching such devices in the market will remarkably contribute to foster PoE industry share by 2025.
Proliferation of Internet of Things (IoT) is among major drivers that will lead to PoE solutions market size expansion in the coming years. Adoption of IoT among enterprises has increased rapidly to support advancements in business infrastructure. Around 85 percent of organizations who acquire deep expertise with IoT have succeeded in propelling revenue share faster than rivals.
Nearly 68% of enterprises are using IoT to track security of physical assets, making this use case the most common across enterprises today. Approximately, 34% of global businesses are using IoT in daily operations, up from 29% in 2018, with 95% of IoT adopters already recording appreciable benefits. Rapid deployment of IoT among organizations is going to considerably increase PoE solutions market share as PoE has the potential to power the network ecosystem of the future that will enable global digital transformation.
Businesses have also increased focus on infrastructure security to protect sensitive data. Office spaces these days are being equipped with various security systems that require considerable investments. For instance, Euromicron AG has reportedly secured the contract for a major building technology project worth €3.6 million. The building will be completely equipped with access control. Transponder readers will be installed at all entrances and doors on floors, at the entrances to stairways, in the underground car park and basement, and at the doors to the IT technical rooms. PoE solutions industry outlook will be positively influenced by the rising deployment of security and access control systems throughout technologically advanced office spaces.
Smart lighting is yet another feature that is being widely integrated into the smart buildings of tomorrow. Typically, lighting is responsible for 40 percent of a building's electricity use. To develop smart office spaces with minimal electricity use, smart lighting industry players have been striving to adopt various strategies.
For instance, in the year 2015, Philips and Cisco had announced a global strategic alliance to create new value in energy savings, building efficiency and employee productivity by promoting connected lighting system. Both the companies had intended to deliver a consistent PoE-powered LED lighting solution utilizing a highly secure IT network. Close to 80% in energy savings and decreased building maintenance expenses can be achieved by operating, integrating and regulating a Philips LED connected lighting system via a network with Cisco. Instances of such efforts are in plenty and are anticipated to propel Power over Ethernet solutions market share.
Significantly, commercial sector has contributed to a market share of nearly 30% to PoE solutions industry in 2018 and the trend of integrating smart solution will help to maintain similar growth patterns over 2019-2025.
With growing adoption of smart solutions in office and commercial space, PoE solutions will be much in demand for enabling these smart solutions. Global Market Insights, Inc., has estimated that global PoE solutions market share is anticipated to exceed $2 billion by 2025.
Author Name : Anchal Solanki
Network as a Service market (NaaS) outlook is slated to demonstrate considerable transformation over the forecast years due to the rising demand for latest cloud-based services and integration of new technologies into business networks. Reportedly, enterprises had estimated in 2018 that they would invest on an average $3.5 million on clouds apps, platforms, and services in the year, suggesting the massive need for network products. NaaS has evolved to a new level with the proliferation of communication technologies and innovative cloud applications, driving the expansion of network as a service industry trends.
Europe Network as a Service (NaaS) Market Share, By Region, 2018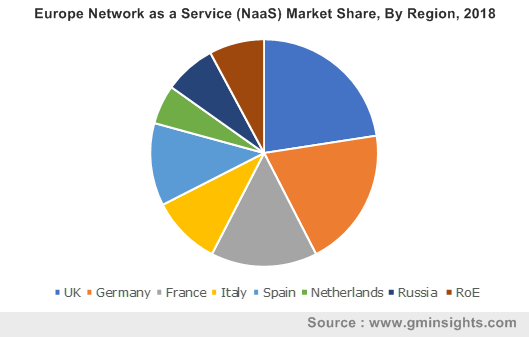 In order to keep pace with the competitive pressure of a rapidly changing network environment, service providers need to innovate promptly. Network services are not only providing business opportunity to IT & telecom segment but also encouraging customers to make the best possible use of the provider's primary services. With rapid advancements in NaaS network services, businesses can easily eliminate all the hassle of maintaining and managing the network themselves.
To keep growing their market share, tech and telecom giants are extensively adopting network services to simplify their architecture through virtualization and incorporating disparate software solutions onto common hardware. In this modern era, the telecom sector is accelerating global presence by addressing customer needs to better serve an ever increasing population base. Consistent growth and enhancement of telecommunication services over the coming years will propel network as a service market size.
Telus, a Canadian telecommunications company, had unveiled its partnership with Nuage Networks in 2017 to initiate Telus NaaS, a software defined wide area network platform. Apparently, several other telcos like Telia, Telefonica, China Telecom and BT had teamed with Nuage for advancing and automating their WAN connections. The prevalence of such collaborations will impact the future of NaaS globally and will propel NaaS industry size in the years to come.
Get a Sample Copy of this Report:@ https://www.gminsights.com/request-sample/detail/1218
In terms of the regional landscape, Asia Pacific NaaS market is expected to register a CAGR of over 40% from 2019 to 2025. Growing preference for cloud services and the need to lower operational costs can be accredited to the massive shift in business priorities. Subsequently, IT & telecom companies are opting for high-quality managed and security services to raise their business proficiency. NaaS industry in the region could reach a commendable presence across the tremendously large small and medium sized business environment in APAC.
Telecom sector throughout APAC has been leveraging new NaaS models and enjoying greater flexibility and agility in a quickly changing environment. In addition, several telecom companies have been encouraged to come up with innovative offerings  that could potentially change network as a service market dynamics. In terms of the regional dominance, countries including China, Japan, and South Korea could lead other nations owing to the extensive deployment of NaaS platforms, driven by technologies like NFV and SDN.
Japan is ranked among the top Asian countries in terms of cloud readiness, network services and broadband quality. In 2016, NEC Corporation, a Japanese multinational provider of information technology services and products, had collaborated with Netrounds and other partners to accelerate agile deployments of assured network services to increase efficiency and reduce operational expenditures. Similar moves by telecom firms, domestically and internationally, would create tremendous demand for NaaS market players around the globe.
Adopting open and standard technologies like network service enables telecom companies to virtualize their networking solutions by recognizing more advanced ways to operate and manage their networks, with minimal or no dependency on underlying hardware. The variable network connectivity and cloud access through NaaS becomes equally vital for power redundancy and to provide security benefits as per Tier 3 data center specifications.
IT & telecom sector is seemingly a prime target for advanced and innovative strategies for improving network services, that would provide them with agility, flexibility, and facilitate efficient expansion with new application workloads. Upsurge in cloud-based services coupled with the augmented growth in data traffic is certain to fuel NaaS industry share. Global Market Insights, Inc. has projected that global network as a service market will surpass a valuation of USD 50 billion by 2025.
Author Name : Deeksha Pant
Global foldable display market size is poised to experience commendable growth in the forecast time duration owing to rising user preference towards the latest trends, development of bendable displays, and growing adoption of breakthrough technologies. Innovation in nanotechnology screen films gradually transforming the mobile and electronics sector and introducing foldable display technology represents the continuous efforts put into the development of smartphones. Surging interest in the product and its capabilities  will create substantial business scope for display manufacturing companies and developers worldwide, propelling foldable display industry outlook.
Asia Pacific foldable display market, country, 2025 (USD Million)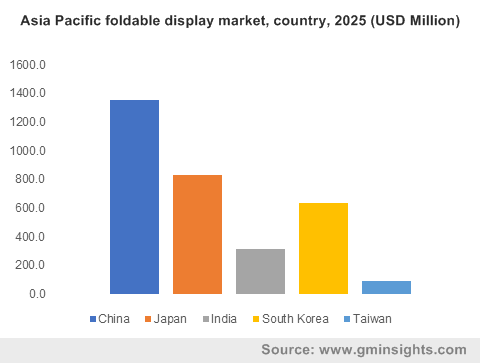 In terms of advancing innovative information technology, mobile features today cannot be ignored as only better camera quality and sharper screens may not be enough to improve customer experience and influence their purchase decisions. Companies like Apple, Royole and Samsung are adopting new ways to attract phone buyers. With the advent of the foldable display technology, there is a considerable rise in competition among companies to launch related devices earlier than the other. Huawei and Lenovo are working thoroughly on this technology as well, giving rise to new forms of smartphones and tablets.
Recently in March 2019, Google had grabbed the headlines for filing a patent for a Z-fold technology that could bend without smashing or breaking apart. Unveiling its own foldable smartphone technology in May the same year, Apple had won a patent for a foldable screen that could be used for iPhones and its other products in the next few years, as  the US Patent and Trademark Office granted Apple a patent for its foldable device. As more such initiatives are undertaken by global tech giants to offer new set of technological devices for customers, foldable display market will gain immense traction in the near future.
Get a Sample Copy of this Report:@ https://www.gminsights.com/request-sample/detail/3084
In the past seven years, China's Royole, a worldwide manufacturer of advanced flexible sensors, flexible displays, and smart devices has raised around $1 billion to develop and market flexible displays and sensors. In fact, the company engages in production of sample devices that sport malleable displays, out of which some are already launched in the market while some are still in progress stage or ready-to-launch phase. It is believed that this technological trend will influence growth for foldable display industry size globally.
Lenovo has unveiled an early preview of its foldable display laptop product line which will be a part of ThinkPad X1 portfolio of the company. With this device, which one can use as a two in one, users would be able to carry as a tablet and then can use a Bluetooth keyboard for turning it into a laptop device. It would comprise of a suite of pioneering technologies, from 5G technology to the latest in display offerings, for customers who want to experience a completely new way of using a device for communication, professional and entertainment purposes.
Amongst the more prominent examples highlighting the progress of foldable display market trends, is the recent launch of Samsung's foldable phone, Galaxy Fold which had been announced in both a 4G LTE and 5G version. Along with this, Samsung has plans to launch this device in Europe to boost its market presence. Although the device has met considerable backlash due to some issues regarding the display, consistent efforts to improve the technology will help boost the quality of products and expand foldable display industry share.
Smartphone penetration in the U.S. has increased dramatically owing to the high disposable incomes of people and adoption of novel technological evolutions. The smartphone sector of the U.S. is considered to be one of the biggest in the world with the presence of key players like Microsoft and Apple, which are on the verge of incorporating foldable displays in some of their upcoming products. Existing chipmakers in the region and close relations with major manufacturers in Asia-Pacific will broadly outline the development path of North America foldable display market over the projected period.
The smartphone and electronic segment represents a continuously increasing customer inclination towards advanced technological offerings, even in many emerging economies, demonstrating a wide target base for foldable display industry. Most of the electronics manufacturers seem to be investing massively in the development of the smartest and most user-friendly gadgets to provide experiences like never before. Reports estimate that global foldable display market will hit annual revenues of over USD 18 billion by 2025.
Author Name : Deeksha Pant
Rising demand for affordable and reliable communication services worldwide will be one of the key trends driving voice over internet protocol (VoIP) market growth over the forecast period. VoIP is a rapidly advancing technology that uses internet to make phone calls rather than conventional telephone systems. The cost of using a VoIP service is relatively low, especially for long-distance communication. Companies are increasingly leveraging VoIP solutions to improve their productivity and enhance mobility.
APAC VoIP Market Size, By Country, 2018 & 2025 (USD Billion)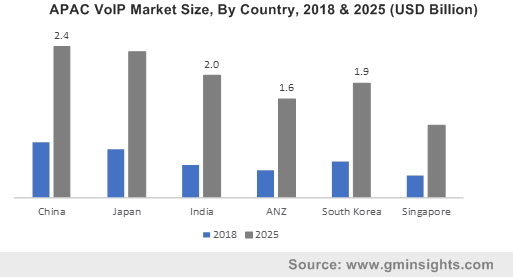 The voice over internet protocol (VoIP) market has garnered major share in developed nations owing to presence of high-speed broadband infrastructures which eliminate the need for maintaining a separate telecommunications network. In addition to making voice calls, VoIP can also conduct video conferencing calls, eventually allowing businesses to visually communicate with co-workers and clients to discuss deals, files, documents and agendas more effectively.
VoIP makes recording calls more efficient and easier, further enabling companies to integrate different communication services into a single device or software. With rapid technological advancements and recent innovations, VoIP market outlook has witnessed an immense transformation lately. For instance, in 2019, caller ID app Truecaller announced the beta-testing of its new app feature that allows users to make voice calls over IP. With such advancements, VoIP market trends are likely to expand and the industry players may garner a huge customer base, thereby augmenting business growth over the forecast period.
Voice over Internet Protocol (VoIP) market share is slated to record significant gains from the international VoIP call segment. Demand for international VoIP calling services is estimated to increase exponentially over coming years, on account of its low-cost service offering. Several affordable international calling plans are being offered by VoIP service providers that allow organizations to conduct business across borders at low calling rates. Credible reports also estimate international VoIP calls market to hold major share of over 50% by 2025.
Get a Sample Copy of this Report:@ https://www.gminsights.com/request-sample/detail/2989
VoIP providers also allow users to make calls to landline and mobile phone numbers without any restrictions. Being internet-based, the technology can effectively handle media types such as images, videos and texts along with voice. Rising technological advancements will propel VoIP industry growth. For example, VoIP service plans come with advanced features like caller ID with name, call waiting, conference calls and call forwarding among other.
An instance of initiatives that will effectively generate new growth opportunities in VoIP market include the one made by North Dakota Department of Human Services which recently awarded a $3.3 million worth call center contract to Noridian Healthcare Solutions. The grant will support North Dakota's Medicaid providers and customers by answering queries associated with Medicaid claims payment, submission of claims, and prior authorization.
Europe voice over internet protocol (VoIP) market will witness commendable growth over the coming years. Especially across Germany, the VoIP industry is recording lucrative growth on account of the region's strong telecommunication infrastructure. Consumer demand and adoption of broadband high-speed Internet services is also considerable within the nation. With rising demand for cheaper communications service and increasing use of VoIP solution, the region is forecast to be a major ground for VoIP market growth over the coming years.
Supportive government initiatives are also likely to expand Europe VoIP market size over coming years. For instance, as per Europe 2020 strategy, all Europeans are expected to own fast broadband services (over 30 Mbps) by 2020, a mission for which EU has implemented a series of regulatory measures and policies and has made around €15 billion available to Member States in the period 2014-2020.
Voice over Internet Protocol (VoIP) is an advanced communication technology that enables organizations to cost-effectively streamline different communication platforms to improve business productivity. International call centers are increasingly using VoIP to reduce cost expenditure and facilitate voice calls at affordable prices.
With growing traction in European countries and extensive use of internet-based voice communication apps worldwide, demand for VoIP solutions will increase significantly over coming years. Report from Global Market Insights, Inc., estimates voice over internet protocol (VoIP) market size to exceed USD 55 billion by 2025.
Author Name : Mateen Dalal