IT & Telecom
​The increasing demand for commercialization of the next-generation 5G technology will propel Intent-based networking (IBN) market size. Given the extreme data speeds of the 5G technology, the commercialization will enable the service providers to launch several customized virtual private networks (VPNs) targeted toward specific applications and customers.
Additionally, intent-based networking technology allows the enterprises to have software defined control over many aspects of the network including the segmentation, content filtering, Quality of Service (QoS) and malware detection. This AI-based smart technology also allows enterprises to automate the configuration of these network devices according to the changing business objectives.
How will networking hardware segment perform during the forecast period?
Networking hardware segment is expected to grow at a CAGR of over 30% during the forecast timeframe . Networking solution providers foresee expansion of their support for 5G technology owing to the increase in data-centric applications. This will create immense demand for networking components such as routers and switches. Rapidly changing business requirements in accordance with technology change is slated to drive IBN market share from networking hardware segment.
Get a Sample Copy of this Report:@ https://www.gminsights.com/request-sample/detail/2758
How will the cloud computing trend influence cloud deployment-based IBN market outlook?
The cloud deployment model is anticipated to achieve a steady growth rate of more than 32% over 2019-2025. The growth is mainly attributed to the growing adoption of cloud computing services across the enterprises. Network solution providers have been looking forward to developing cloud data center supporting IBN solutions that will accelerate the demand for cloud deployment model over the years ahead.
How will digitalization across SMEs impact APAC intent-based networking market forecast?
Enterprises across APAC region have been increasingly deploying NFV technologies to support rapid deployment of services and applications. The APAC intent-based networking market is projected to record a CAGR of more than 31% over 2019-2025, owing to the increasing digitalization across small and medium scale enterprises (SMEs). Growing deployment of virtual network across the region will further augment the product demand over the estimated timeframe.
Author Name : Amol Kothekar
​
Network as a Service market (NaaS) outlook is slated to demonstrate considerable transformation over the forecast years due to the rising demand for latest cloud-based services and integration of new technologies into business networks. Reportedly, enterprises had estimated in 2018 that they would invest on an average $3.5 million on clouds apps, platforms, and services in the year, suggesting the massive need for network products. NaaS has evolved to a new level with the proliferation of communication technologies and innovative cloud applications, driving the expansion of network as a service industry trends.
Europe Network as a Service (NaaS) Market Share, By Region, 2018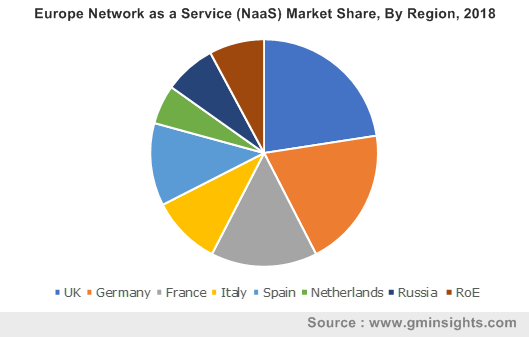 In order to keep pace with the competitive pressure of a rapidly changing network environment, service providers need to innovate promptly. Network services are not only providing business opportunity to IT & telecom segment but also encouraging customers to make the best possible use of the provider's primary services. With rapid advancements in NaaS network services, businesses can easily eliminate all the hassle of maintaining and managing the network themselves.
To keep growing their market share, tech and telecom giants are extensively adopting network services to simplify their architecture through virtualization and incorporating disparate software solutions onto common hardware. In this modern era, the telecom sector is accelerating global presence by addressing customer needs to better serve an ever increasing population base. Consistent growth and enhancement of telecommunication services over the coming years will propel network as a service market size.
Telus, a Canadian telecommunications company, had unveiled its partnership with Nuage Networks in 2017 to initiate Telus NaaS, a software defined wide area network platform. Apparently, several other telcos like Telia, Telefonica, China Telecom and BT had teamed with Nuage for advancing and automating their WAN connections. The prevalence of such collaborations will impact the future of NaaS globally and will propel NaaS industry size in the years to come.
Get a Sample Copy of this Report:@ https://www.gminsights.com/request-sample/detail/1218
In terms of the regional landscape, Asia Pacific NaaS market is expected to register a CAGR of over 40% from 2019 to 2025. Growing preference for cloud services and the need to lower operational costs can be accredited to the massive shift in business priorities. Subsequently, IT & telecom companies are opting for high-quality managed and security services to raise their business proficiency. NaaS industry in the region could reach a commendable presence across the tremendously large small and medium sized business environment in APAC.
Telecom sector throughout APAC has been leveraging new NaaS models and enjoying greater flexibility and agility in a quickly changing environment. In addition, several telecom companies have been encouraged to come up with innovative offerings  that could potentially change network as a service market dynamics. In terms of the regional dominance, countries including China, Japan, and South Korea could lead other nations owing to the extensive deployment of NaaS platforms, driven by technologies like NFV and SDN.
Japan is ranked among the top Asian countries in terms of cloud readiness, network services and broadband quality. In 2016, NEC Corporation, a Japanese multinational provider of information technology services and products, had collaborated with Netrounds and other partners to accelerate agile deployments of assured network services to increase efficiency and reduce operational expenditures. Similar moves by telecom firms, domestically and internationally, would create tremendous demand for NaaS market players around the globe.
Adopting open and standard technologies like network service enables telecom companies to virtualize their networking solutions by recognizing more advanced ways to operate and manage their networks, with minimal or no dependency on underlying hardware. The variable network connectivity and cloud access through NaaS becomes equally vital for power redundancy and to provide security benefits as per Tier 3 data center specifications.
IT & telecom sector is seemingly a prime target for advanced and innovative strategies for improving network services, that would provide them with agility, flexibility, and facilitate efficient expansion with new application workloads. Upsurge in cloud-based services coupled with the augmented growth in data traffic is certain to fuel NaaS industry share. Global Market Insights, Inc. has projected that global network as a service market will surpass a valuation of USD 50 billion by 2025.
Author Name : Deeksha Pant
Rising demand for affordable and reliable communication services worldwide will be one of the key trends driving voice over internet protocol (VoIP) market growth over the forecast period. VoIP is a rapidly advancing technology that uses internet to make phone calls rather than conventional telephone systems. The cost of using a VoIP service is relatively low, especially for long-distance communication. Companies are increasingly leveraging VoIP solutions to improve their productivity and enhance mobility.
APAC VoIP Market Size, By Country, 2018 & 2025 (USD Billion)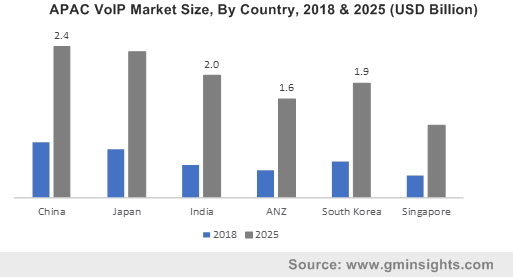 The voice over internet protocol (VoIP) market has garnered major share in developed nations owing to presence of high-speed broadband infrastructures which eliminate the need for maintaining a separate telecommunications network. In addition to making voice calls, VoIP can also conduct video conferencing calls, eventually allowing businesses to visually communicate with co-workers and clients to discuss deals, files, documents and agendas more effectively.
VoIP makes recording calls more efficient and easier, further enabling companies to integrate different communication services into a single device or software. With rapid technological advancements and recent innovations, VoIP market outlook has witnessed an immense transformation lately. For instance, in 2019, caller ID app Truecaller announced the beta-testing of its new app feature that allows users to make voice calls over IP. With such advancements, VoIP market trends are likely to expand and the industry players may garner a huge customer base, thereby augmenting business growth over the forecast period.
Voice over Internet Protocol (VoIP) market share is slated to record significant gains from the international VoIP call segment. Demand for international VoIP calling services is estimated to increase exponentially over coming years, on account of its low-cost service offering. Several affordable international calling plans are being offered by VoIP service providers that allow organizations to conduct business across borders at low calling rates. Credible reports also estimate international VoIP calls market to hold major share of over 50% by 2025.
Get a Sample Copy of this Report:@ https://www.gminsights.com/request-sample/detail/2989
VoIP providers also allow users to make calls to landline and mobile phone numbers without any restrictions. Being internet-based, the technology can effectively handle media types such as images, videos and texts along with voice. Rising technological advancements will propel VoIP industry growth. For example, VoIP service plans come with advanced features like caller ID with name, call waiting, conference calls and call forwarding among other.
An instance of initiatives that will effectively generate new growth opportunities in VoIP market include the one made by North Dakota Department of Human Services which recently awarded a $3.3 million worth call center contract to Noridian Healthcare Solutions. The grant will support North Dakota's Medicaid providers and customers by answering queries associated with Medicaid claims payment, submission of claims, and prior authorization.
Europe voice over internet protocol (VoIP) market will witness commendable growth over the coming years. Especially across Germany, the VoIP industry is recording lucrative growth on account of the region's strong telecommunication infrastructure. Consumer demand and adoption of broadband high-speed Internet services is also considerable within the nation. With rising demand for cheaper communications service and increasing use of VoIP solution, the region is forecast to be a major ground for VoIP market growth over the coming years.
Supportive government initiatives are also likely to expand Europe VoIP market size over coming years. For instance, as per Europe 2020 strategy, all Europeans are expected to own fast broadband services (over 30 Mbps) by 2020, a mission for which EU has implemented a series of regulatory measures and policies and has made around €15 billion available to Member States in the period 2014-2020.
Voice over Internet Protocol (VoIP) is an advanced communication technology that enables organizations to cost-effectively streamline different communication platforms to improve business productivity. International call centers are increasingly using VoIP to reduce cost expenditure and facilitate voice calls at affordable prices.
With growing traction in European countries and extensive use of internet-based voice communication apps worldwide, demand for VoIP solutions will increase significantly over coming years. Report from Global Market Insights, Inc., estimates voice over internet protocol (VoIP) market size to exceed USD 55 billion by 2025.
Author Name : Mateen Dalal
The global micro data center market will witness immense growth in the years to come due to rapid technological advancements in the IT & telecom sector which has led to expansion in data center infrastructures worldwide. As online banking & shopping, satellite navigation systems, smartphones, TV & movie streaming gain traction, relocation of IT infrastructure becomes mandatory. This increases the demand for modular data center architecture that will drive the global micro data center market size.
U.S. micro data center market, by application, 2018 & 2025 (USD Million)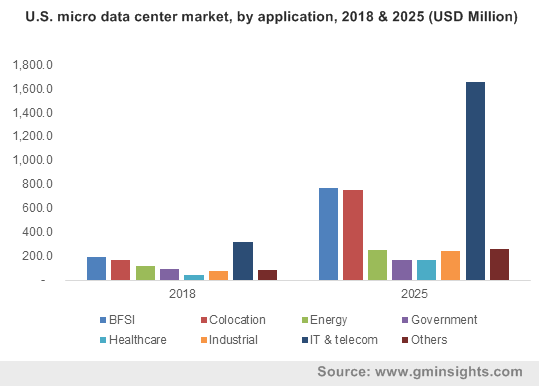 The rising need for containerized data centers for corporate offices that consistently relocate their infrastructure will fuel micro data center industry share. With rising workloads, companies are focusing more on data center expansion. However, enterprises are now wanting to make their presence felt on the cloud, leading to the requirement of portable data centers. Micro data centers have a smaller footprint that conventional data centers and look like with integrated systems. The rising requirement for portable solutions in large-scale enterprises for delivering additional IT support will drive micro data center market size.
The healthcare sector will be a major application segment of micro data center industry. Medical care centers demand efficient power systems for consistent access to patient electronic health records. The rise in the number of chronic diseases and patient admissions can sometimes though, put pressure on hospitals, emergency clinics and rehabilitation centers since conventional data center infrastructure requires a huge investment. But miniaturized, portable data centers eliminate a lot of the up-front investment and are being preferred by medical care facilities, that will drive micro data center market size from hospitals.
Get a Sample Copy of this Report:@ https://www.gminsights.com/request-sample/detail/2762
North America micro data center market will grow significantly over 2019-2025 driven by robust urbanization and digitization trends. The presence of major multinational companies planning on expanding their operational capacities in the U.S. will drive the North America industry. Most huge enterprises in the U.S. require efficient IT infrastructure for business management. The rising need of huge companies and SMBs for portable solutions will fuel the regional micro data center industry share.
Global Market Insights, Inc., estimates the North America micro data centers market size to register a CAGR of more than 23% over 2019-2025. The growth is driven by the launch of various micro facilities by important technology giants such as Schneider and IBM Corporation. The expansion of data center infrastructure market in the region will also propel North America micro data center industry share.
Prominent industry giants are consistently making investments in portable data center solutions to cater to rising demand from hospitals, IT companies, telecom firms, banking establishments, etc. For example, in March 2019, Schneider Electric had declared the launch of new solutions for micro data centers which combine APC by Schneider's physical infrastructure with Cisco's HyperFlex Edge that delivers efficient, fast deployment in edge environments.
Cisco and Schneider Electric's latest partnership on micro data centers will provide system integrators and IT global channel partners the access to new reference designs for deploying the HyperFlex Edge that can be suitably customized for particular micro data center needs. The rising demand for pre-integrated, physically secure, and remotely monitorable containerized data center solutions and increasing efforts by industry players to provide these services will drive the global micro data center market size.
Some of the other players defining the competitive landscape of micro data center include Advanced Facilities, Inc., Zellabox, Schneider Electric SE, Attom Technology, Eaton Corporation PLC, Panduit Corporation, Delta Power Solutions, Canovate Group, Dataracks, Hewlett-Packard Enterprise Company, STULZ GmbH, Huawei Technologies Co., Ltd., IBM Corporation, Dell Inc., and Vertiv Co.
Companies partaking in micro data center industry share are trying to enhance their presence by coming up with new, more efficient portable data center solutions. Delta Power Solutions has a product portfolio of the Delta InfraSuite – a highly integrated, next-gen modular datacenter solution that uses racks and integrates cooling, lightning protection, wiring, fire control, UPSs, and airflow management together.
Global Market Insights, Inc., claims the overall micro data center market size to cross USD 14.5 billion by 2025.
Author Name : Saipriya Iyer
Wireless LAN controller market is estimated to exceed USD 3 billion by 2025, owing to the increasing business need to manage widespread and intricate LAN infrastructure along with the surging acceptance of cloud-based WLAN controllers for managing network devices. Increasing Bring Your Own Device trend, which necessitates the presence of robust network security in enterprises, will drive WLAN controller market growth through 2025. The rising need for integrated connectivity and security for mobile clients also impacts WLAN controller market trends.
APAC Wireless LAN Controller Market Size, By Region, 2018 & 2025 (USD Million)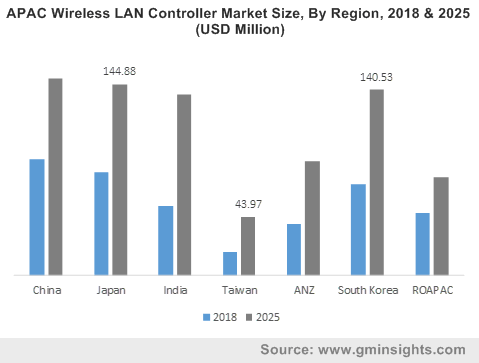 In terms of the application landscape, wireless LAN controller market is bifurcated into government and public sector, IT and telecom, healthcare, BFSI, manufacturing, transportation & logistics, retail, and others. The retail segment is anticipated to exhibit substantial growth between 2019-2025, primarily fueled by surging acceptance of latest technology by the retail sector to offer better customer experience and convenience. The constant increase in the number of retail companies across the globe will further advance WLAN controller market size. For instance, Aldi, supermarket chain with over 10,000 stores in 20 countries, has recently declared plans to open a new store in Chattanooga city, Tennessee, USA this fall.
WLAN controller market size from the BFSI segment is projected to witness modest growth in the foreseeable future, attributed to high adoption of digital platforms, workforce mobility trend, and increasing network complexity. The growing use of network devices and smartphones has burdened network administrators with complex network management tasks, resulting in the adoption of wireless LAN controllers by banking & financial institutions, for optimizing networks and boosting performance.
Get a Sample Copy of this Report:@ https://www.gminsights.com/request-sample/detail/3321
The establishment of new financial institutions and technological enhancements in Wi-Fi technology along with the fast-paced expansion of Wi-Fi market will elevate the revenue share of WLAN controller market from BFSI applications. For instance, HSBC, a renowned multinational banking and financial services company, has recently declared plans to open fifty new retail branches in the United States where it previously had no existence. Reportedly, this move is a part of British banking behemoth's plan to expand services to newer geographies with no prior foothold.
The rapid upsurge in digital data has led to the introduction of AI in BFSI market, which has positively impacted wireless LAN controller market share. Financial enterprises are leveraging artificial intelligence technology to gather, analyze, and report huge chunks of data to retrieve actionable insights regarding customers to serve their requirements better. Expanding artificial intelligence market size, owing to surging adoption across automotive, manufacturing, retail, healthcare, media & advertising, agriculture, and BFSI, would push network management requirements, thereby propelling WLAN controller market size over the future.
Rising urbanization and commercialization, especially across developing nations, will impact the industry growth. According to a report published by Our World in Data website, approximately 4 billion individuals resided in urban areas, whereas 3.4 billion individuals resided in rural regions, in 2016. Over the last 50 years, the share of people living in urban areas more than quadrupled in Nepal and Mali, and more than tripled in Nigeria and Kenya. By 2050, the global population is projected to reach 9.8 billion, and it is anticipated that the number of people living in the urban area (6.7 billion) will be double of that in the rural area (3.1 billion).
Growing urbanization and commercialization directly influence infrastructure development, healthcare, IT and Telecom, retail, manufacturing, transportation, BFSI, and various other sectors. As these sectors are the leading consumers of wireless technology, they are projected to support WLAN controller market share over the future. Expansion of the enterprise wireless local area network market is also bound to fuel WLAN controller market growth.
The increasing number of efforts by major companies present in wireless LAN controller market, to gain a competitive edge, will substantially fuel market share. Many organizations are taking huge steps towards innovation and new product development, to accelerate the shift towards cloud-enabled network services and ensure enhanced management & security of wireless LAN solutions. Global Market Insights, Inc. claims that large enterprises will accrue over 55% of wireless LAN controller market share through 2025.
Author Name : Nikita Chaurasia
The global modular data center market is poised to gain massive impetus in the ensuing years, primarily driven by the increasing adoption of prefabricated IT technologies, the emergence of small & medium enterprises and the rising demand for edge computing.
The demand for edge computing is rising owing to the massive shifts in the way internet is consumed via organizations and individuals. Edge computing is an architecture that enables data processing and computing as close to the end user as possible. The key drivers of the edge computing model include the growing number of consumer mobile devices and the increasing consumption of video and virtual reality content. Eminent players active in the modular data center industry are seeking innovative ways of deploying edge capacity to support end-users including businesses and consumers. Therefore, as the popularity of edge computing grows across several applications, the global modular data center market size is certain to escalate as far as the number of installations is concerned.
U.S. modular data center market, by application, 2018 & 2024 (USD Million)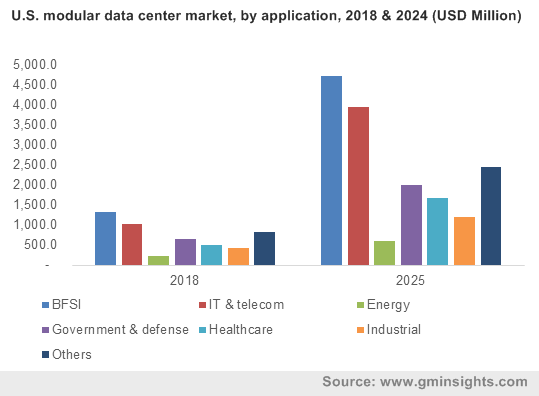 The modular data center market from IT & Telecom application segment is primarily driven by the rising need for the rapid deployment of data centers. IT & telecom business vertical is witnessing a massive adoption of the facility to augment the flexibility and scalability of the business operations. Another factor that is driving the modular data center market is the rapid evolution of IoT technology. With the adoption of IoT sensors, the technology is being used in a wide spectrum of applications, for procuring data from the surrounding environment.
The increasing need for data storage would require more robust load distribution strategies. The burgeoning IoT trend will spur the need for edge computing, which will positively impact the demand for IT infrastructure that is easily deployable in remote locations and cost-effective. Hence, the increasing the need for data storage and processing from IT & Telecom application segment will require more data centers to handle diverse and huge data flows, thereby driving the global modular data center market expansion in the future.
Get a Sample Copy of this Report:@ https://www.gminsights.com/request-sample/detail/1730
SMEs are significant to economies, particularly the developing ones, but they seldom have access to sufficient credit. According to the World Bank Group, around 70% of all micro, small, and medium scale businesses in emerging markets lack access to credit. As modular data centers can do everything, right from computing, storing, processing, cooling, securing, and detecting fire, hence they can help organizations in saving significant infrastructure and setup costs. Which makes small and medium-sized enterprises a major customer base for this technology, thus allowing SMEs to deploy and maintain their IT operations with low capital expenditure but without compromising on quality. Having said that, the burgeoning number of SMEs in emerging economies will thus be a major factor responsible for propelling the global modular data center industry.
The competitive landscape of the global modular data center industry hosts numerous well-known players such as Cisco Systems, Inc., Huawei Technologies, Cannon Technologies, and Dell, Inc. among others. In order to enhance and expand business operations, major players often engage in partnerships and develop innovative technologies, thereby increasing the revenue inflow of the global market. An ideal example involves Huawei's recent partnership with Etisalat to plan and distribute pre-fabricated and next-gen modular data centers in UAE in an effort to suffice the requirements of the cloud and digital services of the future. Such partnerships will fulfill the product demand across diverse geographies and hence contribute to the expansion of the global modular data center market.
Additionally, growing applications fueled by innovations in the fields of retail, telecom, and finance along with the emergence of 5G technology will further advance the modular data center market growth. All in all, consumer reliance on the digital world is growing every minute and with increasing adoption of digitized platforms and technologies, data traffic will continue to grow, boosting the requirement for modular data centers globally. A research report by Global Market Insights, Inc. projects the overall modular data center market to be worth more than $50 billion by 2025. 
Author Name : Krithika Krishnan
The increasing threat of data breaches and rising proliferation of digitalization have been responsible for driving intrusion detection system market share in the recent years. The last couple of decades have witnessed the technology landscape across various end-use domains to have undergone a massive transformation. Alongside, there has been a vast upsurge in the number of computer networks as well, leading to a major surge in the demand for efficient systems and solutions to counter data threats. The implementation of IDS or IPS in the network system undeniably makes it feasible for the network administrators to assess the accurate location of the threats and then address the same. These systems also help avert further threats from those locations, thereby helping to accelerate the growth graph of IDS/IPS industry.
UK Intrusion Detection System / Intrusion Prevention System Market Revenue, By Type, 2018 & 2025 (USD Million)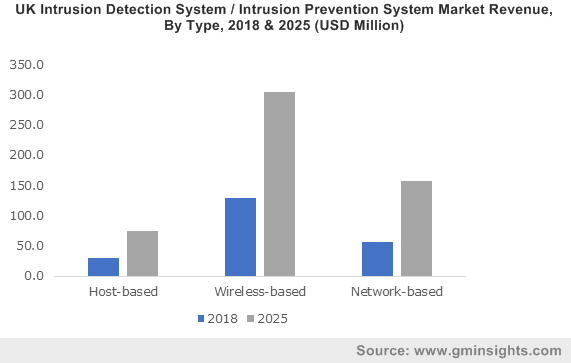 Intrusion detection system solutions are known to be rather competent in protecting the integrity of computer networks, maintaining confidentiality, and shielding against malicious attacks prevailing in an organization. IPSs are so designed that they alert administrators about attack attempts, thereby delivering valuable information to businesses about network threats, malicious attacks, devices being targeted and much more. As more and more and more number of companies integrate these systems in their infrastructure to monitor logs and effortlessly extract information to provide further security to their networks, the global IDS industry share is bound to depict an upsurge in the years to come.
For most parts, a score of businesses already boast of having incorporated intrusion prevention systems in their infrastructure. Prominent conglomerates however, thriving in an era defined by consistent digitization and network integration, have been consistently seeking novel solutions by the day to tackle advanced threats and high-level frauds, thereby providing numerous growth opportunities for IPS industry contenders.
Get a Sample Copy of this Report @ https://www.gminsights.com/request-sample/detail/3178
For instance, IBM, a significant IPS market player, boasts of an intrusion detection and prevention system that provides real time security monitoring, a robust network, and efficient analysis of network and services. IBM's Trusteer pinpoint malware detection system competently detects malware-impaired devices and also governs the type of threat and the potential risks associated with the same. A while ago, by the end of 2018, IBM had also announced its new Pinpoint Verify technology that would provide businesses with an innovative model to combat online frauds with a digital identity trust approach.
Citing an instance of yet another vital IDS market contender, Imperva, it is imperative to state that this company boasts of a suite of cloud web application firewall intrusion prevention solutions that are characterized by features such as two-factor authentication and web application firewall. While the WAF supports the existing IPS through behavioral and reputational heuristics that eradicate malicious incoming requests and other application attacks, the implementation of 2FA gateways for any URL helps choose a verification method and feasibly manage a database of approved users. With the demand for security solutions on a consistent rise, it would not be incorrect to state that IDS industry contenders can look forward to myriad growth opportunities in the years ahead.
The transportation and logistics sector has emerged as one of the most prominent application avenues for the global intrusion detection system market, fueled by the requirement of RFID tags in order to track the location of cargoes from the starting point to the destination. Not to mention, these systems have been gaining traction in this sector on account of the demand for door intrusion and tampering sensors that detect attempts of any type of intrusion in any of the boxes or containers and provide real time monitoring of vehicles and cargoes.
It has been speculated that in the years to come, next-gen IDS solutions will be designed to focus less on recognizing intruders and more toward sensing potentially apprehensive attacks or events. With the help of advanced AI algorithms, IDS market players are expected to brainstorm solutions that will be able to predict attacks beforehand and then provide an effective line of defense as opposed to the traditional approach.
Author Name : Deeksha Pant
Pertaining to rapid technological advancements in IT & telecom sectors and the shift towards cloud infrastructure, hyperscale data center market has garnered commendable mainstream appreciation recently. Companies are nowadays relying more on cloud computing services as they offer several advantages such as enhanced application performance, efficiency, scalability & flexibility. However, this shift has led to high demand for computational power owing to which enterprises are increasingly outsourcing their data to third-party data centers in a bid to avoid investing on expensive hardware and thereby enhance business profitability.
UK hyperscale data center market, by solution, 2018 & 2025 (USD Million)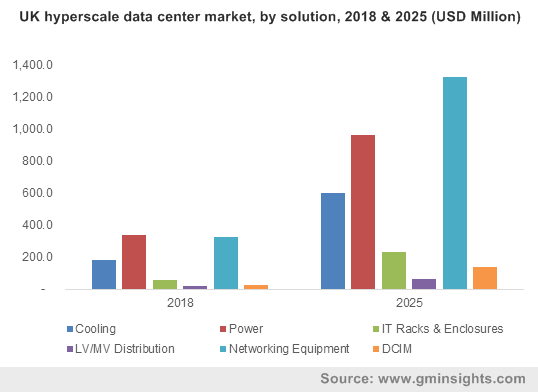 In addition, with more data distribution and greater demand for IT consumerization, organizations are constantly demanding enhanced resources and data center bandwidth, leading to growing pressure on data centers to expand their storage offerings. For instance, the Cisco Global Cloud Index 2015-2020 reports estimate that, by 2020, hyperscale data centers will house around 47% of all the data center servers and 57% of all stored data in these centers. Moreover, increasing demands for online streaming services like Netflix, Amazon Prime and more will proliferate data traffic trends, further supplementing the growth of hyperscale data center industry.
How has cloud adoption helped augment hyperscale data center industry trends?
As cloud-based services and collocated IT models continue to gain traction, companies are constantly demanding for more storage capabilities, leading to the construction of new hyperscale data centers. For instance, in 2019, T5 Data Centers and QuadReal Property Group announced plans to deploy $2.5 billion to develop, acquire and operate flexible and secure data centers to focus on escalating demands of enterprises and hyperscale users. The escalating number of online users and the resultant demand for internet-based services has also led to massive amount of data generation recently.
Additionally, there has also been an increasing demand for colocation services due to the need for affordable and fast data center capacities from the hyperscale cloud and internet providers. These factors have undeniably played a vital role in augmenting hyperscale data center market from cloud providers.
Get a Sample Copy of this Report @ https://www.gminsights.com/request-sample/detail/2594
Owing to the presence of global tech giants, the U.S. hyperscale data center market will witness substantial proceeds over the coming years. Endowed with the presence of some of the largest international cloud platforms such as Amazon, Google, and Microsoft, the country has an overwhelming number of data centers. Of these major players, Amazon's AWS (Amazon Web Service) has claimed primary dominance in recent years followed by IBM SoftLayer, Google Platform and Microsoft Azure.
The sheer scale of these organizations effectively signifies that businesses are increasingly speculating shifting their infrastructure to the cloud. Moreover, with surging investments in the development of new data scale infrastructure and the robust increase in cloud penetration, the U.S. hyperscale data center industry is likely to accrue hefty returns by 2025.
Hyperscale data center market | Impact on the IT & telecom sectors
The global hyperscale data center market stands to gain much from the IT & telecom sector, given that the industry is witnessing growing adoption of the large-scale infrastructure facilities due to the increase in data generation and storage requirement. Nowadays telecom operators are offering flexible and affordable internet plans to users to gain a competitive lead over rivals, which in turn has led to an increase in data traffic.
Thus, this rapid increase in data generation has encouraged businesses to introduce a highly efficient and scalable IT environment with high computing power, which in consequence, would have a major impact on hyperscale data center industry size from the IT & telecom sector. The emergence of commercial 5G technology is expected to add further momentum to the global hyperscale data center market.
The rapid upsurge in data-centric applications and cloud-based services coupled with the continued growth in data traffic, are certain to result in robust demand for hyperscale data centers. Traffic congestion on aging network infrastructure is also resulting in downtimes, reduced capacity, service interruptions and degradation of delivery quality – further signifying a spate of growth opportunities for hyperscale data center industry contenders.
Author Name : Mateen Dalal