OIL AND GAS
The revenue graph of flexible AC transmission systems market is slated to remain rather exponential in the years to come, on account of the rising need for high-quality power across numerous applications. The demand for high-quality AC transmission of electric energy can be attributed to the need to improve controllability and enhance power transfer capability of the network. There are also several benefits to using flexible AC transmission systems such as increased quality of supply, increased stability as well as financial benefits.
Flexible AC Transmission Systems Market Size, By Configuration, 2018 & 2025 (USD Million)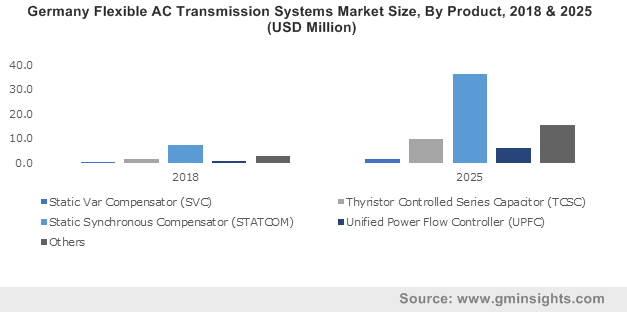 Given the increasing adoption of various electrical components, the adoption graph of FACTS industry will continue to proliferate in the years to come. Transmissions are required to accommodate large weather-dependent shifts in production within widely dispersed sites of renewable energy generation, which are mostly linked to the main transmission grid. The growing requirement for premium and reliable transmission systems will thus drive the FACTS market.
Global warming will dramatically impact the demands pertaining to transmission systems whose architecture is inherited from an era of fossil fuel dominance. The industry will be characterized by a massive need to upgrade existing grid networks, particularly due to the increasing adoption of clean energy sources. The primary goal behind revamping grids is the flexibility to adapt to new technologies in the grid.
Grid modernization has become a catch-all phrase to refer to changes required in the power grid. Grid modernization always implies the growing application of new technologies that are enhancing the intelligence of the grid. Furthermore, as humanity becomes more dependent on the seamless flow of electricity, the vulnerability of the grid grows by the day. Failure of the system for prolonged durations could have serious consequences. Therefore, increasing efforts and spending toward grid modernization will also contribute toward the enhancing FACTS market share in the coming years.
The rapid adoption of renewable sources for electricity generation serves as another driving factor for the global industry. FACTS devices play a vital role in shifting bulk generation of power to remote areas from the present grid structure to raise the concentration of load-centered generation. Systems dominated by renewable sources will also require new means to bolster and stabilize AC networks without coordinating help from rotating generators.
Get a Sample Copy of this Report:@ https://www.gminsights.com/request-sample/detail/3182
Recently, the New York Independent System Operator approved new transmission projects, in order to meet the state's clean energy standard, and help make the overall system more affordable and reliable. The project is anticipated to benefit the state's electric consumers by allowing the provision of environmentally desirable power necessary to meet state energy goals. Projects like these have encouraged installers to direct their focus on restructuring the present electrical infrastructure, which has led to an immense surge in the demand for flexible AC transmission systems. Hence, the rising adoption of renewable energy networks will favor the global FACTS industry outlook over the coming years.
The system's ability to prevent unbalanced loads, voltage fluctuations as well as fluctuations in power will also help contribute substantially toward the industry expansion. Natural disasters often end up destroying poles, grids, transmission lines and transformers leaving millions of people without power. However, installations of FACTS safeguard the system and enhance the operational life of the entire electric network.
For example, in 2017, when hurricane Maria hit America's territory in the Caribbean, it left millions without power for weeks. Given ongoing outages and the region's deferred maintenance, the island is set to rebuild a new grid based on a resilient and cleaner model. Recently, the island also pledged to reach 100% renewable energy by 2050 and link new sources of clean energy and microgrids to the main power system. Expansion or upgradation of grid networks in a bid to safeguard the system and enhance the operational life of electric infrastructure will thus boost the global FACTS market share over the coming years.
The global flexible AC transmission systems industry is bound to receive considerable momentum from the paradigm shift observed in the power transmission industry. As per a research report by Global Market Insights, Inc., FACTS market size would exceed $2.5 billion by the end of 2025.
Author Name : Krithika Krishnan
Multi Pad Drilling Market has witnessed an impressive growth, owing to development of new techniques that have led to higher efficiencies in natural gas production.  Multi pad drilling is the method that involves drilling of multiple wellbores from only one drill site. These advancements in drilling techniques has resulted into reducing overall drilling time and enhancing shale wells economics. Global multi pad drilling industry is gaining traction as this technique can save operators time as well as a large capital. According to Global Market Insights Inc., "Multi Pad Drilling Market size worth USD 90 billion in 2015, is set to register an annual growth rate of 15% over the period of 2016-2024."
Based on applications, onshore and offshore are the two types of drilling activities carried across the globe. The onshore multi pad drilling industry is anticipated to grow at an annual rate of 15% over 2016-2024. Obtainable conventional and unconventional resources are likely to offer huge untapped opportunities for projects development, which will favor the industrial expansion. Offshore multi pad drilling market will also observe high growth prospects, owing to intensive spending and resource abundance in these locations.
     U.S. Multi Pad Drilling Market size, By Pad Size, 2014 to 2024 (USD Billion)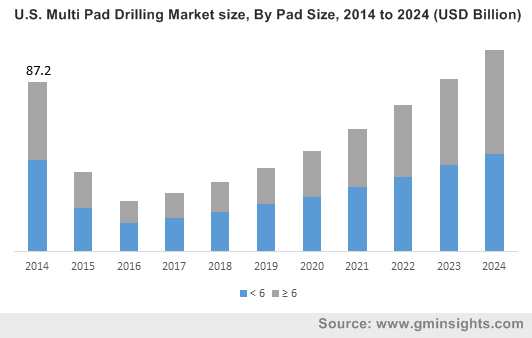 The global multi pad drilling industry comprises two pad sizes (<6 and ≥ 6 pad) based on lateral length and operability. The <6 pad size is foreseen to grow at a rate of 13% over the period of 2016-2024, while the ≥ 6 pad size is set to generate revenue over USD 90 billion by 2024. The easy operability and less supervision property will stimulate the <6 pad size market.
Get a Sample Copy of this Report @ https://www.gminsights.com/request-sample/detail/1199
Strict government regulations to reduce air toxin discharge from oil & gas production facility will augment the multi pad drilling market. The multi pad drilling technique will reduce the negative environmental impact and improve drilling efficiency. For example, 10 wells/pad walking rig is likely to save near 35.8% of the drilling cost per well, while a conventional 4 wells/pad walking rig can save about 26.4% drilling cost.
Geographically, Argentina multi pad drilling industry share is estimated to surpass USD 2 billion by 2024. The country is also emphasizing on providing subsidies to the production of natural gas at new wells by 2020.
China market is projected to record a significant growth subject to abundant access to shale gas resources.
Rising shale gas E&P activities in U.S. and heavy spending in oil & gas projects will favor the regional growth of multi pad drilling industry.
High capital expenditure on oil infrastructure in the Middle East will stimulate the industry growth in the coming years. Middle East multi pad drilling industry is set to record a CAGR of over 7% over the period of 2016-2024.
Russia multi pad drilling industry share is also witnessing a noticeable surge due to increasing offshore drilling actions. Growing undertaking of gas field development projects by Rosneft and DEA will complement the industry growth.
Companies accumulating significant share in the multi pad drilling industry include Earthstone Energy, Trinidad Drilling, Hess Corporation, ExxonMobil, Encana, Pioneer Natural Resources, Marathon Oil Corporation, Consol Energy, Cairn India, Nostra terra, ExxonMobil, Nabors, Chesapeake Energy, Devon Energy, Chevron, and Continental Resources.
Author Name :Ojaswita Kutepatil
Researchers at Oregon State University have developed a new software program that users anywhere across the globe can use to check the small hydropower potential of a river stream. This can prove to be the best alternative for generating electricity that can help to resolve the power supply problem of developing nations.
This program is user-friendly and does not need data inaccessible in remote places. It can consider small hydropower potential in future owing to predicted climatic shifts and overflow of river streams. According to Oregon State University experts, organizations interested in the production of small hydropower can measure small hydropower potential and perfectly estimate its capability of fulfilling its present and future power requirements.
These kinds of small hydropower developments on running river streams have a great significance for remote places as well as hilly areas where the power supply is either unavailable or insufficient. There are few regions in the northern region of Pakistan where half of rural homes do not get the power supply. Cost-effective software programs as these can help the authorities to check small hydropower potential in order to generate power. The main strength of the software program is that it is user-friendly and accurate even though it operates with limited information.
This innovative software program was tested at 5MW small hydropower facility constructed in the early eighties on Falls Creek in the main Cascade Range of Oregon. At this location, it anticipated that future weather shifts will change its maximum power production from spring season to winter season and the yearly hydropower potential would diminish to certain extent owing to the climatic conditions prevailing during the period of 1980 to 2010.
According to researchers, small hydropower is popular as it can be produced by using elementary and inexpensive technology and does not need large reservoirs or dams to operate. Although all kinds of power have few ecological effects, small hydropower has a low impact on stream ecosystems and fisheries industry than key hydroelectric dams. It is also renewable and does not add to the greenhouse effect.
The technology is influenced by the seasonal fluctuation of flow of the river stream and the height from which the water drops down. If proper regulations are implemented to maintain minimal river-stream flow, it can help minimize ecological impacts.
As per Oregon researchers, most of the previous software programs used to evaluate or check particular locations for their small hydropower potential were unable to measure the effects of future atmospheric changes and relied more on the information not available in emerging economies.
This new free open source software program will help scientists, engineers and policy makers all across the globe to take correct decisions related to small hydropower growth and investments. All these factors are predicted to boost the demand and growth of the global small hydropower market.

It will also encourage more research in the field of small hydropower technology and will help in addressing power supply problems of the developing nations. As per Global Market Insights report, the global industry is predicted to record a CAGR of more than 2.6% during by end of 2024.
Author Name : Dhananjay Punekar