Sustainable & Smart Technologies
The commercialization of global network attached storage market has indeed taken up a remarkable pace in the recent years, courtesy – the increasing number of enterprises diving into big data analytics & data mining. The rapid adoption of NAS solutions in home and consumer applications to offer storage that can be accessed by multiple devices have provided significant impetus to the growth statistics of network attached storage industry share. With NAS gaining considerable traction across SMEs and other businesses incorporating cloud-based network, analysts speculate the network attached storage architectural layout to witness a revolution of sorts in the coming years. Not to mention, technology interventions are deemed to remain the focal point of this transition.
North America NAS Market Size, By Business Application, 2017 & 2024 (USD Million)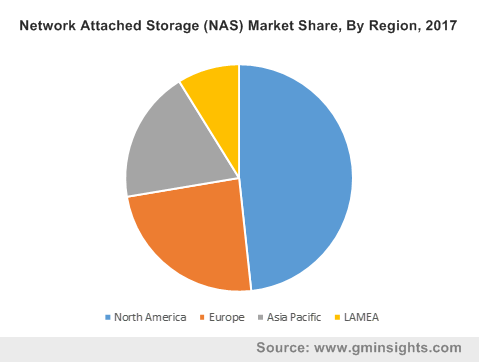 Toshiba, for instance, has recently launched its next-generation 3.5″ NAS N300 HDD and 2.5″ L200 HDD that can be now used in laptops as well. The technology, as claimed by Toshiba works perfectly with any network attached storage devices that are used for personal, home office or small businesses. The NAS device has been designed to support around eight drive bays in a multi-RAID NAS and features rotational vibration sensors that automatically detect & compensate for transient vibrations, thereby delivering prompt performance in multi-bay storage enclosures.
In yet another significant instance, the Taiwanese technology company Synology has recently announced the availability of its "18-series" NAS servers in India. Reportedly, the servers are designed to serve as personal cloud storage with features such as media streaming, data backup, file sharing, photo management, and more. The instance further emphasizes another vital strategy undertaken by NAS market players – exploiting the enormous potential in the untapped economies. The increasing technologically advanced and aware consumer base is one of the chief regions drawing the stakeholders' attention toward these emerging countries. Speaking along similar lines, the APAC region, as forecast by Global Market Insights, Inc. is slated to register the fastest growth rate over 2018-2024. The rapidly proliferating trends of digitization coupled with the rising demand for cost effective & scalable data storage solutions are overt to further sway the regional industry outlook.
Get a Sample Copy of this Report@ https://www.gminsights.com/request-sample/detail/2570
North America network attached storage market to lead the regional landscape
North America, being a major technological hub stands poised to hold significant share in the global NAS industry. The region moreover retains the presence of large scale enterprises that have adopted the cloud platforms and big data analytics – a factor further expected to garner high demand for NAS solutions in the coming years. The rapid adoption of consumer and home network attached storage systems in U.S. and Canada across various end-use sectors such as the BFSI and IT & Telecom market have significantly driven North America network attached storage industry share. The United States NAS industry share is forecast to record a y-o-y growth rate of 20% over 2018-2024.
Elaborating further on the geographical landscape, Europe is projected to procure second largest share in the NAS industry. The growth is mainly attributed to the rapid adoption of this technology by the SMEs in tandem with the massively growing data center developments in the region. Add to it, the continent, over the recent years, has been one of the top-notch spots for the industry players adopting regional expansion as their chief growth strategy.
All in all, endorsed with a rich competitive and application gamut comprising BFSI, IT & Telecom, healthcare, retail, consumer electronics, etc., the global network attached storage market is certain to become one of the most remunerative business spheres for potential stakeholders. In terms of commercialization, Global Market Insights, Inc., projects network attached storage industry size to surpass USD 20 billion by 2024.
Author Name : Ojaswita Kutepatil
The appreciable growth of mobility on demand market is projected to be one of the most significant trends that the globe would witness in the next decade. The ongoing exponential popularity of ride hailing, car sharing and last-mile delivery services is just the beginning of a global shift away from personal vehicle ownership to a shared, on-demand model. Research shows that car sharing is capable of reducing car ownership with an estimation of 1 shared vehicle replacing 15 owned vehicles. The increasing cost of vehicle ownership, limitations on infrastructure expansion, increasing commute times, and the demand to curb GHG emissions have brought about a change in the millennial generation's relationship with automobiles, which is likely to significantly impact mobility on demand market trends.
UK car rental market size, by application, 2017 & 2024 (USD Million)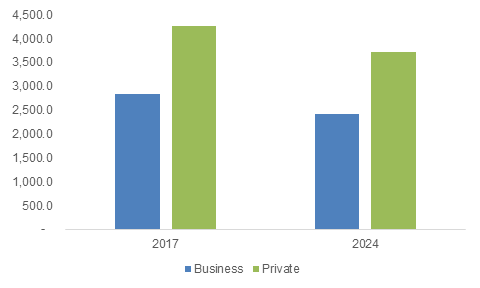 In the last century, private automobiles brought about a paradigm shift in urban mobility. But the dependency on oil, production of greenhouse gases, congestion and ever-increasing demands on urban land for parking spaces have created a combination of problems that has now led to an inclination toward on demand mobility. Statistics show that more than half the oil in the U.S. is consumed by urban vehicles that produce 20% of the total CO2 emissions. Additionally, the construction of new roads has not kept up with increasing transportation demand, complicating the situation further and causing soaring problem with congestion.
In 2011, studies exhibited that the urban American travel time has been increased by 5.5 million hours, a figure that is projected to increase by 50% by 2020. Parking compounds the congestion problem in an urban setting where land is already in short supply. Rapid increase in urban population, which is estimated to reach 5 billion by 2030 and rising trend of car ownership in developing countries will worsen the problems on a global scale. Inevitably, powered by the aforementioned factors, private automobiles have come to be widely recognized as unsustainable solution for the future of personal urban mobility, leading to the expansion of mobility on demand industry.
It is expected that globally, shared platforms will account for the most miles driven in urban settings by 2024. Given that car ownership is significantly high in Europe and North America, these regions might not register a game changing effect as far as the regional landscape of the mobility on demand market growth is concerned. However, in countries like India and China, where the government is battling to control conditions like traffic congestion and air pollution, mobility on demand market will gain commendable traction. Both the aforementioned nations for instance, have a low car ownership percentage, however, both are harbingers of emerging economies where the middle class is rapidly growing and is the recipient of increasing disposable incomes. With the hundreds of millions of newly affluent Chinese and Indians requiring more on-demand mobility, Asia Pacific mobility on demand market will witness robust growth in the ensuing years. Indeed, APAC mobility on demand industry size is expected to be pegged at $2 billion by 2024.
Get a Sample Copy of this Report@ https://www.gminsights.com/request-sample/detail/1229
Mobility on demand industry has seemingly brought about an upsurge in the development of autonomous vehicles. For instance, Uber is investing heavily in bringing driverless cars to the roads as estimates show that 60% to 80% of the revenues remain with the car owner. By eliminating the need of a driver, ride hailing services like Uber are persevering to keep most of the revenue with the service provider. The profit perspective is highly motivating the development of driverless and autonomous cars, that are in turn expected to profoundly change mobility on demand market trends within the next 5 to 15 years.
However, it is to be noted that autonomous vehicles may not entirely solve the problems of congestion in an urban setting, as a large number of vehicles will still be retained on the streets. Urban vehicles are often overengineered and underutilized, as an automobile is designed to attain speeds of 100 miles per hour but typically travels at 15 to 25 miles per hour. Statistics also point out that private automobiles are parked 90% of the time. In future, on demand mobility market is expected to march beyond the bounds of ride hailing and car sharing and present itself in the form of small electric cars which can be taken off a rack of such vehicles with the swipe of a user's card and can be dropped off in one such stack once the user has reached the destination. A development of this degree is certain to have a path-breaking impact on mobility on demand industry outlook.
The success of ride hailing services such as Lyft, Uber, and Ola has come to be highly dependent on new mobility on-demand market players, as they strive to build trust with key stakeholders such as regulators, consumers, insurers and investors. Using technologies to monitor and improve road safety is a vital part of this trust-building process that is certain to speed up the future of mobility on demand market. As public and regulatory confidence come to prevail, mobility on demand industry will witness commendable growth, with a CAGR estimation of 10% over 2018-2024.
Author Name : Sunil Hebbalkar
As the lighting industry progresses from incandescent bulbs to CFLs and LEDs, smart lighting market has made its way as the next trending vertical. The vast expanse of this sphere can be aptly demonstrated by an incidence that occurred in Toronto a couple of years ago. A newly constructed building that nearly became a feather in the crown for the Toronto financial district, the EY Tower, made it to the headlines for offering IP addressable LED lights that tenants can control with internet-based building automation. The instance of EY Tower is of particular interest to the smart lighting industry as it demonstrates the steady presence of one of the most important forces, the real estate sector, into the smart cosmos.
Smart Lighting Market Size, By Light Controls, 2017 & 2024 (USD Million)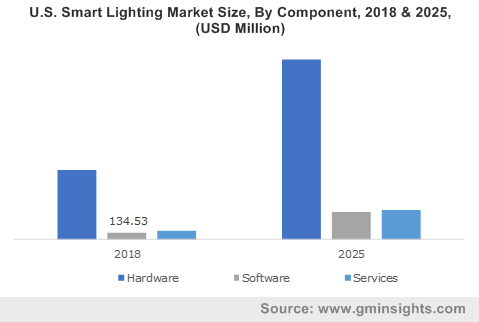 In order to lure tenants with modern technology and convince them to pay premium rents, other prominent real estate developers around the world have also followed the strategy adopted by the Canadian builders of EY Tower. One such instance is the retrofitting of the Torre Europa with Power over Ethernet (PoE) lighting. In the project that has been undertaken by Philips and Cisco, 14 floors will be equipped with 5,400 PoE luminaires.
Advocates of such retrofitting of buildings with smart lighting technologies have pointed out the twofold advantage of the undertaking. It drastically reduces the cost of new wiring by virtually eliminating the need for certified electricians. This is because the low voltages that are capable of driving LEDs can travel safely over Ethernet and do not require the more-costly processes associated with installing conventional 120 Volt and 240 Volt electrical wires. The chief attraction of using smart lighting in buildings however, lies in the fact that connecting luminaires directly into information networks makes it possible to control the 'switch on and off', color temperature, brightness and hues via gadgets and sensors. It also turns lights into nodes that can trigger other operations such as adjusting the heating, and that can collect data about building use and assets. PoE is one of several technologies emerging to make lighting a crucial part of the Internet of Things (IoT). The novelty of the technology and the ease with which it can be controlled even remotely has majorly propelled smart lighting industry trends.
Get a Sample Copy of this Report@ https://www.gminsights.com/request-sample/detail/413
The energy efficiency that smart lighting systems can afford is a major factor driving smart lighting industry size. In 2016, in the UN Climate Change Conference, Philips Lighting demonstrated how smart energy solutions work and can make a real difference to climate change. The event showcased the profoundly transforming capabilities of the smart lighting market, including demonstrations that depicted the energy and greenhouse gas saving potential of this one single technology. Indeed, the technology is equipped with the potential to reduce energy demand from lighting by half.
Philips also exhibited that increasing the rate of energy efficiency to 3% can unlock significant economic benefits – close to 6 million new jobs can be created by 2020, fuel costs can be reduced by €2300 billion by 2030 and household energy bills be reduced by one-third. These estimates are evidence enough to testify the robust latitude of smart lighting industry.
With the rapid proliferation of smart cities, smart lighting market is bound to become one of the most remunerative verticals for investors to pour their money in. Netherlands in this case, can be quoted as a bright example of the onslaught of smart cities, as even the smallest of towns in this country have deployed smart lights which can detect motion and switch themselves on and off. Larger cities like Rotterdam and Amsterdam have already installed smart lights on the streets that are not only energy efficient, but also add a swanky edge to the town or city that can make it more lucrative for growth and investments. As the number of smart city projects across the globe increase, providers of smart lighting for city streets are diversifying their services by turning smart street lighting poles into a potential hub for free Wi-Fi, or to sense the quality of air and even to notify police about public aggression or accidents. This shifting focus is more than likely to expedite smart lighting industry outlook in the ensuing years.
One of the simplest drivers that can be credited for the superb projection of smart lighting market is the eagerness of consumers to upgrade to the latest technology. Currently, smart lights are being designed to be controlled with a smartphone or with AI personal assistants such as Siri or Alexa. In consequence, they have become infinitely more attractive to a generation of consumers who not only have the available disposable income to afford smart lighting but also want to own smart homes where the lighting can be controlled with a voice command. With the popularity of smart lighting on the rise in both the industrial and residential sectors, smart lighting industry size is projected to register a remarkable 20% CAGR over 2018-2024.
Author Name : Paroma Bhattacharya
With the robust penetration of smart technologies in the transit space, smart transportation market has been progressing at a prodigious pace in the recent years. The growth can be aptly credited to the efforts of the automotive industry players that have been striving to bring in innovative products to the masses. However, the governmental bureaucracy is also to be accredited with some appreciation, given that these authorized bodies have been extensively adopting smart technologies to solve traffic problems, in addition to providing substantial financial support for modernizing transportation.
Smart Transportation Market Size, By Mode of Transportation, 2017 & 2024 (USD Million)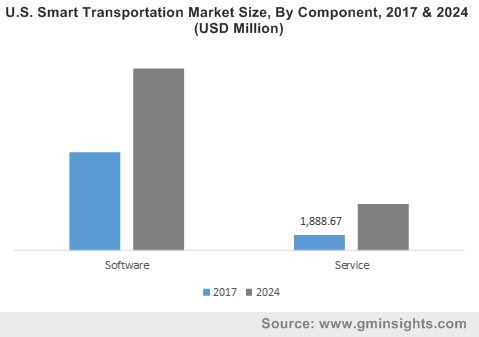 Urban planners along with technology experts are focusing on building smart cities that will use automated transportation, smart grids, artificial intelligence and digital sensors. Such cities are expected to become a hub for the expansion of the smart transportation industry. Furthermore, the advent of the Internet of Things (IoT) and artificial intelligence (AI) will also be playing a major role in popularizing smart transport, extending its reach across the masses. Indeed, it is being speculated that smart transportation market will emerge as one of most revolutionizing business spaces of the 21st century.
How China is contributing toward smart transportation market share
China, the biggest automotive market across the globe, has been highly proactive in improvising its automobiles, thereby emerging as a pivotal contributor in smart transportation market. The nation has seemingly deployed intelligent transportation systems such as traffic signal control systems, variable message signs, car navigation, speed cameras and automatic number plate recognition. This is being done primarily to update transportation systems and resolve various social issues that are often indirectly related to poor transportation. In fact, one of the most iconic instances demonstrating China's proactiveness in smart transportation industry is the construction of an intelligent highway equipped with battery chargers, solar panels and mapping sensors all along the 1.08 km stretch.
Get a Sample Copy of this Report @ https://www.gminsights.com/request-sample/detail/2512
China also aims at ensuring that at least 10% of all automobiles across the country are electric vehicles. This would warrant that smart highway projects such as the aforementioned are always on the run, thereby providing an added growth avenue for smart transportation industry. The Intelligent Transport System Association of China has recently even declared an investment of USD 30 billion in the intelligent transport industry by 2020 that would help construct electronic charging systems and encourage green transport system.
Dubai: Revolutionizing the dynamics of MEA smart transportation industry
Dubai has recently joined the trend of smart city development. Apparently, under the umbrella of the Dubai Plan 2021, the government is aiming at transforming infrastructure, designing ambitious projects and providing citizens with enhanced benefits. The regional smart transportation market has witnessed increased investment under the Dubai Plan, as transportation is being viewed as a key pillar to the development of a smart city.
The Roads and Transport Authority of Dubai has implemented unique smart car rentals that can be collected by tech-savvy commuters on an hourly basis and returned to kiosks located close to metro stations. Apparently, estimates claim that 40% of slow traffic movement in Dubai is caused by drivers looking for a parking spot. On these grounds, intelligent parking systems are being developed that will guide drivers to find parking spots near their destination. Safety of bus commuters is also being developed by the installation of a system of buses that will assess the physical condition of the driver and identify signs of exhaustion or illness. It has been estimated that IoT technologies can amplify Dubai's potential value to reach $5 billion by 2019.
Smart technology, ideally, is still a long time away from reaching market maturation. Besides, even regulatory systems have much progress to make with regards to helping existing roads adapt to the new smart mode of travel. However, smart transit systems offer ubiquitous connectivity, remote sensors, dynamic traffic signals and vehicular communications – commendable social and economic benefits that are certain to aid smart transportation industry emerge as a mainstream vertical.
Experts point out that between 2035 and 2045, the advent of autonomous vehicles can save around 585,000 lives while reducing commuting time by 250 million hours per year on a global basis. Also, machine directed vehicles are likely to stray from distractions and will contribute towards improving highway safety. According to certain statistics, autonomous vehicle technology is expected to add $7 trillion to the global economy by 2050 when they will come to constitute more than half the new vehicles sold worldwide.
In the forthcoming years, vehicle ownership is likely to be displaced with the rapid proliferation of Mobility-as-a-Service technology. Smart transportation market is expected to witness an altogether new scenario of ride-hailing services and pilotless vehicle options, revolutionizing the automotive & transportation space in its entirety. As per estimates, smart transportation industry size is anticipated to increase commendably in the ensuing years, with a target valuation of USD 130 billion by 2024.
Author Name : Paroma Bhattacharya
Europe district cooling market, in recent times, has been witnessing an exponential growth graph, owing to the growing need for energy optimization and the massive deployment of these cooling systems across the continent. Given that the installation of these systems primarily revolves around reduced energy consumption, Europe district cooling market is extensively regulatory-driven. According to the European Union, the demand for cooling systems has been observing a remarkable surge across the residential and commercial sectors, especially in summer. However, in order to ensure optimized usage and lower energy consumption the EU has been encouraging end-users to upgrade existing cooling systems with more efficient technologies, that would add a new growth dimension for Europe district cooling industry players.
Norway District Cooling Market Size, By Production Technique, 2017 & 2024 (USD Million)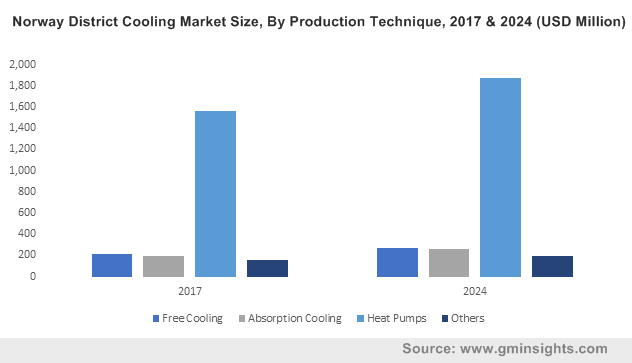 Speaking along the same lines, to combat the issue for massive energy deployment across offices, homes, hospitals, schools, and factories, the European Union had conceived a strategic plan called 'The Heating and Cooling Strategy' to boost the usage of renewables. This initiative was aimed toward curbing the dependency on fossil fuels and reducing harmful carbon emissions. It was also expected to contribute toward the upgradation of cooling systems integrated with electricity components across the industrial and residential sectors. Pertaining to the increasing deployment of sustainable energy solutions, especially across the densely populated regions in the continent, Europe district cooling industry size from the residential sector is poised to register an annual growth rate of more than 2% over 2018-2024.
The Heating and Cooling Strategy, incidentally, will also include plans to ease the number of energy efficient renovations to buildings, make it convenient to develop energy efficiency guidelines for hospitals and schools, and improvise on the reliability factor of energy performance certificates for buildings. The construction industry behemoths would specifically need to adhere to the guidelines proposed by the EU in this regard.
Get a Sample Copy of this Report @ https://www.gminsights.com/request-sample/detail/2478
Speaking of the construction industry, it is pivotal to mention that building owners of late, have been giving extensive preference for outsourcing operations. That is to say, many of them have been inclining toward taking help from energy companies in the first place to get district cooling systems installed. In fact, big shot construction firm owners are particularly keen on establishing partnerships with energy firms to get these systems installed and ensure optimized energy utilization. On these grounds, it has been observed that many energy companies have been wanting to penetrate Europe district cooling market.
Taking into account the expanding renewable energy sector across Europe, established companies in Europe district cooling market have been implementing robust growth tactics such as JVs and M&As. Merely a few weeks earlier, NIBE Industrier acquired Alfa Laval's district cooling systems business unit and conveniently extended its customer base across France, Sweden, U.K., Finland, Czech Republic, and Russia. Given that Alfa Laval is already an established player in Europe district cooling market, the acquisition contributed toward augmenting NIBE's position in the regional industry.
Powered by the countless number of efficient initiatives undertaken by the European Union, Europe district cooling industry share has witnessed a commendable incline since the last couple of years. In fact, the regional business valuation in 2017, had been pegged at USD 35 billion. As the requirement for decarbonization and energy efficient facilities increase, Europe district cooling industry demand is likely to witness an upsurge. Additionally, the continent has been observing an influx of projects focusing on the renovation of conventional district cooling systems for optimized energy usage. Aided by a plethora of supportive norms and the implementation of strategic initiatives, Europe district cooling market size is expected to surpass a revenue collection of USD 40 billion by 2024.
Author Name : Sunil Hebbalkar
The changing face of warfare in the recent years has been a pivotal factor stimulating military drone market. Aided by cumulative product demand and rapidly progressive technological advancements, this vertical is expected to add a new dimension to the evolving smart industry. Ironically, the latest news about the U.S. military having developed drones that can decide who to kill has created major undulations in military drone industry. As a potential aftermath, the world is still debating over what such a technology can mean for the future of warfare and war ethics. However, it would be fair to state that the advantages of using drones in warfare and military operations have surpassed all debatable boundaries. This is quite evident from the estimates that claim military UAV market share to register a CAGR of 12% over 2017-2024.
U.S. Military Drone Market Share, By Product, 2016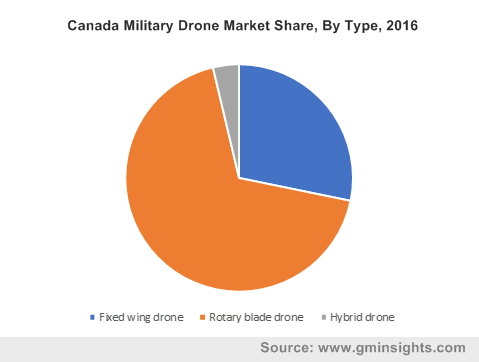 Military drones: a popular weapon in modern warfare
It has been anticipated that North America, by 2024, will be accounting for 70% of the overall military drone market share. This expansive growth can be aptly credited to the heavy adaptation of drones in civil applications and the ongoing 'War on Terror' that the U.S. is current involved in. Till date, the United States has carried out several lethal drone strikes in Pakistan, Somalia and Yemen. Incidentally, these are the countries that the U.S. and its allies are not openly at war with, as is the case with Afghanistan, Libya and Iraq. As a measure to extend the reach of the war against terrorism, the U.S. has also concentrated its drone campaigns in North Africa, using Predator drones for surveillance and targeting radical terrorist groups. Undeniably, U.S. has emerged as a viable revenue pocket for North America military drone market.
Of late, drones are being designed with an element of human intelligence that make for highly effective weapons to locate and targeting terrorist operations and have effectively shifted the cost calculation for battles. Drones can be deployed for longer period of time and with less inconvenience to human resource. Specialized military drones in fact, are more lethal at reduced financial cost and potentially diminish the risk of life for those who control these drones as compared to ground forces or piloted aircraft. Driven by their highly commendable advantages, it has been forecast that military UAV market outlook looks rather promising for the future, where there are chances for increased covert drone warfare and less declared warfare.
Get a Sample Copy of this Report @ https://www.gminsights.com/request-sample/detail/2484
The effectiveness of military drones, as demonstrated by the United States, has caught the attention of nations that have been aiming to achieve a robust arsenal of weapons. Thus, countries like China, Russia, Iran, Pakistan and Turkey have invested in research and development of drone programs, a trend indicating the strong growth of the military drone industry in future. China recently set a world record in its demonstration of drone swarm, a topic of much discussion for its implications in the future of warfare. China has used the popular notion of using an overwhelming number of drones to gain tactical advantage over a target and flown 1108 dronebots as a single unit to exhibit the skill of its drones in autonomous flight capabilities and intelligent use of instruments.
Beyond military uses
Apart from purely military uses, these UAVs have been successfully deployed to carry out other government-controlled operations like search and rescue, wildfire containment, surveillance and law enforcement, further adding stimulus to military drone market. For instance, the Police Aviation Administration Office in China have put 300 police drones to patrol areas that are too difficult for the police to access. These drones have successfully collected information about drug manufacturing dens and have facilitated police raids in these areas. In the U.S., Predator B drones have been deployed for US Mexico border patrol to stop illegal border crossing across the remote mountains, rivers and canyons. These instances provide pivotal evidence that military UAV industry is here to stay.
With the proliferation of advancements in military drone market and the changing implications these developments will have on warfare, regional governments plan to establish a common ground to discuss and set guidelines for the sustainable and beneficial use of military drones while safeguarding human interests. As the use of drones have far reaching consequences that are not limited to warfare, the trend for developing and using military drones across myriad applications will continue to remain consistent in the next few years. As per estimates, military drone market size will be pegged at USD 13 billion by 2024.
Author Name : Paroma Bhattacharya