Sustainable & Smart Technologies
One of the most swiftly progressing verticals of the global smart technologies space, light field market has come a long way since its inception owing to pathbreaking inventions to capture the 3D and 4D light fields. The gradually rising popularity of light field cameras across several business verticals such as industrial, healthcare, retail, entertainment and media, and automotive has certainly propelled the product demand in the recent years. As light field cameras are equipped with thousands of micro lenses between the main lens and the sensor, it lets the user shoot first and focus later which ensures an improved image resolution. Numerous companies appear proactive in adopting light field technology and are developing high-grade products – a factor that would widen the horizon of light field industry in the years ahead.
Japan light field market, by application, 2017 & 2024 (USD Million)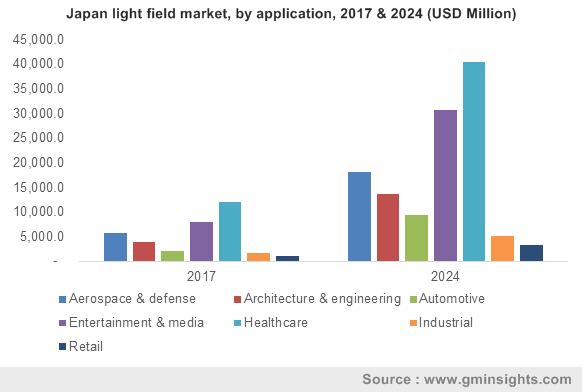 Adoption of light field technology in the entertainment and media sector is altering the contours of the overall industry
One of the major factors that has provided a significant impetus to the light field industry progression is the rapidly expanding entertainment and media application of this technology. In fact, as per a research report prepared by Global Market Insights, Inc., the entertainment and media application apportioned more than 25 percent of the total revenue share of the industry in 2017 – impressive statistics that signify the extensive future growth of this application. This technology is being increasingly incorporated in numerous entertainment medias including amusement parks, theaters, gaming, museums, and apps, predominantly through virtual reality (VR) headsets. Apparently, the light field technology has seemingly demonstrated a new level of how convincing VR experiences can be.
A recent instance lending credibility to the claims of using light field technology effectively in VR is of Google, who has been experimenting with this technology over the last few years. In 2018, the search engine giant released a free application, named 'Welcome to Light Fields', mainly to exhibit the potential of this technology. Notably, the application has been made available on Steam VR for Windows, Oculus Rift, and HTC Vive VR headsets.
Get a Sample Copy of this Report:@ https://www.gminsights.com/request-sample/detail/2664
Speaking along similar lines, it has also been recently reported that Google acquired Silicon Valley-based imaging startup Lytro, which is best known for developing the world's first light field camera and has numerous patents to its name in VR-related imaging technology. With this acquisition, it is being speculated that the company might be looking to strengthen either its VR gaming initiatives or its camera offering in Pixel phones, which is quite unsurprising as prominent players operating in gaming sector are improving customer experience by integrating VR into games. Considering the impact of the top of the line acquisitions and innovative products being unveiled by major tech magnates like Google, the entertainment and media application of the light field industry is undoubtedly set to escalate at an exceptional pace in the ensuing years.
Latin America to emerge as a major revenue pocket for light field industry
Anticipated to register an annual growth rate of more than 16 percent over the forecast timeframe, Latin America has gradually emerged as a lucrative investment avenue for potential stakeholders. The rapidly expanding retail sector in Latin American nations has compelled the major retailers to adopt and leverage new technologies to gain competitive advantage. In this regard, it would be prudent to mention that the proliferation of AR and VR technologies has been assisting the retail sector to improve customer experience and brand engagement ratio.
The brick-and-mortar retail outlets are launching interactive experience devices such as mixed reality headsets to enhance the shopping experience, essentially fueling the growth potential of Latin America light field industry. In addition to the retail sector, the light field technology is being increasingly utilized across other business verticals such as automotive and hospitality, which would, in turn, strengthen the product demand in the times to come.
With light field technology being increasingly used in imaging solution processes along the likes of layout & animation, image construction, 3D scanning, 3D rendering, and 3D mapping and modeling, it remains to be seen how this technology impacts the future of mixed-reality products. However, it is quite imperative to mention that the growth trajectory of light field market appears highly-promising owing to the technology's potential to drastically change the product portfolio of several business verticals. For the record, the commercialization scale of the global light field industry is slated to surpass USD 1.5 billion by 2024.
Author Name : Saif Ali Bepari
Despite being a fairly nascent vertical, digital banking market has received a commendable boost in the last half a decade, given that the concept has been a rage among financial institutions. Having already embarked on the voyage of a digital revolution, financial institutions and banks continue to foray into the digitalization landscape of the banking sector and employ the much needed technological infrastructure for amplified convenience and superior transactional security.
U.S. Digital Banking Market Revenue, By Type, 2017 & 2024

On account of the current stance held by digital banking, it is highly presumable that there would be a decrease in the number of physical bank branches operating universally. A report by Global Market Insights, Inc., claims that digital banking market size is projected to surpass USD 9 trillion by 2024 year end, majorly propelled by factors such as increasing investment in the financial technology sector and the spectacular advantages of digital transactions over traditional ones.
Of late, digital banking market trends have also been witnessing a commendable transformation on account of increased innovative banking solutions that utilize and streamline data, digital technologies, advanced analytics, and novel delivery platforms. On the global front, many organizations can be seen modernizing operations, escalating services, re-configuring distribution channels, proffering proactive assistance, integrating payments, and utilizing blockchain technology to uphold their position in the overall digital banking market.
Elucidated below are the top five developments that are indicative of the fact that digital banking market is here to stay:
ieDigital partners with Five Degrees to transform the digital age banking
A newfangled partnership between Dutch fintech company Five Degrees and U.K.-based ieDigital in 2018 laid the foundation stone for the launch of an advanced digital banking product series. The revolutionary solution brings together ieDigital's digital engagement platform – Interact and digital core banking platform of Five Degrees – Matrix, to assist financial institutions in developing end-to-end banking products that will empower them to spot and capitalize on revenue-worthy opportunities in the global digital banking industry.
Get a Sample Copy of this Report:@ https://www.gminsights.com/request-sample/detail/2651
One-of-its-kind digital banking lobby introduced by J&K Bank
J&K Bank recently in 2019, inaugurated a one-of-its-kind digital banking lobby known as the Apex Digital Lobby, in the Indian city Srinagar, which is fully equipped with world-class digital banking facilities to virtually hand over banking operations to the fingertips of customers. The Apex Digital Lobby offers the best-in-class digital infrastructure inclusive of sophisticated machines such as Interactive Banking Kiosk, Cash Recycler, Cheque Drop Machine, POS Terminals, Passbook Printing Kiosk, along with a mobile application 'mPayfor'  for matchless transactional efficacy.
BNY Mellon & Deutsche Bank endorse co-developed chatbot for stock traders
Deutsche Bank and BNY Mellon are integrating a new chatbot developed on the Symphony platform to augment the seamlessness and efficiency of the flow of information for customers trading stocks on the Hong Kong Stock Exchange or HKEX. The mutually developed chatbot-to-chatbot communication solution would potentially replace manual replies to status updates on clients' stock trades on the messenger Symphony. Upon systematic digital banking market analysis, it can be concluded that the processes which previously took about three minutes for every single trade would now be accomplished in bulk in real-time by these innovative chatbots.
Finastra automates Kanbawza Bank's treasury operations
Kanbawza (KBZ) Bank has chosen Finastra, a renowned digital banking service provider, for upgrading its treasury management solution 'Fusion Treasury'. Finastra would be automating the operations, managing risks, and increasing operational efficiencies of the Fusion Treasury system. For lenders of the private sector, the system would allow for STP (straight-through-processing) as well.
BGŻ BNP Paribas Bank redefines customer experience with Backbase platform
BGŻ BNP Paribas Bank, one among Poland's biggest banks, has integrated the Backbase Omni-Channel Banking Platform in its banking system to offer seamless digital customer experience and make the establishment more agile. As a part its market strategy, the BGŻ BNP Paribas Bank often signs business deals with leading fintech firms to create highly lucrative, sought-after, and useful solutions for customers. Likewise, the inheritance of Backbase's legacy technology, which is an immensely agile & flexible platform, will modernize and streamline both the front-end and back-end operations of the bank and quicken response to market changes.
The global digital banking industry valuation is set to experience a commendable surge, as technology  and banking behemoths worldwide come together to revolutionize the financial business space. Looking at the path-breaking innovations that are dominating the digital banking marketplace at present, it is likely that banks will soon expedite new mobile application and voice-driven device testing to boost both delivery & contextual personalization. Basically, customer interest will always be the core of all initiatives pertaining to digital banking. Seamless connectivity, virtually zero error, low transaction cost, and abbreviated turnaround time are among the many benefits of espousing the digital channels besides being extremely secure. As financial technologies evolve consistently, the banking domain will keep accelerating investments in innovation and digital enhancements, which would in turn stimulate digital banking market trends.
Author Name : Nikita Chaurasia
With the rising acceptance of renewable energy sources as a means to derive power, thermal energy storage market has emerged as one of the top-notch verticals of the sustainable ecosphere. The demand can also be cited to be driven by the reducing dependency on fossil fuels as an energy source, primarily due to their innumerable hazardous impacts on the environment. As per reliable reports, primary energy consumption is expected to rise by more than 45% by 2040. It is rather obvious that thermal energy storage which plays a balance between the growing energy demand and the need to address the environmental interruptions will constitute a major ratio of the sustainable energy mix.
Europe Thermal Energy Storage Market Size, 2013 – 2024 (USD Million)
Speaking of the widespread application portfolio, utility and electricity generation is one of the most lucrative end-use arenas for the thermal energy storage market. The technology has gained massive popularity via its adoption in CSP plants where solar heat is stored to generate electricity that can be used at night, providing relatively affordable, cleaner, and uninterrupted power supply.
It is prudent to mention that the residential and industrial sectors, where the technology is being widely utilized for cooling or heating applications as well as power generation, is yet another potential end-use avenue for the thermal energy storage industry. Reports from the International Renewable Energy Agency (IRENA) cite that, in Europe, around 1.4 million GWh/year of energy can be saved, and 400 million tons of CO2 emissions can be avoided, in residential and industrial sectors by extensively using heat and cold storage technologies, figures that identify the growth and profitability potential of thermal energy storage market over the coming years.
Get a Sample Copy of this Report:@ https://www.gminsights.com/request-sample/detail/2589
The energy-saving potential by deployment of this technology is vivid globally, although the rate of penetration of thermal energy storage market varies with different geographies. A series of parameters including the demand ratio, regulatory mix, and infrastructure support are some of the vital parameters responsible for the change of dynamics related to thermal energy storage industry expansion across the regional spectrum.
Below is an outline of the thermal energy storage (TES) market trends with a regional frame of reference:
United States Thermal Energy Storage Market
With heavy R&D investments and high fuel costs, U.S. thermal energy storage market is estimated to register a lucrative growth chart over the coming years. In the year 2017, nearly 41.8MW of energy storage systems were installed across the region, which accounted for 46% of y-o-y growth. In addition, reportedly, 14 U.S. states have deployed around 2GW of energy storage into Integrated Resource Planning (IRP), highlighting the growing popularity of energy storage technology in the region. As per a report by Global Market Insights, U.S. thermal energy storage market share stood at USD 6 billion in 2017.
Europe Thermal Energy Storage Market
With heating and cooling using approximately half of Europe's energy, the demand of thermal energy storage industry in the region is estimated to be substantially high over the coming years. As per European Association for the Storage of Energy, 50% of all final consumed energy in Europe is used to heat buildings or water. Out of this, 85% still comes from fossil fuels, hinting toward the potential opportunities which are yet unexplored in the region. Add to this, the regulatory landscape aggressively boosting the demand for renewable integration to attain the vision of a decarbonized economy will further provide a substantial impetus to Europe thermal energy storage market.
China Thermal Energy Storage Market
With the expanding infrastructure sector and rapid economic development, China is slated to be yet another profitable avenue for the thermal energy storage industry players. The region is actively investing in energy storage technologies with a vision to meet its energy as well as environmental sustainability demands. Reportedly in the first half of 2018, Henan, Qinghai, Jiangsu, and Guangdong provinces declared the construction of energy storage projects of varied capacities totaling 340.5 MW. In yet another instance, Suunpower, China's CSP developer last year signed a partnership deal with Norway's EnergyNest to deploy TES systems in China. The EnergyNest system would facilitate an affordable and eco friendly energy generation eliminating the hazardous impact of coal combustion on the environment.
In a nutshell, it is rather evident from the aforementioned facts and trends, that although the TES technology has penetrated appreciably at a global scale, its full potential is yet to be explored. A trend that is anticipated to change and characterize the dynamics of thermal energy storage market is the high technological developments and R&D investments focusing toward energy efficiency and environment sustainability. In terms of profitability matrix, analysts project the worldwide thermal energy storage industry to surpass a revenue of USD 55 billion by 2024.
Author Name : Mateen Dalal
Tagged as one of the most profitable investment ventures of the recent times, smart HVAC controls market has made its presence felt owing to the ongoing trend of reducing energy consumption. Not to mention, the growing prominence of the Internet of Things (IoT) that has paved the way for building components to be connected to the Internet, resulting in the expansion of the building automation sector, has also led to smart HVAC controls market retaining a profitable position worldwide.
Germany smart HVAC controls market size, by application, 2017 & 2024 (USD Million)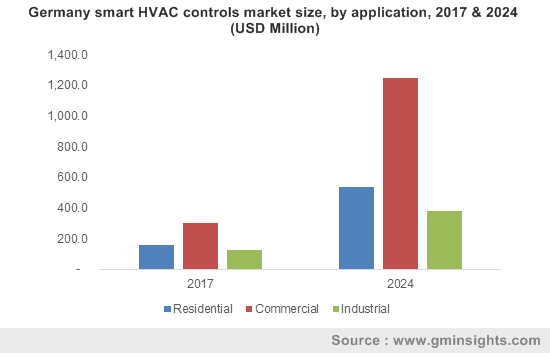 Smart HVAC systems provide the ability to fine-tune temperature, air quality, humidity, and several atmospheric factors in homes and offices. These systems are equipped with high precision sensors for regulating and maintaining air quality and temperature, further improving occupant's health and physical well-being. Indeed, the product can significantly reduce energy consumption and can easily adapt to changing environmental conditions while detecting need for maintenance. Using both advanced hardware and software technology these systems offer enhanced compatibility with smart devices while sustaining the concept of IoT, that has consequently propelled smart HVAC controls market trends.
As far as lowering energy consumption is concerned, smart HVAC modules are seemingly the most energy efficient appliances in modern automated buildings. According to reports, traditional HVAC appliances represent 61% of residential energy consumption in the UK and Canada and 43% in the U.S. The International Energy Agency (IEA) claims that smart HVAC control systems offer controlled use of energy, as the system maintains specific heating, cooling, and ventilation requirements, avoiding access energy consumption while considering end-user comfort. Powered by the robust requirement to optimize energy consumption, smart HVAC controls market is thus on its way to garner substantial popularity ahead.
Get a Sample Copy of this Report:@ https://www.gminsights.com/request-sample/detail/710
How has building automation emerged as a major driver for smart HVAC controls market?
Building automation has lately gained commendable momentum, given that it has been proven to significantly reduce energy consumption and maintenance costs for home owners. Reports from the Buildings Performance Institute Europe (BPIE) 2017, claim that by adopting building automation, owners can reduce energy consumption by around 27% in households, while using smart technology can save an average of 23% of energy consumption in commercial offices. The International Energy Agency (IEA) predicts that adopting digitalization could save around 10% of total energy consumption in commercial and residential buildings by 2040, with efficiency gains largely depicting themselves in cooling and heating applications, specifically with the deployment of smart thermostats and sensors. This has gradually led to a rise in the number of more and more automated buildings, that would eventually result in the expansion of smart HVAC controls market.
Reportedly, residential users are installing smart HVAC systems to ease the deployment and accessibility of heating and cooling systems. The improved efficiency and convenience of offered by these products has encouraged users to install the systems across homes and offices. Due to the compatibility of these products with smartphones and IoT, users can effectively precool and preheat their homes or offices using a dedicated app from afar. The product can also effectively offer information about air quality, maintenance, energy consumption and energy efficiency – in a nutshell, information that can be used by building managers, home owners, energy grid managers, and maintenance staff to take necessary steps for lowered energy consumption.
The demand for smart thermostats has also helped uplift the smart HVAC controls market share, especially on account of the product's extensive demand in colder countries. Smart thermostats use high precision motion and door sensors to save energy by automatically turning off when residents are sleeping or away from home. These low cost, easy to install devices have reportedly gained popularity in colder countries including Russia, UK and Germany, UK. Easy configuration and integration with smartphones and other home appliances have encouraged users to implement these systems on a large scale, augmenting smart HVAC controls industry size.
Speaking with respect to the geographical penetration, North America is anticipated to help impel smart HVAC controls market, primarily on account of the harsh climatic conditions in some of the continent's zones and the large-scale adoption of smart homes. Customers are seamlessly adopting the product to enable control over temperature & humidity to enhance their home comfort. Rapid development in the building automation sector and widespread technology adoption in the country is expected to propel the demand for these products in the region.
Propelled by the fact that smart HVAC enables users to control conditions like temperature, humidity and even fragrance in homes and offices, and helps maintain air temperature and quality at optimum levels, these devices are used extensively to improve the quality of life for occupants. The growing integration of these HVAC systems with smart phones and home appliances and the expansion of the building automation industry will massively augment the smart HVAC controls market size in the years to come.
Author Name : Mateen Dalal
The rising occurrence of a host of advanced, complex cybersecurity threats has helped impel the global virtual private network (VPN) market, given that these threats stand to jeopardize the integrity, privacy and data of businesses. With globalization becoming widely commonplace, and businesses striving to expand their sphere of influence to operate on an international level, the need for organizations to connect their business units together has also risen in proportion. These factors, over the last decade, have made the internet the preferred platform for companies and individuals to conduct their business. However, the vulnerability characterizing the internet has rendered it extremely inadequate in terms of security, a flaw that cybercriminals typically exploit to commit frauds & thefts.
U.S. VPN Market Revenue, By Component, 2017 & 2024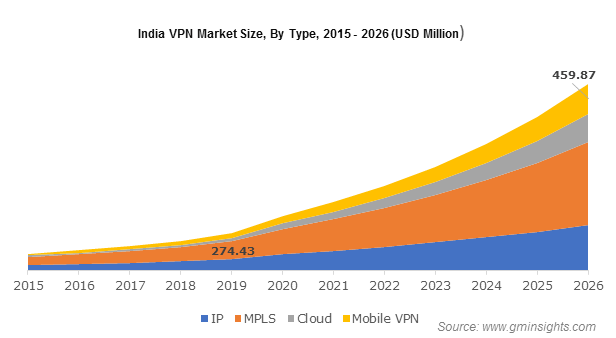 In a manner of speaking, the VPN technology facilitates a cost-effective and safe solution to the issue of safeguarding company networks. The growing prominence of wireless devices across different organizations & businesses would thus drive the growth of VPN market as improving internet speeds coupled with falling prices are catapulting the rate of adoption of a plethora of wireless & mobile devices. Given that such devices are commonly used across organizations to access several applications present on private company networks from remote locations, the VPN technology has consolidated itself as an extremely crucial business component, thereby driving VPN market trends.
Unveiling global virtual private network market trends from commercial applications:
The commercial sector is one of the most prominent application segments of the global VPN market. Comprising end-use domains such as the BFSI, healthcare, manufacturing, government and IT & telecommunication sectors, VPN market size from commercial applications is expected to grow at an impressive CAGR of about 15% over 2018-2024. This growth can be primarily attributed to the surging practice of digital recordkeeping and the adoption of cloud technology in these sectors that is completely changing the way customers access their information, rendering VPN technology as the backbone of these businesses.
Get a Sample Copy of this Report:@ https://www.gminsights.com/request-sample/detail/2756
While, organizations in these domains usually utilize a VPN of their own, a majority of them opt for commercial VPN services provided by private companies. According to Surveillance Self-Defense, an independent non-profit organization, a commercial VPN is a privately offered service that provides organizations a secure channel to relay their data over the service provider's own network. These services, if hosted in a foreign nation, while protecting users' data from cyber threats, also protect the information from local governments and allow the information to bypass national censorships.
Unveiling global virtual private network market growth via rising adoption of remote access connectivity:
Remote access connectivity has been touted to be one of the most deployed models in VPN market. The increasing need of organizations to find a secure as well as affordable way to relay secure company data from their private network to employees working at a remote offsite location is a primary factor driving the growth of the remote access-based VPN market. As opposed to site-to-site VPN, which allows a large-scale business to connect a cluster of its offices in several fixed geographical locations with each other, the ability of the remote access topology to connect individual hosts to their respective organization's private networks makes it an ideal match for small & medium-sized enterprises (SMEs).
Incidentally, the topology also allows employees from large organizations working through site-to-site VPN to connect to the company's network remotely and be able to perform their work from a remote location over home networks or public Wi-Fi networks without worrying about the security of company data. Aided by the convenience and reliability provided by this model, the remote access connectivity-based VPN market size is projected to register a CAGR of approximately 17% over 2018-2024.
Attributed to the rising need for facilitating proper secured channels for the exchange of data over an increasingly connected world, the global virtual private network is expected to successfully thrive in the overall technology space in the forthcoming years. According to a report by Global Market Insights Inc., driven by the increasing rate of VPN adoption in myriad businesses, the overall virtual private network market valuation is anticipated to surpass $54 billion by 2024.
Author Name : Akshay Kedari
Rising emissions from marine engines & growing environment concerns owing to degrading air quality will drive marine emission control system market growth in the years to come. Reportedly, oceanic vessels contribute to a majority of the pollution in the coastal environment – around 8%-12% of the global NOx emissions and around 40% of global NOx emissions from transport of freight mean. Having taken into consideration these alarming statistics, in 2008, the International Maritime Organization (IMO) launched a directive for controlling emissions from diesel engine vessels, built or installed on and after 1st January 2016. The directive also specifies a global sulfur limit for reducing the sulfur content in fuel to 0.5%, that will go into effect from 1st January 2020. The presence of a strict regulatory landscape will thus prove to be one of the preeminent driving factors of marine emissions control system market.
Europe Marine Emission Control Systems Market Size, By Application, 2017 & 2024 (USD Million)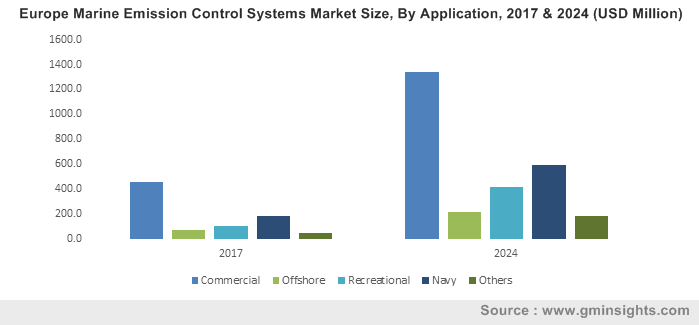 The growing number of trade activities along with advancements in emission control technology will also serve to boost the demand for marine emission control systems. Globally, around 85% of goods are transported using maritime routes. In almost 70% of the cases shipping is carried out within 400 km from the coastline, influencing the air quality within several hundred kilometers from the coast. The most widely adopted propulsion systems used by these ships are two or four strokes diesel engines, which apparently consume large amount of heavy fuels.
Estimates from the U.S. Energy Information Administration, 2011, cite that the merchant navigation sector alone accounted for about 1.75% of the total energy demand and about 5% of the global crude oil consumption back then. Also, ships were recorded to manufacture around 15% of the global NOx (the world's buses, cars, and trucks combined), 2.5% – 4% of greenhouse gases, and between 3% – 7% of global SOx output and 5% of black carbon emission. Quite overly, these figures reveal the overall impact of the maritime segment on global atmospheric pollution, which has led to a spike in the demand for marine emissions control systems.
Get a Sample Copy of this Report:@ https://www.gminsights.com/request-sample/detail/2542
Reportedly, in a bid to reduce the environmental footprint of ships, the IMO has also tightened the regulations on NOx and SOx emissions from marine engines. As measures to reduce NOx emissions, emission control systems like exhaust gas recirculation (EGR) and selective catalytic reduction (SCR) have been adopted. For reducing SOx emissions however, scrubbers have been intensively deployed to lessen the sulfur content of fuel oil.
Scrubber marine emission control systems market to thrive over 2018-2024
Scrubber units are typically used for high dust configurations and are more efficient when coupled with fuel switching. By mounting an exhaust gas cleaning system like a SOx scrubber, ship-owners can efficiently operate on low-priced, heavy fuel oil and still be compliant with IMO's SOx emission regulations. Sources suggest that, from 2020, the demand for exhaust gas cleaning systems, like SOx scrubber, will increase as to compliment stringent SOx regulations that exhibit a global 0.5% limit on SOx and 0.1% limit on ECA emission.
The ability of hybrid scrubber systems in particular, to treat high temperature and gas streams along with increasing R&D initiatives toward green shipping will also positively impact the scrubber-based marine emission control system market share.
Speaking of the geographical penetration, marine emission control system market has been touted to amass substantial returns from China. This is prominently on account of the newly imposed regulations favoring the installation of these products. Reportedly, to improve the quality of domestic shipping and endorse environment friendly development of marine transport within China, the Chinese Ministry of Transport, on 3 July 2018, published new requirements for controlling nitrogen oxides (NOx) emission. The standards will be applicable to both newbuild vessels (after July 2020) and ships in operation (after July 2021) and will further be imposed on ships particularly involved in Chinese domestic trade.
Powered by moves such as the aforementioned and the rising number of cross-border tax inversions and M&As, the demand for these systems has been considerably rising in this APAC economy, thereby augmenting China marine emission control systems industry.
A plethora of marine emission control systems including SCR, EGR and scrubber are sulfur, nitrogen & particulate matter abatement technologies, are lately being deployed across engines & boilers to restrain emissions. The implementation of scrubber systems specifically, will observe an upsurge in demand owing to reduced payback period and long-term operational flexibility. The growing demand for sustainable systems along with stringent government initiatives will thus positively impact marine emission control systems market size, slated to cross USD 14 billion by 2024.
Author Name : Mateen Dalal