Sustainable & Smart Technologies
The exponential growth graph depicted by the global threat intelligence market in the recent years can undoubtedly be credited to the massive surge in the number of connected endpoints. Presently, there are more than 3 billion end-users across the world that are connected to the Internet, while connected-devices are anticipated to surpass the 50 billion mark by year 2020. Having understood the dependency of these endpoints on the Internet to be able to interact with each other, cybercriminals have been exploiting the reliance to obtain an unauthorized access to the connected endpoint devices to undertake numerous malicious activities.
U.S. Threat Intelligence Market Revenue, By Component, 2018 & 2025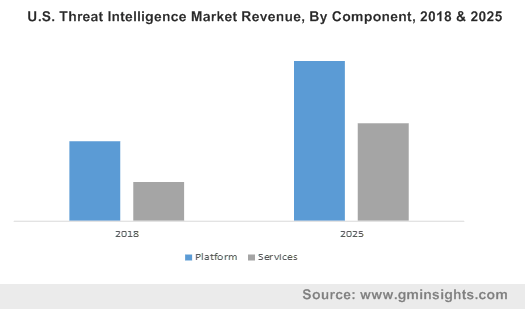 Threat intelligence market | Impact of rising mobile cyberattacks
The global threat intelligence market is expected to amass substantial returns from mobile-based solutions, due to the exponential rate at which cases of mobile cyberattacks & mobile frauds are growing. According to a 2018 report by ThreatMetrix, the first two quarters of 2018 witnessed the cases of mobile attacks across the globe reach the 150 million mark with attack rates growing 24% year-over-year. While the growing penetration of mobile devices has undoubtedly been a crucial factor in the rise of digital commerce, the trend has also proved to be extremely conducive for numerous malicious entities to carry out fraudulent activities.
Moreover, other growing trends such as Choose Your Own Device (CYOD) & Bring Your Own Device (BYOD) being adopted across a number of enterprises, while facilitating greater convenience, are creating more vulnerabilities in the organization networks. Fueled by these trends the global threat intelligence market share from mobile-based solutions will grow at a CAGR of more than 18% over 2019-2025.
Get a Sample Copy of this Report @ https://www.gminsights.com/request-sample/detail/3151
Threat intelligence market | Impact of the growing healthcare cyberattacks
As the global healthcare sector goes through a digital transformation, wherein it is adopting new technologies to enhance the level of patient care & medical treatments while continuing to facilitate patients with life-critical services, the vulnerabilities that are being created or exposed by this transformation phase are being treated as opportunities by criminal & malicious entities for their own personal gain. According to the Center for Internet Security, these threats range anywhere between malwares, that are designed to compromise the privacy of the patients & the integrity of the systems, to Distributed Denial of Service (DDoS) attacks, that are designed to hamper a facility's ability of providing proper patient care. While these issues plague other industrial & infrastructural sectors as well, the ramifications of a cyberattack on a healthcare facility go far beyond financial losses & privacy breaches.
According to the Southern Medical Association, as cyberattacks continue to proliferate, the global healthcare industry remains a primary target. In fact, 2017 witnessed the most successful data breaches in history, bringing legal consequences & detrimental financial losses to the victims and costing organizations more than $5 billion in accumulated financial losses & estimated total payouts. As healthcare organizations store a copious amount of information associated with their patients, cyberattacks, aiming to gain access to these data reserves, would be continuing to occur in the sector, generating significant opportunities for the threat intelligence market contenders. Indeed, the global threat intelligence market is projected to witness a CAGR of 13% over 2019-2025 from the healthcare industry.
Threat intelligence market | Impact of increasing cyberattacks on Government Institutions
As with other sectors, the world's government institutions are also making their transition to the digital world, leaving their conventional pen & paper practices behind for higher operating efficiencies. This trend has provided cyber-criminals an ideal opportunity, wherein they target specific government institutions for their own financial or idealistic gains. One recent instance of this is the cyberattack that targeted the local government of Atlanta, USA. According to the American Bar Association, the entire city of Atlanta was trapped in a hostage situation, wherein the city's digital infrastructure was taken over by a powerful ransomware.
The criminals disabled internet access, encrypted the files stored on the system and demanded an upfront Bitcoin payment in exchange for the decryption key that restored access to these files. According to federal authorities, the ransomware attack caused losses of more than $30 million and could cost taxpayers & the city more than $17 million to completely recover from the damages caused.
Attributing to these three determinants, it is unmistakably clear, that the global threat intelligence market would be witnessing tremendous growth in the years to come. In fact, according to a report by Global Market Insights, Inc., the overall threat intelligence market size is slated to surpass the $13 billion renumeration mark by 2025.
Author Name : Akshay Kedari
The surging adoption of advanced technologies along with rising globalization trend will propel the process orchestration market growth in the years to come. Businesses nowadays are primarily focusing on reducing production cost, improving operational functioning, gaining enhanced competitive skills and delivering improved customer satisfaction to clients, functions that can be fulfilled by means of adopting process orchestration. The technology effectively helps design, implement, integrate and monitor customer process applications and integration scenarios more quickly and flexibly, helping businesses innovate faster and respond to changing business demands more efficiently.
Latin America Process Orchestration Market Revenue, By Professional Service, 2018 & 2025 (USD Million)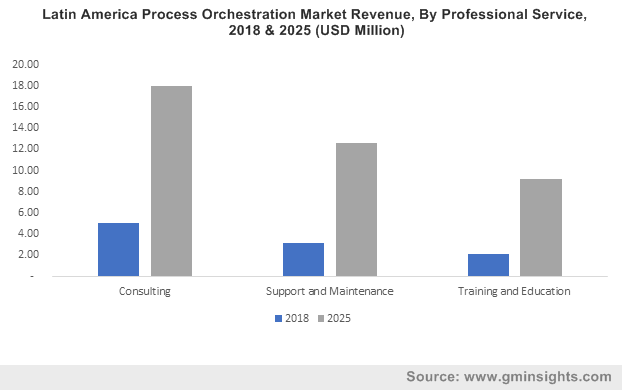 Speculating the technique's profound benefits, companies are now investing in developing innovative solutions for transforming their businesses and to deliver unique customer satisfaction. For instance, in 2018, around 55% of the start-ups adopted digital business strategy, while around 85% intend to invest in digital transformation in the future. Moreover, major sectors include energy & utilities, retail, manufacturing, healthcare, IT & telecom are also adopting process orchestration solutions for improving business efficiency, that would quite overtly expedite the industry growth over 2019-2025.
With the increasing adoption of advanced technologies such as AI and machine learning, the demand for process orchestration solutions to efficiently manage, integrate, and optimize computer systems and cloud architectures to further help serve and retain customers has only been surging. The deployment of the cloud has also been of concern to numerous businesses as their data and information is located in off-premises servers, making the adoption of process orchestration vital for managing cloud-based application and services.
Get a Sample Copy of this Report @ https://www.gminsights.com/request-sample/detail/3143
Speaking along similar lines, it is prudent to mention that the process orchestration market has been depicting quite some growth from the deployment of the cloud. Cloud-based process orchestration services help in simplifying deployment and centralizing automation processes, making it easier for expanding and transforming processes at a lower cost and at a faster speed. Given the cloud's off-premise feature, orchestration brings dependency management, high availability, failure recovery, scaling and numerous other tasks and attributes all into a single process, significantly reducing staff effort. The rapid growth and adoption of cloud solutions across SMEs are thus contributing majorly to the expansion of cloud-based process orchestration industry.
Enumerating the application landscape of the process orchestration market, the retail & consumer goods sector is anticipated to emerge as a pivotal avenue for this industry. With increasing market competition and rapidly evolving consumer needs, it has become vital for the retail sector to improve its service offerings. Process orchestration solutions will enable such businesses to transform their operations and enhance customer reach, and will also help in automating manual processes, minimizing operating costs, improving customer shopping experience and identifying new revenue streams in the highly competitive sector. This in consequence would majorly accelerate process orchestration market share from retail & consumer goods applications, slated to depict a CAGR of 14% over 2019-2025.
Speaking of the regional terrain, it comes as no surprise that the Asia Pacific region is primed to evolve as a highly competitive ground in the years to come. The key factors contributing to market demand across the continent include rapid globalization, increasing demand for industrial automation and strategic government initiatives targeted towards the manufacturing sector. The growing awareness regarding process orchestration benefits, such as the elimination of process redundancy and enhanced business planning, will act as a driving factor for APAC process orchestration industry. Powered by the increasing use of IT infrastructure and resources to gain cost optimization, APAC process orchestration industry share will register the fastest growth rate of 18% over 2019-2025.
Proliferation in the retail sector coupled with the integration of advanced technologies, such as AI and machine learning will contribute to the growing adoption of process orchestration. Businesses are continuously launching newer products in the market to meet the growing customer requirements, further driving market growth. The growing demand for cloud technologies is also contributing to the process orchestration industry growth. According to Global Market Insights, Inc., the process orchestration market size will exceed $9 billion by 2025.
Author Name : Mateen Dalal
The SD-WAN market has lately been growing at a significant pace, characterized by the robust adoption of these solutions across a spate of industry verticals, given their ability to help organizations regarding their legacy infrastructure maintenance. The traditional infrastructure of WAN is known to rely extensively on costly hardware appliances for providing connectivity in remote locations. However, organizations have now been able to reduce those expenses by deploying SD-WAN solutions. Moreover, the solutions also assist enterprises in directly connecting remote users and devices to the cloud and ensuring secure connections.
North America SD-WAN Market Revenue, By Application, 2018 & 2025 (USD Million)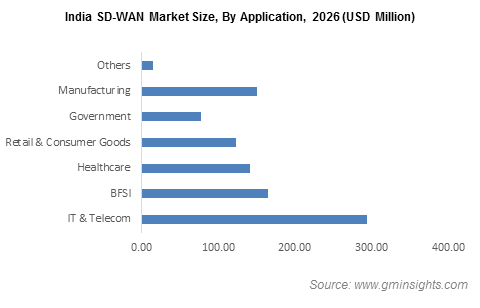 SD-WAN solutions also provide the companies with improved network visibility, and help in reducing network complexities of managing dynamic workloads. By utilizing SD-WAN solutions, organizations can benefit from cost reduction and secure connections, which in turn will propel the commercialization landscape of SD-WAN market in the years to come.
The penetration of smart IoT devices in varied industry verticals, including retail and consumer goods, telecom, manufacturing, and healthcare has substantially increased security risks and network complexities. SD-WAN solutions play a vital role in this context, given that they help improve network visibility for the management of connected devices for reducing security risks, and address the complexities of the IoT infrastructure. The prevailing AI-enabled SD-WAN solutions would also boost the demand for SD-WAN as machine learning algorithms are broadly utilized for WAN optimization. This would further enable network administrators to analyze WAN traffic and re-route the same, automatically, for the selected connection. The capability of SD-WAN has thus proved useful across a spate of verticals, expanding the application scope of the global SD-WAN industry, a gist of which is given below:
BFSI
In the recent times, some of the biggest banks across the global industrial cosmos have cropped up as leading financial organizations which provide a wide range of services to international markets, and control billions of dollars in assets and cash. Financial service firms have been relentlessly working to capture new market opportunities, implement innovative strategies, develop customized services, and identify new business niches.
Get a Sample Copy of this Report @ https://www.gminsights.com/request-sample/detail/2214
This sector, in the years to come, is anticipated  will become even more complex with further diversification, deregulation, consolidation and globalization of the financial industry. Irrefutably, this complexity in the BSFI industry can be effectively addressed only by deploying SD-WAN solutions, which will augment the SD-WAN market share from BFSI applications in the coming years. Of late, the modern banking industry is also remnant of extensive diversification, as is observed by the penetration of some select banks in the domains of core investments, security underwriting, insurance, and portfolio management. With banks and other financial institutions widening their service portfolios, working to evolve as vital entities in the global business landscape, SD-WAN industry size from BFSI applications is expected to surge massively, given the humongous demand for these solutions to reduce complexity and costs.
Manufacturing
The manufacturing sector is anticipated to emerge as one of the most profitable application avenues for the global SD-WAN market. Undeniably, this growth can be credited to the surging popularity of IoT platforms deployed in manufacturing industries. With more and more smart devices and sensors being incorporated in manufacturing facilities, companies are, quite overtly, demanding accurate solutions that are able to deliver exceptional network visibility for end-point management.
Driven by the fact that SD-WAN solutions help manufacturers prioritize network traffic and simplify network management, in a bid to make sure that crucial applications obtain access to the required connection, the manufacturing sector is touted to majorly contribute toward the expansion of SD-WAN industry. As the deployment of more and more communication technologies and IoT devices in the manufacturing industry increases, the demand for SD-WAN solutions will naturally depict an upsurge, propelling SD-WAN industry size from manufacturing applications. As a matter of fact, Global market Insights, Inc., claims that software-defined wide area network market share from manufacturing applications will depict the highest CAGR of more than 60% over 2019-2025.
Retail and Consumer Goods
Retail enterprises using SD-WAN are naturally equipped with the capability to supplement and expand their backbone connectivity, with more options available in a particular location, ranging from broadband to LTE. Along with making the process of adding bandwidth in a site easier, SD-WAN manages conditioning and prioritization of traffic, for improving application performance even further – a major parameter of concern in the retail industry that has been undergoing an extensive digital transformation of sorts.
In the 2017 Cloud and Network Benchmark of Nemertes Research, which involved 625 organizations, it was stated that over 50% of more successful retailers have started deploying SD-WAN, in contrast to the 10% among the less successful ones. As retailers intend to eliminate unnecessary capacity and functionality expenditure, they have been demanding WAN solutions that can accurately leverage NFV and SDN to run on generic hardware and deal with flexible deployment of capacity and functionality. This would substantially augment the requirement of SD-WAN solutions in the retail sector, that secures service continuity via myriad techniques – right from traffic replication spanning multiple paths to sub-second traffic cutover from a failing to a healthy link, thereby propelling SD-WAN marker share from the retail and consumer goods sector.
Endorsed by a mammoth application terrain, the global SD-WAN market is expected to traverse alongside a highly lucrative remuneration graph in the ensuing years. As per estimates, the valuation of the overall SD-WAN market would cross a colossal US$17 billion by 2025.
Author Name : Saurav Kumar
The worldwide mobile wallet market has positioned itself to be an extremely lucrative consumer-driven vertical, propelled by the attractive discount & cashback offers facilitated by service providers. Indeed, mobile wallet providers across the world have been impressively successful in attracting and retaining customers, growing their respective user-base at an exponential rate in the process, by simply offering their consumers frequent & appealing cashback offers and discounts. The entire cycle of discounts and cashbacks has proven to be extremely beneficial for both customers, who can obtain a plethora of products & services at a reduced rate, and mobile wallet service providers, who are able to be the recipients of profitable business from their patrons.
U.S. Mobile Wallet Market Revenue, By Type, 2017 & 2024

While these frequent cashback offers may seem to be counterproductive for the growth of the mobile wallet industry, it actually reduces the cost of customer acquisitions by allowing companies to lower the amount they spend on marketing their respective products & services to the customers.
Unveiling APAC mobile wallet industry trends
Across the Asia Pacific, where the penetration of smartphones is supposedly the highest, consistent efforts taken by the regional governments towards realizing the goal of being cashless have benefited the mobile wallet market in a profound manner. The dense concentration of smartphone users and the government efforts toward establishing a cashless economy is so extensive that in 2017, APAC was known to have captured a sizable proportion of the global mobile wallet industry share.
According to a report by Disruptive Asia, the most common denominator behind the market's unprecedented growth in APAC is the sheer penetration the smartphone industry in the region is witnessing. Mobile wallet service providers have been able to capitalize on this lucrative opportunity by developing cost-effective & ubiquitous smartphone application-based as well as online solutions for customers across the region. In fact, according to a 2018 report by Merchant Machine, Asia's home-grown mobile payment platforms, WeChat Pay & Alipay were able to effectively grow their user base to 600 million & 400 million respectively, significantly outperforming industry veteran PayPal which had over 210 million users that year.
While the region's mobile payments market is being led by the countries such as South Korea, Japan, Singapore, Australia and China, the country with the largest mobile wallet user base is China, with more than 45% of the nation having used this payment service in 2018 for their daily transactions. Augmented by the extensive popularity of this payment method, APAC mobile wallet market is set to depict an unprecedented growth rate over 2018-2024.
Unveiling Europe mobile wallet market trends
The mobile banking sector in Europe has been evolving at a commendable pace over the previous five years. This trend could be attributed to the increasing prominence of a plethora of international as well as domestic entities competing with each other through their mobile wallet services in an attempt to capture a profitable chunk of the global industry. Moreover, the collaborative efforts of the region's technology-oriented enterprises and the banking establishments have also been acknowledged as a factor that is responsible for expediting the Europe mobile wallet market growth.
Meanwhile, the European Commission has been working diligently to develop an integrated & efficient payment services market across the European Union. The EU has adopted a new payment services directive in January 2018 to make internet payment services safer & easier to use and also to promote innovative internet & mobile payment services that would prove extremely beneficial for the Europe mobile wallet industry. Owing to these conducive factors, the Europe mobile wallet market is slated to grow at an impressive CAGR of more than 15% over 2018-2024.
These regional trends quite clearly indicate that the global mobile wallet market is anticipated to attract numerous investors in the upcoming years. In fact, a research report from Global Market Insights, Inc., projects that the overall mobile wallet market size will be surpassing the renumeration mark of $250 billion by 2024.
Author Name : Akshay Kedari
The intelligent vending machine market has been expanding rapidly in recent times as technology continues to transform the world and disruptive technology is becomes the order of the day. For instance, recently, greenbox Robotics, a Southern California tech company, designed an intelligent vending machine that can dispense marijuana and CBD. The company's chief motivation behind designing such a technology was the long queues in cannabis dispensaries.
Italy intelligent vending machine market, by application, 2017 & 2024 (USD Million)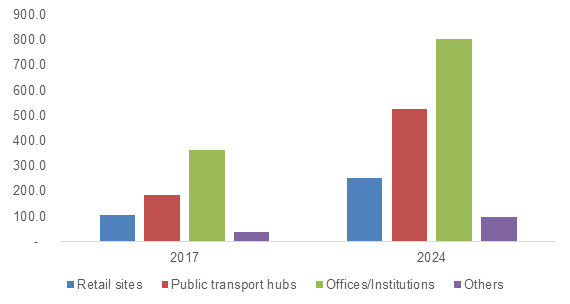 With the help of vending machines however, customers can cut the queue and buy products that include cannabis flower, extracts, edibles, CBD products and accessories. The machine even describes products and its effects and suggests products to customers. It verifies customer's identification and determines age using facial recognition technology and accepts payment with either a debit card or Apple Pay. Intelligent vending machines have transformed many aspects of life and this machine aims to do the same for the cannabis industry. According to greenbox Robotics, the kiosk is designed to dispense multiple items in one transaction and streamline the purchase experience, bringing down a 30-minute wait down to nearly two minutes. Such an innovative vending machine is expected to be gamechanger for cannabis dispersion and the intelligent vending machine market in general.
Vending machines have come a long way from their basic design and now are equipped to perform a lot more than dispense items and provide change. At present vending machines are designed to not only provide items requested but provide nutritional or other information about the items, interact with the customer to make suggestions about the purchase and even prepare fresh food. For example, in Italy a pizza vending machine called Let's Pizza has been developed that prepares customized pizzas in less than 3 minutes. A window in the front allows customers to watch the flour being kneaded, the rolling of the pizza disc, spreading of the tomato paste and other ingredients and the finished creation baked in infra-red rays. The growth of the intelligent vending machine market is being driven by smart technology that brings together the convenience and availability of instant transactions with the tailored, entertaining and connected retail experience that customers have come to expect.
Get a Sample Copy of this Report @ https://www.gminsights.com/request-sample/detail/1570
Though U.S. has the most vending machines in the world, Japan has the highest density of vending machines with 5.5 million machines in 2016 that put one machine for every 50 people and is known for carrying more range of products that available anywhere else in the world. Fascination with technology, low crime rate, need for convenience etc. have driven the vending machine market in the country, but Japan being the pioneer of technology has presented the next step for intelligent vending machine market.
Remarkably, the cashless, smart vending machines in Japan are enabled with face, eye, or fingerprint recognition as well as social media connectivity. In case a customer cannot decide between different options, vending machines are designed to scan faces to make a choice for them. For instance, face-scanning machines dispensing beverages use big data analytics and machine-learning and make a choice based on the age of the customer. If above 30 years old, it offers hot milk tea, green tea or orange juice while for younger customers it offers soft drinks as such preferences have been depicted by people of respective age groups.
Observing the intelligent vending machine market trends and the future potentials for the technology, heavyweights from various industries have started to invest in the market besides adding innovative ways to help it grow. For instance, the Coca-Cola Company developed an intelligent vending machine that can recycle plastic bottles and cans. The VenCycling, as it is called, not only dispenses Coca-Cola drinks, but also accepts the used packaging besides performing other intelligent functions such as utilizing facial recognition and voice interactive system to make purchasing recommendations and making recycling a variety of Coca-Cola beverage packages more efficient. The machine also provides incentives to consumers who take the effort to recycle.
Considering the fact that vending machines have come a long way from being basic product dispenser and that the Internet of Things, sensor technology, big data analytics and machine learning have brought a sea of change in how machines function, the intelligent vending machine market is expected to thrive over the coming years, gaining impressive traction and profits.
Author Name : Paroma Bhattacharya
The global shift towards clean, affordable and reliable electricity along with rising focus towards curbing CO2 emissions will drive solar EPC market growth in the upcoming years. Reportedly, solar PV is recorded to be one of the most installed power generation technologies across the globe in recent years, having been accountable for the deployment of extensive new capacity than fossil fuels and nuclear combined. As per SolarPower Europe, in 2017, a total of 99.1 GW of on-grid solar systems were installed across the globe – depicting almost 30% y-o-y growth over the 76.6 GW capacity in 2016, thereby indicating that solar EPC industry is here to stay.
Solar EPC Market Size, By Ground Mounted, 2018 & 2025 (USD Million)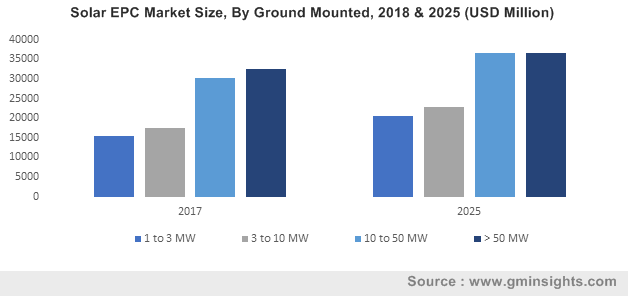 In terms of installations, it would be apt to quote that roof-top installations are likely to depict maximum instatement, specially across the commercial and residential sectors in the years to come. Roof-top solar is increasingly cost-effective for business owners, homeowners and communities. Affordable technology prices, supportive financing and the growing network of solar companies and financers are anticipated to help reduce the prices for household roof-top systems in the U.S.
Customers generally prefer roof-top PVs as they don't require a dedicated land area for installation and can efficiently occupy roof space that is widely available even in urban areas. Apparently, India's National Solar Mission shares similar goals on using roof-top PVs, as it officially announced plans to install 100 GW of solar by 2022, of which 40 GW would be credited to rooftop solar. In essence, the integration of decentralized generation units in order to cater to the growing demand for energy will massively augment solar EPC market from roof-top installations over 2019-2025.
Large-scale utility installation will positively influence the global solar EPC market. The utility sector, that mainly deploys ground-mounted solar power systems, is touted to have been recorded as one of the most lucrative end-use sectors for the solar EPC market in 2018. With the escalating growth in smart cities and electric vehicles reaching the masses, there is increasing pressure on the utility sector for delivering sustainable energy to manufacturing industries and customers. Rising focus toward curbing CO2 emissions from large industries and power generating plants in tandem with favorable fiscal benefits on the grounds of the development of energy efficient solar systems will further augment solar EPC industry size from utility applications.
Get a Sample Copy of this Report @ https://www.gminsights.com/request-sample/detail/3072
Geographically, speaking the United States is touted to emerge as one of the most prominent regional markets for the solar EPC industry. As per estimates, the U.S. solar EPC market is projected to exceed $14 billion by 2025, driven by the fact that solar power has proven to be a strong driver of the region's economic growth. Reportedly, in 2014, the U.S. solar industry employed over 170,000 people, offering a job growth rate that positively influenced the overall economy.
Regulatory measures to reduce dependence on conventional fossil fuels coupled with financial funding to integrate renewable energy will also stimulate product penetration. In addition to offering new jobs, the U.S. government, in 2017, proposed plans to decrease in their tax reforms by reducing corporate taxes in a bid to boost the clean energy business potential, that would further stimulate the U.S. solar EPC market growth.
Another region that has gained traction in solar EPC market is the Asia Pacific, on account of the rising investments in the renewable sector backed by favorable government initiatives. Investment subsidies, positive regulatory programs, renewable integration targets and government reforms have certainly reinforced the APAC solar EPC industry in recent years.
For instance, recently India's Cabinet Committee on Economic Affairs (CCEA) approved a proposal to set up 12 GW of solar projects using locally-made equipment by 2023, an initiative the will certainly boost the region's economic growth, in turn, paving the way for the expansion of APAC solar EPC industry.
A vital form of contracting procedure, solar EPC is extensively used to provide end-to-end services associated with construction, design, procurement and commissioning. Powered by the growing demand by emerging countries for clean, sustainable electricity and the robust efforts by industry players to develop new high-efficient systems, the global solar PV market is expected to emerge as one of the most remunerative verticals of the overall energy sphere.
Author Name : Mateen Dalal