HVAC and Construction
The profitability quotient of Indian doors market is certain to escalate in the coming years, augmented by the thriving construction sector across the country. Driven by a plethora of factors such as growing Indian population demanding comfortable lifestyles, increasing public and private spending on refurbishment & construction activities, and encouraging governmental initiations toward infrastructural development, Indian doors industry size is expected to widen its horizon in the forthcoming years. In fact, estimates claim, private equity sector investment in real estate in India was over USD 6 billion in 2016.  As per a recent report put forth by IBEF (India Brand Equity Foundation), Indian real estate market is slated to record a massive valuation of USD 180 billion by 2020, another testament deemed to stimulate Indian doors industry trends in the coming years.
Maharashtra Doors Market Size, By Product, 2016 & 2024 (Thousand Units)

Over the past few years, there has been a significant transformation in consumers' buying preferences with regards to artistic and aesthetics quotient, a factor that has brought innumerable innovations in door quality and texture. In this regard, it is prudent to mention that uPVC doors are creating a storm in the Indian doors industry, subject to their unique advantages such as better insulation, energy efficiency, thermal insulation, diversified color options, and minimum maintenance requirement. In fact, uPVC Indian doors market is expected to witness a y-o-y growth of 8% over 2017-2024. In addition to this, leading giants of Indian doors market are also investing in enhancing their product portfolio that not only claims technological incorporations but also are environmentally viable.
Get a Sample Copy of this Report @ https://www.gminsights.com/request-sample/detail/2071
KONE is considered as one of the forerunners in bringing eco-friendly to the Indian doors industry. The company offers a full range of industrial doors, loading bays, barriers, shutters for commercial and residential housing complexes. Reliable operation, durability, safety, and most importantly environmental competencies are some of the fortes that make KONE a renowned player in the Indian doors market. Some of the other renowned players in this space include Fenesta Building Systems, DORMA, Century, D. S. India, Duroplast Extrusions, Geeta Aluminum Company, Beautex, Kalco Alu-systems, Mahavir Aluminum, Sapa Building System, Reynaers Aluminum and Welltech Systems.
Speaking of geographical aspects, West Bengal, Delhi, and Maharashtra are some of the states where the industry observes quite profound growth. In fact, estimates claim that Maharashtra alone accounted for 12% of the overall Indian doors market share, having held a revenue of USD 180 million in the year 2016.  Strong pipeline of construction projects across residential, commercial, as well as industrial sectors has propelled the product demand in Maharashtra.  A crucial determinant that needs to be mentioned here- the state is the second most populous region of the country, a factor that has enabled it to be strong contributor toward the overall Indian doors industry share.  Another statistic that can be placed as a testament regarding the increasing refurbishment and maintenance activities in Maharashtra- as per the National population and housing survey of 2011, out of 3.36 crore registered houses in India, 2.98 crore were in Maharashtra. Taking into account these aforementioned aspects, Maharashtra is expected to continue to stand as a strong contender in the Indian doors market.
With the escalating construction space along and supportive government initiations toward manufacturing eco-friendly, fire resistant, weather proof doors for commercial and residential sectors, it is certain that Indian doors industry is all set to carve a lucrative path in the years ahead.  Experts believes that in the coming period, the business space will witness an influx of even more sustainable energy efficient doors. Having held a valuation of USD 1.2 billion in 2016, Global Market Insights Inc., forecasts Indian doors market size to exceed USD 2,800 million by 2024.
Author Name : Satarupa De
The intelligent process cooling technique has led to a paradigm shift in beverage refrigeration market by bringing in significant operational efficacies. Realizing the substantial role cooling place in the overall beverage sector, manufacturing companies have brought forth a slew of innovative engineering concepts, generating a substantial momentum in the product spectrum of beverage refrigeration industry. One such example is of Frigel's foray into the beverage refrigeration market with its highly-engineered refrigeration systems. Elaborating further, the company has engineered cooling system that performs precise beverage cooling with zero contaminants. This modular approach toward refrigeration includes application in maturation, syrup cooling, yeast cooling, fermentation, carbonation, cooling tunnels, and pasteurization. Frigel's engineered refrigeration system with precise temperature control has significantly impacted the overall competitive landscape of beverage refrigeration market, which was valued at USD 3.6 billion in 2016.
North America Beverage Refrigeration Market, By Product, 2013-2024, (Thousand Units)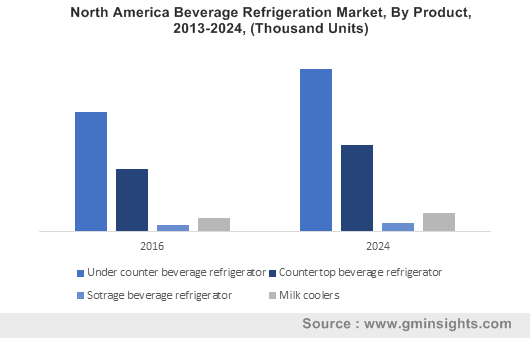 Considering the rising demand for beverages, many manufacturing companies are offering a variety of products ranging from countertop beverage refrigerator, under counter beverage refrigerator, storage beverage refrigerator and milk coolers. The countertop beverage refrigerator is witnessing heavy demand especially amongst home makers & professional chefs, subject to its spacious design, bottom freezer drawer, and powerful filtered water dispenser features. As per the estimates, countertop beverage refrigeration market is estimated to witness a CAGR of 5.1% over 2017-2024, having generated revenue over USD 1.39 billion in 2016. The under counter beverage refrigerators on the other hand have also witnessed huge popularity, owing to their UV protected glass doors. This feature of under counter beverage refrigerator helps in extending product's shelf life with minimum contamination and is thus widely used in storing beer, wine, water, juices, soda, and other drinks. Moreover, the product's better shelving & temperature control features will further support its expansion in beverage refrigeration industry, having accounted over USD 1 billion in 2016.
Reportedly, in this fast-paced era, consumers are being more inclined toward packaged drinks, owing to its convenience and easy storage, which in turn has inflated the demand for beverage refrigeration market, at a global scale. In fact, statistics claim that the global consumption of packaged drinks was around 1.05 trillion liters in 2016 of which China consumed a major portion accounting for 178.6 billion liters. These figures bear a rather vivid testimony to the fact that the beverage refrigeration industry is overt to witness massive proceeds with the increasing consumption of packaged drinks. Global Market Insights, Inc. claims the overall beverage refrigeration market share to surpass USD 4.5 billion by 2024.
Get a Sample Copy of this Report @ https://www.gminsights.com/request-sample/detail/2111
Taking into account the geographical aspects, North America beverage refrigeration market is likely to dominate the overall regional landscape, with U.S. at the forefront. The rise in beverage refrigeration market share in the region can be primarily credited to the increasing consumption of refreshment drinks. The fact that U.S. liquid refreshment beverage market marked a volume coverage of over 33 billion gallons in 2016, makes it quite overt that the regional refrigeration business will carve a profitable roadmap over the forthcoming years. Reportedly, North America beverage refrigeration industry size is anticipated to generate a valuation of USD 1 billion by 2024.
Asia Pacific is yet another major growth avenue, driven by the growing retail & food business in the region. Accounting for more than 60% of the world population, APAC is estimated to procure more than two-third of the global beverages consumption by 2020 – a factor profoundly driving the regional industry expansion. Statistics claim APAC beverage refrigeration market to register a CAGR of 6.1% over 2017-2024.
Speaking of the competitive hierarchy, some of the renowned names in this industry include Whirlpool Corporation, Coca-Cola, General Electrics, KingsBottle, Kenmore, Daikin Industries, and Electrolux. The strategic landscape of this nascent yet fragmented business space will be strongly characterized by the entry of new players and heavy investments in M&As and product innovations. In terms of volume, beverage refrigeration market is projected to surpass 7.4 million units by 2024.
Author Name : Ojaswita Kutepatil
Lifeline's recent launch of the latest edition of Zero 3620 fire suppression system marks another lucrative journey for the car safety giant in fire suppression industry.  Post the gala success of its patent Zero 3620 fire suppression series, Lifeline, somewhere toward the end of 2016, introduced Zero 3620 Firemarshal, reported to be the advanced version of the original system. As claimed by the experts, this state-of-the-art fire suppression technology not only offers outstanding performance but also scores a competitive advantage with regards to its cost when compared with other FIA 8865 approved series. In addition to this, Zero 3620 Firemarshal also meets all the revised fire suppression standards of FIA 8865 and has been especially designed to be used with diesel, unleaded petrol, and E85 fuels, cite reliable sources. Thriving on the foundation of the escalating requirement of fire safety in commercial and industrial sectors, which has pushed leading companies to diversify their product portfolio, fire suppression industry size is certain to widen its horizon in the coming years.
U.S. Fire Suppression Market, By End-Use, 2016 & 2024 (Million Units)

As reported by Global Market Insights, Inc., fire suppression market size will exceed a valuation of USD 16 billion by 2024, with the overall target annual installation to surpass 500 million units by 2024. Tremendous increase in the number of fire accidents and hazards over the last couple of years across the globe is stupendously driving fire suppression market size. Validating this crucial fact- International Rescue Services in one of the latest reports estimated that over 60000 injuries and 20000 casualties were recorded in the year 2014, due to fire. Considering these compelling issues, stringent government norms have been mandated on workers associated with mining and petrochemicals sectors to maintain occupational safety and control loss of property, which again has proved to be a major driver for the global fire suppression market outlook.
Get a Sample Copy of this Report@ https://www.gminsights.com/request-sample/detail/2059
The U.S. government, for instance, has established NFPA (National Fire Protection Association) codes and protocols for the standardization of equipment and protection systems across the country. Undoubtedly, it has brought remarkable proceeds in the regional fire suppression market trends. U.S. is one of those fire-accident prone regions where the record is noticeably high. In fact, National Fire Protection Association, in its latest report, stated that in the year 2015, America accounted for almost 1,345,500 fire accidents. Strong positive outlook toward building safety codes along with growing incidence of fire hazards is expected to stimulate the product penetration in this country. If experts' estimations are to be relied on, U.S. fire suppression industry is anticipated to exceed an annual installation of 150 million units in the coming seven years.
Europe is also claimed to be another lucrative ground for fire suppression market growth, with U.K at its foray.  In fact, U.K fire suppression industry, is estimated to witness a y-o-y growth of 3% over 2017-2024. Spreading awareness among the Europeans with regards to increasing adoption of fire protection system has fostered the regional market proliferation. Additionally, the European Commission estimates that approximately over 70000 people get hospitalized every year from fire hazards with a subsequent damage of almost USD 148.6 billion. Unfortunately, the percentage is increasing day by day, which proves to be a significant contributing factor contributing to the regional fire suppression market share. The British government in this regard, has taken substantial steps toward the development of workplace safety especially across residential and commercial sectors. For Instance, The BAFSA (British Automatic Fire Sprinkler Association) deals with building codes that standardize the installation, design, and sprinklers in residential complexes of U.K. The British government has also mandated that the premises with heavy electrical equipment should have installations of 5kg CO2 extinguisher. For fire suppression industry players, this is a vital factor to be taken into consideration.
Global fire suppression market is characterized by the participation of some of the renowned biggies like TYCO, Amerex Corporation, United Technologies Corporation, National Fire Equipment Ltd., SFFECO, Minimax, and Master Fire Preventions Ltd.  These giants are increasingly focusing on product innovations which are endowed with advanced technological affluences. For instance, Tyco, in the year 2015, introduced a novel ESFR pendent sprinkler for storage and warehouse application with an objective to strengthen its business position in the competitive landscape. Looking at the incessant effort taken by the leading companies toward the upgradation of their product portfolios along with consumers' growing awareness toward fire safety, it is undeniable that fire suppression industry would profoundly enhance its profitability landscape over the forthcoming years.
Author Name :Satarupa De
Endowed with a profoundly vast application spectrum, welding equipment & consumables market stands to gain massive remuneration by the end of 2024, subject to its incredibly extensive demand. Almost all the major businesses inclusive of building & construction, automotive, oil & gas, aerospace, and transportation find the necessity to deploy welding equipment for a plethora of industrial processes. This humungous expanse of end-use sectors and the fact that every one of them has been depicting a consistently expanding growth rate, is a pivotal factor that is deemed to stimulate welding equipment & consumables market in more ways than one.
U.S. Welding Equipment & Consumables Market Size, by Product, 2013–2024 (USD Mn)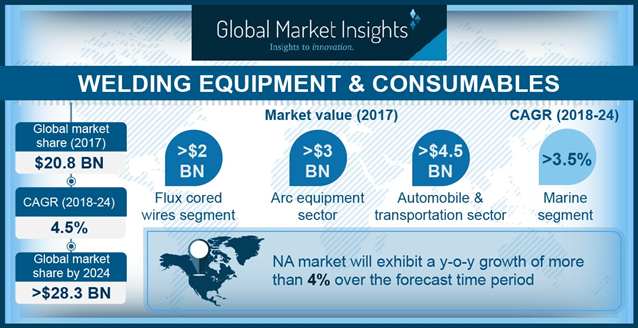 The demand for technologically advanced welding components across myriad end-use domains has prompted welding equipment & consumables equipment industry giants to come up with a unique range of innovative products equipped with highly efficient features. Miyachi America, a key firm partaking in welding equipment & consumables market share, for instance, had introduced the Miyachi MAWA-300A Micro TIG Welder in 2014 – an arc welder that is deployed for joining conductive and dissimilar materials. Over the years, this product has carved out a rather important place for itself in welding equipment & consumables industry, having found extensive applications across the automotive, medical equipment manufacturing, home appliance, and mobile manufacturing sectors.
Another very recent instance validating the prevalence of innovations in welding equipment & consumables market is Miller's all-new ArcReach welding technology. This unique piece, developed by Miller Electric Mfg. Co. in 2017 has been designed to save two hours of a welder's work/day thereby saving labor costs for companies. The product is equipped with the Cable Length Compensation and Adjust While Welding advancements, which are obtained by pairing ArcReach accessories with the power sourced of Miller's XMT 350 FieldPro, inclusive of numerous feeder and remote options. With ArcReach tech, Miller has strategically consolidated its position in welding equipment & consumables industry.
Get a Sample Copy of this Report@ https://www.gminsights.com/request-sample/detail/2050
An articulate synopsis of Asia Pacific welding equipment & consumables market
Asia Pacific has been touted to be one of most remunerative growth avenues for welding equipment & consumables industry. One of the most vital reasons for this prediction is the robust expansion of the automotive and construction sectors in the region.  The year 2016 chronicled a commercial vehicle production of more than 811,000 in India, 3,698,000 in China, and 1,330,000 in Japan. These statistics are evidence enough to testify that the automotive sector has been experiencing profound growth across APAC. Given that the domain excessively deploys welding components in automobile manufacturing, it goes without saying that APAC welding equipment & consumables market would stand to gain immense profits from the automotive sector.
The construction sector in APAC has observed a high rise since 2010, pertaining to the vital drivers such as the ever-increasing population, subsequent demand for housing, and the rapidly rising rate of urbanization. As per statistics, APAC would contribute close to 50% toward the overall construction sector by 2020, having accounted for 40% in 2010. The robust pipeline of construction and infrastructure projects across countries such as India and China is certain to propel Asia Pacific welding equipment & consumables industry in the coming years. Estimates in fact, claim APAC to account for 40% of the overall welding equipment & consumables market share by 2024.
Welding equipment & consumables industry growth has been forecast to experience a slight hindrance in the ensuing years, primarily pertaining to the emergence of novel technologies such as friction stir welding, that is essentially deployed in the automotive sector. The technology encompasses the joining of two work pieces in the solid state with a non-consumable tool. Subject to its ease of operation and convenience of functionality, it has been gaining precedence in the aerospace, shipbuilding, and transportation domains, and is likely to hamper welding equipment & consumables market share. However, companies such as Miyachi America Corporation, ESAB Group, Senor Metals Private Limited, Lincoln Electric Company, Arcon, Panasonic Corporation, and Miller Electric, have been attempting to bring about a slew of technological interventions to combat the aforementioned constraints, to bring about a renewed dynamism in welding equipment & consumables industry. Subsequently, the introduction of modernistic welding procedures and distinguished products is certain to impact welding equipment & consumables market size, slated to cross USD 25 billion by 2024.
Author Name : Saipriya Iyer
Strong growth outlook in the civil construction industry has charted a profitable roadmap for asphalt mixing plants market over the coming years. The spurt in demand for asphalt is being significantly driven by the repair and construction segment, that builds the world's asphalt driveways, tunnels, highways, bridges, and airport runways. The importance of good highways for the infrastructural development has strongly agitated the growth of asphalt mixing plants industry in several countries. In fact, speaking on statistical terms, more than 70% of the overall asphalt production is utilized for road developments across the globe. The developing countries with immense growth opportunities are expected to become significant hotspots for investment. Interestingly, asphalt mixing plants industry players are looking to tap the growing demand by launching innovative products with competitive technical properties. One such example is of the 2013's collaboration of Ammann Research & Development Center with Apollo India Private Ltd, to innovate and manufacture asphalt pavers, soil compactors and asphalt mixing plants.
U.S. asphalt mixing plants market size, by process, 2013 – 2024 (USD Million)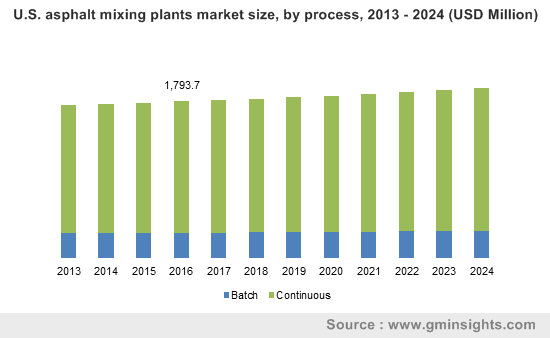 The governments of various Asian countries including China, Malaysia, Thailand, India, and Japan are financing huge amount of capital to develop road infrastructure as they act as catalyst to country's development and economic growth. In 2016, Asia Pacific asphalt mixing plants market generated revenue over USD 2.5 billion and is foreseen to hold a major share of the market pie over the coming years. Owing to the robust growth in the countries of Asia Pacific and Latin America, asphalt mixing plants industry from road construction application generated revenue over USD 5.5 billion in 2016.
Get a Sample Copy of this Report@ https://www.gminsights.com/request-sample/detail/1998

Considering the energy efficiency factor, one of the key trends in asphalt mixing plants industry is the refinement of recycled asphalt pavement (RAP). The market for asphalt plant equipment with RAP are gaining considerable traction in the US and Europe, with China being on wild card. The asphalt mixing plants industry players are designing new plants to produce higher quality output and also handle the higher percentages of RAP. For instance, E-MAK, a Turkish company has been developing a novel concept to optimize the throughput of asphalt plant. This company has designed a unit called Sandry which dries the sand being used in the mix and thus reduce energy usage and improve the overall efficiency of the asphalt mixing plants. Thus, the growing demand for improving the operational efficiency and develop high end technical products is set to propel the growth of asphalt mixing plants industry size over 2017-2024.
The harmful gases and volatile organic compounds emitted from the asphalt mixing plants pose a major threat to the growth of this industry. The environment threats pertaining to asphalt components and its quality and usage are being strongly monitored by the agencies such as EAPA, NAPA, and Association of Asphalt Paving Technology, which may hamper the asphalt mixing plants market expansion. However, many asphalt mixing plants industry players are adopting the sustainable green technology and environment friendly raw materials to combat the pollution problems associated with asphalt mixing plants. This is set to create huge growth opportunities for the industry players to develop sustainable and eco-friendly materials with regards to asphalt mixing and grab lucrative growth avenues over the coming years. One such instance is of Local Self-Government Department of Thiruvananthapuram, India. In a move to adopt green technology, the LSGD used an emulsion-based mix in asphalt instead of hot bitumen for the construction of road. Globally, asphalt mixing plants industry is set to witness a remarkable growth trajectory with a CAGR estimation of 1.4% and exceed revenue generation of USD 7 billion by 2024.
Author Name : Ojaswita Kutepatil