HVAC and Construction
Plastic fencing market has been exhibiting a remarkable growth since the last few years pertaining to the increasing product popularity among the masses, subject to its capability to provide protection and security. Currently, these fences are being massively deployed across major building structures instead of metal fences, primarily on account of the product's weight, high strength, ease of handling, transportation, and installation. These fences also provide the benefits of meshing stability, UV stability, and good visibility, owing to which they are being installed majorly across tennis courts, football fields, and golf courses, thereby fueling plastic fencing industry share. It is also imperative to mention that the adoption of business strategies such as new product development, plant expansion, and collaborations implemented by the players in plastic fencing market will indeed have a positive impact on the product demand.
U.S. Plastic Fencing Market, By End-Use, 2016 & 2024, (Million Linear Feet)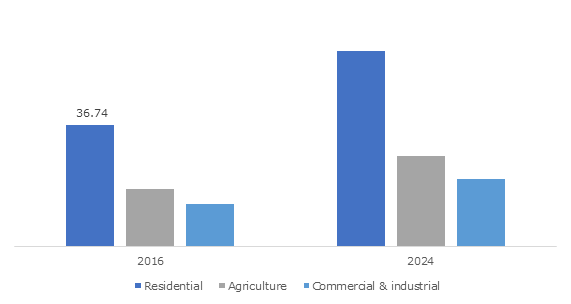 Plastic fencing has emerged as the go-to option in many amusement parks and animal reservoirs, on the grounds of increased protection. In fact, regional governments and amusement park organizers have been extending offers of fencing projects to plastic fencing market players, in order to install different types of mesh fencing and railings that would ensure visitors' safety. On these grounds, many companies in plastic fencing industry have been enhancing their research capabilities and design portfolios to improve the product quality. Some of the companies have even purchased enterprise software facilities to carry out in-depth stress testing for ensuring product strength. In addition, industry participants are also implementing several manufacturing processes such as powder coating and galvanizing to obtain an aesthetically pleasant look and a smooth surface, expanding the number of opportunities for plastic fencing market firms.
Get a Sample Copy of this Report:@  https://www.gminsights.com/request-sample/detail/385
Speaking about the initiatives taken by renowned biggies, it is prudent to mention the contribution of the Germany based specialist for doors, windows, decks, fences, and rails – Veka Inc. This firm has been making extensive investments in facility expansions in order to strengthen its stance in the regional plastic fencing industry. In fact, recently in 2017, it has built its fourth consecutive plant North America with 30 new extrusion lines that will be completed in second half of 2018. With this business expansion, Veka is looking forward to tapping most of the business opportunities across North America and Latin America. Citing yet another instance, in 2015, another well-known manufacturer of plastic fencing and barriers, Tenax Corp has invested USD 4.5 million to increase production at Baltimore plant, with an intention to enhance its fencing production facility for garden and pet lines. Indeed, it is also imperative to state that the increasing refurbishment of livestock infrastructure to stimulate the agricultural community will boost plastic fencing industry outlook over the years ahead.
The escalating renovation and replacement of old railings and other security fences is slated to impel plastic fencing industry share. For instance, in 2016, the UK government called upon IAE to replace old concrete posts and weld meshes with new high strength plastic fences in order to secure RAF bases. IAE is also continuously expanding its product range encompassing plastic protection to combat the existing metal options. Currently, many of the companies have found the alternatives for metal parts with the development of composite materials like carbon fiber and plastic composites, which provides high durability and superior performance at a comparatively lower cost. In essence, this would prove to be highly lucrative for plastic fencing market share from plastic composites, that would register a CAGR of 6% over 2017-2024.
The rapidly changing trends in the sports industry would certainly have a commendable impact on the dynamics of plastic fencing market size. Regional governments have been making extensive investments in sports infrastructure developments including Lawn Tennis clubs, car racing clubs, and golf clubs, where protective fencing is being mandated by the concerned authorities. Indeed, aided by the humongous application spectrum and the appreciable efforts of industry players to innovate sophisticated products, plastic fencing market size is likely to cross USD 6 billion by 2024.
Author Name : Sunil Hebbalkar
The profitability landscape of borehole equipment market has been witnessing a massive turnaround of sorts in the recent years, on account of the rising number of mining operations, heavy infrastructural development, and the increased demand for water in drought-ridden areas. In this regard, companies partaking in borehole equipment industry share have been striving to brainstorm rather innovative products and techniques for borehole drilling. For instance, merely a couple of years earlier, Boart Longyear, a rather prominent player in borehole equipment market, was involved in a project that included installing a ventilation shaft for a longwall coal mine in Wyoming. The company deployed a dual-tube flooded reverse-circulation drilling technique that was far advanced than the ones used for a traditional raised bore rig, as it pumped air via the outer tube, forcing mud upward through the inner tube, thereby preventing porous rock from being plugged for the borehole. The same year witnessed Boart launching the game-changing TruProbe drilling system that enables the deployment of gamma, geophysical, survey sensors inside drill strings for identifying any traces of previous metals and minerals at an affordable cost, majorly impacting the product landscape of borehole equipment industry. In retrospect, it would be apt to state that Boart Longyear has indeed established itself as one of leading participants in borehole equipment market, setting ambitious standards for its fellow rivals and new entrants.
U.S. Borehole Equipment Market, By Product, 2016 & 2024 (USD Million)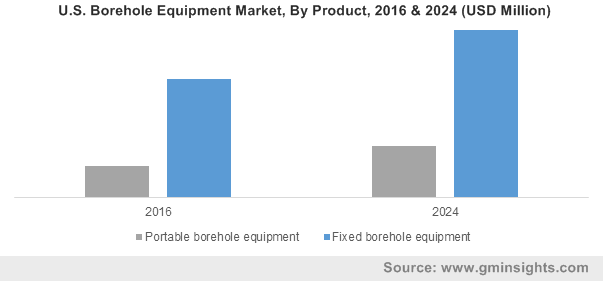 The emerging economies of Africa: The upcoming hotbeds for borehole equipment market
While the developed and developing economies across the globe have been rather proactive in global borehole equipment industry, in recent times, companies have been tapping the unexplored suburbs of the African continent, that seem to have depicted quite a perceptible potential as far as drilling operations and deploying the apt equipment for the same are concerned. Countries such as Zambia, South Africa, and the Republic of The Gambia, have lately emerged as profitable avenues for borehole equipment market, subject to the stream of favorable initiatives that are being undertaken by regional and international governmental agencies in order to combat the water shortage in these areas. A succinct gist of a couple of these productive initiatives that have transformed borehole equipment market outlook has been enumerated below:
The CEO of the Vision Development Foundation recently approved a borehole project in Kerr Demba Holley, Upper Niumi, Gambia, for GMD 500,000, that would be powered with solar and storage tanks to deal with the water supply shortage in the district.
Get a Sample Copy of this Report:@ https://www.gminsights.com/request-sample/detail/2266
In a bid to deal with the severe impact of the droughts in KwaZulu-Natal, a funding of nearly ZAR 500,000 has been provided to drill boreholes in communities such as Verulam, Wyebank, Umbumbulu, and Ladysmith. To combat the water scarcity in the region and aid the expansive regional mining industry, companies and governmental organizations plan to make sufficiently huge investments in South Africa, that would eventually impel the regional borehole equipment market share.
The National Savings and Credit Bank (NatSave) and the Musika Development Initiative struck a deal in the second quarter of 2017 for implementing a 12-month-long project in the Kalomo district of Zambia, worth ZMW 2 million. The program would apparently entail the sinking of 20 solar-powered boreholes for increasing the productivity of small-scale farmers and improving their access to irrigation solutions in the area. The memorandum of understanding (MoU) for this pilot project is certain to gain ground in the regional borehole equipment market, encouraging other players to follow suit.
With extensive developments prevalent in the construction and infrastructure development verticals, it goes without saying that the humongous demand for advanced infrastructural facilities, massive requirement for residential and commercial spaces, in tandem with the regulations enforced with respect to strong building foundations and soil quality would have a profound impact on borehole equipment market size. Furthermore, these products find colossal applications in various grades of mining operations, thus opening up a plethora of new vistas for borehole equipment industry, given the vast expanse of mining exploration activities and the regulations that mandate mine operators to deploy highly advanced machinery for drilling. By and large, it would be apt to state that borehole equipment market trends would undergo dynamic transformations in the ensuing years, contingent on the changing demands of the expansive construction and mining sectors.
Author Name : Saipriya Iyer
The robust growth of the construction sector is one of the key drivers propelling paint rollers market expansion. Paint rollers, arguably one of the most handy décor components, are used extensively for both indoor and outdoor painting purposes across the residential, commercial and industrial arenas. It comes as no surprise that rapid urbanization of the Asian countries and the stabilization of the American building and construction sector has amplified the demand for paint rollers, thereby impelling paint rollers industry trends. With the global populace soaring higher by the day, the demand for housing would witness a major hike, on account of which paint rollers market share would increase considerably from the residential housing sector. As per estimates, the overall paint rollers industry size would surpass USD 3 billion by 2024.
U.S. Paint Rollers Market Size, By Pile Depth, 2016 & 2024 (Million Units)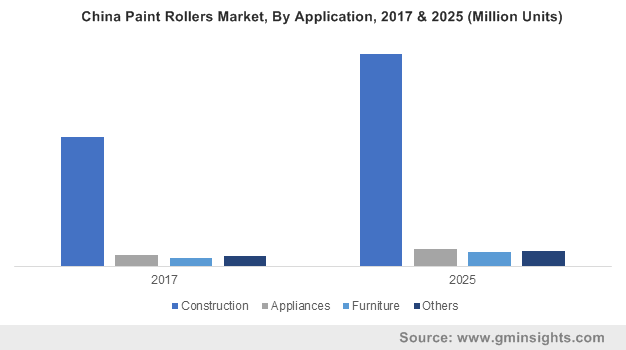 Post the housing market slump in the U.S. after 2009, the region has witnessed a surge in residential investments, as the owner-occupied real estate sector has once again gained prominence. The region has also observed a dramatic rise in the nuclear and single-family trend, substantially increasing the need for housing, which would ultimately impel the regional paint rollers market outlook. The U.S. government, it is observed, has also been offering support to new construction projects in the form of tax deductions and favorable FDI policies. Overall, it would not be incorrect to state that the U.S. housing and construction sector has been traversing along the graph of normalcy. As per estimates, the U.S. construction spending is expected to register a CAGR of 6% over 2016-2020, a fact that will directly influence the growth of the regional paint rollers industry.
Get a Sample Copy of this Report:@ https://www.gminsights.com/request-sample/detail/2183
In an era dominated by digitization and online product & service promotions, lifestyle websites like Pinterest that provide thousands of DIY ideas have been the driving force for home decor enthusiasts, many of whom prefer paint rollers over paint brushes, given that these products provide a better finish and facilitate easy usage with minimal wastage of paint. Easy applicability is one of key reasons for the development of paint rollers market popularity, since consumers find it much easier to use a paint roller themselves than spending a ton on hiring professionals to do the job.
Paint rollers are made of a variety of materials and pile depths based on consumer demand. Synthetic fabric paint rollers industry share for instance, will register a CAGR of 5% over 2017-2024, since these products are most compatible with latex paints. Another high-grade product, synthetic woven fabric rollers are also preferred lately, as they are deemed to be fire, water and abrasion resistant – factors which abide by the government regulations of better occupational safety. This in consequence, would lead to synthetic woven fabric market size gaining momentum in the forthcoming years. As end users are becoming more aware of how the material of a paint roller can determine the outcome of a paint job, numerous products across this business verticals have been gaining prominence. Blended cover paint rollers market for instance, has been witnessing substantial growth, since these rollers are compatible with all kinds of paints.
Countries witnessing exponential growth in the industrial and residential sectors across the Asia Pacific, particularly Australia, India and China, have a major role to play in APAC paint rollers market growth. As per estimates, Asia Pacific accounted for 50% of the overall paint rollers market share in 2016. The robust demand for residential buildings will further drive this regional industry, as per analysts.
Keeping in mind the ease of use and growing popularity of paint rollers, industry competitors are coming up with innovative paint rollers like the Paint Runner Pro, that is advertised to be a non-drip paint roller that holds paint. In essence, there is no need to dip the roller innumerable times into the paint, which would lead to zero paint wastage and would eliminate the requirement of drop sheets during painting. Another noteworthy paint rollers market trend is that of 3D paint rollers. These products are being developed by designers to cater to a segment of the populace that has been calling for creative but easy ways to add a flicker of class to walls, and have been taking paint rollers market by storm. The prevalence of research and development activities in paint rollers market, coupled with the ease of application, lack of wastage of product and wide field for usage, have led to these products gaining mainstream approval. With global infrastructure expenditure projected to exceed USD 9 trillion by 2024, the growth rate of the paint rollers market over the forthcoming years is forecast to be rather appreciable, given its projected demand across the construction sector.
Author Name : Paroma Bhattacharya
Centrifugal air compressor market, of late, has been witnessing tremendous growth prospects, the reason for which can be attributed to the plethora of innovations and product advancements across this business space. The role of compact and portable compressors in automotive, healthcare, food & beverage, and oil & gas industries has increased to quiet a commendable extent, owing to which several centrifugal air compressor industry players are launching application specific products with easy installation and usage. An instance hot off the press is of Atlas Copco, launching light weight mobile compressors especially designed for utility vehicles and other OEM applications. This advanced compressor is a multi-function machine which can deliver both air and power when equipped with optional generator. Industry analysts are further expecting these compact and portable air compressors to fit into more vehicle types and applications including highway works, which in turn is stimulating the commercialization potential and profitability landscape of the global centrifugal air compressor market. If reports are to be believed, the overall centrifugal air compressor market size was worth over USD 5.5 billion in 2016.
U.S. centrifugal air compressor market size, by end-user, 2013 – 2024 (USD Million)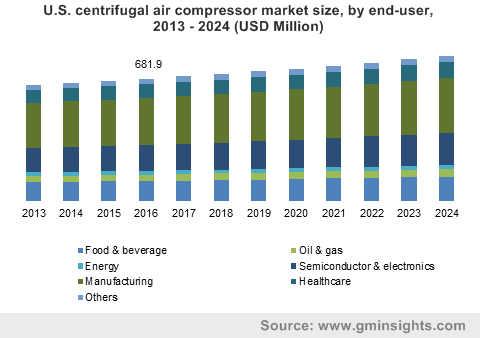 Automotive industry to favorably impact centrifugal air compressor market size
Automotive is one of the most significant industries driving considerable global centrifugal air compressor market share. These compressors are widely used in automobiles for ventilation and to supply compressed air to automobile parts. With growing number of manufacturing companies across the globe, ranging from large scale aerospace and automotive manufacturers to metal fabricators, the centrifugal air compressor market is certain to witness higher product demand in the coming years. According to reports, the robust expansion of the automotive industry in Asia Pacific has been the most significant factor stimulating regional centrifugal air compressor industry share. Estimates claim the overall vehicle sales for Asia Pacific and the Middle East regions have rose to 43.4 million units in 2015 from 35.2 million units in 2010. Moreover, taking into account the global automotive sales, in 2015, India, China, South Korea, and Japan accounted for over 40% of the total sales – a factor which validates the rapid expansion of automotive industry in APAC. Considering these facts, analysts predict the remarkable growth of the automotive industry to have a rendering impact on the regional centrifugal air compressor market, given the continuous supply of high pressure compressed and instrument air for automobiles and manufacturing activities.
Get a Sample Copy of this Report:@ https://www.gminsights.com/request-sample/detail/2185
Apart from automotive, rapid industrialization trends in oil & gas, healthcare, energy, manufacturing, and food & beverage sectors have also left a noticeable impact on the regional centrifugal air compressor industry trends. Taking into account the significant deployment of centrifugal air compressor in several types of power plants including hydroelectric, thermal, diesel-engine generators, and nuclear, it is expected that the regional centrifugal air compressor industry will witness remarkable growth prospects.  According to reports, India and China are projected to establish over 50 and 160 new projects of thermal power units respectively in the forthcoming years which is overtly expected to have a perpetual impact on the growth of centrifugal air compressor industry. Based on these grounds, the industry analysts quoted Asia Pacific to be one of the most lucrative hubs for expansion of centrifugal air compressor industry having held the highest share in the year 2016 by generating over USD 3 billion in revenue.
Given the massive deployment of centrifugal air compressor across myriad applications, the global centrifugal air compressor industry stands to gain rewardable proceeds in the coming years. Industry analysts further anticipate strategic collaborations and M&As to improve the profitability landscape and consumer base of this business sphere. Global Market Insights, Inc., forecasts centrifugal air compressor market to exceed a valuation of USD 7 billion by 2024.
Author Name : Ojaswita Kutepatil
Endowed with a vast expanse of application arenas, rotary scroll air compressor market, one of the most pivotal verticals of the HVAC and construction sphere, has been forecast to gain substantial remuneration in the forthcoming seven years. The sheer popularity of this business space comes from its massive deployment across the semiconductor & electronics, medical, F&B, and dental sectors. Not to mention, the competitive spectrum of rotary scroll air compressor industry has been witnessing the launch of unique products, specifically designed for particular end-use domains. Top-notch biggies, since the last many years, have been vying with one another to sustain their presence in rotary scroll air compressor market. For instance, LG Electronics, one of foremost leaders in the U.S. HVAC business, launched a rotary compressor for unitary and split system air conditioning last year, which is likely to amass mainstream popularity sooner than expected. While the company has been manufacturing and commercializing compressors since 1973, its brand recognition as a compressor developer has gained ground only in recent years, making the firm one of the most prominent players of rotary scroll air compressor industry.
Germany Rotary Scroll Air Compressor Market Size, by Application, 2013 – 2024 (USD Million)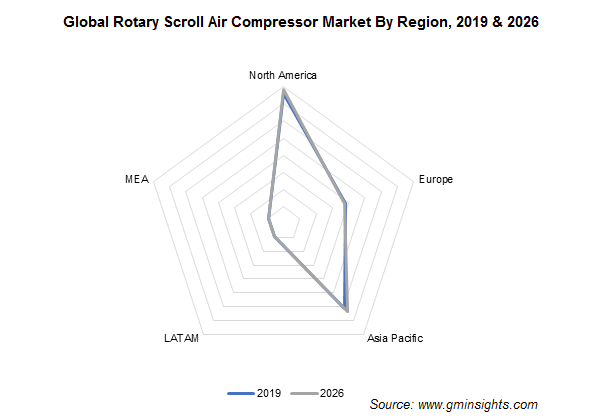 Pertaining to the globally prevalent issue of environment degradation, specific regulatory norms have been introduced in rotary scroll air compressor market, with regards to the fact that compressors, in a way, contribute to carbon and GHG emissions, inherently disturbing the ecological balance. In response, the U.S. Department of Justice, recently in 2016, released a regulatory standard for commercial and industrial compressors that helps reduce the amount of energy used in these machines, which would eventually help lower the pollution output. This standard marks a special significance in rotary scroll air compressor market, as this is the first time the DOE has released regulatory standards for compressors, post commendable efforts regarding the same since 2012.
Get a Sample Copy of this Report:@ https://www.gminsights.com/request-sample/detail/2128
The DOE states that this new regulation is likely to save between USD 36 million to USD 45 million on utility bills for consumers on an yearly basis. Furthermore, consumers may, in all likelihood, see a payback if and when they intend to purchase a new compressor within 2.5 to 5 years – a span that falls between the 13-year shelf life of the product. As the norm takes shape and is officially followed (which should commence somewhere in 2022 as per the DOE), rotary scroll air compressor market outlook is likely to witness a dynamic transformation in the years ahead. Moreover, this energy usage reduction for compressors is touted to be a step forward toward meeting the presidential goal of saving 3 billion tons of carbon emissions by the year 2030. This presumption is certain to prompt rotary scroll air compressor market players to manufacture products by following the set guidelines, while additionally helping them incline toward the development of highly innovative, energy efficient compressors.
North America is expected to be one of the most profitable avenues for rotary scroll air compressor market, given the widespread deployment of the product across myriad verticals. Furthermore, North America rotary scroll air compressor industry is governed by a stringent framework of regulations, that are enforced by authorized organizations for the deployment of energy saving equipment. Pertaining to the mature electronics and F&B sectors in the continent, North America accounted for more than 12% of the global rotary scroll air compressor market share in 2016, and is likely to grow at a steady pace over 2017-2024.
It is important for potential investors to bear in mind that rotary scroll air compressor industry does have lucrative growth prospects ahead. While the F&B and manufacturing sectors have been predicted to be the most viable options for pouring in capital, the dental sector has been evolving as a profitable avenue of late. As per the American Dental Association, more than 50% of the adult populace had a dental visit every six months in the U.S. in 2014, while more than 15% visited a dental expert on an annual basis. The extensive deployment of compressors in dental equipment would thus, help augment rotary scroll air compressor market share from the dental sector in the years ahead – a pivotal pointer that shareholders and new entrants in rotary scroll air compressor industry would need to be aware of. Given that its application spectrum spans vital business spheres, the expanse of which transcends geographical boundaries, rotary scroll air compressor market size has been projected to cross USD 2 billion by 2024.
Author Name : Saipriya Iyer
An inherent realm of the mainstream construction sphere, roofing underlayment market is likely to garner massive acclaim in the forthcoming years. This prominence can be primarily attributed to the robustly expanding construction sector across the globe, subject to the housing requirement for the ever-growing population. Adhering the need for strong roofing components for residential homes, companies partaking in roofing underlayment industry share have been religiously adopting tried-and-tested as well as novel business growth tactics to manufacture a range of products that would prove beneficial for home construction. For instance, a year ago, Owens Corning, one of the most prominent roofing underlayment market players, inked a deal with the Canada-based roofing underlayment manufacturer, InterWrap, for a valuation of USD 450 million. The transaction, post receiving regulatory clearance, attained closure in the second quarter of 2016, and is expected to prove mutually beneficial for both the parties. While InterWrap's brands would help Owens expand its presence further in roofing underlayment market, the latter's innovations in building technology is expected to help InterWrap penetrate newer markets and expand its consumer base. The agreement was touted by experts to be one of most reciprocally advantageous deals of 2016 witnessed in roofing underlayment industry.
U.S. roofing underlayment market size, by application, 2013 – 2024 (USD Billion)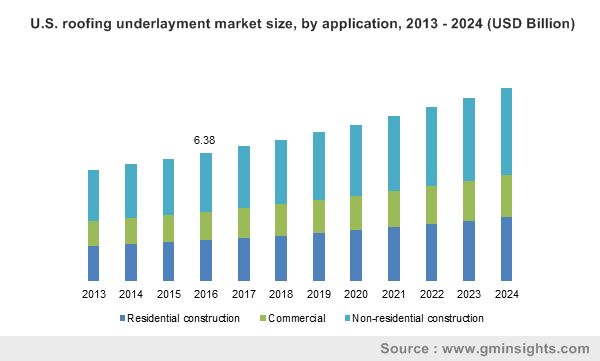 How roofing underlayment market would capitalize on natural catastrophes
A vital factor that has come to the fore lately, is the critical role that roofing underlays play in hurricane-prone areas. Residential homes in coastal regions, often prone to storms and hurricanes, necessitate the requirement of strong roofing components to sustain the hazardous weather calamities. Hurricane Irma, for instance, a category 5 hurricane, had fiercely destroyed the British Virgin Islands with a rather palpable retribution, damaging several coastal properties. While the destruction scale was being compiled, it was noted that the cost to repair damaged roofs accounted for most of the overall repair expenditure. On these grounds, it was suggested that the building codes be modified to sustain storms and other calamities, which has provided a rather lucrative avenue for roofing underlayment market players.
Hurricane Irma also prompted several companies partaking in roofing underlayment industry share, to come up with a range of strong, hurricane-proof underlays and related components. In consequence, the 3 in 1 Construction company introduced the 3 in 1 Roof – embossed with a patented, easily installable 100% durable foam embodiment inclusive of renewable solar modules, with a foam core that protects underlays from hot and cold temperature cycles. The company aims to popularize its star product across roofing underlayment market, to the extent of wanting every value oriented homeowner to choose 3 in 1 Roof as their sole option for re-roofing.
Get a Sample Copy of this Report @ https://www.gminsights.com/request-sample/detail/2115
The Alabama-based Mid-States Asphalt is another unique firm that specializes in manufacturing innovative underlays. The company's products, with proper installation, prevent water intrusion even in the harshest weather. Taking cue from their contemporaries, pivotal players in roofing underlayment market such as Carlisle Companies, DuPont, GAF Materials, Atlas Roofing, and CertainTeed Corporation have been observed to have brought about changes in their product manufacturing strategies as well.
The Association focusing exclusively on underlays
Roofing underlayment industry, being an essential vertical of the construction sphere, is governed by the laws applicable for this rapidly expanding sector. However, recently, four major roofing companies aiming to expand the reach of roofing underlayment market in the overall construction space and manufacture cutting-edge underlayment products for building envelope applications, have formed the Asphalt Underlayment Council (AUC). This association, the first of its kind, focuses exclusively on underlays and identifies the need for a council that helps standardize the quality and performance of underlayment products. In the years to come, this association would focus on bringing forth regulatory issues to the fore by means of outreach programs and educational initiatives, that would have a considerable impact on the overall roofing underlayment industry trends.
With substantial rise in the requirement for building components across residential and commercial spaces, roofing underlays are expected to register extensive demand in the years to come. As the competition in roofing underlayment market soars to superlative heights, companies constituting this combative business space would be seen adopting highly strategic measures to sustain their position. Furthermore, with the masses being more aware of the significance of roofing components in construction, it is expected that consumers would exercise caution and mandatorily install high-grade roofing underlays for their homes, which would augment roofing underlayment industry to quite an extent. Driven by the dire need for these components across coastal areas, in the face of hazardous climatic mishaps, and the adoption of building codes by contractors for installing flame-resistant and water-resistant underlays in commercial zones, roofing underlayment market size has been forecast to surpass a valuation of USD 45 billion by 2024.
Author Name : Saipriya Iyer