HVAC and Construction
The robust trend of industrialization is majorly responsible for stimulating the global
cooling tower market
over the coming years. While the industry is largely being fed by the massive number of thermal power plants, which have been actively running to meet the growing energy demands for decades, recently the industry has been witnessing a shift with the increasing adoption of a plethora of sustainable energy sources. This has effectively replaced conventional thermal power plants, creating a lucrative growth avenue for the expansion of the cooling tower industry.
Germany Cooling Tower Market Size, By Product, 2018 & 2025 (USD Million)
The cooling tower market is projected to accumulate sizable growth from this ongoing shift, which is primarily being driven by the rising consumer & environmental awareness, with sustainable power generation techniques such as cogeneration technologies at the helm. Meanwhile, as global temperatures continue to rise the market is also expected to witness increased demands from the world's HVAC sector with different industries attempting to control internal temperature to maintain a conducive work environment for their employees as well as their equipment & machinery.
Global cooling tower market | Anti-Microbial cooling towers to witness increased adoption
Being an essential part of the heating, ventilation, & air conditioning (HVAC) systems, cooling towers have witnessed extensive capacity demands from a plethora of different sectors. While industrial cooling towers are utilized without any problems inside power plants, petrochemical facilities, petroleum refineries and other industrial facilities, other cooling tower application sectors face a major issue that may make the system a significant health risk to individuals.
The issue is a harmful lung infection called Legionnaires' Disease. The disease is caused by the Legionella bacteria, which thrives in warm water conditions and could affect humans if they inhale the mist or water vapor containing the bacteria. While, the disease was the matter of concern back in the 1970's, the problem still persists today. In fact, according to Becker's Clinical Leadership & Infection Control, a study conducted in 2016 discovered that more than 84% of cooling towers in the U.S. contained Legionella.
Get a Sample Copy of this Report @ https://www.gminsights.com/request-sample/detail/3023
This has prompted many industry players to develop anti-microbial cooling towers, which contain ant-microbial additives that work on a cellular level to continuously prevent & disrupt the uncontrolled growth of such microorganisms. This advancement coupled with the ageing infrastructure & strict workplace safety rules are expected to considerably stimulate the overall cooling tower market growth over 2019-2025
Global cooling tower market | Expanding data center domain to add momentum to the industry growth
The technology cosmos is getting more concerned about the heat produced in data centers on a daily basis. These facilities require an extremely reliable system to efficiently maintain the power, cooling as well as support systems that are extremely crucial for ensuring continuous flow of information across these mission-critical facilities. Achieving close to a 100% availability or uptime at data centers has become a necessity as loss of power in data centers could cost the organization millions of dollars, thus making cooling towers extremely crucial for the future of data storage & cloud computing.
Moreover, according to the U.S. Department of Commerce, the hyperscale trend has recently taken the data center industry by a storm. Data center projects in the 150,000 sq. foot and $120 million range, are now considered small while facilities in the 600,000 to 1,000,000 sq. foot and $1 billion range are now becoming the industry norm. This significant boost in scale coupled with the ongoing rise in the number of data center facilities is expected to one of the primary growth inducing factors for the global cooling tower market in the coming years.
Speaking of the regional spectrum, it is vital to mention that the U.S. is bound to be one of the most proactive hubs for the growth of the cooling tower market. Powered by a highly favorable regulatory spectrum, U.S. cooling tower market was worth USD 250 million in 2018. In the years ahead, the U.S. cooling tower industry is anticipated to garner substantial returns, driven by the paradigm shift in the administrative policies and the robust expansion of the regional manufacturing sector.
It is quite apparent from the aforementioned trends that the global cooling tower market is primed for drawing in sizable growth over 2019-2025. Propelled by the expansion of the industrial sector and the hefty adoption of sustainable resources, the global cooling tower industry size is projected to surpass a valuation of more than $3 billion by 2025.
Author Name :Akshay Kedari
The Europe building materials market is expected to emerge as one of the most remunerative verticals of the global construction space, given that the construction industry in the region is fast recovering from the financial crisis. It is also vital to note that the regional construction industry is slowly shifting from a traditional model to one that more suitable for the millennial generation, with consumers opting for   With strong growth projections being made for the overall European construction industry, it is rather predictable that the Europe building materials market will depict a massive upsurge in the years ahead. Indeed, estimates claim that Europe building materials industry size is expected to surpass $125 billion by 2024.
Europe Building Materials Market, By Application, 2017 & 2024 (USD Million)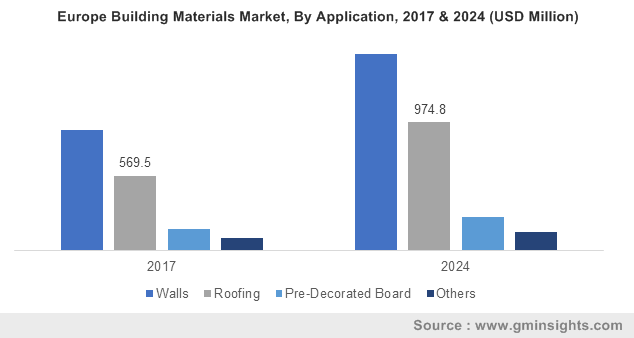 Rising proportion of construction activities in various member countries to propel Europe building materials industry trends
Hungary, Poland, Ireland and Portugal are some of the European countries where construction growth has been recorded to be the fastest in 2018 while growth of civil engineering projects has been the fastest in Nordic countries such as Sweden and Norway. Construction has also been remarkably fast paced in the eastern European countries. As prices for imported building materials have also dropped to pre-crisis levels, the construction industry in Europe has come to gain increased traction, a factor that will in turn add stimulus to the Europe building materials market.
Is should also be noted that the performance of the construction industry stands only next to pharmaceuticals, automotive, and rubber products industries in terms of revenue generation. Therefore, the European Union has put in place some of the most supportive regulations for the construction industry which has helped it to thrive, subsequently generating ample revenue for the Europe building materials industry and top European building material companies as well.
Get a Sample Copy of this Report @ https://www.gminsights.com/request-sample/detail/3026
UK is one of the countries that adds most value to the Europe construction industry. Together with Germany and France, UK contributed to approximately 50% of the total valuation of the construction industry in the continent in 2016. In 2017, UK generated over $8 billion revenue with the UK Office of National Statistics having reported that the construction index in the country had been the highest in the past 15 years in 2017. Also, with major upcoming infrastructure projects such as Brent Cross Shopping Center, Aykon London One, Angel Meadows and other, it is projected that the Europe building materials industry will accrue significant profits solely on account of UK's contribution toward the regional business.
Surging tourism prospects to contribute to Europe building materials market growth
The thriving tourism industry in Europe is yet another factor which contributes remarkably to the growth of the Europe building materials market. Estimates show that millions of tourists frequent the continent on a regular basis, making it inevitable to develop hotels, resorts and other commercial buildings that can accommodate the increasing influx of tourists. While southern and Mediterranean regions of Europe rank highly in terms of international arrivals, visitors to central and Eastern European nations are also projected to increase in the upcoming years which will add to the need of increasing tourist accommodations in these countries.
Remarkably, France and Spain are the two top tourist destinations in Europe among the many that exist, which has prompted the governments in these countries to undertake tourist friendly policies and develop sustainable means for remaining competitive in the tourism industry. Such developments are ultimately positive growth indicators for the Europe building material industry as nearly 1,449 projects are in the construction pipeline as of 2018.
Escalating green building trends to substantially stimulate Europe building materials market
Since building construction in Europe has been estimated to be expanding exponentially, the European Union has been revising its approach to regulations over building materials to improve sustainability of buildings and environmental performance of buildings. EU introduced Level(s) which is essentially a voluntary reporting framework that looks into the sustainability of buildings and accesses their impact on sustainability at the European level. The European Union wants the regional construction industry to move away from the linear economic model where a substantial amount of waste is created and embrace a more resource efficient model.
Considering that the buildings sector consumes a large portion of the resources, accounting for approximately half of all extracted materials, one third of water consumption, half of total energy consumption and one third of waste generation, green building materials in Europe is increasing in demand to adhere to the emission and wastage arrest goals in the continent. The green construction trend would thus add a highly progressive acceleration to the Europe building materials market.
Renovations and remodeling besides the construction of new buildings is expanding rapidly across Europe and regulations are making sure that these new buildings and even older ones are made more energy efficient whether through the use of more sustainable building materials or through the use of updated technologies. As Europe witnesses the rise of newer trends in tourism and construction, the growth graph of the Europe building materials market is anticipated to take on an inclined slope in the years ahead.
Author Name : Paroma Bhattacharya
Owing to the deteriorating air quality and the need to maintain constant indoor temperatures, the HVAC filters market has recorded a steady growth over the past decade, a trend that is expected to continue over 2018-2024. According to data provided by the Air-Conditioning, Heating, and Refrigeration Institute (AHRI) of the U.S., in 2018 air conditioning and heat pump unit shipments got closest to number of unit shipments in 2005 which was a record setting year for the HVAC industry. In 2018, combined shipment of heat pumps and air conditioning units surpasses 5.5 million which is a 6.5% rise when compared to the same period of time in 2017. Considering that the sale of HVAC systems is attaining levels recorded in the pre-recession period as employment rate as well as consumer confidence rise, it is anticipated that the HVAC filters market will also record profitable returns by 2025.
Germany HVAC Filters Market Size, By Product, 2017 & 2024, (Million Units)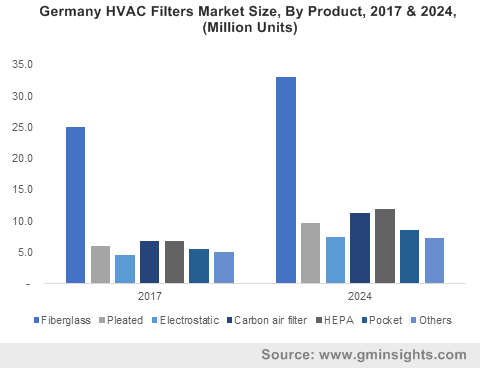 Advancement in the HVAC technology has contributed to the increase of HVAC system installation and the subsequent growth of the HVAC filters market. With legislation being put into place that will make the replacement of older and less energy efficient HVAC models possible, it is rather overt that HVAC filters market will register a significant boost.
For instance, HVAC energy intensive systems in any building are typically responsible for 30% to 40% of energy usage in college campuses and healthcare facilities. In commercial buildings on an average 48% of the water consumption can be attributed to HVAC systems which use water for cooling purposes. In such cases, if the HVAC system is not energy efficient then massive losses of energy not to mention higher energy bills will be rather commonplace.
Get a Sample Copy of this Report:@ https://www.gminsights.com/request-sample/detail/2525
Therefore, most organizations as well as energy intensive manufacturing units need HVAC system optimization to reach their targeted energy savings. To maximize HVAC system performance, not only are new systems being installed but HVAC filters in older systems are regularly upgraded and changed, adding impetus to the HVAC filters market.
The current burgeoning economic growth is also playing its part in the growth of the HVAC filters market. Not only countries with established economies but consumers in countries with emerging economies are becoming increasingly aware of the ill effects of airborne microorganisms, pollens, dust and fumes. With increasing disposable incomes, consumers are now able to afford residential HVAC systems not only for air filtration but also for maintaining comfortable indoor temperature and moisture. As the economy is recovering many consumers are opting to replace their older HVAC systems with completely new ones than going for repairs. The HVAC filters market is thus witnessing increased traction across numerous geographies.
Experts also advice periodical cleaning and replacement of filters in the current HVAC system whether in commercial or residential buildings as clogged filters can make the whole HVAC system energy inefficient not to mention defeats the purpose of having HVAC systems meant for air filtration. Dirty filters can have negative effect on health as they not only fail to filter the air but also circulate dust, dander and mold through the space which can increase symptoms of allergies and asthma. Moreover, dirty filters can raise the cost of HVAC system maintenance and eventually shorten the lifespan of the entire system. Propagation about HVAC filter maintenance had led to increased changing of filters which has again added a notable boost to the HVAC filters market.
Technological developments in the field of HVAC systems will set the precedent for the growth of the HVAC filters market. As more HVAC systems are becoming smarter with building managers being able to operate HVAC systems with smartphone apps and single control point, it is becoming easier to keep track of HVAC filter maintenance, which for the best performance are supposed to be replaced every two to three months. Thus, with the greater installation and better maintenance of HVAC systems to receive optimum results, the HVAC filters market size will soar high by 2025.
Author Name : Paroma Bhattacharya
Powered by the increasing rate of fatalities due to hazardous falls at industrial workplaces, industrial fall protection equipment market size has been growing remarkably in the recent years. The rising awareness among the industries and regulatory bodies about the surging need of safe working conditions for maintaining decorum at the workplace has been impelling the industry trends. Several policymakers have been implementing strict regulations to mandate the use of fall protection equipment at work sites such as construction firms, mining, and energy utility firms. The presence of a stringent regulatory scenario related to the safety of workers for curbing the chances of fatal falls along with the implementation of fall protection programs to generate awareness among the workers about the use of safety products are likely to propel the industrial fall protection equipment industry.
U.S. Industrial Fall Protection Equipment Market Size, By Application, 2017 & 2024, (Million Units)

As of now, most of the workers and employers have been striving to understand the possible hazards at the workplace and the design of the products that need to be suitably manufactured. In this regard, for generating awareness among the employers and workers about the use of appropriate protective equipment, several regulatory organizations have been forming strategic alliances amongst each other.
For instance, a few months before, Occupational Safety and Health Administration (OSHA) and the International Safety Equipment Association (ISEA) signed a two-year agreement to provide information about the selection of personal protective equipment to its members, employers, and workers. Apparently, ISEA has partnered with OSHA to share information about energy campaigns such as the National Stand-Down to prevent falls in construction. They are also planning to enforce worker safety and health programs at educational institutions and community-based organizations to reduce fatalities and injuries at workplace.
Get a Sample Copy of this Report:@ https://www.gminsights.com/request-sample/detail/1693
In the last few years, the construction sector has emerged as one of the leading industrial domains where the rate of fatalities due to falling at the workplace is increasing tremendously due to lack of compliance and negligence toward the use of effective personal protective equipment. In fact, for preventing the future cases of fall fatalities at construction site, numerous construction companies have been demanding fall protection equipment on a large scale. As per estimates, by the end of 2024, the construction sector will contribute USD 900 million to the industrial fall protection equipment industry.
Most of the industries comprise confined spaces on their work sites that come with challenges for the safety of employees. At such work sites, nearly more than 60% such incidents occur during repairing and maintenance activities. In such situations, for ensuring the safety of workers, several companies have been deploying rescue kits at the confined space. Organizations like OSHA and ANSI (American National Standard Institute) have mandated the deployment of rescue facilities at hazardous workplaces for lowering the risk of fatalities of fallen workers. For the record, rescue kits based industrial fall protection equipment industry size will grow at a CAGR of 6.5% over 2018-2024.
Taking into account the proliferating demand for fall protection equipment, leading companies in the industrial fall protection equipment market have been investing in mergers and acquisitions to achieve a dominant position in the market. Recently, 3M successfully purchased the global leader in the personal protection industry, Aearo Technologies Inc., for USD 1.2 million. The acquisition will help 3M to strengthen its customer base across military, industrial, and construction sector. In addition, the company has broadened its business space in safety and personal protection equipment. The rising number of M&As will thus help industrial fall protection equipment manufacturers increase their chances of profitability and help them develop high-quality products.
It is thus rather overt that the rising number of construction activities across the globe will majorly propel industrial fall protection equipment market in the years ahead. The stringent regulations enforced by administrative bodies to increase workspace safety will also have a positive impact on the industry growth in the near future. Reportedly, fueled by strategic alliances, acquisitions, and novel product adoption, industrial fall protection equipment market is slated to surpass a revenue collection of USD 3.8 billion by the end of 2024.
Author Name : Sunil Hebbalkar
The global crawler crane market has been witnessing a remarkable growth rate lately, fostered by massive investments in infrastructure, mining, and energy sectors. Basically fueled by the rising demand for moving heavy loads safely as well as economically, crawler crane market, in 2017, was worth USD 1.8 billion and is projected to depict a CAGR of almost 7% over 2018-2024. The vast expanse of this industry can be aptly demonstrated by the recent instance of Sarens, a renowned global engineered transport, heavy lift, & crane rental services company, being recruited to undertake an array of challenging lifts adhering to the development of Ramagundam Fertilizer Plant based in India.
China crawler crane market, by application, 2017 & 2024 (USD Million)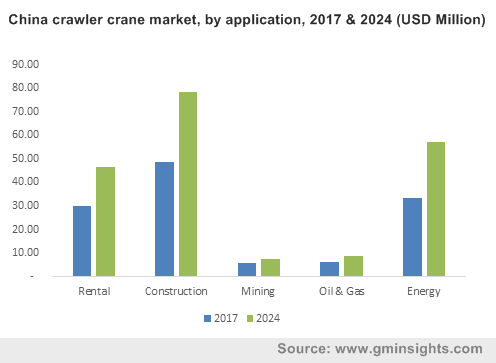 The company has reportedly deployed the Demag CC 8800-1 lattice boom crawler crane to fulfill the mammoth construction requirements of the project. With that said, the Demag CC 8800-1 has a giant lifting potential of 1600 tonnes and a topmost load moment of 26160 tonne-meters, which makes it an ideal choice. As similar developments are undertaken across the globe, the crawler crane market is anticipated to traverse along a rather prolific path and accumulate substantial revenue in the years forward.
In the recent scenario, the rental system is likely to gain traction in the crawler crane business sphere. Manufacturers in the construction and mining industries are considering renting heavy cranes over buying new cranes, owing to which notable players in the machine manufacturing industry are supplying crawler cranes on lease.
Get a Sample Copy of this Report:@ https://www.gminsights.com/request-sample/detail/2960
A brief outline of the market with respect to the application spectrum has been outlined below:
Construction
Construction applications are anticipated to witness promising growth in the ensuing years, owing to industrialization and urbanization in developing economies, the intensifying prevalence of sky-high structures, and favorable government policies across the globe to push infrastructure development. For instance, the government of Japan is working in full swing to facelift its existing infrastructure for the approaching 2020 Summer Olympics, which has surged the demand for gigantic construction machines, like crawler cranes, in the region.
In yet another interesting development pertaining to the construction sector, the world's longest sea crossing bridge connecting China, Zhuhai, Hong Kong, and Macau has recently been inaugurated officially. According to the CNN, the $20 billion & 34 miles long bridge, that spans the Pearl River Delta, would possibly reduce travel times between the locations to only 30 minutes, down from three hours. Such intricate developments that bank on efficient and high capacity construction machines, are expected to fuel crawler crane market size from construction applications.
Incidentally, a report by Global Market Insights, Inc., claims Japan crawler crane market size from construction applications to register a CAGR of 5.8% over 2018-2024, while construction applications seemingly dominated China crawler crane industry in 2017, with a share of 40% in 2017.
Mining
Mining applications are expected to garner commendable returns in the forthcoming years, attributed to the growing number of mining and excavation activities, labor safety and security concerns, and stringent government regulations deployed for worker safety. Moreover, it is nearly impossible to perform mining operations manually, due to human capacity constraints, which necessitates the demand for machines like crawler cranes, to ease as well as fast-track the mining process, thereby stimulating the crawler crane market growth rate.
Recently, Mitsubishi and Anglo American unveiled plans to spend nearly $5 billion on a newfangled copper mining project based in Peru, taking advantage of one of the largest mineral deposits of the world, with more than 1.1 Bn tonnes of ore at 0.55 percent copper claimed to be underneath this project. By virtue of such colossal mine developments, which intensifies product requirement, the crawler crane market from mining will experience rapid growth over the next few years.
Unrefutably, aided by a powerful application spectrum, crawler crane market stands to gain substantial profits in the subsequent years. As per Global Market Insights, Inc., crawler crane market size is expected to cross $3 billion by 2024.
Author Name : Nikita Chaurasia