Polymers and Advanced Materials
Conceived in an era where electronics has liberally permeated everyday lives, electronic protection device coatings market has registered significant growth subject to the increasing demand for component protection. Electronic devices such as smartphones have fundamentally changed social interactions and have now come to replace a number of other gadgets that were very prominent merely a few decades back. Inevitably, smartphones have come to be considered as highly indispensable gadgets – indeed, consumers have shown preference to buy smartphones that have higher reliability and ruggedness against common causes of damage.
U.S. EPD Coatings Market Size, By End-User, 2014 – 2025 (USD Million)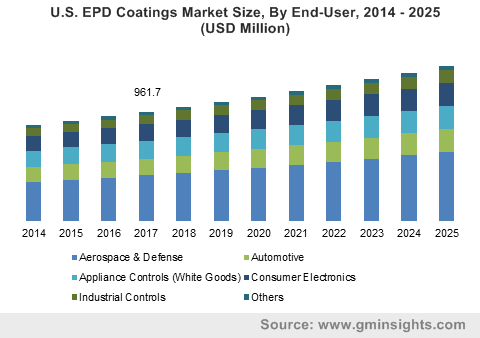 According to reliable statistics, after shattered screen, liquid damage is the second most common cause for mobile phone damage. In fact, an estimate shows that a million smartphones a day are damaged by liquids which add to cost almost $100 billion each year. Prominent smart phone makers like Samsung and Apple use O-rings and gaskets as device protections. But what has caused a major disruption in the electronic protection device coatings market is the advancement of polymer coatings.
Being hailed as a game changing innovation in electronic protection device coatings industry, nano coatings are different from more physical liquid resistant solutions like seals and gaskets, given that they cover the device entirely instead of being built into the device. Nano coatings are a low-pressure deposition of a nano scale monomer coating over the entire device rather than a mechanically engineered barrier only inside the device. This coating method chemically adheres to whatever surface it is applied to and allows greater design liberty.
Get a Sample Copy of this Report@ https://www.gminsights.com/request-sample/detail/2555
Apart from consumer electronic devices, the automotive industry is yet another sector that deploys protective coatings for devices. Automobiles have come to increasingly include greater number of electronic devices with changing consumer demands. Amenities that were previously considered luxurious have now come to be available in standard cars. Features ranging from infotainment systems and driver-assistance to rear facing cameras and automated parking – all require protection against liquid ingress and other factors like braking liquid and gasoline fumes. Considering the harsh environmental conditions that are created in an automobile, fragile electronic components like PCBs and paths between PCBs require to be protected in a manner that does not add to the weight of the vehicle. This has created a plethora of demands for protective coatings from the automotive domain, widening the scope of opportunities for electronic protection device coatings market players.
Conformal coatings have lately gained traction in electronic protection device coatings industry, given the rising demand to protect PCBs in automobiles. The polymer coating layers can be as thin as 0.002 to as thick as 0.005 inch. These coatings allow for lighter assemblies than physical enclosures or resin potting. Conformal coatings are currently paving the path for improvement in device performance while permitting significant reduction of space required to accommodate device protection.
The expansive automotive and electronics domains aside, this technology is also being applied to devices like behind-the-ear hearing instruments and receiver-in-canal hearing devices, further widening the scope of electronic protection device coatings industry. Indeed, these devices are actually being developed for the younger generation of users that are more disposed to an active outdoor lifestyle where devices are at greater risk of being damaged by liquid ingress. As these coatings find a wider spectrum of applications in the years to come, electronic protection device coatings market size is expected to register a CAGR of 4.6% over 2018-2025.
Author Name : Paroma Bhattacharya
MEA polyurethane market for automotive industry has been witnessing highly lucrative gains in the last half a decade, pertaining to the extensive deployment of PU products in vehicles. Indeed, as plastic has been gaining prominence in the MEA automotive sector as a lucrative material, leading chemical companies have been collaborating with original equipment manufacturers who are willing to use plastic products for developing automotive parts. Say for instance, last year, Saudi National Automobiles Manufacturing Company and Sadara Chemical Company teamed up and signed a cooperation deal for SNAM's planned Automobile Manufacturing Cluster.
Iran Polyurethane Market Size for Automotive Industry, By Product, 2017 & 2024, (Kilo Tons)

The Sadara-SNAM deal is an apt instance demonstrating the efforts of MEA's automakers to utilize local resources in manufacturing automotive parts and creating a sustainable automotive industry ecosystem. Through this agreement, Sadara will work with automobile parts manufacturers in the auto cluster to produce plastic parts locally. The planned auto cluster in PlasChem Park is expected to help local automotive and chemical manufacturing companies to conduct business with international clients. In essence, this agreement vividly portrays the efforts that the regional automakers and plastic manufacturers have been undertaking is certain to stimulate MEA polyurethane market for automotive industry trends.
A major factor impelling the automotive polyurethane market in MEA is the favorable foreign policy framework that has attracted myriad other automobile manufactures. Countries across MEA have lately been emerging as major automobile hubs, pertaining to the attractive economic growth of the region and the surging demand for high-end luxury vehicles. Consequently, this has generated an increasing demand for petrochemical derivative products like polyurethane for manufacturing automotive components. With the expansive growth of the petrochemical and automotive sectors in the Middle East, MEA polyurethane market for automotive industry is certain to emerge as one of the most lucrative verticals.
If a regional bifurcation is to be considered, Iran is one of the countries that has been evolving as the latest hub for MEA automobile manufacturers. That is to say, Iran's economic progress seems to be becoming rather dependent on its automotive sector after the O&G industry. Currently, the Iranian government plans to focus on strategic joint ventures and long-term partnerships with OEMs overseas, to improve the country's existing technology portfolio and increase the overall production of vehicles. Efforts are underway for the same – in 2016, the French carmaker, Peugeot-Citroen signed a deal with the Iranian automaker, Iran Khodro, in accordance with which the former will help Iranian companies transform into efficient automakers.
Get a Sample Copy of this Report@ https://www.gminsights.com/request-sample/detail/2522
Quite ironically, the rise in automotive production and the absence of leading giants in Iran polyurethane market comprising Doe, BASF, and Huntsman, have led to Turkish, Chinese, and Korean polyurethane manufacturing companies taking the privilege to extend their reach across Iran. These companies have been rapidly manufacturing polyurethane to be used in automotive components such as car seats, bumpers, headrests, handholds, steering wheels, dashboards, and electric components. In consequence, this would have a notable impact on Iran polyurethane market for automotive industry size, slated to grow at an annual growth rate of more than 4.5% over 2018-2024. Unlike the scenario in 2016 however, currently, Iran has established sufficient polyurethane manufacturing plants to fulfill the future raw material demand across automotive sector, that is certain to augment automotive polyurethane industry in MEA in the ensuing years.
The increasing foreign investments across the Middle East countries are anticipated to have a favorable influence on the commercialization potential of MEA polyurethane market for automotive industry. Of late, Korean and Chinese PU suppliers have been taking a renewed interest in improving the production capacity of the MEA region, further strengthening the regional market. As per estimates, automotive polyurethane market in MEA is expected to cross around USD 385 million by 2024.
Author Name : Sunil Hebbalkar
Driven by the rapid transformations in building regulations landscape, semi-rigid spray polyurethane foam market has gained immense recognition as a vital vertical of the advanced materials fraternity. The material is deemed to curb the energy costs by 30% p.a., which is indeed an appreciable figure addressing the rising demand for optimum energy utilization. Driven by its high insulating properties, the end-use terrain of semi-rigid spray polyurethane foam industry has increased exponentially over the years ranging from commercial, residential to industrial sectors. In fact, the material has been claimed to successfully take over asbestos, which was widely used for its fireproof and insulting properties. However, on account of the risk factors associated with asbestos, polyurethane foam has captured a substantial share of the former's commercialization portfolio.
Europe Semi-Rigid SPF Market Size, by Application, 2013 – 2024 (USD Million)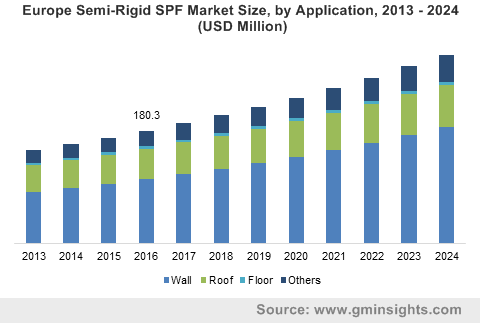 Speaking of the profitability potential, the government's role in augmenting the building performance optimization has significantly boosted semi-rigid spray polyurethane foam market trends. North America, in this regard, stands as one of the major recipients of this factor. The NECB (National Energy Code of Canada for Buildings) and Energy Standard for Buildings Except Low-rise Residential Buildings have reportedly increased the minimum criteria for levels pertaining to exterior wall insulation.
The new requirements focusing at increased thermal efficiency demand the deployment of incessant insulation in exterior wall constructions. In fact, wall as an application segment of semi-rigid spray polyurethane foam market accounted for nearly 50% of the global share in 2017.  The product in addition to being an excellent insulating material also provides high air barrier and enhances the water absorption by almost 40%. The commercial sector has been a major end-user of this product with major growth credits to wall applications. As per a report by Global Market Insights, Inc. the semi-rigid spray polyurethane foam industry size from commercial sector is forecast to register a 6.5% CAGR over 2017-2024.
Get a Sample Copy of this Report @ https://www.gminsights.com/request-sample/detail/2513
In tandem with the government efforts, the private sector has also contributed profusely toward augmenting NA semi-rigid spray polyurethane foam industry. The regional competitive and strategic landscape speaks volume regarding this dynamically-charged and high potential fraternity. Recently, Huntsman Corporation, the renowned U.S. chemical multinational announced its purchase of Demilec, an acclaimed NA spray polyurethane foam insulation manufacturer. The deal worth USD 350 million is a part of Huntsman strategy to proliferate its downstream polyurethane business along with expanding Demilec's SPF formulation portfolio in the international markets.
In yet another turn of events across the North America Semi-rigid spray polyurethane foam industry, Icynene, the renowned Ontario based polyurethane market player and Lapolla industries Inc. announced their merger, focusing toward delivery of world class services to Canadian construction market. The two firms will reportedly operate as Icynene-Lapolla and will distribute & manufacture SPF products across the Canada market. Icynene, recently also unveiled its open-cell, high-performance, light density SPF products dubbed as Icynene Classic Ultra and Icynene Classic Ultra Select, further strengthening its foothold in spray polyurethane foam market.
Elaborating further on the regional landscape, Europe stands as another major growth avenue for polyurethane foam market expansion, with UK and Germany standing as major revenue pockets. In 2017, both these regions held nearly 35% of the Europe business landscape. Speaking of the driving factors, the regulatory framework again bags a major credit, with the regional government putting appreciable efforts to realize an energy efficient infrastructure. Reportedly, in Europe, buildings account for nearly 40% of the overall energy consumption and produce 35% of the greenhouse emission. In response to this critical scenario of energy conservation, the European Union is constantly taking rigorous measures mandating energy efficient certifications for the residential and industrial infrastructure. Overtly, with such a strict government framework in place, Europe semi-rigid spray polyurethane foam market is slated to garner commendable proceeds in the ensuing timeframe.
All in all, with incessant efforts of government and private sectors toward energy optimization, growth prospects of semi-rigid spray polyurethane foam market are anticipated to be substantially high in the coming years. In terms of commercialization, the overall industry share is slated to surpass USD 1 billion by 2024.
Author Name : Sunil Hebbalkar
One of the most undervalued verticals of the polymers space, sandblasting media market has been gaining traction recently, pertaining to the massive demand for sandblasting machines across myriad domains. The rising need for metalworking processes, specifically in applications that require excellent finishing, has also been demanding varieties of sandblasting media. In fact, different types of blasting media are preferred for different types of applications such as strengthening, cleaning, polishing, etching, and stripping that find deployment in the automotive and metalworking industries. Indeed, it would be apt to state that sandblasting media industry will gain substantial returns over 2017-2024, primarily owing to its varied end-use spectrum.
U.S. sandblasting media market size, by product, 2013 – 2024 (USD Billion)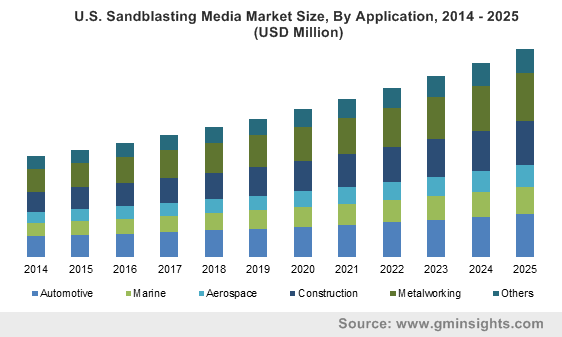 Speaking along similar lines, it is prudent to mention that the automotive, construction, and the metalworking sectors have lately witnessed a slew of investments from prominent industry stakeholders. This has consequently added momentum to sandblasting media market, the contenders of which have been working continuously to improve the ease of the sandblasting process and its affordability quotient. As per estimates, sandblasting media industry size stood at a modest USD 6 billion.
While sandblasting media market has been included among the cosmos of controversial verticals, it is pivotal to state that some of the sandblasting media may prove to be quite beneficial for the environment. For instance, crushed glass grit – one of the widely used sandblasting products can be efficiently recycled by curbing the landfills. Somewhere in 2014, the U.S. based South Central Solid Waste Authority (SCSWA) had commenced crushing glass from discarded glass bottles and jars. Since then, it has crushed 1,047,780 pounds of glass bottles and jars wasted by residents of Doña Ana County and Las Cruces in glass sand and cullet.
Get a Sample Copy of this Report @ https://www.gminsights.com/request-sample/detail/514

Back then, the glass seemed to have held no value for the local residents. Today however, a Las Cruces-based mobile sandblasting company, Clean Blast, LLC., has signed a contract with SCSWA to reuse the glass sand for numerous automotive and construction applications. Through this contract, Clean Blast, LLC is authorized to pick up 10 tons of glass sand per month from SCSWA. The incidence aptly provides testament to the fact that sandblasting media market is likely to emerge as a recipient of recycling activities for sustainability and as a lucrative growth ground for potential entrepreneurs.
The automotive sector is also a highly profitable revenue ground for sandblasting media market. Of late, the increasing popularity among the masses about automobile customization has led to consumers spending money on paint removal and polishing operations. Most of the automobile service centers in this regard have been using sandblasting media for structural and sheet metal repair work. Taking into account the effective benefits of these products, renowned automakers have been individually setting up new paint shops equipped with sandblasting media. As automotive production observes a global upsurge, the demand for polishing, finishing, and electroplating pre-treatment are likely to increase. This would, in consequence, commendably impact the commercialization potential of sandblasting media industry.
As the deployment of sandblasting media will continue to observe a rise across the automotive, construction, and metalworking sectors, regulatory organizations are likely to become all the more proactive regarding the hazardous impact of these products on human health. On these grounds, it is expected that they would strengthen the already established norms with regards to worker safety. The Occupational Safety and Health Administration (OSHA) for instance, has already mandated a set of regulations about enforcing occupational safety measures that are to be strictly adhered across sandblasting media industry. OSHA has also introduced norms that would protect workers from noise pollution and toxic particles such as lead paint and silica from blasting operations. Powered by such stringent regulatory framework and an ever-expansive application landscape, sandblasting media industry share has been forecast to register a CAGR of 6% over 2017-2024.
Author Name : Sunil Hebbalkar
With consumer preferences undergoing an extensive change in recent times, packaging materials market has registered itself as one of the strongest and fastest growing business spheres. Technological advancements and innovative packaging materials have persistently set the stage for the packaging industry to witness remarkable product demand from numerous end-use sectors. These business domains, including the likes of F&B, cosmetics, pharmaceutical, chemicals, and household products have also been projected to expand commendably in the years ahead, that would further widen the growth prospects of packaging materials industry.
U.S. Packaging Materials Market Size, By End-user, 2013 – 2024 (USD Billion)

The food sector is reported to be the largest growth ground for packaging materials industry, given that it accounted for USD 300 billion of the overall market size in 2016 and is expected to grow further in the ensuing years. This rapid growth can be attributed to the robust consumption of ready-to-eat meals, frozen raw meat products, dairy products, and canned sea-food. In consequence, this would have a major impact on the demand for flexible plastics. As per estimates in fact, packaging materials market share from flexible plastics is expected to be valued at USD 190 billion by 2024.
Speaking of flexible plastics, it is prudent to mention the instance of Sappi Limited that recently introduced the Sappi Seal in packaging materials market. Incidentally, Sappi Seal, touted to be the second generation of this flexible packaging solution, has been designed to replace hot set laminates that are made from plastic with products containing a high ratio of renewable raw materials. These solutions are gaining increasing traction as a standard flexible packaging material in the food industry and other sectors which comprise primary & secondary packaging such as sachets and flow wraps for toys & sweets. The aforesaid instance validates that global packaging materials market is witnessing a slew of technological advancements addressing sustainability and safety concerns.
Get a Sample Copy of this Report @ https://www.gminsights.com/request-sample/detail/2482
Of late, plastic waste has been the growing environmental issue worldwide, thereby being a subject of strict regulatory compliance. Reliable reports claim that if the present situation continues, there will be over 12 billion metric tons of plastic in landfills by 2050. The mass production of plastics has accounted for a whopping 91% of plastic that isn't recycled and ends up as trash and litter. In consequence of this threatening scenario, packaging materials market trends have been gathering considerable attention from leading industry players including the likes of Amcor, Ball Corporation, Sealed Air, Mondi and DuPont that are investing heavily in R&D activities to develop green and sustainable packaging materials. In a bid to develop innovative products these companies are collaborating with the technology providers to bring forth sustainable, creative, and green packaging solutions that are further likely to help retailers, packaged goods manufacturers, and food service providers drive sales and delight consumers.
Green packaging trends to extensively drive the profitability landscape of packaging materials market
Speaking of the recent innovation trends in packaging materials industry, it is worthy to mention that Micro-Fibrillated Cellulose (MFC), a unique fiber extracted from plant waste, is being used liberally as a stronger yet lighter sustainable packaging material. It has been reported that adding as minimum as 1% of MFC to an existing substrate improves the packaging performance by 15% to 20%. This material has even proved itself to be stronger & stiffer than glass or carbon fiber. Aqueous barrier coatings, Chill Buddy, Micro-patterned packaging materials, and Molded fiber printing technology are some of the other sustainable packaging materials industry trends to watch out for in the ensuing years.
Unrefutably, these emerging packaging trends though at its embryonic stage are certain to take the industry by storm more sooner than anticipated, courtesy the dynamic competitive landscape of packaging materials market that is faring determinedly along the Asia Pacific belts, Europe, and North America. These regions have become massive investment grounds for the industry players, given the extensive packaged products proliferation.
It is noteworthy to state that apart from core industry participants, several tech giants including Amazon, Dell, REI, Puma, and Colgate-Palmolive are betting big on sustainable packaging by introducing bamboo and other bio-based product categories. Thus, with sustainability credentials rolling ahead in full gusto, global packaging materials market is projected to tread along a lucrative growth path in the years ahead. Global Market Insights, Inc., anticipates packaging materials market to exceed a valuation of USD 1.3 trillion by 2024.
Author Name : Ojaswita Kutepatil