Polymers and Advanced Materials
The global electrical safety PPE market is poised to garner substantial growth in the ensuing years, owing to development in the automotive industry worldwide. In addition to its uses across construction and manufacturing, electrical safety PPE products are excessively used in the automotive industry. The industry often requires complete respiratory, hearing, hand and eye protection devices due to the number of potential hazards present within the automotive manufacturing plants.
Speaking of which, according to Global Market Insights, Inc., electrical safety PPE market size from automotive applications is anticipated to exceed $250 million by 2025. Therefore, it is safe to assume that advancement in the automotive industry will drive the electrical safety PPE industry share over the coming years.
Electric vehicles is the most flourishing segment of the automotive industry. Increasing sales rate is demonstrating growth across most regions, especially the Asia Pacific. The electric vehicle market has expanded a lot in China over the last few years, solidifying the nation's leadership position in electric vehicle market. The country's EV efforts are further backed by the government, which believes the technology could help tackle the nation's most pressing environmental concerns.
The Asia-pacific battery electric vehicles market is also growing as dominant players like China's BYD Auto continue to successfully compete in the international market against contenders like Tesla Inc. The rising demand for electric vehicles is also persuading manufacturers to set up new plants to ramp up production, which will create new manufacturing jobs, thereby propelling electrical safety PPE market share.
A crucial element of any electric vehicle's price is the cost of its batteries. According to credible reports, China is already manufacturing over half of the world's electric vehicle batteries. Within a span of few years, Chinese firms have become some of the world's major lithium producers, which is an important raw material for batteries. Indeed, China, driven by government initiatives, is said to account for an appreciable proportion of the global lithium ion battery industry.
Get a Sample Copy of this Report:@ https://www.gminsights.com/request-sample/detail/3368
Likewise, companies in India are also gearing up to cash in on this rapidly emerging industry. Following the recently allotted budget of INR 10,000 crore for boosting electric and hybrid vehicle adoption, the government of India has recently approved a 5-year plan for electric vehicle battery manufacturing to set-up large scale and export-competitive batteries and cell manufacturing Giga plants. These efforts would enhance the safety requirements at battery manufacturing sites, which in turn, would benefit the electrical safety PPE market in the future.
India, which is the world's largest market for motorbikes and scooters, is all set to experience electric two-wheeler revolution. Electric bike and scooters in India are expected to witness substantial growth on account of the country's growing per capita income and increasing concerns related to vehicular pollution. This possibility is further strengthened by the government's recent plans to convert all two-wheelers to electric by 2025, which has prompted several manufacturers to foray into the electric vehicle arena.
Case in point, India's two-wheeler giant Bajaj Motors recently confirmed it may soon launch its first electric two-wheeler Urbanite. Additionally, to support the nation's electric goal, major players are also working on potential investments to establish battery plants for electric vehicles. These efforts imply that the country would become a leading producer of electric vehicles in the coming years, which would generate huge electrical safety PPE requirements, thereby contributing to electrical safety PPE industry growth.
Data by the International Labor Organization states that every year over 1.1 million people fall prey to occupational accidents or diseases in the Asia Pacific. In order to encourage wellness of the employees as well as to save the employer from legal troubles, occupational safety is of extreme importance for the automotive industry.
Besides the aforementioned factors promoting electrical safety PPE products demand, government efforts to impose strict occupational safety guideline will also push manufacturers to equip their employees with proper safety products. For instance, India's new government is set to prioritize labor reforms in its second term. Successful implementation of labor laws will generate massive electrical safety PPE requirements in not only the Asia Pacific but other regions worldwide as well. Furthermore, a research report by Global Market Insights, Inc. estimates the electrical safety PPE market to exceed $20 billion by 2025.
Author Name : Krithika Krishnan
The global plastomer market is projected to amass substantial gains in the ensuing years, primarily driven by the boom in the packaging industry together with improved characteristics of plastomers compared to conventional plastics and elastomers. Plastomers are polymers which bridge the gap between elastomers and plastics. Plastomer industry thus, is known to procure substantial returns from a plethora of industries including adhesives, foams, industrial packaging, food packaging, automotives, wires & cables, and others.
U.S. Plastomer Market Size, By Application, 2014 – 2025 (USD Million)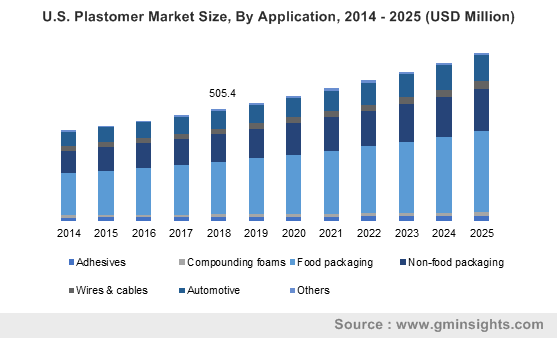 Taking an example from the adhesive industry, the Dow Chemical Company's Affinity™ GA Polyolefin Plastomers, a highly versatile range of polyolefin polymers, offers a host of cost, performance, and processing advantages such as no char, odor, or discoloration during application, as well as no clogging, plugging, or other oxidation-related device issues.
Adopting Affinity™ GA Polyolefin Plastomers result in reduced maintenance, amplified versatility, and increased coverage & more adhesive per pound of resin. Hence, the wide spectrum of advantages offered by plastomers across a range of applications will endorse product demand over the coming years.
Plastomer market size, however, is slated to be affected by the slow growth of the packaged food industry in several geographies, along with tough competition from other polymers. According to credible estimates, the share of groceries in packaged food sales in 2015 was 45 percent, which is expected to plunge to 37 percent in the year 2025. The decline in the consumption of packaged food will certainly influence plastomer market trends in the future and restrain market growth to some extent.
Enumerating the top three recent developments of the plastomer market which are projected to influence the growth graph of this business sphere
Healthcare industry gets its first controlled plastomer solution
Borouge and Borealis have recently introduced ethylene-based, octene-1 plastomer solution called the Bormed™ PL8830-PH, at CPhI in Madrid, the world's biggest pharmaceutical exhibition.  Bormed™ PL8830-PH is claimed to be the first-ever controlled plastomer solution for the health industry, and has been developed as a part of the expansion of the Borealis Bormed™ brand portfolio.
Get a Sample Copy of this Report:@ https://www.gminsights.com/request-sample/detail/3369
Being a controlled plastomer, Bormed PL8830-PH amplifies the performance paradigms of polyolefins for healthcare applications. It has been explicitly designed to be used as a versatile blend with other polyolefins in extrusion, film, and moulding applications. Indeed, such innovations will define plastomer market trends in the future and open new growth avenues for market players.
CHINAPLAS 2019 witnesses a range of innovative solutions by SABIC
SABIC, a world leader in diversified chemicals, has reportedly introduced a range of innovative solutions at the recently held Chinaplas 2019, to cater to industry challenges arising from prime global megatrends.
The event witnessed SABIC's new comprehensive solution for the food sector, named as COHERETM S POP (polyolefin plastomer), designed to offer strong support in handling the future food supply issues. It is claimed that COHERETM S POP supports superior performance with twenty percent decrease in sealing temperature. Food manufacturers can rely on the new polyolefin plastomer to enhance the efficiency of their production, augment the shelf life of food products, and decrease the damage during transit.
Holland adds Borealis' polyolefins to its product range
M.Holland Co., a resin distribution company, has recently added offerings from the world's leading polyolefins brand Borealis to its distribution product portfolio. Henceforth, M. Holland will look after the distribution of polypropylene and polyethylene resins, filled PP compounds, elastomers, and polyolefin plastomers for Borealis AG.
The filled PP materials which are a part of the new distribution channel will be produced at Borealis' new manufacturing site in N.C. This strategic alliance is slated to support the growth of both the companies in target markets, thereby positively impacting plastomer market size over the future.
In the coming years, it will be interesting to see how these market developments impact the revenue graph and competitive ambit of the global plastomer industry. Some of the top companies to watch out for in the plastomer market are Royal Dutch Shell, ExxonMobil, Borealis, Dow Chemical Company, Saudi Basic Industries Corporation (SABIC), Chevron Phillips Chemical Company, Westlake Chemical Corporation, and LyondellBasell. According to a research report by Global Market Insights, Inc., plastomer market is projected to exceed a valuation of USD 3.1 billion by 2025.
Author Name : Nikita Chaurasia
The immense application spectrum of thermoplastic polymers has been responsible for making polypropylene fiber market a highly vital business sphere lately. The impact of polypropylene fiber products on the day to day lives of people is often overlooked. Nonetheless, the material has an extensive presence across a slew of industry verticals and the consumer goods sector, providing the market a robust foundation that will support future developments in a highly competitive landscape.
U.S. Polypropylene Fiber Market Size, By End-user, 2014 – 2025 (USD Billion)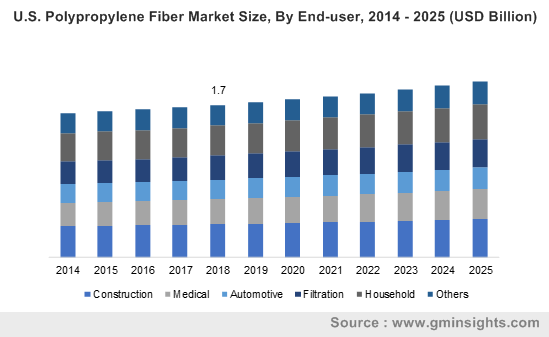 Following is a list of key trends that would are likely to boost polypropylene fiber market share significantly over the forecast timespan:
Expansion of ride-hailing and vehicle subscription services:
With millennials and Generation Z population taking centerstage as the world's biggest consumers, auto companies are seemingly finding it difficult to sell their vehicles to individual customers.
Ride-hailing: In 2018, approximately 20% of ride hailing service users in the U.S. claimed that they either delayed or avoided purchasing a car due to the availability of services like Uber and Lyft.
Essentially, polypropylene is used in automotive interiors to make trunk carpets and seat covers. The polypropylene fiber industry is slated to witness a surge in consumption as several ride-hailing and vehicle subscription services keep increasing their vehicle fleets to meet rising demand.
Imminent prospects could accelerate with the probable introduction of robotaxis in the ride-hailing market. In fact, Tesla already has plans to launch a fleet of one million robotaxis by 2020.
Vehicle subscription: With subscription-based ownership model rapidly gaining popularity across developed nations, auto makers have picked up on this trend to unveil their own customized subscription service offerings. Technically, the model revolves around the concept of temporary ownership, wherein a customer can gain access to a vehicle on a monthly basis.
Get a Sample Copy of this Report:@ https://www.gminsights.com/request-sample/detail/2242
Forbes has estimated that by 2025, subscription programs could account for approximately 10% of all automobile sales across Europe and the U.S. The sector is expected to counter the slack created by dwindling individual car sales in urban areas, impelling polypropylene fiber industry share worldwide.
Continuous growth of the construction industry:
Globally, the construction sector is distinguished as one of the most lucrative target base for polypropylene fiber industry, primarily through the benefits of polypropylene fiber reinforced concrete. According to the American Journal of Engineering Research, the novel material has been successfully used for a number of construction applications, on the basis of below mentioned performance characteristics:
High flexural-tensile strength
High permeability
High spitting resistance
Excellent impact resistance
High frost resistance
Undoubtedly, the material is expected to witness exponential demands in cold weather regions, as concrete structures and foundations in these areas are known for developing debilitating cracks due to the cold and icy weather.
Polar Vortex Outbreaks: Recently, a polar vortex weather anomaly, wherein temperatures dropped to -29° along with a -54° wind chill, had gripped Canada and North eastern United States. Such climatic conditions could become a prominent advocate for the use of polypropylene fiber reinforced concrete in new buildings as well as renovation projects.
A similar polar vortex, which occurred in the same region in 2014 caused $5 billion in damages in the U.S. With the anomaly predicted to occur more frequently due to changing weather patterns globally, polypropylene fiber reinforced concrete is expected to become the go-to solution for avoiding property damages. Subsequently, the polypropylene fiber market share is predicted to show an increase  from the construction sector around the globe.
Growing importance of wastewater treatment:
One of the biggest environmental concerns today is water conservation, since just a fraction of water on the earth can actually be used for drinking, household and industrial purposes. To alleviate the pressure exerted on water resources, several industries are adapting themselves to sustainable work practices.
While conservation is promoted as the way forward, worldwide initiatives can only achieve success when properly supported by the practice of recycling and reusing of wastewater in different industrial sectors. Fueled by this trend, the filtration sector has been witnessing exponential growth, with synthetic fibers made from materials such as polypropylene playing a prominent role.
Today, polypropylene fiber filters find application in many wastewater recovery systems across the world, which will enable wastewater recovery systems market to expand at a decent pace over next few years. Reportedly, the polypropylene fiber market share from the filtration segment is anticipated to register a robust 3.5% CAGR over 2019-2025.
All in all, propelled by its widespread presence across a number of high-growth industrial sectors, the polypropylene fiber industry is slated to experience significant growth throughout the projected timeframe. Global Market Insights, Inc., has estimates that polypropylene fiber market share will surpass $13 billion by 2025.
Author Name : Akshay Kedari
With companies increasingly focusing on adopting enhanced packaging materials, cast polypropylene films market has gathered commendable momentum over recent years. The material is widely known for its versatility and is gaining traction across many industries. Owing to the product's higher impact and tear resistance, better cold temperature performance and heat-sealing properties, cast polypropylene films market statistics have shown quite an increase lately.
U.S. cast polypropylene (CPP) films market size, by product, 2014 – 2025 (USD Million)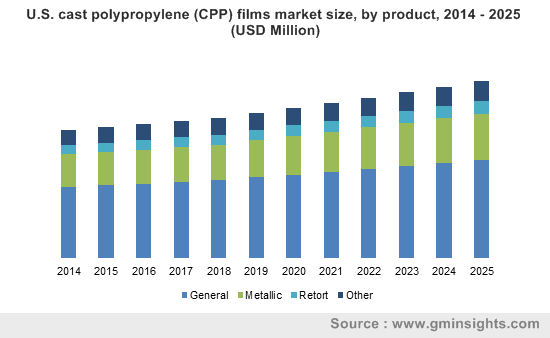 Furthermore, features like superior moisture-proof properties, excellent machine suitability, improved shock resistance & abrasion resistance and low specific weight have also led to increased impetus registered in the cast polypropylene (CPP) films market statistics.
Powered by aforementioned advanced capabilities, the product has found growing application in packaging sector for products like textile, clothing, snacks and beverage, stationary items, pharmaceutical products, fruits and vegetables. Moreover, with growing adoption, industry players are investing in the development of improved CPP films to expand product offerings and enhance cast polypropylene films market statistics.
For instance, in 2019, Cosmo Films introduced its new CPP film specifically meant for packaging applications that require high moisture and oxygen barrier and high hot tack properties, enabling packaging machines to run at higher speeds. Additionally, the company has also announced that its new CPP film is expected to contribute to 2-3% of total sales in FY20.
Given below are a list of factors that will be significant while evaluating cast polypropylene films market statistics especially in the F&B industry in the coming years:
1) Compatibility of the product with several food industries and products
In the food packaging industry, there is wide application of CPP films and specific CPP films are indeed developed for niche applications. For instance, pastorizable or sterilizable CPP films are used for dry, confectionery, bakery, fresh and processed food products.
Get a Sample Copy of this Report:@ https://www.gminsights.com/request-sample/detail/1252
Notably, CPP films are designed to perform at the highest possible speed on latest packaging lines, like flow pack wrappers, VFFS, TFFS and more, with superior heat and cold seal strengths and high transparency for thick thermoformable materials.
Presently, metallic and general CPP films are the two leading CPP film types used in the food industry. Introduction of novel CPP products has also helped businesses to improve their manufacturing productivity and speed.
For instance, in 2018, Cosmo Films launched its new CPP metalized film specially tailored to offer superior inter-layer bond strength for creating multi-layer laminate structures. These also enable FFS machines to operate on higher speed, in turn leading to improved productivity and application in packing products like bakery products, biscuits & snacks, chocolates, dairy products, spices and more.
Additionally, with growing sales and consumption of snacks and beverages, cast polypropylene film industry statistics will show a considerable rise over the coming years. For example in 2015, snack products registered a substantial increase in sales in the U.S. with a closing total of over US$ 44 billion. Furthermore, snack food item sales are expected to record a CAGR of over 2% from 2016 to 2020, claim reports from Agriculture and Agri-Food Canada.
2) Increased traction in the APAC food processing industry
While the demand for CPP is higher across developed countries like U.S., U.K., Canada and Germany, countries like India and China are increasingly emerging to play leadership roles in Asia Pacific CPP market. Statistics indicate that the Indian food industry is poised for huge growth as is expanding its contribution to world food trade each year. The country's food sector has emerged as a high-growth and high-profit sector owing to its immense potential for value addition, particularly within the food processing industry.
Citing India Brand Equity Foundation (IBEF) 2017 reports, the country's food processing industry accounts for 32% of the its total food market and ranks fifth in terms of production, consumption, export and expected growth.
Additionally, with online food delivery players like Zomato, Swiggy, FoodPanda, Zomato and TinyOwl gaining demand, increasing disposable income and changing consumer lifestyle, the food business is expected to generate huge potential and a promising future, in turn fueling the cast polypropylene films market. Experts also suggest that India's food packaging industry size will show a major incline by 2020.
3) Application in the pharmaceutical & healthcare sector
Due to features that offer enhanced protection against contaminations for longer duration, CPP films increased their foothold in medical and pharmaceutical industries for packaging of clinical products and drugs. Compared to other packaged goods, pharmaceutical items demand better reliability and speedy packaging solutions to deliver product quality, protection and offer tamper evidence, patient comfort and security.
These demands are effectively reflecting on an expanding cast polypropylene films market which is recording impressive statistics due to surging demand and consumption of medical products. Adding authenticity to the fact is a report published by the institute for Health Metrics & Evaluation (IHME), that claims global healthcare spending to most likely surpass $18 trillion by 2040.
With the rising demand of sustainability, CPP industry players are also developing products that adhere to revised sustainability guidelines that makes it easier for food and beverages industry to incorporate CPP films in their products. With growing demands, the global cast polypropylene (CPP) films market is expected to exceed USD 1.77 billion by 2025.
Author Name : Mateen Dalal
Owing to continuous expansion of the automotive industry coupled with the increasing frequency of air-travel, shape memory alloys (SMAs) market has emerged as a lucrative investment avenue worldwide. The properties that have allowed SMAs to foray deep into the aforementioned industries include their ability to remember initial shape, switching from one form to other and back to the original through heating.
U.S. Shape Memory Alloys Market Size, By End-user, 2014 – 2025 (USD Billion)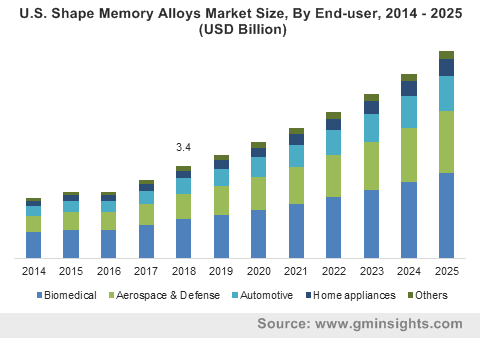 According to the Eureka Network, initially, the biggest hurdle faced by market players when manufacturing SMAs in bulk was their high price, especially in case of Nitinol, an alloy that is a 50-50 mix of nickel and titanium. However, extensive research & development efforts paved the way towards alloys made out of more financially viable raw materials like copper, to make their commercial production significantly more feasible.
Today, as reported by the Copper Development Association, Inc., products made using SMAs have been around for many years, though consumers are often unaware of their presence as they are buried under the product mechanisms. One of the few visible applications of SMAs are indestructible spectacle frames, which could be bent or twisted significantly but still revert to their original form.
Impact of the automotive industry expansion on the SMAs market
Fueled by improving economic conditions, the global automotive industry has been witnessing a surge in terms of sales and volume, specifically from emerging economies such as China and India. With the expansion of the automobile segment, the demand graph of automakers has also surged by several notches. Not to mention, these needs vary significantly from region to region.
Get a Sample Copy of this Report:@ https://www.gminsights.com/request-sample/detail/3261
The Requirements: A particular demand that is quite common in the automotive industry pertains to the vehicle crash safety and the subsequent repair costs. According to the Population Reference Bureau, road traffic accidents have witnessed a dramatic rise across the world in recent years and the financial impacts of such crashes cannot be disregarded.
The Opportunity: A National Highway Traffic Safety Administration study discovered that U.S. road accidents alone cost over $871 billion on an annual basis. While, passenger safety regulations have been highly successful in reducing the chances of death or injuries, this often comes at the cost of irreparable damage.
The Projection: This shortcoming could be mitigated through the use of SMAs as they could potentially reduce repair costs by a significant margin following a crash, where a vehicle's body work could spring back to the original design, thus lowering the instances where accidents leave an automobile destroyed. This would thus make the automotive sector a crucial end-user segment for the SMAs market, expected to account for 15% of the overall industry share over 2019-2025.
Impact of the aerospace industry growth on the SMAs market
The Drivers: Given how aircrafts are subjected to a significant amount of stress on a day-to-day basis, it only makes sense that an airplane's body panels and components be made out of highly durable yet lightweight materials. This provides considerable prospects for the SMAs market to make significant inroads in the global aerospace industry.
The Opportunities: According to Boeing, due to their large strain capabilities and high-energy density, SMAs are becoming particularly more prominent across the aerospace industry. They can be used in aerodynamic surfaces such as positioning flaps, morphing structural shapes, electric motor actuators, replacing conventional hydraulics and Smart Vortex Generator that retract to reduce drag during the flight. These applications are expected to not only benefit the aerospace industry, but also make aircrafts more efficient.
The Priority Application: One of the biggest factors anticipated to drive the growth of the SMAs market in the aviation sector is the ability of these metals to lessen the financial losses airlines face through wildlife collisions on an annual basis. According to the Federal Aviation Administration, airplanes collided with birds over 40 times a day in 2018. Apparently, some collisions cause severe deformity and can essentially ground the aircraft, causing losses of more than $500 million on an annual basis. The benefits of SMAs in overcoming these situations would make the aviation industry an ideal customer base for products.
In a nutshell, the SMAs market's ability to bridge significant gaps in the aerospace and automotive industries would enable it to draw in substantial revenue in the forthcoming years. As per reliable estimates, SMAs market size would be surpassing annual revenues of over $20 billion by 2025.
Author Name : Akshay Kedari
The industrial protective fabrics market is slated to witness a prolific demand over the next few years owing to continuous rise in manufacturing, construction and oil and gas exploration activities worldwide. Numerous cases of chemical and industrial accidents occurring annually have prompted businesses and governments to enforce stringent safety regulations and process norms to protect employees in hazardous working environments. Subsequently, effective personal protective equipment (PPE) made using various materials are being deployed that meet the critical requirements of workplace safety, providing substantial growth opportunity to the industrial protective fabrics market. Frequent human errors during operations which lead to unpredictable mishaps make it necessary to adopt decisive protection strategies.
Germany Industrial Protective Fabrics Market Size, By application, 2018 & 2025, (Million Square Meter)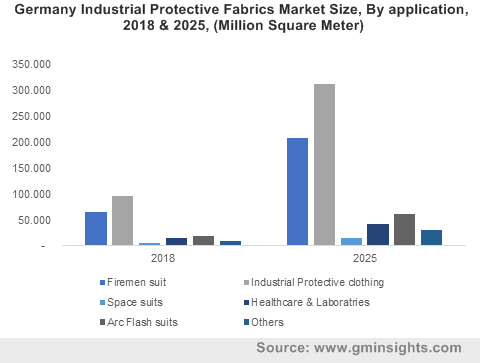 Innovative industrial fabrics such as polyester, polyolefins, polyamide, aramid and even cotton fibers help protect workers against fire, chemical hazard, electric sparks or biohazards they might encounter while performing everyday tasks. The oil and gas sector alone represents a crucial application area for the industrial protective fabrics market, since oil drilling and refinery operations entail considerable fire and injury risk. A small mistake could lead to fire in one part of an oil rig, which can quickly spread to other sections and cause fatalities, along with millions in damages. Flame resistant suits would be indispensable during these situations to help implement fire safety measures and avert major industrial disasters.
Apparently, electrocution is one of the leading causes of industrial accidents and results in several fatalities every year all over the world. It is believed that most of the electrical accidents which could take place in oil and gas facilities can be attributed to an arc flash, an extremely hazardous type of electrical shorting fault. The event occurs when a large electric current passes through ionized air or gases due to different reasons, including manual errors, equipment failure, gaps in insulation or surface impurities on the conductor. Today, the vast scale at which oil companies undertake exploration activities will generate extensive demand for arc flash suits and immensely propagate the industrial protective fabrics market.
Get a Sample Copy of this Report:@ https://www.gminsights.com/request-sample/detail/3264
In essence, arc flash suits are designed to safeguard a technician from arc flash heat exposures and minimize any burn injuries sustained, in addition to providing valuable time to escape a possible secondary explosion in the area. Considering the amount of flammable liquids and gases accompanying an oil and gas facility, occurrence of an arc flash can be catastrophic. Undoubtedly, arc flash clothing will be a vital component in a company's inventory for effectively protecting its employees and minimizing the extent of any burns or other injury. According to a long-term study conducted by Electricite de France, an estimated 77% of all electrical injuries taking place on the job are a result of arc flash incidents, demonstrating the broad scope of the industrial protective fabrics market.
A key driver for the consumption for arc flash suits is the growing awareness among enterprises about the prevention of industrial accidents and support from regulatory agencies who impose strict industrial standards. For instance, the U.S. Occupational Safety and Health Administration has directed businesses to provide necessary PPE to workers at no extra cost, including all types of protective clothing. The National Fire Protection Association's NFPA 70E article specifies the need for electrical hazard analysis for areas where high voltage systems are being operated, further helping to determine the use of industrial protective fabrics against arc flash.
Electrical installations play a prominent role in the operations of oil refineries and drilling rigs and warrant significant concentration of funds towards safety analysis and PPE allocation. With tremendous investments made for exploring new oil and gas fields as well as the growth of various other business verticals, the industrial protective fabrics market will exceed annual valuation of more than US$9 billion by 2025. Leading players outlining the industry's competitive hierarchy include Huntsman Corporation, DuPont, W. Barnet, Honeywell, Loyal Textiles Mills and Teijin, among others.
Author Name : Pankaj Singh