Industry Trends
Global Synthetic Lubricants Market size is predicted to surpass 900 kilo tons by end of 2023 andpredicted to record CAGR of 4.3% during forecast timeline. Rising demand from automobile and industrial sectors in APAC owing to new machine set ups and enhanced sale of brand cars is projected to be drive industry growth.
Europe synthetic lubricants market size, by product, 2012 – 2023, (USD Million)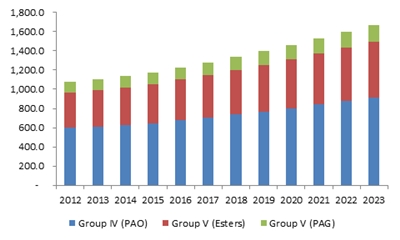 The revenue size of the global industry is predicted to be $5.1 billion by end of forecast timeline. Applicationgrowth of the industry in automobile sector, construction industry, food & beverage industry and personal care sector in developing nations like UAE, Qatar and Saudi Arabia hasshifted attentionto natural gas expansion. All these aspects are predicted to promote synthetic lubricants industry trends.
High costs compared its mineral equivalents can hinder the industry expansion in future. Synthetic lubricants market price trend observed a steep decline in last few years owing to low petrochemical prices. But costs are predicted to increase by end of forecast period.
Get a Sample Copy of this Report:@ https://www.gminsights.com/request-sample/detail/368
Product Trends
Global synthetic lubricants industry is segmented into products like PAG (Polyalkylene glycols), GroupIV (Polyalpha- olefin)(PAO)and GroupV (Esters).
Group IV Polyalpha-olefinsegment contributed more than 436 kilotons for 2015 in terms of size and is predicted to record aCAGR of about 4.1% during forecast timeline. Enhanced use of polyalpha-olefin in engines of automobiles along with OEM (original equipment manufacturers) endorsementin brands like BMW and Volkswagen is projected to promote segment expansion in future.
Group V or esters segment is predicted to touch $1.74 billion and record CAGR of 4.91% by the end of forecast period. Rising demand of esters in reciprocating compressors due to original equipment manufacturers like Ingersoll Rand as well as recommending usage of compressor oil is predicted to fuel segment growth.
Application Trends
Global synthetic lubricants market is segmented into applications like metalworking fluids, engine oils and heat transfer fluid (HTF).
Engine oils contributed more than 40.1% of globalsynthetic lubricants market share for 2015 and is predicted to record CAGR of 4.3% by end of forecast timeline. Main applications of engine oils are rising drain intervals and offering outstanding film protection along with broad functioning temperature range. All these aspects are predicted to enhance the demand for engine oils segment.
HTF or heat transfer fluid removes water and heats reboilers in chemical and oil & gas sectors. Due to this property the demand of HTF segment is predicted to grow in future. It is projected to surpass 291 kilo tons of production by end of 2023. Further, these fluids are also utilizedin power steering and as lubricants in four-wheeldrive fluid transfers. The segment is predicted to record CAGR of 4.2% during forecast timeline.
Regional Trends
Global synthetic lubricants industry is segmented into geographical locations like Asia Pacific, North America, MEA, LATAM and Europe.
Asia Pacific, led by India and China synthetic lubricants market, is predicted to consume 245 kilo tons by end of forecast timelineand projectedto record CAGR of 4.6%.Growing high end automobile sales in Asia Pacific is projected to stimulate industry expansion during forecast timeline. Further, superlative features and high performance of synthetic lubricants products as compared to its mineral based counter parts helps in wide use of these products in high end automotive.
Europe synthetic lubricants market price is predicted to surpass $1.67 billion by end of 2023 due to presence of key automobile and airplaneproducing firms like Audi, Airbus, Volkswagen, Rolls Royce, Mercedes and BMW.
Middle East and LATAM synthetic lubricants industry provides unexplored growth avenues for industry participants. But U.S. synthetic lubricants market is equally saturated
Competitive Trends
Key industry participants profiled in the report include Castrol, Amsoil Incorporation, Valvoline, ExxonMobil, Fuchs Group, Shell, Chevron, British Petroleum, Pennzoil, Kendalland Total.
Author Name : Dhananjay Punekar
This entry was posted in Bulk & Specialty Chemicals and tagged Application Potential, By Application, Competitive Market Share & Forecast, Industry Analysis Report, Market Size By Product, Price Trends, Regional Outlook.