In the recent years, the global metalworking fluids market has gained considerable prominence in terms of the profitability matrix, given the rapid expansion of industrial sectors including the likes of automotive, aviation, energy, and infrastructure. In the year 2017, this business space registered a significant USD 10 billion remuneration majorly pertaining to the fact that these fluids are being used extensively in the automotive & transportation industry. In fact, it would not be overstated to say that owing to their ability to perform the crucial task of cooling down metals in machining processes such as drilling, turning, forging, and milling, metalworking fluids have been acclaimed as the essentials in the manufacturing sector.
U.S. Metalworking Fluids Market Size, By Product, 2014 – 2025 (USD Million)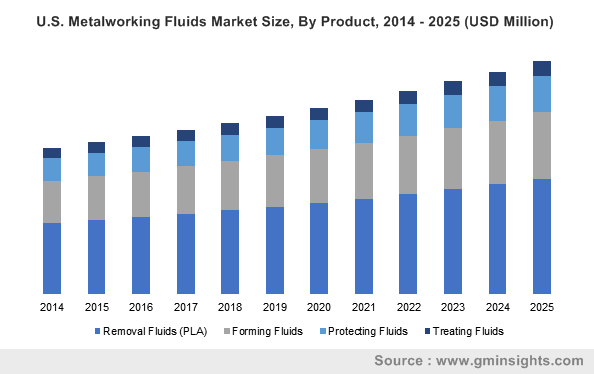 The unprecedented growth that the automotive industry is currently witnessing, with global vehicle sales exceeding 96 million units in 2017, has further added momentum to metalworking fluids market. These statistics goes on to validate the perpetual influence of the automotive & aviation sectors on the demand curve of the metalworking fluids market – indeed, these domains have chronicled themselves among the list of the most lucrative growth avenues for this business sphere.
Synthetic fluids to witness perpetual growth
Over the past decade, the metalworking fluid technology has advanced significantly, to such an extent that using the right kind of MWF for specific machining process can intensely surge machining efficiency, surface finish and metal life. Synthetic fluids in this regard are making rapid progress in metalworking fluids industry and it appears that they are all poised to cement their place among the list of top-selling products. Authentic research reports in fact claim the synthetic fluids to be the fastest growing segment of the overall metalworking fluids industry, thanks to the robust demand from the aerospace sector. Synthetic fluids are non-flammable at higher temperatures and have superior resistance to corrosion and rust – an overt factor that adds to the greater demand from the aviation sector. The fluid moreover is a good substitute to petroleum based oils, given its water-based concentrates with excellent cooling performance.
Get a Sample Copy of this Report:@  https://www.gminsights.com/request-sample/detail/831
Other metalworking fluids such as soluble oils have oil content more than 50%, which keeps them limited to cutting operations that are carried out on low & medium tensile steels, cast iron, brass, and bronze. The high oil content in these types of MWF provides ideal lubricity index for machining operation, in turn providing quality surface finish and protecting the machine tool.
India & China to emerge as global investment hubs  
The flourishing aerospace & automotive industry in the Asia Pacific region has given rise to escalating demand for metalworking fluids in the region. China has emerged as one of the strongest investment grounds, being the world's second largest economy, biggest exporter of goods, and the largest manufacturing hub. The country is also touted to be the fastest growing consumer market and the first but one importer of goods. These factors, in tandem with increased focus on sustainability and product quality have profoundly influenced the manufacturing, metal fabrication, and transportation segments in China, which in turn have set the ground lucrative for metalworking fluids market.
India too has been following similar growth patterns that have resulted into steady influx of capital in the regional metalworking fluids industry. Substantial changes in tax break and direct foreign investment policies coupled with cost-effective land & labor costs have grabbed the attention of several multinational companies, encouraging them to set up their manufacturing units in this region. Backed by such strong growth factors the regional MWF market is certain to witness phenomenal product demand in the ensuing years.
Metalworking fluids market to witness paradigm shift to eco-friendly cutting fluids
While MWFs have secured a crucial place in metal fabricating & manufacturing sectors for enhancing the tool life, they have also been scrutinized for posing serious health and safety threats on humans. As a result, there has been increasing pressure from global environmental protection agencies on the metalworking fluids industry players including the likes of Lubrizol Corporation, Henkel, The Dow Chemical Company, ExxonMobil Corp, and Castrol Ltd., which are now capitalizing on R&D trends to come up with eco-friendly MWFs.
With the shift to bio-based MWFs, other processes such as dry machining & minimum quantity lubrication are also gaining importance in the global metalworking fluids industry. Efficaciously thriving on these trends, Global Market Insights, Inc., claims the global metalworking fluids market to exceed USD 15 billion by 2025. What further remains to be seen is how the industry will fare in an era where digitization & electric vehicles are taking prominent shape.
Author Name : Ojaswita Kutepatil
This entry was posted in Bulk & Specialty Chemicals and tagged Forming Fluids, Global Metalworking Fluids Market, Metalworking Fluids Market, Metalworking Fluids Market Analysis, Metalworking Fluids Market Companies, Metalworking Fluids Market Opportunities, Metalworking Fluids Market Share, Metalworking Fluids Market Size, Neat Oil, Protecting Fluids, Removal Fluids, Semi-Synthetic Fluid, Soluble Oil, Synthetic Fluid, Treating Fluids.