Metalworking Fluids Market has become a billion-value industry due to high demand for the cutting fluids in the automotive sector. The growth in the automobile industry will positively impact the metalworking fluids industry trends, as metals are broadly used in automobiles for providing the physical and molecular strength. According to Global Market Insights, Inc., "Metalworking Fluids Market size worth USD 9.85 billion in 2015, is estimated to grow at a CAGR of 4.6% over the period of 2015-2024." Metalworking fluids are used as coolants or lubricants in workshop machining process like turning, drilling, metal forming, metal treating & protecting, etc. performing crucial tasks of cooling down metalworking assemblies and enhancing the vehicles life by increasing lubrication and reducing thermal deformation.
U.S Metalworking Fluids Market size, by application, 2013-2024 (USD million)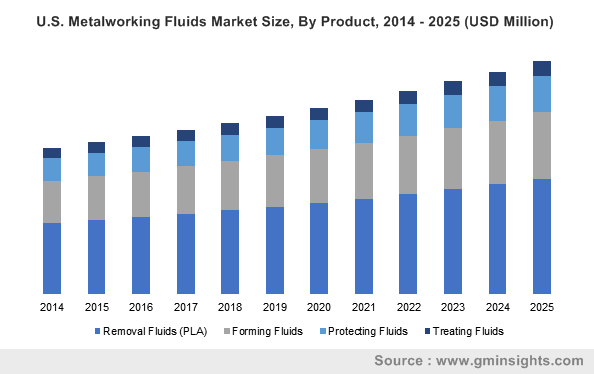 Changing consumer preferences and strict regulations will bring a fundamental shift in metalworking fluids market. Stringent regulations intended to minimize the health and environmental risk associated with the use of metalworking fluids will bring a paradigm shift from the use of synthetic metalworking fluids towards the applications of bio-based metalworking fluids. Over the years, metalworking fluid technology has witnessed considerable advancements witnessing a wide range of applications in machining processes. Specific types of metalworking fluids are being deployed across various machining operations to enhance its efficiency or productivity.
The metalworking fluids are widely used for applications such as metal removal, protecting, treating, and forming. The metal protecting cutting fluid forms a thin film on the surface of the metal, thus protecting the metal from corrosion-forming particles thereby, increasing its use in fabrication and manufacturing industry. The global metalworking fluids industry size in protecting applications was worth USD 1.2 billion in 2015. The treating applications is anticipated to grow at over 2.5% CAGR over the period of 2015-2024, owing to its wide use in controlling temperatures across metal fabrication and automotive industries.
Get a Sample Copy of this Report:@  https://www.gminsights.com/request-sample/detail/831
The flourishing automotive industry in Asia Pacific region has generated a heavy demand for metalworking fluids. China, India, Japan and Indonesia have made significant contributions in the global metalworking fluids market in 2015, and have now emerged as major regions in the global market due to rapid expansion of industries and rising government support to enlarge the manufacturing business. The accelerated rise in regional automotive sector coupled with sustainable policies in these emerging economies will boom the metalworking fluids market regional trends.
Other than automotive industry, other end-use industries such as metal fabrication, steel, and original equipment manufacturers (OEM) will also participate noticeably in the metalworking fluids industry. Metalworking fluids market size in metal & steel fabrication sector is anticipated to surpass 2.3 billion tons by 2024.
North America metalworking fluids industry will attain a substantial growth over the coming timeframe, driven by expanding automotive industry and growth of OEMs across this region. Europe, with major automotive manufacturing base in Germany, is expected to grow at a rate of 4% over the period of 2015-2024.
Global metalworking fluids market is highly fragmented and fairly competitive. The players are making huge investments in the R&D for product innovations and to meet the latest global legislation in order to protect workers' health and environment. The notable industry participants include Castrol Limited, Chevron Phillips Chemical Company LP, Apar Industries, ExxonMobil Corporation, Lubrizol Corporation, FUCHS, etc.
Author Name : Ojaswita Kutepatil
This entry was posted in Bulk & Specialty Chemicals and tagged Applications, Competitive Analysis And PDF Report, Forecast, Growth Trends, Metalworking Fluids Market - Global Metalworking Fluids Industry Size, Potential, Price, Share, Technology.