Escalating demand for real-time data collection via electric tools and rising need for non-conventional energy resources will drive wireline logging services market growth over the coming years. Introduction of new technologies has resulted in high capital investments in exploration & production activities, thereby encouraging the industry trends. According to Global Market Insights, Inc., "Wireline logging services market size is anticipated to be worth USD 24 billion by 2022." Moreover, continuously changing consumer needs along with evolving standards are expected to boost the industry revenue over the next few years. Decentralization, providing of subsoil property rights to property owners, and strict regulations & contracts will favorably influence industry growth. Booming oil & gas sector is predicted to further contribute towards the wireline logging services industry growth over the coming years.
Latin America wireline logging services market size, by hole, 2012-2022 (USD Million)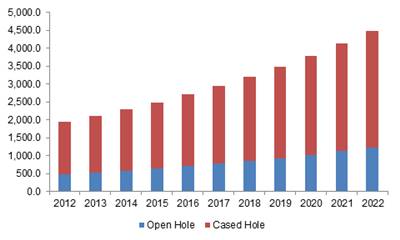 Wireline logging services market is segmented into cased-hole logging and open hole logging services. Cased hole logging services industry, which accounted for 75% of the global wireline logging services market share in 2014, is expected to maintain its dominance over the coming five years. Open hole logging services is likely to cross a revenue of USD 5 billion by 2022. Heavy demand for new wireline logging services for ultra-deep water reserves are predicted to drive the growth.
Get a Sample Copy of this Report:@ https://www.gminsights.com/request-sample/detail/135
Various technologies such as Slickline and E-line are used to measure & transmit the real-time logging data along with measuring of well-depth, down-hole pressures, and temperatures. Slickline technology segment in wireline logging services industry worth USD 6 billion in 2014, is expected to grow at a rate of 7.4% over the period of 2015-2022. It saves costs, allows safer operations, and provides reliable pressure control with low ecological risks. E-line technology segment is expected to witness a massive growth over the coming timeframe, driven by its capacity to transmit data in the electric mode along with large-scale applications in exploration & production activities.
Below are the regional highlights positively impacting wireline logging services market over 2016-2024
North America wireline logging services industry is expected to continue its domination over the coming five years, driven by rise in the number of offshore as well as onshore activities along with an increase in the rate of shale gas exploration activities. U.S. is expected to contribute significantly towards the regional share.
High energy demand along with a rise in the amount of exploration activities plus high logging requirements is expected to drive Latin America wireline logging services market revenue in the near future.
Market players will try to enhance their product portfolio and regional presence through technological innovations, joint ventures, and strategic collaborations. Key industry participants include Halliburton Company, Nabors Industries, Schlumberger, Baker Hughes, Superior Energy Services, Weatherford International, and OilSERV.
Author Name : Dhananjay Punekar