Global antidiabetics industry is strongly characterized by the regulatory norms implemented by leading organizations such as the European CE and the FDA. These organizations undertake the responsibility of regulating the commercialization of antidiabetics in clinical trials. With the exponentially growing population and the prevalence of a sedentary lifestyle, a significant rise in the patient pool suffering from diabetes has been observed, which is likely to spur global Antidiabetics Market.
   Europe insulin antidiabetics market size, 2015 & 2023, (USD Million)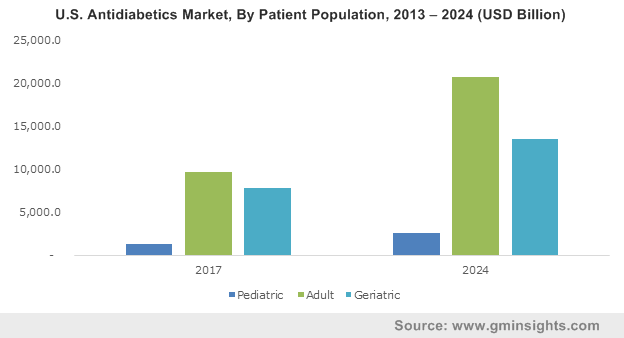 The rising number of diabetic cases have prompted the governments across various geographies to take steps toward promoting awareness regarding this disorder. For instance, the 'Diabetes UK' is slated to launch one of the biggest campaigns to encourage consciousness regarding Type II diabetes. The program will also make people aware of the harmful consequences of developing diabetes, encourage them to get screened regularly, and provide other related details. Such campaigns and awareness programs are certain to bring about a positive influence on global antidiabetics market.
In consequence to the unmet medical requirements of the healthcare fraternity and the rapid increase in the diabetic patient base, antidiabetics industry players have been concentrating on increasing their funding on research & development activities with an aim to launch novel insulin products that will efficiently treat this persistent sugar disorder. Major companies such as Sanofi Aventis, Eli Lilly, and Novo Nordisk currently dominate global antidiabetic market, pertaining to their popular brand value, wide range of products, and increased R&D investments. Many antidiabetics products that are currently in the pipeline to be commercialized are manufactured by these companies. In addition, global antidiabetics industry involves the participation of other generic manufacturers such as Pfizer, Oramed Pharmaceuticals, Inc., Takeda Pharmaceuticals, Boehringer Ingelheim, and Merck & Co. Inc.
Get a Sample Copy of this Report @ https://www.gminsights.com/request-sample/detail/504
According to a report generated by Global Market Insights, Inc., worldwide antidiabetics market size was valued for USD 51.1 billion in 2015, and is anticipated to surpass USD 116 billion by 2023, with a CAGR estimation of more than 10% over 2016-2023. Global antidiabetics industry already has a strong foothold across various geographies, and is expected to strengthen its position across the globe over the years to come. For instance, North America, in 2015, had covered more than 42% of the overall antidiabetics market share, with a valuation of USD 22.2 billion. The United States is a major contributor toward the regional revenue. As per estimates, in 2015, the U.S held the largest share of North America antidiabetics industry, pertaining to the availability of an estimated 24-million patient base, 23% of which were undiagnosed. Subject to the presence of high grade medical infrastructural facilities, increased healthcare expenditure, and a rather supportive reimbursement framework, North America antidiabetics market is expected to grow rather significantly over the forthcoming years.
Global antidiabetics industry is driven by sulphonylureas, DPP-4 inhibitors, SGLT-2, insulin products, alpha-glucosidase inhibitors, GLP-1 agonists, thiazolodinediones, meglitinides, and biguanides. Insulin occupies a lion's share in the overall demand of antidiabetic products. Pertaining to the growing prevalence of diabetes, a subsequent increase in the diabetic patient pool, and increasing number of awareness programs, insulin antidiabetics market is expected to cross a valuation of USD 75 billion by 2023, with a CAGR projection of around 13.2% over 2016-2023.
Long acting analog insulin antidiabetics industry is expected to cross USD 40.9 billion by 2023, subject to the product popularity and the rapidly rising diabetic cases across the globe. Other products including DPP-4 inhibitors, GLP-1, and biguanides are projected to witness a growth rate of 7.2% over 2016-2023.
Regulatory and governmental bodies across the globe have been striving to increase public awareness regarding diabetes. For instance, the National Institute of Diabetes and Digestive and Kidney Diseases has undertaken several education campaigns such as 'Small Steps, Big Rewards', 'Control your Diabetes for Life', etc., to increase the importance of diabetic screening, diagnosis, and treatment, which will most certainly carve out a lucrative growth path for global antidiabetics market over the years ahead. Not far behind in the list of organizations is the American Diabetes Association, that has also launched several awareness programs regarding diabetes. In addition, the International Diabetes Federation, along with its member associations celebrate the 14th of November as 'World Diabetes Day', utilizing the 24-hour span to initiate awareness campaigns and other related programs. With a strong regulatory framework and governmental support, global antidiabetics industry will chart a profitable growth curve over the coming seven years.
Author Name : Saipriya Iyer