In an era of consequential transformation in the healthcare delivery, compounding pharmacies market is charting a profitable growth curve. Although a major chunk of pharmacists are involved in drug manufacturing, yet with the advancement of technology compounding has become an integral of pharmacy practice. The expanding geriatric population base along with increasing customized medication requirements subject to alternative doses, flavor, formulations are stimulating the market dynamics. In addition to this, the recent trend toward personalized diagnostic approach is expected to complement the business landscape in the years ahead. With the increasing drug shortage issues and drug failure rates in recent times, compounding pharmacies are anticipated to be the best alternative to address the growing drug demand. As per a report by Global Market Insights, Inc., "Compounding Pharmacies Market will hold a valuation of more than USD 12 billion by 2024, with an estimated CAGR of 5% over 2017-2024."
U.S. Compounding Pharmacies Market size, By Product, 2013-2024 (USD Billion)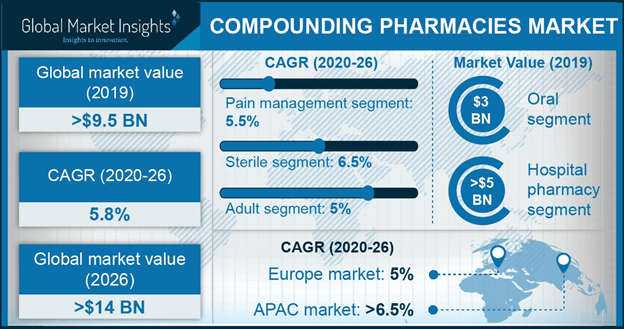 The remarkable expansion of compounding pharmacies market is quite evident from its diversified product landscape which includes oral, rectal, inhaler, ophthalmic, topical, and parenteral. Oral medications procured the largest portion of the market share in 2015, and the trend is likely to continue in the years ahead. Growing individual preference toward consuming medicines in the form of tablets, capsules have significantly propelled the market demand from this domain. Other than oral route, parenteral medications will also witness lucrative growth over 2017-2024, subject to the benefits associated with its compounding preparations. These intramuscular injections result in quick action to the body due to its localized drug application method.
Get a Sample Copy of this Report @ https://www.gminsights.com/request-sample/detail/749
The prevalence of cardiovascular diseases has significantly risen among the adult population, which is likely to drive compounding pharmacies market. Sedentary lifestyles along with heavy consumption of fat-rich foods have led to a rise of these cardiac diseases, which in a way is stimulating the necessity of compounded medications. As per estimates, this sector accounted for the maximum industry share in 2016, and considering these aforementioned grounds, the trend is likely to continue in the years ahead. Pertaining to the increasing natality rates along with incapability of the commercial medicines to meet up with the customized pediatric formulation requirements, pediatric application will also register considerable revenue for compounding pharmacies market by 2024.
Speaking of technology, Japan compounding pharmacies market is highly influenced by the incorporation of hi-tech compounding processes. Adoption of automation in pharmacy compounding, presence of elderly population, and implementation of high-tech compounding devices in pharmaceutical sector can be together given the credit for the expansion of the regional market. U.S. being one of the most progressive nations w.r.t healthcare infrastructure accounted for the largest compounding pharmacies industry share in 2016. Subject to the increasing drug deficiency in the country coupled with spreading consumer awareness about compounding medications, U.S. market is anticipated to witness a strong position in the global industry by 2024.
Compounding pharmacies market is characterized by some of the restraints such as lack of skilled lab personnel, excessive cost of the process, and issues related to its safety standards. To combat these threats, key market players are undertaking various collaborations to sustain their business position in the global industry. Some of the companies engaged in compounding pharmacies market include B. Braun Medical, PharMEDium, Fresenius Kabi, Village Compounding Pharmacy, and Cantrell Drug Company.
Author Name : Satarupa De