In line with the rapid industrialization and surging requirement of cryogenic products, players in the cryogenic equipment market have been investing extensively in capacity expansions and construction of new facilities. Rise in power requirement along with the escalating involvement of energy companies in power generation to fulfil the surging energy needs is poised to impel the industry trends over the years ahead. For instance, a few months before, leading midstream energy company, Targa Resources Corp opened a cryogenic gas processing unit, wherein it plans to cool natural gas that is used prominently in the power plants to separate natural gas liquids and dry natural gas. In addition, Targa has been involved in research and development activities to diversify its product portfolio for enhancing its existing consumer base. The deployment of innovative cryogen processing facilities across myriad countries is thus slated to strengthen the industry outlook.
Europe Cryogenic Equipment Market Size, By Application, 2017 & 2024 (USD Million)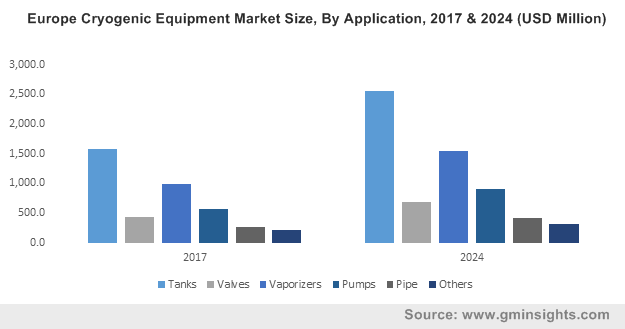 Speaking along the same lines, last month one of the well-known Netherlands-based cryogenic solution providers, DH Industries BV commenced its first LNG production facility equipped with advanced liquification equipment in Italy. Over last the decade, DH Industries has been working vigorously to modernize its cryogenic gas liquification equipment with the help of its partner Hysytech. After the launch of this new LNG purification and liquification plant, the company is looking forward to improving its customer base across Italy by targeting customers who are willing to liquefy natural gas. Reportedly, with the surging demand for LNG across the oil & gas sector, natural gas-based cryogenic equipment industry will grow at an annual growth rate of more than 7% over 2018-2024.
Taking into account the growing expanse of cryogenic equipment market, leading equipment manufacturers have been looking forward to extending their regional reach. For instance, the Swiss advanced cryogenic equipment manufacturer, Sefco AG is planning to expand its presence across APAC by establishing a new subsidiary, Sefco China. This Swiss giant provides a wide range of reciprocating and centrifugal pumps which can be used mainly for producing and distributing cryogenic liquids including LNG, liquid oxygen, liquid nitrogen, and liquid argon. Moreover, for fulfilling the customers' requirement, it is planning to optimize its R&D activity to develop more flexible and compact pump configurations. The strategies adopted by the players in the cryogenic equipment market to trailer the development of the customers-centric products will help them to strengthen their regional presence.
Get a Sample Copy of this Report:@ https://www.gminsights.com/request-sample/detail/2918
Currently, most of the countries along the likes of U.S., China, Russia, and Saudi Arabia have been investing in oil & gas exploration and excavation activities for accomplishing their energy needs. In accordance, companies involved in oil & gas exploration have been propelling the requirement of cryogenic storage tanks for performing critical processes such as gas processing, oil processing, phase separation, and oil & gas metering. In addition to storage tanks, they also have been demanding for evaporators, towers, and pressure vessels on a large scale. For the record, in 2017, cryogenic tanks covered 40% share of the overall cryogenic equipment industry.
In addition to the oil & gas sector, the healthcare industry has also been fueling the demand for cryogenic products mainly for scientific purposes and long-term storage and distribution of biological materials. Medical institutes and hospitals have been using cryogenic equipment to store bone marrow, cord blood, and organs that will be used for transplantation and transfusion. These storage methodologies demand extreme hygiene and precaution while handling biological materials, which has led to cryogenic product and service providers providing training to technicians. The growing number of trained professionals endowed with the knowledge of using cryogenic equipment for medical applications is likely to add a new growth dimension to cryogenic equipment market from the healthcare sector.
All in all, initiatives taken by the companies to expand their footprints across the globe by providing broader set of solutions is poised to improve the product demand. The shifting focus of the companies to target prominent consumers of cryogenic equipment by providing optimized technology services will also have a significant influence on the industry trends. Driven by the surging industrialization and transforming healthcare services, cryogenic equipment market will surpass a revenue collection of USD 25 billion by the end of 2024.
Author Name : Sunil Hebbalkar