ABB recently grabbed headlines in the global oil filled transformers market for its development of a robot for internal inspection of oil filled transformers. Apparently, the TXplore robot designed by ABB can work inside the complex environment of oil filled transformers and carry out internal inspections, a task which is rather costly and dangerous to humans. Downtime during human inspection of oil filled transformers not to mention the risk it poses to the human team as well as the cost to operator can be effectively reduced and, in some cases, entirely eliminated with the use of the TXplore. Application of the TXplore for inspections will not only mean lowering inspection times but will significantly contribute towards the expansion of oil filled transformer market as the product will become more easier to maintain.
Germany Oil Filled Transformer Market Size, By Mounting, 2017 & 2024 (USD Million)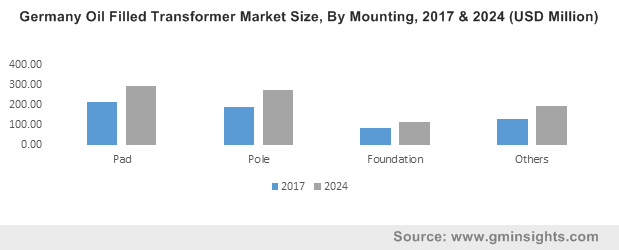 The oil filled transformer market is expected to register a major upsurge as the global population will continue to grow while economic advancements will increase the demand for electric energy around the world. According to the World Energy Council, global demand for energy per capita will reach its peak in 2030 and demand for electricity will double by 2060 which will lead to greater infrastructure investments and major upheaval of the current systems to promote energy efficiency. The United Nations estimates that the world population will reach 8.5 billion by 2030. With increasing innovations and the use of electronic gadgets becoming more widespread and common, it is expected that there will be an exponential demand for electricity which is turn will add a substantial impetus to the oil filled transformer market.
It is noteworthy to mention that global electricity demand witnessed a 3.1% jump in 2017 and India and China together accounted for 70% of this rise, according to the International Energy Agency. Economic growth, widening of electric grids, rapid urbanization and expanding demand for electronic devices besides the huge population have contributed to the increase in demand for electric energy. The Agency cites that in China warm summers and robust economic growth of over 7% has contributed towards the growth while in India, 12% economic growth has done the same. These countries also have the largest population in the world. The oil filled transformer market is expected to register massive growth across the emerging economies, where energy demand is rapidly swelling.
Get a Sample Copy of this Report:@ https://www.gminsights.com/request-sample/detail/2951
Speaking of the emerging economies such as India and China, it is imperative to mention that these countries would also be the seat for urbanization. According to another United Nations report in 2014 54% of the world's population lived in urban areas, a proportion that is expected to reach 66% by 2050. Over the same timeline the world will be adding 2.5 billion people to urban areas with Asia and Africa consisting of 90% of the population. Pervasive electric supply is an essential element of urbanization and with the extensive supply of electricity, oil filled transformer market will register significant progress.
With urbanization boosting the demand for electric supply, city planners are looking for greener and more efficient solutions which has led to the gradual rise of smart grids and an over hauling of the existing electric grid system. While cities like New York and New Jersey are in the process of building microgrids to support the mass transit systems, French public lighting firm, Citelum, has announced projects for smart street lighting. Older cities where the electric grid system is already established but out of date, are witnessing major upgradations not only to make newer technologies available to the city but also to install greener solutions which will eventually contribute to a greener future for the world by increasing energy efficiency and mitigating energy loss during transmission. With urbanization and increased population that demands better electric facilities, a robust path of growth will be paved forward for the oil filled transformer market over 2018-2024, which is expected to exceed $45 billion by 2024.
Author Name : Paroma Bhattacharya