Rising cases of chronic diseases like diabetes and rheumatoid arthritis has magnified prefilled syringes market size tremendously, to facilitate precise drug dosage coupled with eliminating any complications during the transfer of drugs from the container to the syringe. The simplified usage of drugs coupled with accurate drug administration is steering the global healthcare sector towards adopting prefilled syringes, in conjunction with rapidly growing expenditure on health services in developed countries.
U.S. Prefilled Syringes Market Size, By Type, 2018 & 2025 (USD Million)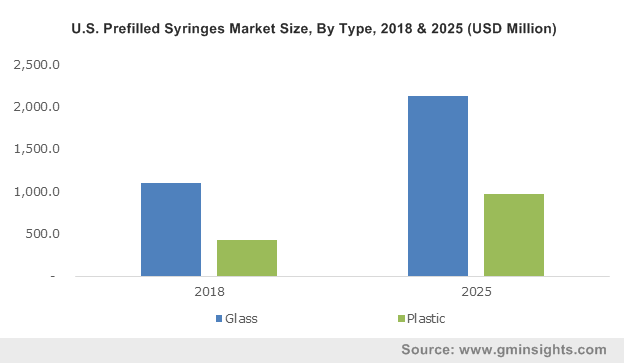 According to International Diabetes Foundation, over 425 million people are diagnosed with diabetes and by 2045 the number is estimated to grow to 629 million. The rising complexity in pharmaceutical drugs is pushing innovations in drug delivery mechanisms. Furthermore, to enhance safety and ease of administration for healthcare workers and patients, several companies are improving quality and developing new ways of reaching out to their customers.
For instance, recent innovations in prefilled syringes include bubble free drug dosage with accuracy and minimal drug wastage. Ease in administration, reduction in medicinal errors, easier self- use at home and increasing assurance of sterility are vital factors influencing prefilled syringes industry trends.
Plastic prefilled syringe products have gained substantial momentum over the years and the segment is expected to register more than 12% CAGR over the forecast period. Plastic syringes facilitate enhanced robustness against breakability along with improved ergonomics while delivering drugs.
Get a Sample Copy of this Report:@ https://www.gminsights.com/request-sample/detail/1968
There has been development of novel products like thermo elastic polymers which are typically as clear as glass but are light weight and less prone to breakage, along with being highly resistant to water transmissions that improve the drug shelf life. They are able to tolerate freeze drying and liquid nitrogen exposure, representing an innovative development in plastic syringes segment, which will provide considerable impetus to prefilled syringes market outlook.
A Japan based medical device company recently launched PLAJEX in December 2018, which was a polymer based pre-filled syringe product that is silicon oil-free and uses autoclave sterilization. Polymer used in syringes are hard to break and safer to use. Furthermore, PLAJEX reduces the risk of oxidation of biopharmaceuticals and eliminates aggregation. Innovative product enhancements by companies will certainly assist them in gaining competitive edge and will drive prefilled syringes industry forecast.
Revenues from the single chamber prefilled syringes segment reached over USD 4 billion in 2018. Single chamber vials prove to be extremely beneficial as these involve fair manufacturing process standards. Additionally, for users who have little practice with respect to the usage of prefilled syringes, single chamber vials provide easy, reliable and adequate solutions. These syringes also provide needle stick protection that aide doctors and patients in avoiding injuries.
Less drug wastage, optimized API usage and reduced material requirement are important characteristics of single chamber vials amplifying the global prefilled syringes market growth rate.
Prevalence of anaphylaxis disease globally is propelling the expenditure on necessary treatments and equipment. According to Asthma and Allergy Foundation of America, the life-threatening allergic reaction disease occurs in about one in fifty Americans. Prefilled syringes prove to be cost effective in the treatment of anaphylaxis as opposed to auto-injectors. Furthermore, these syringes eliminate negative drug reactions and improve clinical outcomes. The usage of prefilled syringes is extremely critical in the treatment of high frequency diseases like anaphylaxis, diabetes and rheumatoid arthritis thereby bolstering prefilled syringes industry share.
North America is witnessing rising prevalence of chronic diseases such as cancer and diabetes. Additionally, the region's strong healthcare facilities are driving innovations in prefilled syringes technology.
According to a report by American Diabetes Association, over 1.5 million Americans are diagnosed with diabetes per year. In the year 2018 there were over 26.65 million registered cases of cancer in the U.S. Prepopulated syringes carry an important role in the treatment of critical disorders. Undoubtedly, rising cases of chronic illnesses is augmenting demand for high quality drug administration mechanisms, driving North America prefilled syringes market size.
Healthcare industry poses substantial requirement for precise, robust and effective solutions to facilitate diagnosis, where the use of syringes is extended to patients using them on their own outside hospitals without any help from doctors or nurses. Prefilled syringes have emerged as a leading choice for unit dose medication as the pharmaceutical industry seeks new and improved methods of drug delivery mechanisms. Global prefilled syringes market size is estimated to surpass USD 9.7 billion in annual remunerations by 2025.
Author Name : Shreshtha Dhatrak