Agricultural Films Market is projected to surpass 9.2 million tons by 2024, at a CAGR of 6.2% over the period of 2016-2024. Growing need for producing high-quality crops along with the heavy requirement for increasing agricultural/crop production as a result of rising population is predicted to drive the product demand.  Innovations in biotechnology leading to manufacturing of products from sustainable sources coupled with the adoption of more advanced scientific farming techniques are few other factors likely to boost the market share over the coming years.
Involvement of institutions like Alliance for a Green Revolution in Africa (AGRA), Sustainable Agriculture Network (SAN), and Global G.A.P Academy for farmer welfare is predicted to boost agricultural films market trends over the forecast timeframe.
Europe agricultural films market share, by raw material, 2014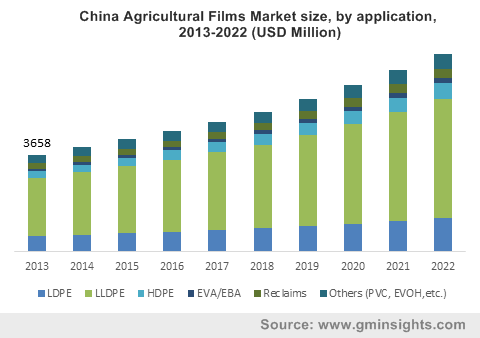 Agricultural films are finding growing applications in mulching, silage, and greenhouse. Mulching applications are predicted to surpass 4.24 million tons, at a CAGR of 6.2% over a period of 2016-2024. Farmers are focusing on mulching applications to retain soil water, hinder weed growth, reduce crop damage by insects & pests, maintain soil temperature, and increase crop production. Mulching applications segment worth USD 2.6 billion in 2014, is projected to witness heavy demand for the product over the next eight years.
Get a Sample Copy of this Report: @ https://www.gminsights.com/request-sample/detail/139
Greenhouse applications segment contributing about 41% to the overall volume in 2014, is predicted to record a CAGR of 6.3% over the forecast timeline due to climatic fluctuations and rising floriculture & horticulture trend.
Heavy demand for the agricultural films in silage applications is due to its high nutrition contribution to animal feed resulting in higher milk production.
Polymers/raw materials used to manufacture agricultural films include LDPE, LLDPE, HDPE, EVA, and Reclaims. LLDPE agricultural film market size worth USD 3.2 billion in 2014, at a CAGR of 6.5% over the forecast timeframe, is predicted to witness a heavy demand in the coming eight years due to improved shelf life, moisture resisting features, cost-effectiveness and exceptional thermal strength. Furthermore, rising agricultural activities in countries like Thailand, India, and Malaysia due to modernization in techniques of farming is projected to drive the demand for the product.
LDPE market, contributing 21% to the overall demand in 2014, is pegged to witness moderate growth at a CAGR of 6.3% over the period of 2016-2024, due to its heavy demand in regions like Asia Pacific facing problems of water scarcity.
HDPE market, contributing about 375 kilotons in 2015, is predicted to witness a heavy demand for the product from the Middle East region as a result of harsh weather and flourishing of horticulture and floriculture sectors.
North America agricultural films market is predicted to grow at a rate of 5% over the forecast timeline due to heavy demand for greenhouse applications along with low availability of cultivable land. The U.S. market is predicted to contribute significantly towards the regional growth.
China agricultural films market size worth USD 3.8 billion in 2014, will register a CAGR of 6.5% over the estimated timeframe, owing to the heavy product demand in agriculture as a result of water scarcity and tough weather conditions. In addition to this, the use of modern methods of farming in agriculture is likely to drive the product demand in the region.
MEA agricultural films market share contributing about 8% of the overall demand in 2014, is expected to witness a substantial growth over the forecast timeline with countries like South Africa, Saudi Arabia, and UAE contributing enormously to the regional growth. Furthermore, factors like low availability of tillable/cultivable land along with rising demand for food as a result of a growing population is predicted to boost the market trends.
Key industry players include ExxonMobil, Grupo Armando Alvarez, BASF, The Dow Chemical Company, Kuraray, Novamont S.p.A., Group Barbier, and Britton Group, Inc.
Author Name : Dhananjay Punekar
This entry was posted in Polymers and Advanced Materials and tagged Agricultural Films Market Size By Application, Application Potential, Competitive Market Share & Forecast, Industry Analysis Report, Price Trends, Regional Outlook.