Growing application in construction and automotive industries is expected to drive the flat glass market growth over the coming seven years. Flat Glass market share in construction industry is expected to surpass USD 102 billion by 2023. Rise in expenditure on construction activities accompanied by growing need for durable infrastructure is projected to drive the industry demand. Flat glass application in automotive industry is forecast to record a CAGR of 7.5% over 2016-2023. Strict vehicle safety regulations along with introduction of point of difference in automobiles are projected to enhance the use of flat glass in OEM industry. Furthermore, rising vehicle penetration due to growing spending power of consumers in emerging economies is expected to boost the application growth over the coming years.
Europe flat glass market size, by product, 2015 (Kilo Tons)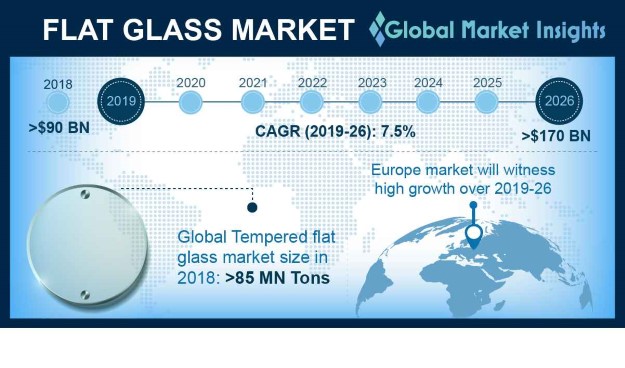 Among the various flat glass products such as basic float glass, laminated glass, tempered glass, and insulating glass, tempered glass market share dominated the product segment in 2015 and is anticipated to surpass a revenue of USD 38 billion by Furthermore, rising demand by vehicle manufacturers on account of its tough structural formation that helps to address safety concerns of passengers will also fuel the tempered glass market size. Float glass market may record highest gains at 5.5% over the period of 2016-2023 owing to the growing scope of its applications in building glazing and automotive industry.
North America flat glass market worth USD 6.5 billion in 2015, is expected to witness a significant growth due to rising demand for laminated glass in construction industry. U.S. flat glass market is expected to drive regional growth over the coming years. Latin America flat glass market is expected to record a CAGR of 7.8% over the period of 2016-2023 owing to rise in purchasing capacity of consumers, easy availability of raw materials, improvement in commercial facilities, and growth of automotive industry. Brazil, Chile, and Argentina are expected to be major revenue pockets of the region over the coming seven years.
Middle East flat glass market is expected to grow at a rate of 7.3% over the period of 2016-2023 due to rise in expenditure in construction industry. Saudi Arabia and Qatar are predicted to make vast contributions towards the overall revenue of the region. Asia Pacific market is expected to witness a substantial growth over the coming seven years due to expanding automotive industry and favorable foreign investment activities.
Key industry players include Saint-Gobain, CSG Holding Company Limited, Scheuten Glass, Dillmeier, Schott, PPG Industries, Asahi, Corning, Astrocam, Interpane, and Sisecam. These market players will try to increase their ROI through R&D investments, new product launches, and market penetration.
Author Name : Dhananjay Punekar
This entry was posted in Polymers and Advanced Materials and tagged Application Potential, By Application, Competitive Market Share & Forecast, Flat Glass Market Size By Product, Industry Analysis Report, Price Trends, Regional Outlook.