Increasing demand for energy and intensive investments in the oil and gas projects will stimulate the drill pipe market share. Increasing exploration of alternative resources and production activities within countries such as Russia, U.S., China, Canada, Saudi Arabia, UAE, Brazil, Iran, and Mexico will drive the global drill pipe industry trends.  According to Global Market Insights, Inc. "Drill Pipe Market size is estimated to witness a CAGR of 2% over the period of 2016-2025."  Moreover, introduction to the latest technological advancements in the drill pipe industry such as horizontal drilling and pad drilling have gradually amplified the drilling effectiveness complementing the industry growth.
 U.S. Drill Pipe market size, by grade, by revenue (USD Million), 2013-2025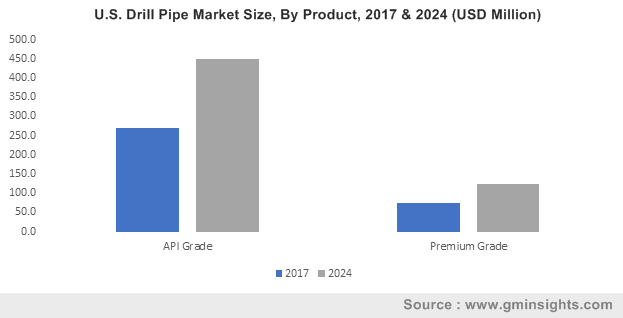 Petroleum manufacturing organizations conduct a tally process of counting active or inactive rigs. This rig count helps in analyzing and collecting data, which indicates the status of drilling activities.  A rig count lists all the oil and gas rigs that are active or operational at various locations including both onshore and offshore sites. An increasing number of rigs indicate increase of production and exploration, which in turn will augment the global drill pipe industry.
Get a Sample Copy of this Report:@ https://www.gminsights.com/request-sample/detail/796
Below are the major global rig count data of 2016
The global rig count of July 2016, increased by 74 units in comparison with June 2016.
Canada rig counts raised by 31 units to 94 rigs.
Argentina rig counts increased by 9 units.
U.S rig counts raised by 32 units to 449 rigs.
Mexico rig counts raised by 3 units.
In addition to this, advancements in technology and facilities such as directional drilling, drill bit technology, and wells completion & intervention are likely to complement the industry growth. Growing deployment of artificial lift systems in the oil production reservoirs will further boost the requirements for drill pipes in the coming eight years. Rising demand for natural gas and crude oil has further resulted into significant growth of Artificial Lift Systems Market accounting for a growth rate of 8.9% over the period of 2016-2023.
Taking into account the end-user trends, onshore drill pipe market is projected to surpass 1.15 million tons in terms of volume by 2025. The growing undertaking of contracts worth millions for the onshore drilling segments will further propel the onshore drill pipe industry. Furthermore, offshore drill pipe market is anticipated to grow at a rate of 3.2% over the period of 2016-2025. Heavy investments in deep water offshore grounds along with rising offshore production projects near Norway, Canada, and North America will fuel the industry growth in the coming timeframe.
Drill pipe market is segmented by product grade into API grade drill and premium grade drill. API grade drill pipe is projected to grow at a rate of 2.5%, owing to its cost effectiveness. Moreover, premium grade drill pipe market is estimated to witness significant growth due to increasing offshore production. The ability of these drill pipes to withstand under high pressure and temperature will generate heavy demand, stimulating the market share.
Considering the regional trends, the drill pipe industry is witnessing huge adoption over the globe. Increasing crude oil demand worldwide and increasing exploration of oil and gas in offshore fields will provide lucrative growth opportunities across various regions.
Below are the regional highlights pertaining to the drill pipe industry over the coming eight years.
Africa drill pipe market size worth USD 195 million in 2015, is anticipated to register a CAGR of 3.5% over the period of 2016-2025.
Russia drill pipe market is projected to grow at an annual rate of 3% over the period of 2016-2025. High investment in developed fields will continue to generate demand for drill pipes in the region.
Kazakhstan market is estimated to grow over a CAGR of 3.5% and generate revenue exceeding USD 37 million by 2025.
Rising demand for oil and gas across the globe will stimulate the Saudi Arabia drill pipe industry share anticipated to grow at a rate of 3% from 2016-2025.
Canada market worth USD 130 million in 2015 is projected to register a CAGR of 2.1% over the analysis period.
Angola drill pipe market will attain significant growth rate, owing to intensive investments in contracts and bidding for the tenders.
Notable participants in the drill pipe industry include National Oilwell Varco, Vallourec S.A., Tenaris S. A, Hilong Group of Companies, Drill Pipe International, Texas Steel Conversion, Inc., Oil Country Tubular Limited, Tejas Tubular Products, Inc., TMK Group,etc.
Author Name : Ojaswita Kutepatil