Concentrated solar power market is gaining an edge successfully in improving profitability and developing new revenue streams. Growth of the concentrated solar power industry is increasingly being driven by government policies aimed at reducing GHG emissions and balancing the fossil fuel depletion. For instance, the U.S. treasury department and the state government have awarded tax credits to CPS projects which make use of clean energy. Another prominent example is the Office of Energy Efficiency and Renewable Energy, which provided funds of approximately USD 9 million to 6 CSP projects to achieve a substantial reduction in the prices and ensure technological advancements.
The mounting need for efficient renewable energy sources for large scale electricity generation, owing to rapid industrialization and urbanization is likely to propel the global concentrated solar power industry. As per a report by Global Market Insights Inc., Concentrated Solar Power Market is anticipated to exceed 24 GW by 2025.
Global Concentrated Solar Power (CSP) Market installed capacity, by technology 2016 & 2025 (GW)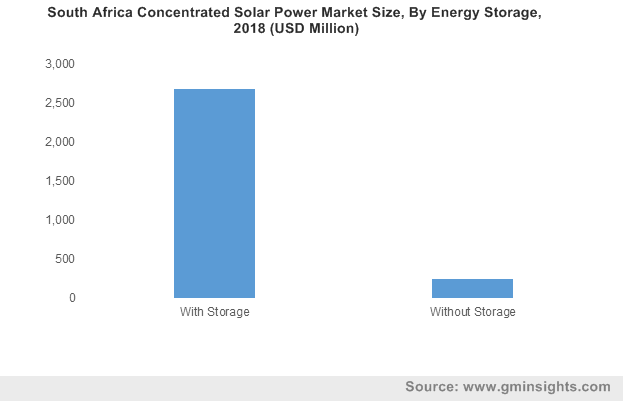 Amongst the various types of solar power generators based on technological bifurcation, parabolic troughs accounted for over 70% of the global concentrated solar power industry in 2015. High efficiency and low cost of the parabolic troughs is gaining preference in the mass market. Linear Fresnel, power tower, and dish are the other technologies used in solar power generators witnessing noticeable growth. Linear Fresnel concentrated solar power industry is anticipated to surpass USD 9 billion by 2025. In addition, improved performance, low cost, high storage, high efficiency, and high capacity will set a promising growth for the power tower CSP market.
Get a Sample Copy of this Report @ https://www.gminsights.com/request-sample/detail/1164
Considering the deployment of concentrated solar power generators around the world Chile is leading the industry and is estimated to record a highest growth rate of more than 27% over the period of 2016-2025. The favorable climatic conditions and an adequate hub of current projects will pave the way for border deployment in the region. Chile holds around 400 MW of solar photovoltaic generation under construction. This number is more than any other nation in South America.
U.S. concentrated solar power market worth USD 12 billion in 2015, is projected to grow at a CAGR of 8% over the period of 2016-2025. Spain is estimated to exceed 3.5 GW by 2025, in which 3.1% of the total electricity demand is met by photovoltaics and 1.8% is met by concentrated solar power plants.  Government regulations to curb carbon footprints and emphasis on adapting clean energy channels will complement the regional growth.
Morocco concentrated solar power industry is set to expand with target market size slated to reach USD 5 billion by 2025. India concentrated solar power market is booming with the rising electricity demand in this region. Promising government initiatives have played a vital role in industry growth.
Mergers and acquisitions is one of the main strategies adopted by leading companies to expand their regional presence. Notable concentrated solar power industry players include Siemens, TSK Flagsol, Solar Millennium, Acciona, NextEra Energy Resources, eSolar, Areva, Solar Reserve, BrightSource Energy, and Abengoa.
Author Name : Ojaswita Kutepatil