Escalating requirement of vitamin E as an animal feed additive due to high meat consumption will push Cresols Market value over the years to come. Booming animal feed additives sector, which is expected to cross the revenue of USD 22 billion by 2022, will further benefit the industry. As per Global Market Insights, Inc., "Cresols Industry size is anticipated to hit USD 474 million by 2024." Besides, its extensive applications across dyes, plastics, cosmetics, pesticides, rubber, and pharmaceuticals will boost market trends over the forthcoming years. Elevated demand for the product in electrical & electronics and automotive applications will uplift industry revenue over the span of few years.
Synthetic vitamin E intake, estimated at over 100 kilo tons in 2015, is forecast to grow at a CAGR of 4% over the coming seven years, thereby propelling cresols market outlook. High popularity of nutraceuticals, driven by high consumer awareness pertaining to the benefits of nutritious diet intake will spur cresols market expansion over the coming timeframe.
U.S cresols market share, by application, 2015 – 2024 (USD Million)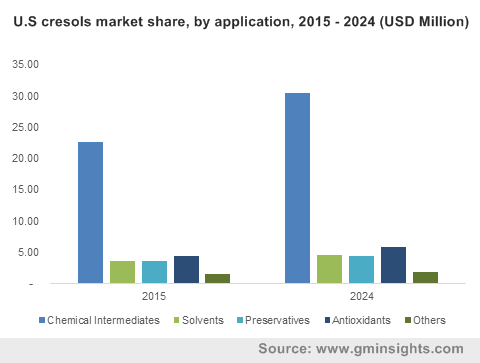 Antioxidants, chemical intermediates, preservatives, and solvents are the key cresols applications. Cresols industry share in chemical intermediates is predicted to grow at a rate of 3.5% over 2016-2024, driven by its use as a chemical intermediate for producing vitamin-E. The thriving chemical sector will further contribute towards the industry expansion over the coming years. Solvents applications, worth USD 35 million in 2015, is forecast to witness a substantial surge, owing to enhanced product application in polymer sectors.
Get a Sample Copy of this Report @ https://www.gminsights.com/request-sample/detail/789
Ortho-Cresols, Meta-Cresols, and Para-Cresols are the major cresols products. Meta-Cresols industry, which generated more than USD 160 million in 2015, is anticipated to observe an appreciable growth over the years ahead. High demand for vitamin-E, owing to growing acceptance of healthy food habits by consumers will promote the product demand. In addition to this, its growing application as a chemical intermediate for synthetic vitamin E will further boost the revenue.
Para-Cresols market is projected to register significant gains at 3% over the coming timeframe, driven by its enhanced use in transformer oil, pharmaceuticals, rubber, and cosmetics.
Taking into consideration the geographical trends, North America cresols industry revenue is projected to indicate a sharp growth over the coming timeline, having attained a targeted revenue margin of USD 45 million in 2015. Popular use of cresols as chemical intermediates in pharmaceuticals sector and high demand for preservatives across the food packaging sector will further stimulate the industry expansion. U.S is likely to drive the regional growth in terms of revenue.
Asia Pacific cresols market is expected to register a CAGR of 3.5% over 2016-2024, driven by drastically changing lifestyles and food habits of the consumers.
Market players will try to improve their ROI and extend their geographical presence through implementation of key business strategies such as product differentiation, mergers & acquisitions, and high R&D investments. Henan Hongye Technology Chemical Company Limited, Xiamen Hisunny Chemical Company Limited, Atul Limited, VDH Chemtech Private Limited, Lanxess Chemicals Company, Sasol Phenolics, Ardisons Oils & Electricals (P) Limited, Nanjing Datang Chemical Company Limited, SABIC, Rutgers Group, Mitsui Chemicals Incorporation, Asahi Kasei Corporation, and Dakota Gasification Company are the key participants of cresols industry.
Author Name :Dhananjay Punekar